A family holiday fit for the gods
Looking for a first-time holiday abroad with your baby or toddler? You'll find cutting-edge design and a relaxed atmosphere at the five-star family-friendly Almyra in Cyprus.
A glistening chandelier dangling over a grand spiral staircase; fresh, minimalist design; sleek marble floors; and splashes of colour, from the shocking orange chairs to the cool blue sea, framed by a wall of windows. At first impressions, the Almyra doesn't fit your stereotypical family hotel.
The chic, design-led Almyra has one of the best locations in Paphos, Cyprus, with stunning views over the bay and Paphos Castle. But why choose it for a family holiday? Year-round good weather and a short four-hour flight are just the start.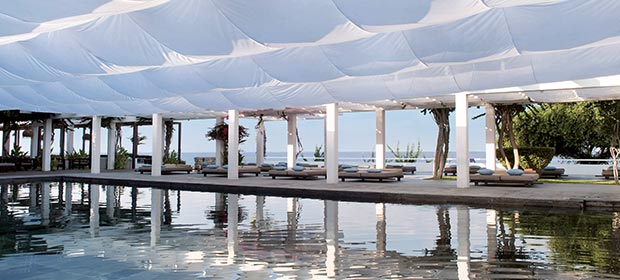 There's a stunning pool with a stylish awning to protect little ones from the midday rays; a crèche, kids' club and teen club run by a professional UK team with the highest standards of care; plus little things that make a real difference – slopes for your pram; genuine, friendly staff who make a fuss of your little monkeys; and optional inter-connecting rooms with fantastic family discounts.
Almyra's Baby Go Lightly service makes travelling with tiny tots so easy. You can pre-order a cot, sterilizer, kettle and baby walker for free, and add on extras such as baby food, nappies – even pram hire. It makes a first holiday abroad with a baby far less daunting.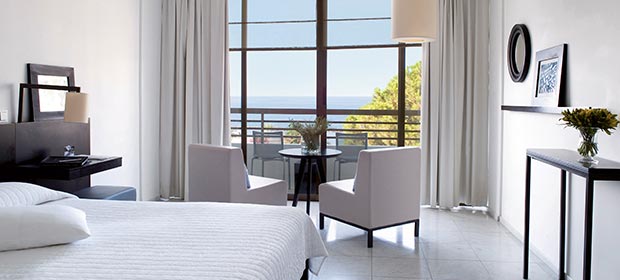 Fine dining with the kids
As one of the Leading Hotels of the World, you expect the food to be good – but it's divine. Steak so succulent your knife slides straight through; sizzling tiger prawns drizzled with lime. Each dish is a work of art with stimulating flavours and ultra-elegant surroundings – shimmering chandeliers, intricate wall mosaics and cream leather chairs. Your kids aren't left out of this fine dining experience either – a high chair will appear, as will a children's menu, complete with a special baby food section.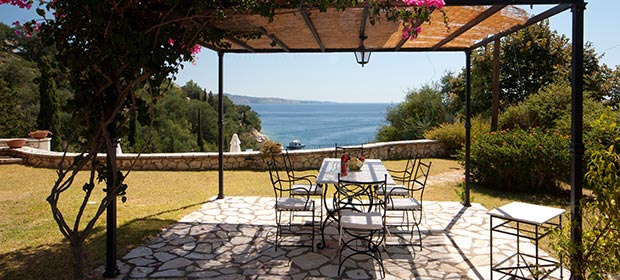 For a little 'me time', head to the masculine-style spa and adults-only infinity pool. Indulge with delicious treatments using organic Just Pure products and chill-out with a healthy snack from the poolside Eauzone café. You can play tennis or enjoy a round of golf at one of the three nearby courses or discover extraordinary Roman mosaics at The House of Dionysos, later winding down at Almyra's open-air Notios restaurant, watching the fishing boats trundle back to the bay.
There are lots of restaurants and bars on the doorstep of the Almyra, embracing families to come in and pull up a chair; plus there's a soft play area at the back of Moorings Café near Paphos Castle, perfect for distracting the kids while you chill out with a drink.
Explore Cyprus
You can easily hire a car from your Kuoni rep in the hotel and request child seats for a small fee. Cypriots drive on the same side as the UK, which makes things easy, and the scenery in the springtime is spellbinding.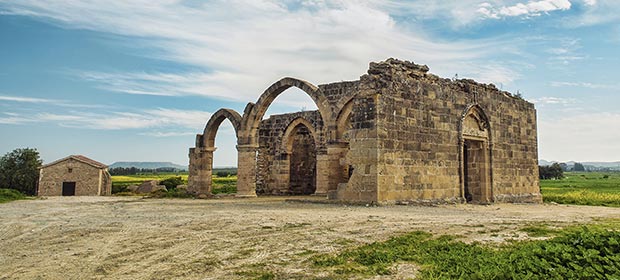 Don't miss the Troodos mountains, dusted with bright yellow flowers, rich green shrubs and rows of spindly vines. As the roads twist higher into the mountains, the temperature drops and, if you climb high enough, you'll drive through a ski resort. Also worth a visit is Lady's Mile Beach in Limassol, great for a paddle and building sandcastles. Return along the coast road to Paphos and photograph Aphrodite's Rock at sunset, bathed in an orange haze.
Almyra's kids' clubs open from April to October and at Christmas-time, when the temperature can still reach a balmy 19 degrees. Top tips include booking a place in the kids' clubs and crèche before you travel and staying in a seaview room to make the most of the setting. For an extra treat, upgrade to a stunning Kyma Suite, featuring an amazing roof terrace with sofas and gorgeous views over the ocean and Paphos Castle. This is the perfect spot for a romantic evening once the kids have gone to bed.
Inspired?
---
With views of a medieval castle and exuding modern style combined with state-of-the-art amenities.