Speak to one of our experts now about this offer
Call us on - 0800 092 4444
Or drop into your local Kuoni store to find out more

Find your nearest store
Your holiday, your way. Planned and perfected by our travel experts.
A Kuoni holiday is full of stories you'll share for years to come. It begins with our destination experts seeking out the most amazing experiences, hotels and itineraries to share with you, so that you can get to know a destination in an exclusive way.
Each luxury holiday is tailor made. Tell us what luxury means to you – it might be the luxury of space and silence, the chance to take on new adventures, quality time together or time to prioritise self-care – and we'll find it at the very best value.
We take care of the little details and arrange those added extras you wouldn't get with anyone else; that's how we make sure you get the most out of your time away.
If you'd like advice from someone who's been there, need help narrowing down your options or want to chat through your thoughts, you can call us, email us, make an appointment in-store, join a web chat or request a call-back – we're here whenever you're ready.
Total peace of mind
You and your Kuoni holiday are in safe hands. All our holidays are ATOL protected, we're members of ABTA (the leading travel industry association) and we always keep up to date with the latest government travel advice. You'll also have our full support throughout your travels, from our teams in resort and back in the UK.
Travel experts
since 1906
We've been following in the path of our founder, Alfed Kuoni for over 100 years now. Visionary, adventurer and explorer, always seeking out new places, new experiences and easing the path for fellow travellers to share all he discovered. Little has changed.
Kuoni has grown to become the country's leading longhaul tour operator, has picked up over 200 service and travel awards and has opened over 40 beautiful Kuoni stores.
Personal service
Your holiday will be planned by one of our Personal Travel Experts, who will listen to your ideas and expectations, make recommendations, share advice and add extra touches to create the perfect holiday for you.
The full Kuoni experience
We're here to take care of you at every step. We'll make sure you have everything you need before you travel, look after you while you're away and stay in touch when you're back.
Meet us in store
200+ awards, from our customers and travel professionals
We're known for exceeding our customers' expectations and this is reflected in the accolades we've received over the years. We're regularly voted the best luxury travel company in the UK and have been awarded Recommended Provider status by Which?, the UK's largest consumer organisation.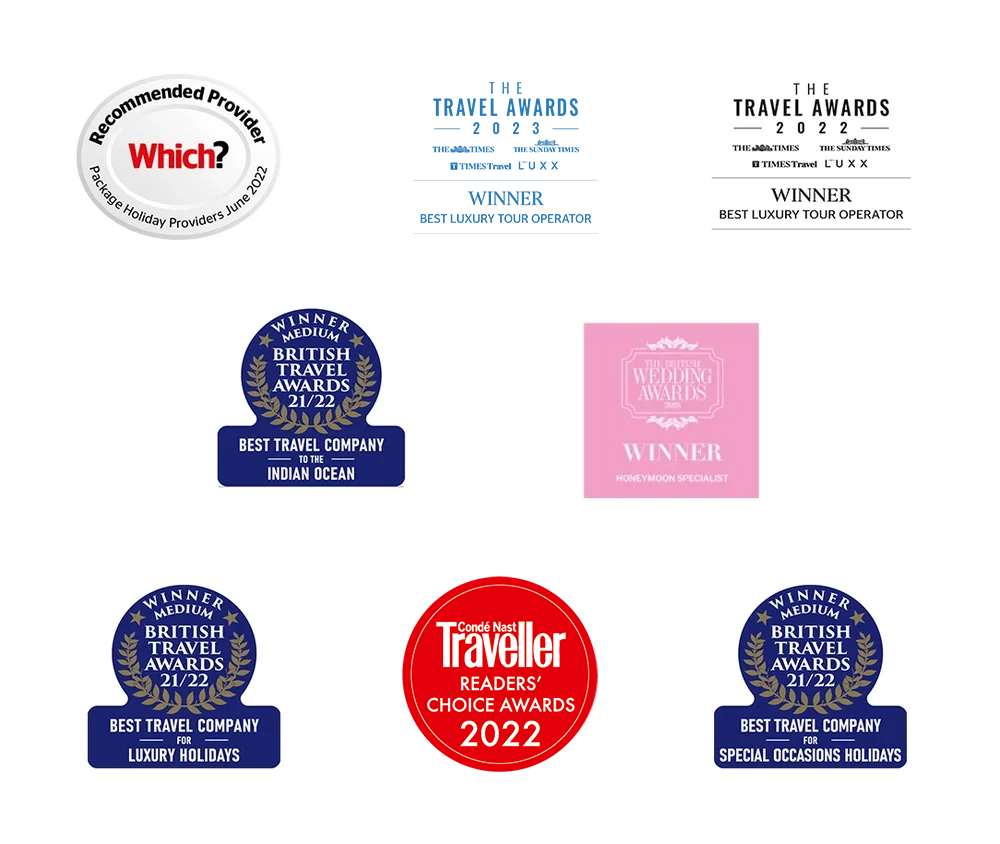 ...that's highly recommended by our customers
We're committed to making your holiday as incredible as possible. Following their booking with Kuoni, customers rated us on average 9.5 out of 10.
Sharna (Metro centre) and Clare Sweatman (dorking) have been nothing less than exceptional, they have made the entire process more simple and pleasant than I would of thought possible they both exemplify customer service and are utterly proactive in their jobs and a credit to the company.
Harriet Gibbons had done some excellent research for us, based upon preferences that we had given her prior to a personal visit to your Cheltenham Branch; the result was that we got exactly what we wanted - many thanks!
Charlotte Lofty exemplified the professionalism and empathy with a friendliness and helpfulness that puts Kuoni in the forefront of travel.
Sorry, your hotel is no longer available
Please check alternatives
Choose dates
{{store.searchDuration}} nights, {{formattedDate}}
Enter dates to check availability
{{ guestRollup || 'Enter guests' }}
{{ store.selectedAirport.text }}
{{ store.selectedClass.text }}
{{ store.selectedOccasion.text }}
Search

Choose a departure date
{{store.searchDuration}} nights
Enter rooms & guests
{{passenger.childAges.length}}
Checking prices & availability

{{term}}, {{formattedDate}} for {{searchDuration}} nights
All

({{destinations.length + products.length + offers.length + inspiration.length}})

Destinations

({{destinations.length}})

Holidays

({{products.length}})

Offers

({{offers.length}})

Inspiration

({{inspiration.length}})
{{availabilityProduct.length}} holidays in {{term}}
We're transferring you to our tailor-made specialists
From the multi-award-winning Kuoni