12 extraordinary free weddings abroad
A free wedding abroad can be simple or extravagant – and our weddings experts know just the hotel to suit you both. You could get married beside the ruins of an aqueduct, lit by hanging candles; on a roof-top terrace overlooking the ocean; or under a flower-decorated gazebo on the beach or surrounded by pretty gardens. Here are just a few of our favourite hotels offering free weddings abroad.
5* Rendezvous, Saint Lucia
This couples-only beach hotel is all about romance and you can fill your days with candlelit dinners and couple's massages. Relax on the beach and stick your flag in the sand for beach waiter service; later enjoying nightly tastings at the Champagne Bar and romantic meals in a choice of restaurants, including fine dining at the Trysting Place. This is a great location for a wedding in Saint Lucia if it's just the two of you or you are travelling in a small party. You can get married on a beautiful private island with a conch shell aisle on the white-sand beach, in the exotic resort gardens or under a pretty bamboo canopy. It's all about exclusive service in a truly romantic setting where you'll both be spoilt; and you can add romantic moments throughout your stay, such as a secluded picnic, a candlelit dinner on the beach under the stars or a cruise along the coast at sunset. We'd also highly recommend a reception at Malabar Beach Club, having dinner while burying your toes into the sand.
Find out what's included in the free wedding at Rendezvous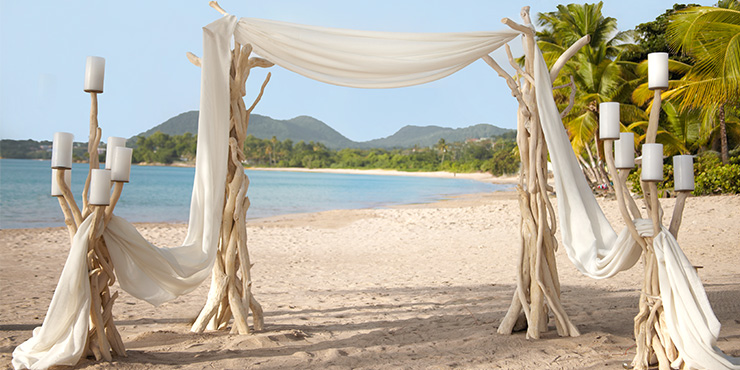 4* St James's Club Morgan Bay Saint Lucia
If you're looking for a lively wedding with a guest list that can include children, this all-inclusive resort in Saint Lucia is a fantastic choice. You can get married on the white-sand beach or in the secluded hilltop gazebo overlooking the ocean, holding your reception in one of the many restaurants or in a marquee on the beach. Sneak off to the hilltop adult pool for amazing views and make the most of the six restaurants and four bars, with entertainment including steel bands and beach parties with fire eaters and acrobats. Our weddings team can also help you arrange a bonfire beach barbecue; or add entertainment such as a gospel choir or DJ to your celebrations.
Find out what's included in the free wedding at St James's Club Morgan Bay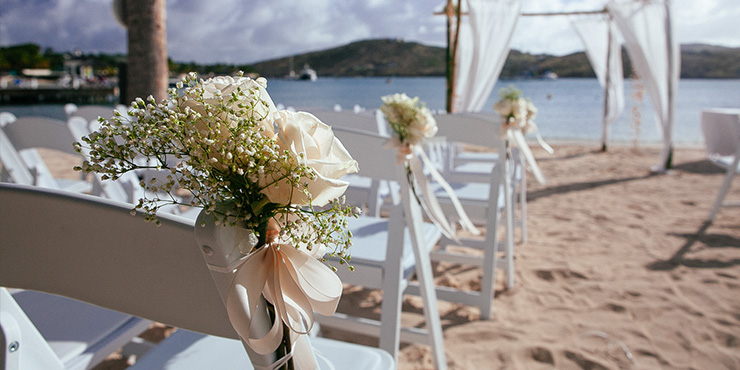 4* The Verandah Resort & Spa, Antigua
If you want a big wedding, The Verandah Resort & Spa is for you. This spectacular resort is a stunning destination for a lively wedding with a large guest list. You can get married on sparkling white sands or under a beautiful gazebo in the gardens with the clear turquoise waters as your backdrop. If you are inviting families with children, this is a great resort, as the stylish cottage-style suites are all very spacious and there are activities and facilities for all ages. We thoroughly recommend the very private hilltop gazebo for a one-of-a-kind wedding ceremony with stunning views over the beach and ocean that will make your special day even more breathtaking.
Find out what's included in the free wedding at The Verandah Resort & Spa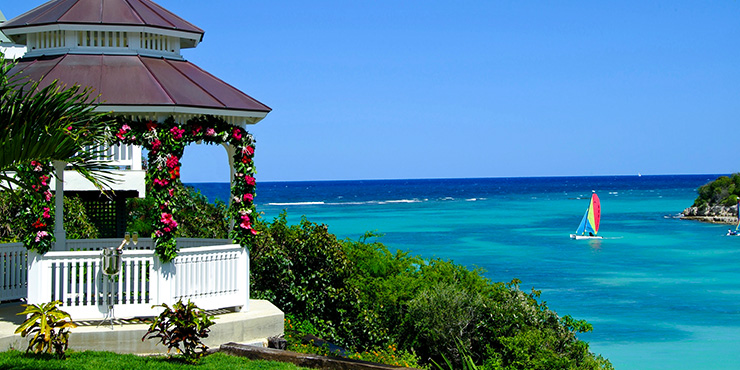 5* Uga Bay, Sri Lanka
Uga Bay is set on one of the best beaches in Sri Lanka and you can wake up to views of the ocean and relax on the enviable stretch of sand. The resort overlooks Passikudah Bay, known for its snorkelling, and this luxurious retreat has a beautiful infinity pool and unique underground spa with views of the sea. The resort offers a simple free wedding package at selected times of the year, which includes the ceremony, a cake and three-course signature dinner. But you can also opt for their more deluxe ceremony, with quirky touches such as having your wedding breakfast on a table sculpted out of the sand. The full wedding package includes a couple's spa treatment and a special dinner in your own cabana. Talk to us about what's included and we'll help create a special wedding for you both.
Find out what's included in the free wedding at Uga Bay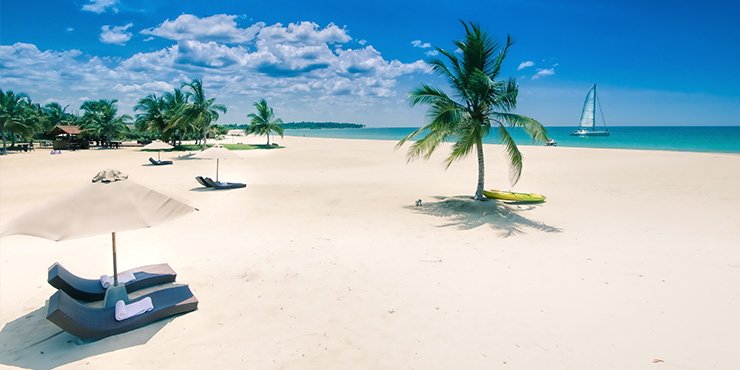 5* Blue Waters & The Cove Suites, Antigua
Blue Waters offers a choice of spellbinding wedding venues, including the beach, a romantic seafront gazebo, a luxurious private villa and the elegant Cove Restaurant perched dramatically on a clifftop. Your wedding coordinator can arrange a romantic private gazebo dinner for just the two of you, small parties can choose between two restaurants for the reception and, for larger wedding parties, you can have afternoon cocktails and canapés and a Caribbean barbecue at the poolside deck or on the beach.
For the ultimate in luxury, hire one or more Cove Suites for your wedding party to stay in, offering uninterrupted views of the Caribbean Sea. These private suites are perfect for groups and families, and have access to four exclusive beautiful infinity pools. For a breathtaking wedding ceremony, upgrade to exchange your vows in the splendid seclusion of the luxury Rock Cottage villa set on the edge of a rocky outcrop, surrounded by turquoise waters.
Find out what's included in the free wedding at Blue Waters & The Cove Suites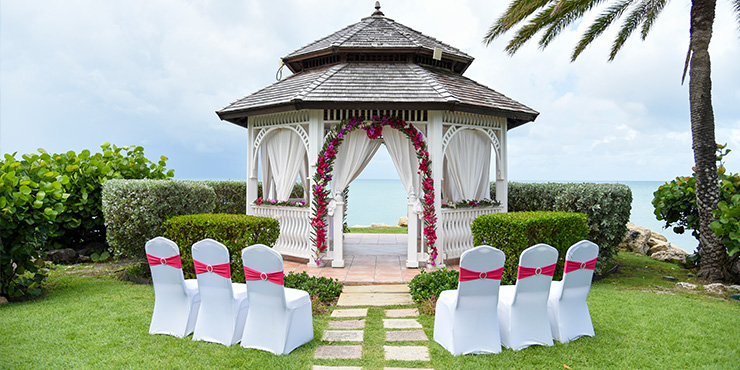 4.5* Galley Bay Resort & Spa, Antigua
If you're looking for a small wedding with a slice of rustic island luxury, try Galley Bay Resort & Spa. This is a peaceful and quiet adults-only resort and you can choose between a beachfront gazebo or a romantic garden wedding. There are plenty of extras you can add, such as a photographer and videographer, flowers in a huge choice of colours, a sunset cruise, a steel band as you walk down the aisle and a private dinner. Your wedding coordinator will help create a bespoke day with the perfect colour scheme, menus and bridal preparation on the day. There is a really warm and friendly feel here with the emphasis on personal service and local flavours. For the ultimate end to your wedding day, add on a Champagne sunset cruise as you toast this special moment in time.
Find out what's included in the free wedding at Galley Bay Resort & Spa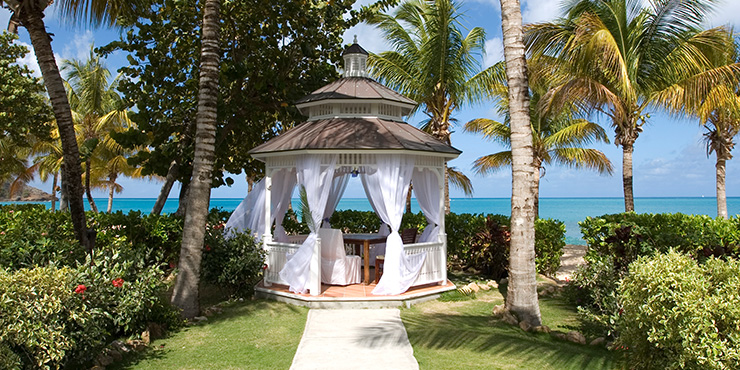 4* Hilton Rose Hall Resort & Spa, Jamaica
The Hilton Rose Hall has a choice of incredible wedding locations, but two of our favourites are the sweeping arches of the 1837 aqueduct ruins, illuminated by hanging candles and spotlights; or the Rose Hall Plantation House, featuring a dramatic staircase for the bride's entrance. It's also perfect for a stylish cocktail party of up to 100 guests on the balcony here. Your wedding guests will enjoy the after-dark reception parties and chic cocktail hours. If you want a truly magnificent reception party, book the Johnny Cash Estate – where the country singer lived with his wife June for 30 years. The resort is great for those coming with family, as there are interconnecting rooms.
Find out what's included in the free wedding at Hilton Rose Hall Resort & Spa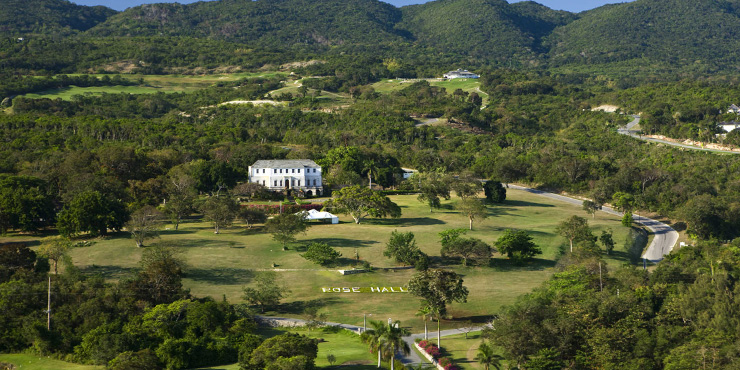 5* Hyatt Zilara & Ziva Rose Hall Resort, Jamaica
Beautifully set in the grounds of the historic Rose Hall plantation, you'll find a great combination of two hotels. Hyatt Zilara Rose Hall is a romantic adults-only escape while Hyatt Ziva Rose Hall is a fun resort perfect for both families and couples – great if your guests are all looking for different things. Your wedding can take place at Ziva and you'll have a number of luxury venues to choose from. Exchange vows on the east lawn with a beautiful ocean backdrop, or experience an intimate ceremony in a gazebo surrounded by ocean and celebrate on the adjoining deck. For the ultimate indulgence, say your vows in the Sky Lounge, the resort's exceptionally private rooftop setting that is spectacular at sunset. If you're travelling with a group, upgrade your wedding package to enjoy additional benefits like a private post-ceremony cocktail party.
Find out what's included in the free wedding at Hyatt Zilara & Ziva Rose Hall Resort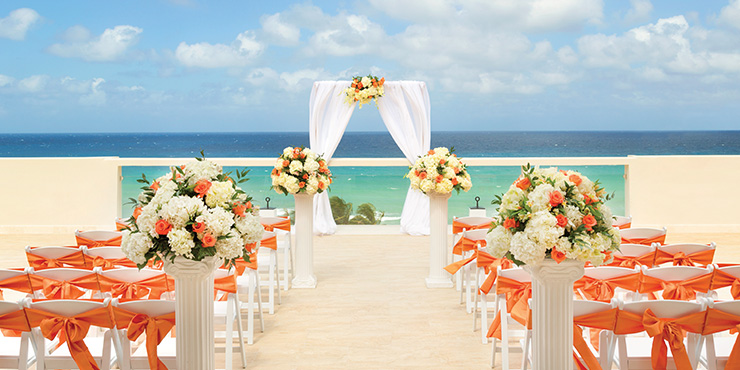 5* Secrets Maroma Beach Riviera Cancun, Mexico
This gorgeous adults-only resort sits in an enviable position on the Riviera Maya, fringed by one of Mexico's best beaches. The beach makes the perfect venue for a luxurious wedding overlooking the ocean or you can get married under a beautiful poolside gazebo. Your reception can be held in the elegant ballroom, on the terrace, or back on the beautiful beach; and private cocktail hours and dinner receptions are a glamorous affair here. There are plenty of options to tailor-make your perfect day; and you can make the most of the facilities here, from the six à la carte restaurants to the world-class spa.
Find out what's included in the free wedding Secrets Maroma Beach Riviera Cancun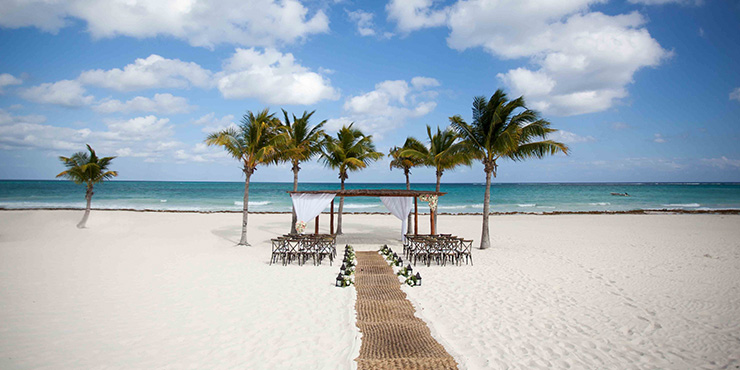 5* Paradisus Playa del Carmen La Esmeralda, Mexico
If you're wedding location needs to welcome children, we know just the place. This luxurious resort features family-friendly fine dining restaurants, incredible shows, a beautiful beach and activities galore to keep the little ones entertained, including a pirate ship in the pool and poolside parties complete with a live DJ. When it comes to your wedding, the hotel's Romance Team is on hand to help you with every detail. You can personalise your ceremony to absolute perfection by choosing the theme, decorations and the venue to say 'I do'. If you've got a big wedding party, we recommend arranging a pre-wedding open bar party the day before the wedding. It's a great opportunity for everyone to get to know each other.
Find out what's included in the free wedding at Paradisus Playa del Carmen La Esmeralda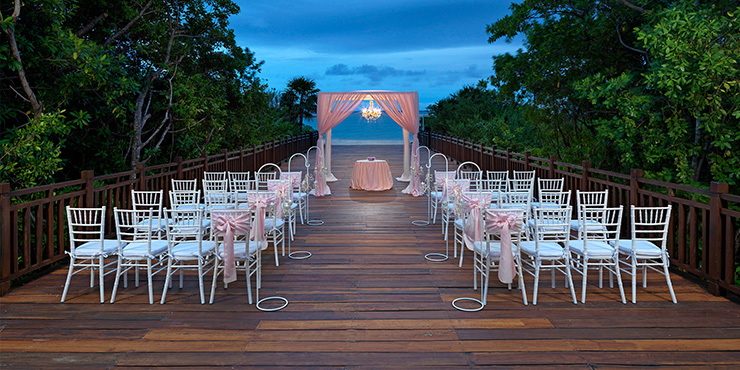 5* Dreams Tulum Resort & Spa, Mexico
Dreams Tulum is the ultimate wedding resort for large groups and guests coming with children. If you want a lively and beautiful ceremony on sugar-white sands, then this is the place for you. Your expert wedding coordinator is on hand to turn your dream day into a reality and welcomes any ideas you have, be it from wedding blogs, magazines or even your Pinterest board. They don't do cookie-cutter weddings here. Venues include the stunning beach, the jungle garden gazebo, the chapel or the ballroom.
Weddings at Dreams Tulum are not standard; they are exceptional, and you can follow a beautiful ceremony by starting the night's celebrations with a fire dancing show. This beautiful hotel also features an incredible range of facilities, including the Dreams Spa by Pevonia®, the ocean trampoline and the seven delicious restaurants that are all included as part of the Unlimited-Luxury® all inclusive package.
Find out what's included in the free wedding at Dreams Tulum Resort & Spa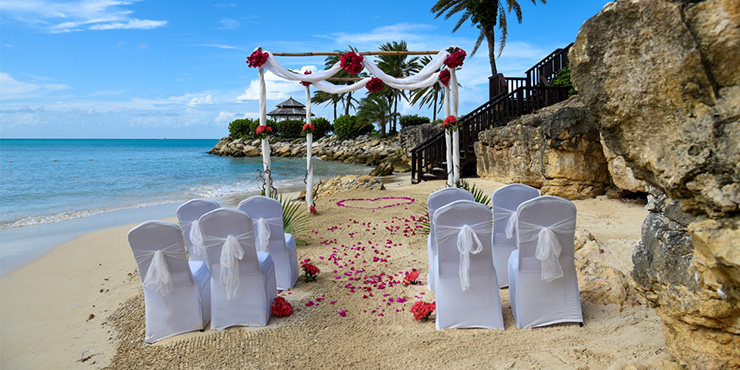 Inspired?
---
We have won over 200 awards for our service and holidays, including Best Wedding Travel Company at the UK Wedding Awards. Book an appointment in your local Kuoni store and talk to the weddings experts about what you're looking for in your big day. We have a dedicated weddings team to take care of all the little details and your guests can all book with the same Personal Travel Expert to make sure planning your wedding is as easy as possible.
This feature was published on 4 April 2019. The information within this feature is correct to the best of our knowledge at the time of print.