We've analysed more than two million honeymoon posts on Instagram – published around the world over the last five years – to reveal the top 10 best honeymoons for the Instagram generation.
Number 10 – The Caribbean
With over 19K mentions, the Caribbean is the 10th most popular place to Instagram on honeymoon. The Caribbean #honeymoon posts reflect the photogenic beauty of these exotic islands, alongside the region's extraordinary local rum. Emojis used often include the desert island palm tree, tropical cocktail drink and camera with a flash. Within the Caribbean #honeymoon posts, Saint Lucia regularly popped up as a favourite destination.
"You want your honeymoon to be in an amazing setting and the Caribbean gives you that and more. Each island has its own character – Barbados has a vibrant atmosphere, Cuba has an intriguing culture – and we can help you find the right match for your honeymoon. My favourite is Saint Lucia. There's a fantastic balance of gorgeous beaches, lush green rainforests and waterfalls – and the views of the mighty Pitons from Sugar Beach are incredible."
Lauren Hutchinson, Caribbean expert at Kuoni London City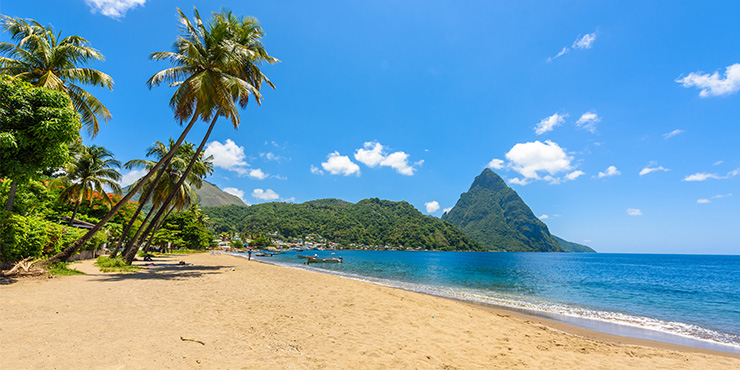 Number 9 – Dubai
Dubai makes it to position nine, with just under 20K mentions. While these Instagram posts often focus on the city's glamorous beaches, the tall office building emoji is also frequently used – highlighting Dubai's epic architectural feats, such as the Burj Khalifa and Cayan Tower.
"You might overlook Dubai as a honeymoon destination, but think again, as it has so much to offer. This larger-than-life city has great weather all year round and is only a seven-hour flight away – meaning no jet lag. Enjoy buzzing beach clubs, adrenaline-pumping waterparks and ultra-luxe hotels. Dubai also has some superb restaurants, shops and even indoor skiing."
Lynsey Brett, Dubai expert at Kuoni Oxford Street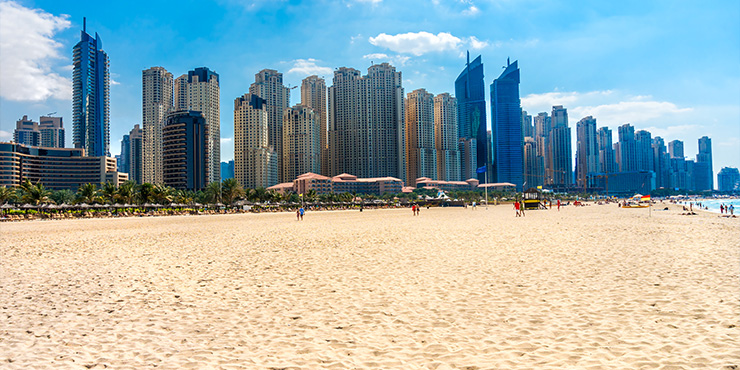 Number 8 – Paris
Paris – branded one of the most romantic cities in the world – comes in at number eight on the list for most popular honeymoon destinations on Instagram. It had over 21K mentions in #honeymoon posts and, unsurprisingly, the closest emoji to the Eiffel Tower makes a regular appearance (although it's actually labelled as the Tokyo Tower in the emoji dictionary!). The carousel horse emoji is also featured a lot, as Paris is home to some beautiful Belle Époque carousels.
"Once you've ticked off the city's main landmarks and guidebook highlights, visit one of the outer arrondissements and soak up the quieter and less commercialised side of Paris. One of my favourite things to do here is to find a café or bakery and watch the world go by, without a tourist in sight."
Gemma Wilson, travel expert at Kuoni Stratford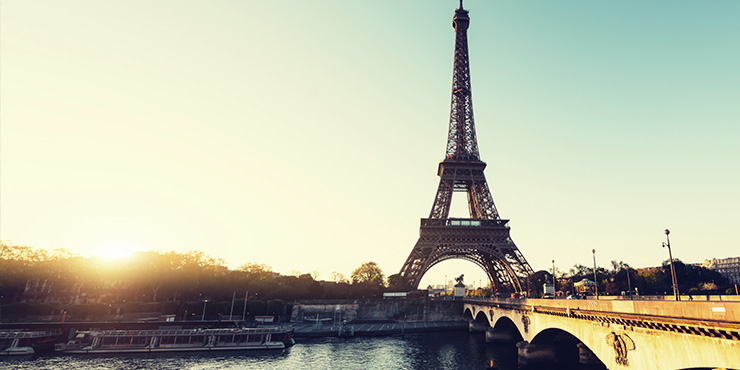 Number 7 – Greece
With over 24K mentions, Greece enters the most Instagrammed honeymoon chart at number seven. Common emojis used in posts include the sunset and water wave symbols, emphasising the striking ocean vistas found in the Greek islands. Santorini comes out on top as one of the most popular keywords; with its iconic blue domed buildings and luxury hotels and spas.
"The mesmerising sunsets and quaint local villages make the Greek islands a very romantic honeymoon backdrop. You could go on a scenic boat trip or even island hop, exploring a handful of the region's diverse atolls. Wherever you are in Greece, finding a local taverna, serving mouth-watering fresh seafood, is a wonderful way to spend an evening together."
Artemis Kyprianou, Greece expert at Kuoni St Albans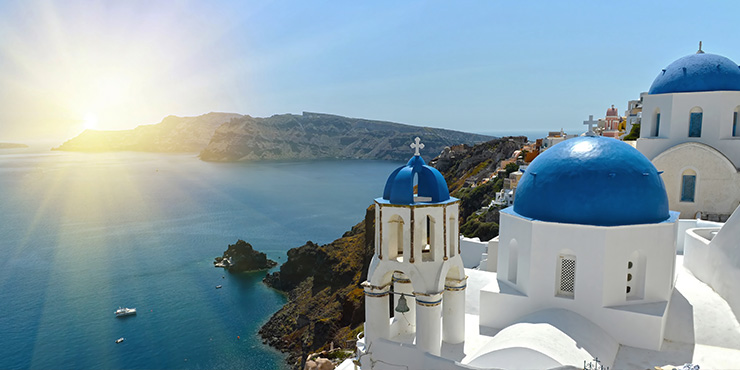 Number 6 – Hawaii
Hawaii has just under 29K mentions, making it the sixth most mentioned destination in all of the Instagram #honeymoon posts. The exotic flora and fauna of this volcanic archipelago are a massive draw for honeymooning couples, with the palm tree and hibiscus flower turning up as the two most popular emojis in a Hawaiian honeymoon post. If you're looking for a more lively escape, Oahu island, consistently mentioned in these posts, has an energetic nightlife and some mega-famous surfing spots.
"The volcanic scenery and hidden waterfalls of Hawaii islands, Maui and Kauai, are like something out of Jurassic Park. To really make your honeymoon stand out, take a helicopter tour over any of the islands. It's the experience of a lifetime and one you'll never forget – I certainly won't."
Mark Bilton, Hawaii expert at Kuoni John Lewis White City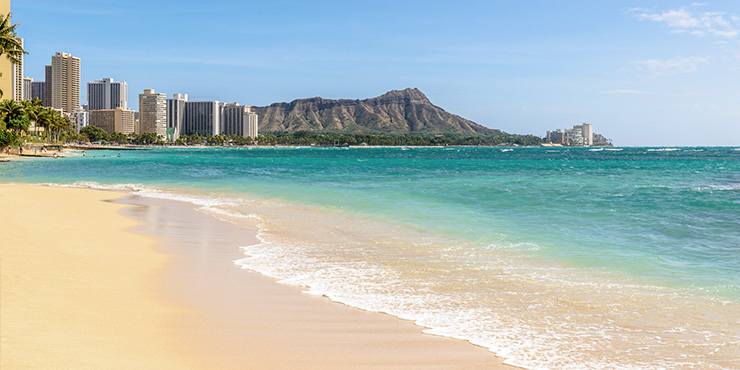 Number 5 – Mexico
Mexico makes it into the top five most Instagrammed honeymoon destinations, with just under 30K mentions. Clear favourite, Cancun, is included in nearly half of the posts. The city is known for its beach parties and Instagram-worthy honeymoon activities, from tours of eco parks and reef visits, to dinner on a Spanish Galleon Columbus ship at sunset.
"Mexico's white sand beaches, turquoise waters and unbelievable food make it a go-to honeymoon destination. The welcoming people, fascinating culture and intriguing Mayan history add something a little special to an all-inclusive holiday."
Monica Alazraki, Mexico expert at Kuoni Windsor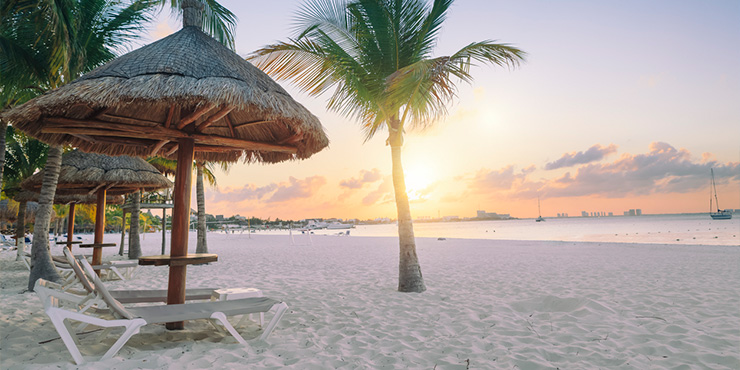 Number 4 - Italy
Italy reaches number four in the list. It's the third European destination to appear in the top 10 and is tagged in over 37K Instagram #honeymoon posts. Food and wine feature heavily, with the spaghetti and pizza emojis popping up as the most used, alongside the red wine and clinking bubbles glasses. The tagged locations vary, with Rome and Venice appearing often and Florence and Positano also proving popular.
"Italy offers a tempting combination of stunning landscapes and exceptional food and wine. Imagine sipping Chianti in rural Tuscany, eating pizza by the canal side in Venice, or tasting limoncello on a clifftop in Amalfi..."
Gemma Wilson, Italy expert at Kuoni Stratford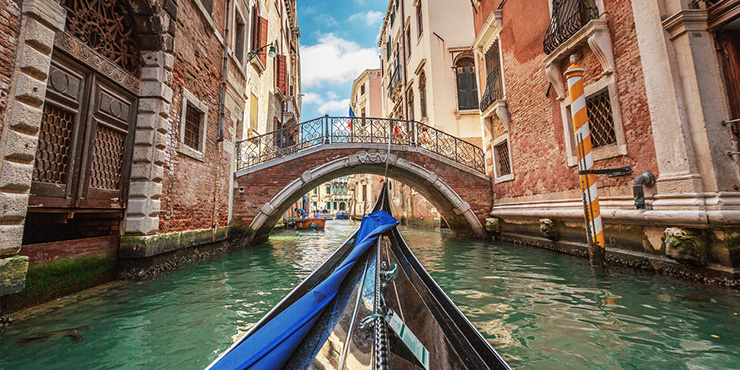 Number 3 – Thailand
With 38K mentions in #honeymoon posts, Thailand is the third most popular spot to Instagram on a post-wedding adventure. Thailand's rich wildlife is hinted at within the emojis used in these posts. There's the tropical fish, signalling the country's jaw-dropping diving reefs, and the elephant emoji, nodding to the elephant sanctuaries and reserves you can visit here.
"Bangkok is a real thrill for the senses and a stopover here is a must. The city is a buzzing mix of busy night markets, historic temples and delicious street food. After your stay, chill out on one of the many romantic Thai islands. My favourite is Koh Samui, with its soft sandy beaches and resorts with private villas. It's an idyllic setting for spending some uninterrupted time together."
Matt Butler, Thailand expert at Kuoni Solihull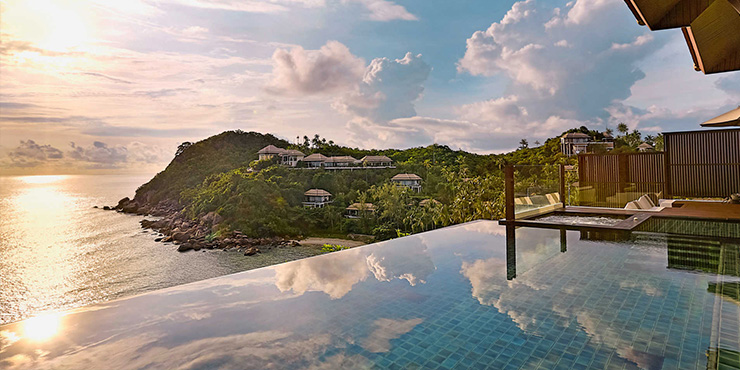 Number 2 – The Maldives
The Maldives is the runner-up, taking second place with a huge 52K mentions in #honeymoon Instagram posts. Sunsets, ocean waves, exotic fish and cocktails fill up the most used emojis for these islands. The Maldives is also a top choice for celebrities, with couples such as Blake Lively and Ryan Reynolds gracing its shores.
"The Maldives is pure luxury. From the moment you arrive on your paradise island, you'll see why it's our most popular honeymoon destination. Mind-blowing beaches, beautiful coral reefs and a choice of diverse islands – it's unique. I honeymooned on Baros in an overwater villa with a private pool and it was perfect for our once-in-a-lifetime trip."
Tamara Goodier, Maldives expert at Kuoni St Albans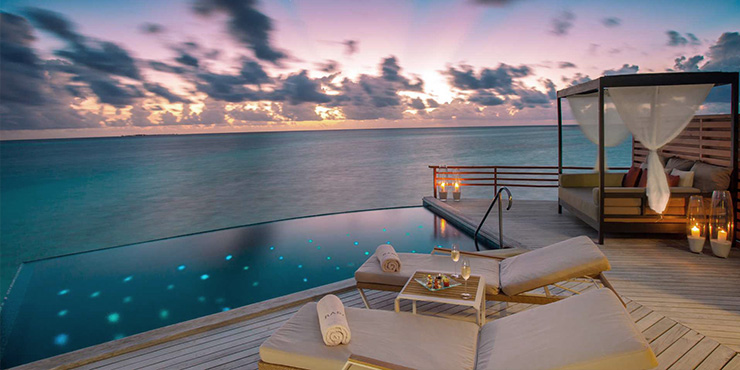 Number 1 – Bali
According to Instagram, the number one setting for a honeymoon is Bali, with an impressive 70.6K tags. There are plenty of opportunities to get the ultimate Instagram shot here. Picture tropical rainforests, super luxurious resorts and golden beaches dotted with fishing boats. Embrace Bali's laid-back vibes on your honeymoon, with cocktails around the pool or lazy days on the beach. When you want to head out and explore, you can try jungle trekking, surfing or visit the island's ancient temples.
"The great thing about Bali is that its summer is the same as ours, so if you're looking to jet off on your honeymoon at this time of year, it's an excellent choice. Many resorts here have spectacular private pool villas. The Viceroy in Ubud is one of the best hotels I've ever stayed at – the views from my pool villa were out of this world."
Daisy Chillingworth, Bali expert at Kuoni Glasgow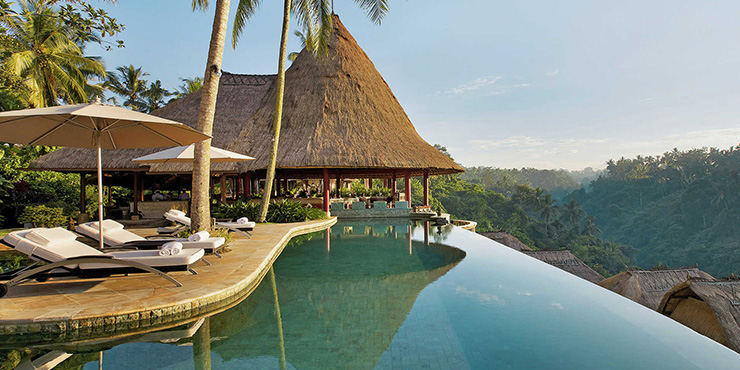 Inspired?
---
We can arrange a tailor-made honeymoon that's as individual as you are – whether you're looking for an intimate and romantic beach resort, a thrilling city stay or the safari adventure of a lifetime. To find out more, speak to one of our experts, order a brochure or book an appointment in your local Kuoni store today.
This feature was published on 21 November 2018. The information within this feature is correct to the best of our knowledge at the time of print.