Jules Verne
Jules Verne is one of our specialist sister brands, offering authentic small group escorted tours with a twist. Established in 1978, a sense of adventure to discover the world is at the heart of what they do. Jules Verne's innovative tours are packed with special touches and led by local expert guides who will show you the true character of each destination.
Whether your chosen destination is far-flung or closer to home, choose from relaxing small-ship cruises, memorable rail experiences, grand tours, great journeys and classic itineraries, all created with a particular focus on history, art and culture or wildlife. To enhance the experience of Jules Verne travellers, exclusive special events are included, illuminating the country and people you are visiting. You might attend a special ceremony, performance, meal or drinks party at spectacular locations; learn about cooking and the local way of life; or discover less-visited corners or special places not normally open to the public.
Jules Verne offers no single supplement on a range of destinations and dates; alternatively, you can join a solo group departure comprised only of single travellers and accompanied by a UK or local tour manager. Early booking is recommended and it's never too early to book with Jules Verne's 100% Price Guarantee, meaning your tour price is fixed when you book and you won't ever pay more, even if their costs increase afterwards.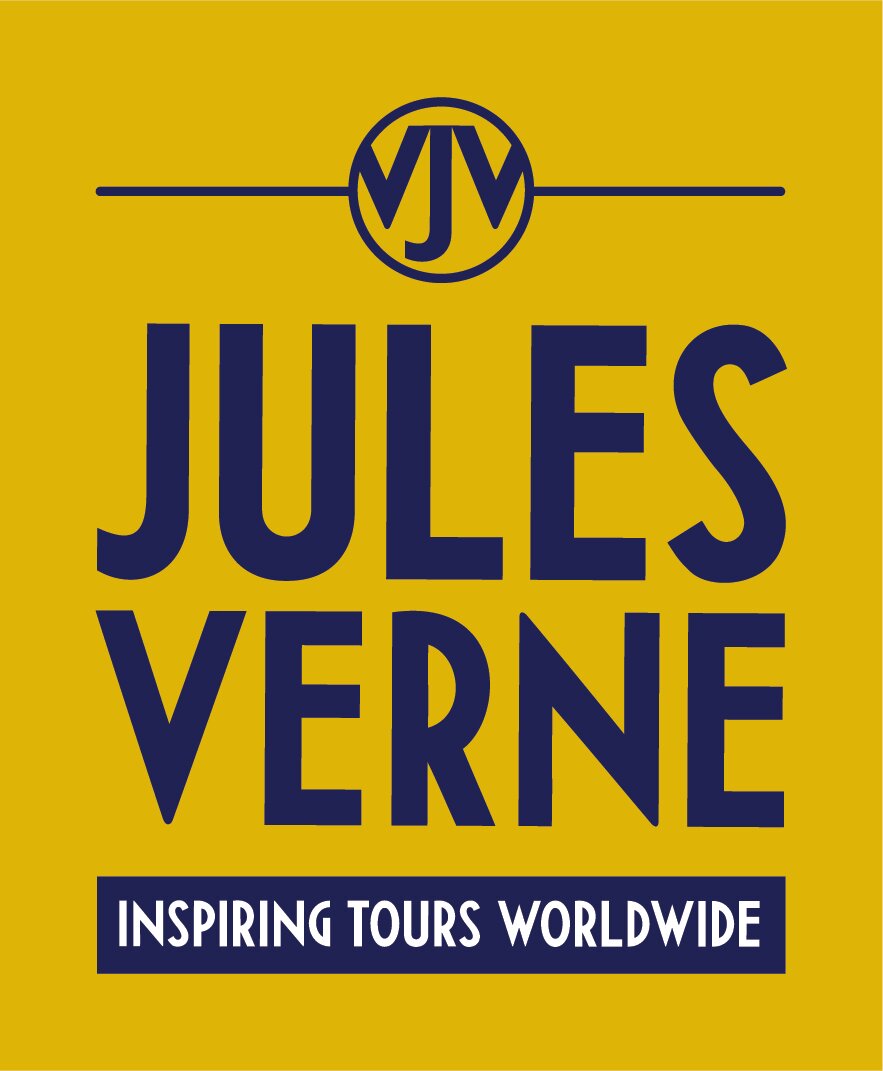 the Jules Verne difference
Inspiring tours to all seven continents
With a wealth of knowledge and experience, and an ethos of integrity and professionalism, Jules Verne is proud of its multi-award-winning service and delight in the fact that many repeat travellers enjoy it too. Their passion is to create inspirational journeys, touring lands less visited, or adding an extra dimension to well-known destinations; putting their customers at the heart of everything they do.
Small groups & privately guided tours
By being in a small group, you'll have like-minded travel companions to share the experience with. Alternatively, enjoy a more personal experience with family or friends with your own private vehicle and driver/guide by opting for Privately Guided with Jules Verne. Book a published departure and visit all the programmed sights but with your own local guide
Knowledgeable local guides
Experienced English-speaking local specialist guides bring the destinations to life as well as look after your travel arrangements and general wellbeing.
Expertly planned and organised
Fully ABTA and ATOL bonded and winner of many travel awards, their Personal Travel Experts organise every detail.
Speak to one of our experts now about this offer
Call us on - 0800 092 4444
Or drop into your local Kuoni store to find out more

Find your nearest store
Sorry, your hotel is no longer available
Please check alternatives
Choose dates
{{store.searchDuration}} nights, {{formattedDate}}
Enter dates to check availability
{{ guestRollup || 'Enter guests' }}
{{ store.selectedAirport.text }}
{{ store.selectedClass.text }}
{{ store.selectedOccasion.text }}
Search

Choose a departure date
{{store.searchDuration}} nights
Enter rooms & guests
{{passenger.childAges.length}}
Checking prices & availability

{{term}}, {{formattedDate}} for {{searchDuration}} nights
All

({{destinations.length + products.length + offers.length + inspiration.length}})

Destinations

({{destinations.length}})

Holidays

({{products.length}})

Offers

({{offers.length}})

Inspiration

({{inspiration.length}})
{{availabilityProduct.length}} holidays in {{term}}
We're transferring you to our tailor-made specialists
From the multi-award-winning Kuoni