Where can we take you on a Europe honeymoon? You can discover Venetian canals where bridges sigh, beautiful spas set on alpine lakes and Greek isles of charming tavernas and infinity pools. Short flights mean you could be enjoying a pre-flight lunch in the UK and be devouring an after-dinner gelato in Rome just a few hours later. Our travel experts have been exploring to find the very best honeymoon destinations in Europe.
Stroll arm-in-arm up the Spanish Steps, throw a coin in the Trevi Fountain for good luck, then gaze up awestruck at the ethereal ray of light pouring from the Pantheon's domed roof. Rome is one of those rare places where every nook oozes class. And there's so much good food around that dinner plans are laughably easy. Sharing spaghetti à la Lady and the Tramp? Yes. A honeymoon full of big-name tourist spots and great food? Absolutely. A gorgeous boutique hotel? Our favourite is Leon's Place for its grand, velvet interiors and intimate ambience.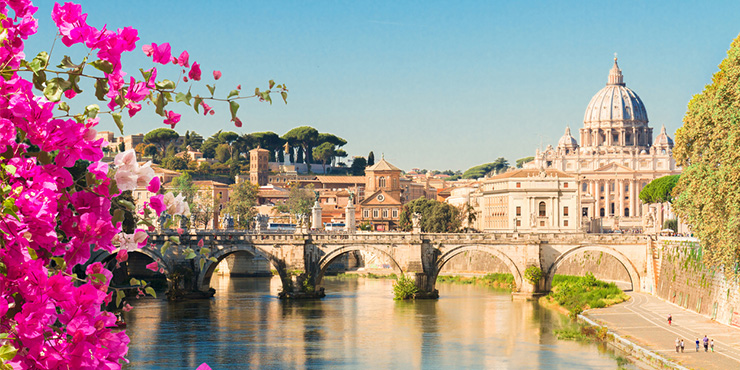 White-washed hilltop villages hugged by a gloriously deep blue sea and a crowning place on every list of the best European honeymoon destinations – Santorini is intensely alluring. The beaches are black with volcanic sand and it's more pebbly underfoot than powder-soft, but that doesn't seem to matter when you look over the top of the caldera for the first time. The island's beauty is staggering. And the hotels are suitably luxurious for this heavenly setting. The award-winning Grace Santorini, Auberge Resorts Collection is one of the best honeymoon hotels on Santorini, with unbelievable views over the caldera and Champagne breakfasts every morning. Rooms and suites are satisfyingly Santorini-white, and the Honeymoon Suite comes with sunset views and a heated plunge pool.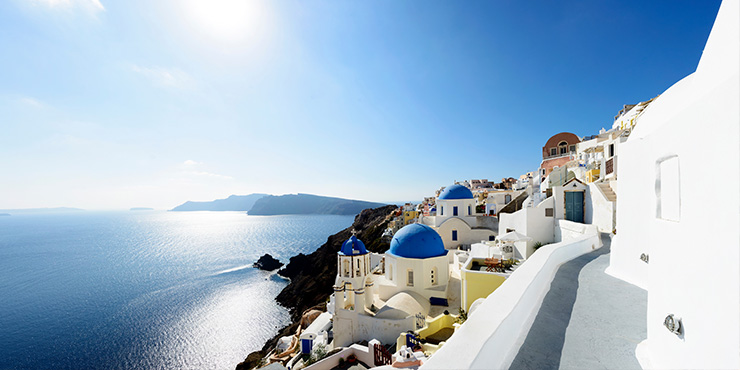 Honeymoons in Malta
It may be small and best known for its almost-year-round sunshine, but Malta is one of the most history-packed countries in the world. You can trace its legendary past in its capital, Valletta where the Knights of St. John ruled for 250 years. Or get lost in the maze of alleyways in the walled city Mdina, the original setting of Game of Thrones' King's Landing, where every turn of sandstone wall brings another colourful door to the home of one of its 300 residents. The best thing about Malta is that aside from historic sites, there's snorkelling, diving, cruising, island-hopping, shopping and simple days of beach-based relaxation. The Phoenicia Malta is the grandest hotel in Malta and worthy of a honeymoon spent there, with refreshed modern décor and an infinity pool beside the colossal bastion.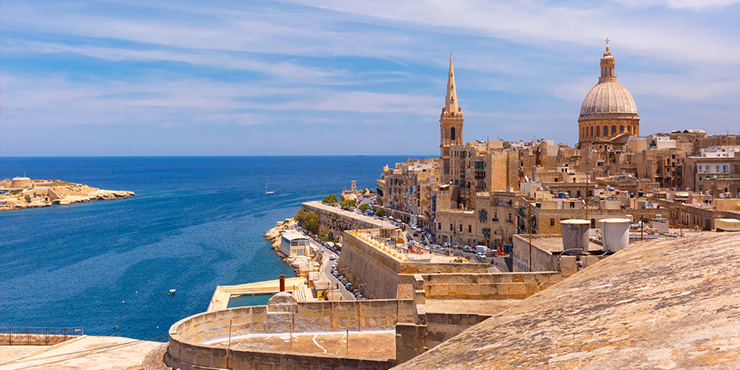 Ah, Florence. It's the cradle of the Renaissance, the capital of Tuscany's romantic rolling hills, the home to the goddess of love – specifically Botticelli's Venus in the classic birthing-out-of-a-shell masterpiece. Florence is an enlightened honeymoon choice for couples who appreciate anything and everything cultural. You can take in Raphaels and da Vincis at the Uffizi Gallery, admire Michelangelo's chiselled David at the Accademia Gallery and pay homage to Galileo and Machiavelli at the medieval gingerbread house, Church of Santa Croce. A day trip to see Pisa's jaunty angled tower only takes around an hour and a half each way by car or train, and at Piazzale Michelangelo you'll get wistful views Florence and its River Arno from above. A room with a view is compulsory for a honeymoon in Florence – stay in a Deluxe Duomo Room at Hotel Brunelleschi for a snapshot of Florence Cathedral, or Duomo, from your window.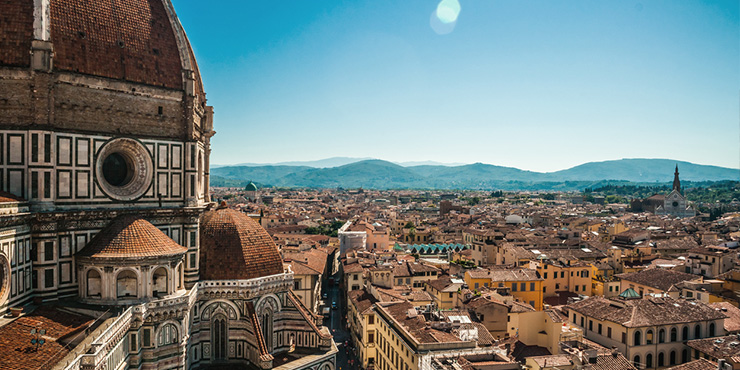 A honeymoon is ultimately a perfectly timed excuse to wind down together – and if you're likely to be craving some quiet time away post-wedding, a villa with a gorgeous views and plenty of living space can be a godsend. On a hilltop overlooking the sea in Corfu, The Olive Press is just the right size for two for a home away from home. The rustic country house charms have been lifted with modern touches like underfloor heating, an outdoor pool and an indoor Jacuzzi. It's a short drive to pretty villages where you can breakfast at a local taverna, or visit the place where the Durrell family settled in Kalami and try not to be swayed by the temptations that made them fall irreversibly in love with the island.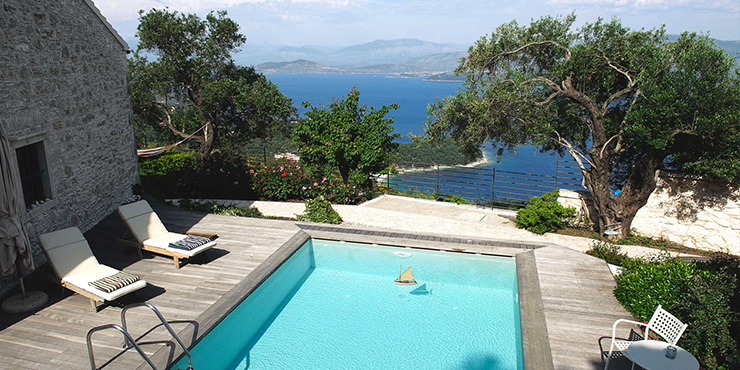 If your relationship runs on love, laughter and good wine, you'll have all this in barrels at this luxury wine and spa retreat, which draws foodies (and romantics) from far and wide. The Yeatman, a member of the prestigious Relais & Châteaux collection, is nestled on a hillside in the historic Porto wine district, with incredible views over the sparkling Douro River and city skyline. You can look forward to days exploring the surrounding vineyards, beaches and nightlife of Porto before returning to dine by candlelight in the two-Michelin-star restaurant or head to the Caudalie Vinothérapie® Spa for a twilight treatment – we highly recommend the signature barrel bath experience. For the ultimate honeymoon treat, upgrade to the Bacchus Suite, complete with a rotating bed, roaring fire and a dreamy copper bathtub – just add rose petals and a glass of vintage red from the wine cellar for the perfect end to your evenings.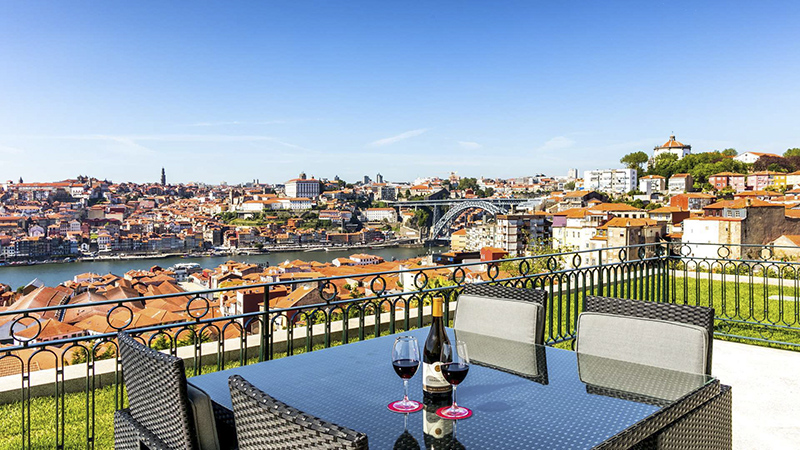 Gliding past jewels of the Renaissance in a gondola – accompanied by a Breton top-clad Italian who seems to have a key to all Venetian history – is the most romantic ways to see this floating city. Stay across the Grand Canal in one of the bold, individually styled rooms at Sina Centurion Palace for a base that is the just right amount of away-from-the-crowds and yet close to the attractions. Sip on an espresso and watch passers-by among the intricate buildings in St. Mark's Square and dress up for the opera at the splendid Teatro La Fenice. Combine a stay with a timeless train ride on board the ultra-plush Venice Simplon-Orient-Express and you've got a Venice honeymoon of pure decadence.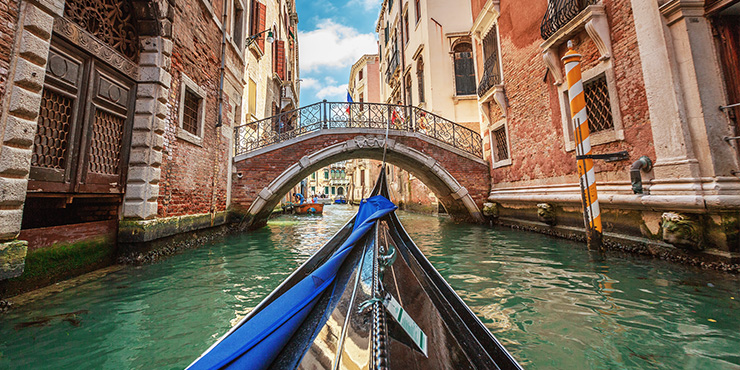 Gaudí-esque Gothic cathedrals by the sea, hairpin turns on the roads of Serra de Tramuntana and Dragon Caves ringing with classical music – Mallorca has plenty to see beyond the comfort of its all-inclusive hotels. Away from the resorts that can get busy with young families, there are prime honeymoon spots to be found. The decadent Jumeirah Port Soller Hotel & Spa is a stunning clifftop resort with an adults-only infinity pool and three restaurants for al fresco dining, while La Residencia, A Belmond Hotel, Mallorca rewards those who don't mind being away from the coast. It's a treasure trove of romantic nooks under tree canopies, hidden away in arty Deià where high-profile actors, artists and politicians alike go for a low-key escape.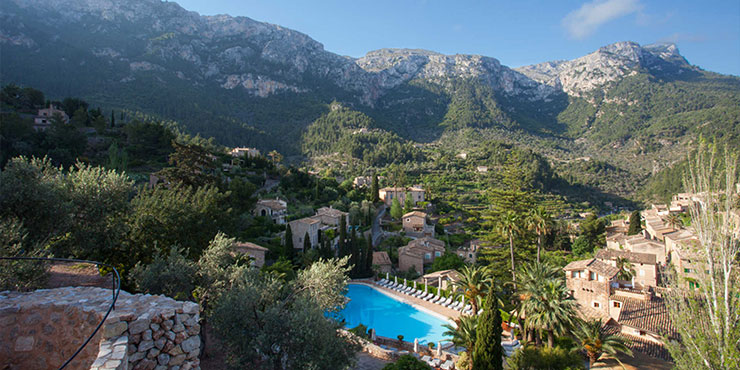 With the same namedrop-worthy status of Santorini, Mykonos trades in the caldera views and black beaches for soft, golden sands and intoxicating nightlife for those who want it. Socialites and their superyachts decorate the aquamarine coast, and away from the revelry the cobbled lanes take you to picture-postcard views of Mykonos' windmills and sunsets. It's only fitting that Grace Hotels also has a hotel here, Grace Mykonos, sister to Grace Santorini. The staff anticipate your every need before you do and breakfast is always served with Champagne. Opt for the Honeymoon Suite and bask in the seclusion of ocean vistas from your heated plunge pool.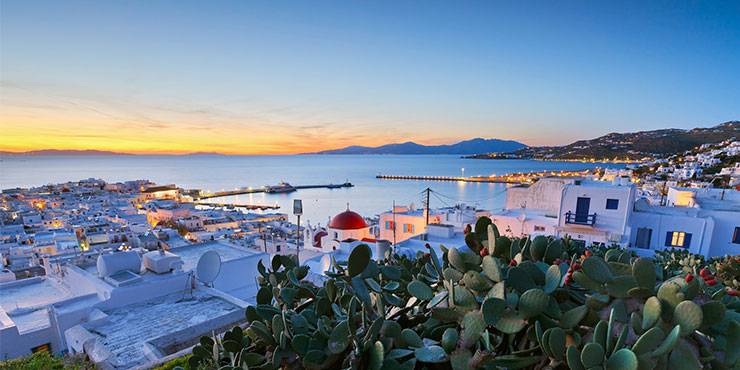 Medieval towns, over 100 miles of coastline and one of the warmest climates of the Greek islands, Rhodes is a well-balanced Greek island ripe for exploration. Embrace the leftovers from each of its past rulers; follow the Ottomans in taking a Turkish bath and see the first mosque; visit the Doric Temple of Athena to pay respects to the Greek goddess; and walk the Street of the Knights to the Palace of the Grand Master. The chic Lindos Blu Hotel & Suites is adults only, making it perfect for a sophisticated honeymoon hotel. It's rightfully a member of the Small Luxury Hotels of the World with its extraordinary views, super modern architecture and service that is en pointe.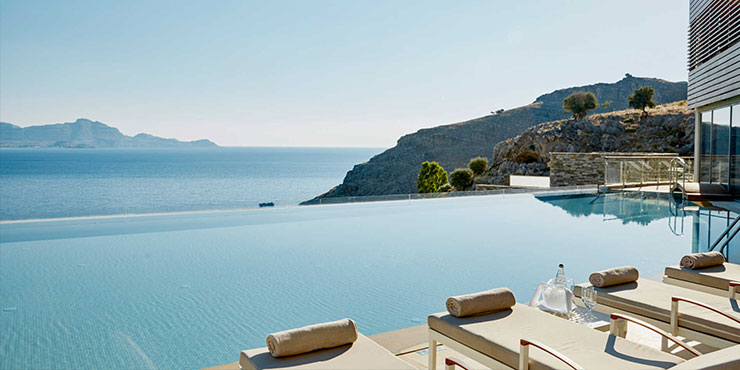 Inspired?
---
Whether you want to drink Champagne for breakfast on a caldera edge in Santorini or be serenaded on a gondola along a Venetian canal, we can help you tailor-make a honeymoon in Europe, focusing on the details to make your stay extra special. Speak to one of our Personal Travel Experts for the very best advice.
This feature was republished on 15th February 2022. The information within this feature is correct to the best of our knowledge at the time of print.