In association with Banyan Tree Hotels & Resorts, we've interviewed Melissa Odabash, a former swimwear model, who has taken poolside perfection to a new level with her collection of glamorous and well-designed swimwear and beachwear.
Her huge celebrity following includes Elle Macpherson, Cheryl Cole and Beyoncé and she is often seen sharing her fashion expertise on shows including Britain and Ireland's Next Top Model.
Melissa shares her style tips for the ultimate honeymoon...
British Vogue has dubbed your swimwear 'the Ferraris of the bikini world'. What makes your collection so special?
I have worked with women's bodies for years – and it takes time to really understand what they need and what they are looking for from their swimwear. Fabrics and cuts have always been so important through my collections.
What destinations have inspired your designs the most?
I travel all the time and it has always been a key factor when I am designing my collections. I love interiors and I find that they inspire my direction – I loved Morocco! The craftsmanship was incredible. Shanghai was also a great destination for inspiration – it is such a contrast with Europe, which gave me some really great ideas.
What is your favourite piece in the collection?
I love the Melissa dress – it is so easy to wear from the beach to bar – all you need to do is layer the dress with some gold chains and a great pair of sandals! I also love my Sports Luxe line – I am always doing sports in Florida so it is great to have some styles that go with my paddle board!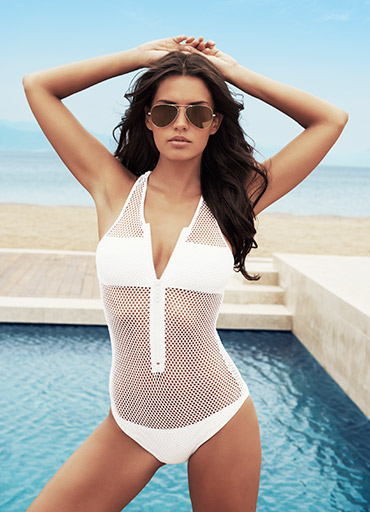 What has been your favourite holiday spot?
I love going to my home in Florida. I always do lots of water sports and the weather is always gorgeous. Ultimate relaxation!
We're off to the beach. What do we need to take in our beach bag to ensure we're stylish all day?
Sunglasses and a hat! It will finish your look in an instant, plus I am all about sun protection.
What's the most common swimwear faux pax?
I often find women choose larger bikini briefs to cover themselves. If you go for the smaller style it draws your attention to a smaller piece of fabric, thus creating a smaller illusion.
What holiday fashion trends do you predict for 2017?
Earthy tones in very relaxed boho styles is going to be hot this year.

Tell us about a perfect travel moment you've had…
Arriving in the Maldives for the first time and being taken to see my new store where David Beckham is leaning against the door in his swim trunks. I don't think it gets better than that!
What exciting projects are you working on at the moment?
I am looking forward to launching my Future Dreams collection in February. We are raising money and awareness for an amazing charity called Future Dreams for women who have suffered from breast cancer.