The best places to get married in Thailand
Thailand is one of our favourite wedding destinations. Friendly local people, exciting cities, beautiful beaches and fantastic value combine to make this a winning location for your big day. We asked our Thailand experts and wedding team to pick out their favourite places to tie the knot.
Best for: an intimate, personal wedding
Petite, chic and perfect for a luxury wedding, Rocky's is an atmospheric hideaway set over three small beaches that overlook the Gulf of Thailand. Designed with privacy and indulgence in mind, this family-owned hotel's boutique size makes it feel like an intimate hideaway. Weddings here are completely bespoke and can cater for up to 60 guests. Choose from a western or Thai-style ceremony; add umbrella bearers or a long drum parade; and, if you're looking for something a little different, you can even consider a ceremony conducted by Buddhist monks. Top it all off with a private dinner in a romantic beachfront sala.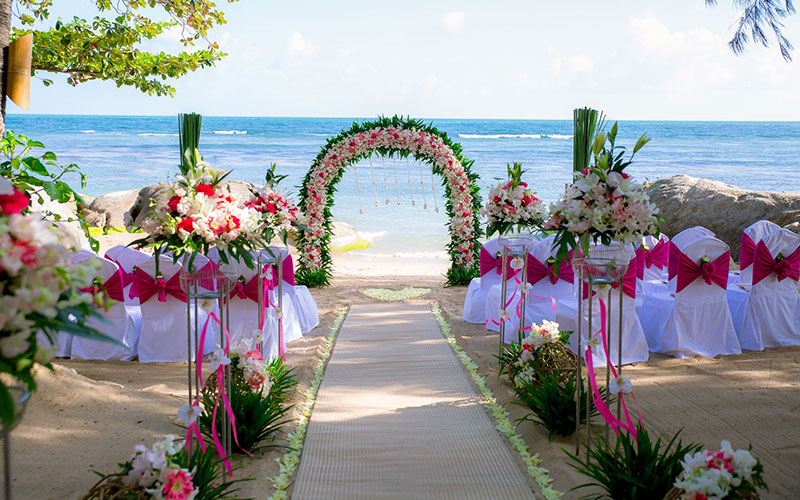 Best for: a large, luxurious wedding
It's hard to imagine a more romantic wedding hideaway than The Tongsai Bay. Great for large and luxurious wedding parties, this is where a large freeform pool overlooks indulgent ocean views, and in the evening you can dine beachside under the stars at one of the island's finest restaurants. Come here if you want an elegant ceremony at one of Koh Samui's most romantic hotels. The focus is on personalising your special day; you can marry at a beautiful beach venue beneath a picture-perfect floral canopy, include a traditional water blessing and even exclusively hire out the Po-Lad Bistro for an exquisite wedding breakfast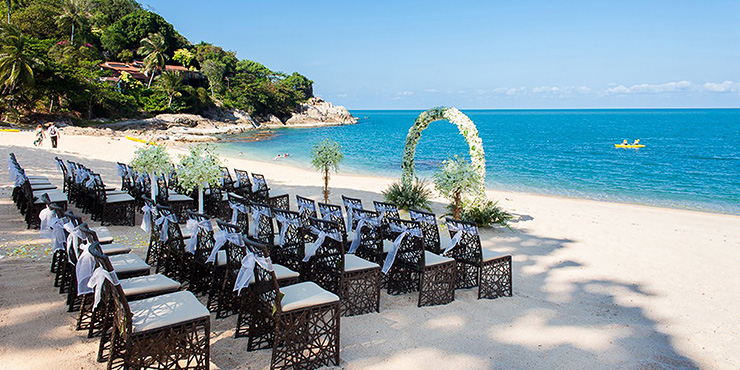 Best for: a relaxed beach ceremony where children are welcome
This laid-back spa resort has a welcoming and relaxed vibe in a fantastic location on Koh Samui's Bo Phut Beach. We especially love this hotel for its choice of a stunning beach wedding or a ceremony on the lawns with a spectacular flower tree display. You can even plant your very own love tree in the resort's gardens. If it's just the two of you, indulge in a private candlelit seafood dinner on the evening of your special day; or enjoy an unforgettable night of dancing and dinner with your whole family.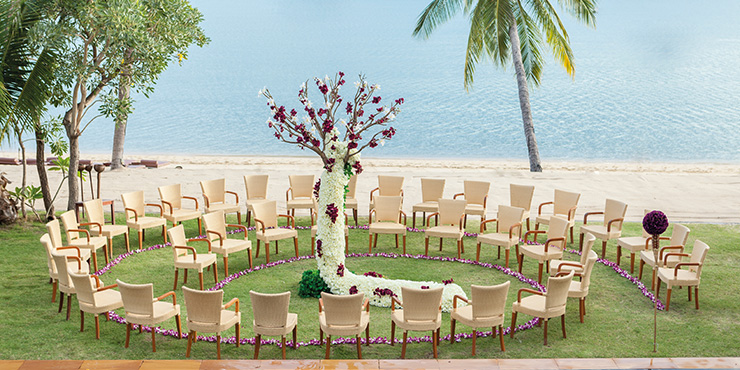 Best for: saying 'I do' on a flower-decked floating stage
There's a combination of traditional Thai style and contemporary design at this peaceful resort on Koh Phi Phi; and it's a beautiful spot for a luxury wedding on velvety white sands. Here, the finest attention is paid to every detail of your ceremony, whether you want a western or Thai-style wedding, to exchange vows in the beautiful landscaped gardens, or to have a ceremony on the pristine sands of Loh Ba Gao Bay. Elevate the day with a Buddhist monk blessing and enjoy a newlyweds' breakfast in bed the morning after. For the ultimate in breathtaking settings, you'll struggle to find a more stunning and unique venue than the flower-decked floating stage at the centre of the spectacular swimming pool.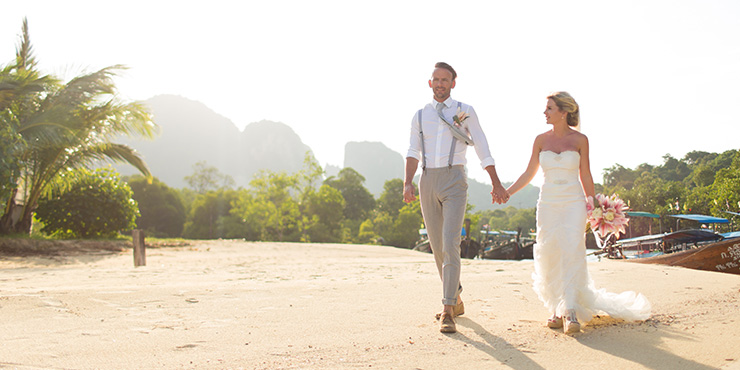 Best for: getting married in an ancient cave
Fringing three pristine National Marine Park beaches in Krabi, Rayavadee is the perfect choice for a romantic wedding by the ocean. With its breathtaking natural beauty, come here if you're after a small ceremony with a choice of seriously spectacular locations. There are panoramic views of emerald green waters and a beachfront pool, which is a hidden gem. For us it's the outdoor Grotto that really makes this resort so alluring for a wedding – the ultimate in wistful romance, you can have your ceremony in an ancient limestone cave overlooking the turquoise waters of Phranang beach. Experience a Buddhist monk's blessing or a traditional Sai Mongkol ceremony, then lap up the glamour with a private speedboat tour of the surrounding islands.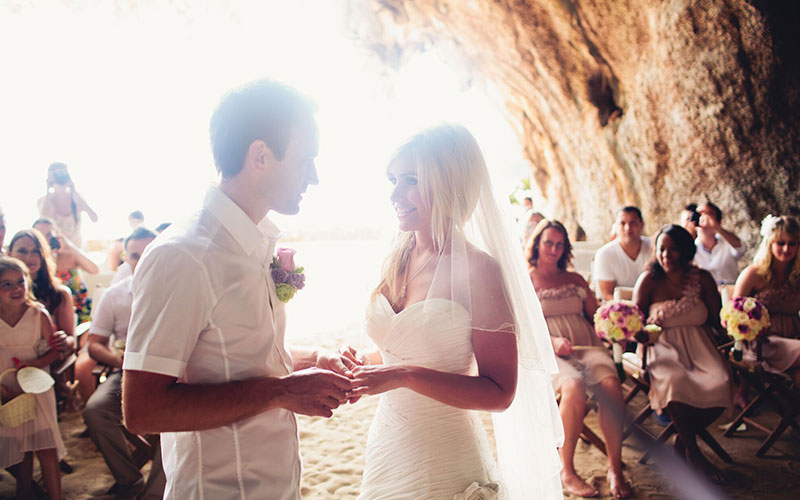 Best for: a small, funky and glamourous wedding
Escape the crowded chaos of central Phuket and choose this stunning luxury resort for your wedding, which has a cool Ibiza-style vibe. Just steps from beautiful Kata Beach, it's minimalist and indulgent, with only 34 private villas each with their own seven-metre long infinity pool, kitchen, diner and lounge. Kata Rocks has a seriously romantic oceanfront setting and a choice of wedding venues that are just incredible. At the top of the resort, one of our favourites is the Buddha Footprint. Private and remote, this gorgeous venue best suits those wanting an intimate wedding celebration; just four guests can join to witness your ceremony, and its spectacular position means you can marry in front of exceptional sunset views.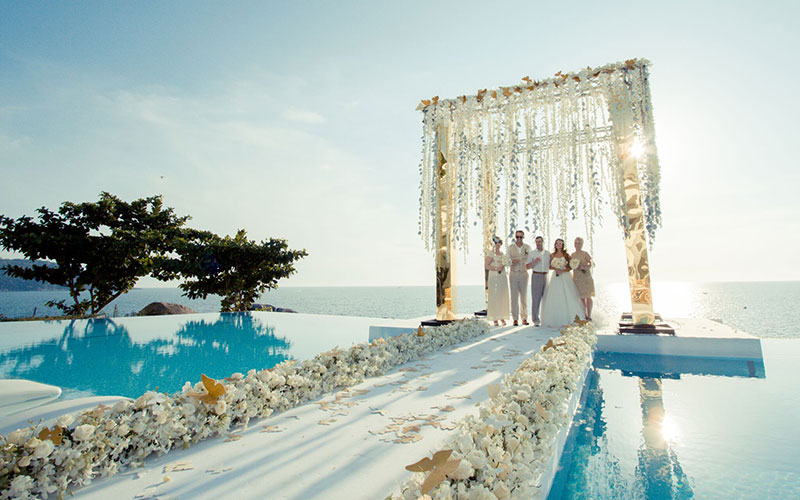 Best for: a candlelit wedding by a waterfall
When it comes to creating romantic settings, this resort in Khao Lak is one of the best. This luxury retreat is renowned for its impeccable personalised wedding service, where you can have everything from Buddhist monks in attendance to bespoke wedding vows. The choice of venues at this intimate resort is astounding. There's a seven-mile white sand beach lapped by the ocean, marry under a magnificent ancient Fiscus tree in the Sarojin gardens; or have a candlelit ceremony by a waterfall. Celebrate in style with a private dining experience on a beautiful isolated sand island or take a sunset cruise on the Lady Sarojin across the Andaman Sea. There's no need to go anywhere else for perfect honeymoon territory, just upgrade to a Spa Suite and bask in your own private pool as you celebrate married life.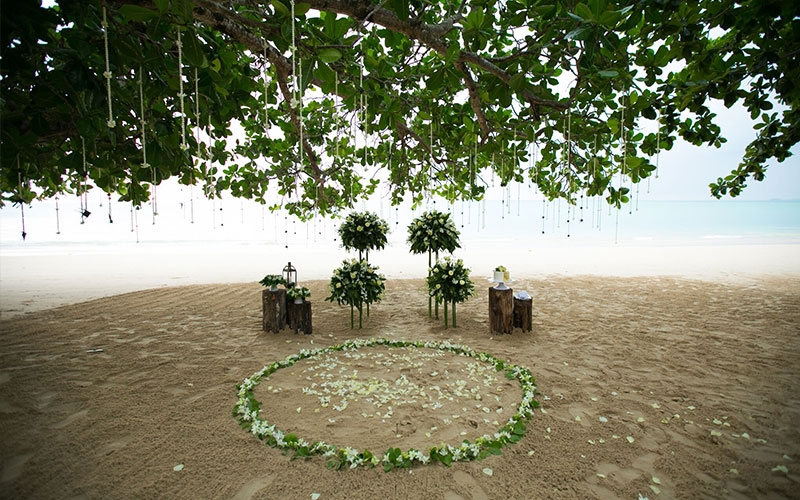 Best for: a big guest list with an uncrowded feel
This large hotel is great for a big wedding with children in tow, as it has a family wing and even two-bedroom teen suites. Khao Lak's shops and market are right on the doorstep and there are nine pools, six with private access from the swim-up suites. You can have a romantic beachfront wedding overlooking the quiet golden slither of sand, where you can have up to 60 guests; and the team will help arrange everything, from the decorations to the photography. There's even the chance to have a unity of sand ceremony if you wanted something a little different, where two coloured sands are poured together to symbolise the coming together of two families. Overlooking gorgeous ocean views, the reception can be decked out in a graceful Orchid Blossom or a Vibrant Ocean theme and, if you opted for the Moon Package, you'll receive a two-hour couple's
spa treatment and a romantic honeymoon dinner.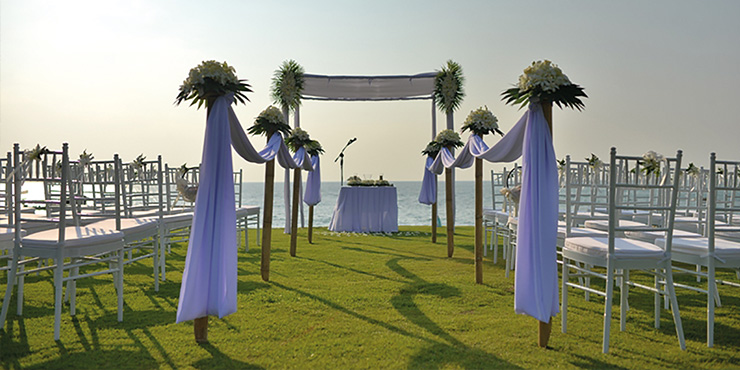 Best for: a big resort perfect for a family wedding
On the south-west coast of Phuket Island, this award-winning hotel sits beside a tranquil stretch of Kata Noi Beach. The perfect setting for an idyllic family wedding abroad, the secluded beachfront garden is ideal if you're looking for a more private and personal wedding venue. Say 'I do' overlooking stunning ocean views and tailor the day to suit your every whim – with a wedding celebrant in charge of the ceremony, you'll even have the chance to exchange personalised wedding vows; and you can add extras such as a fun photo booth.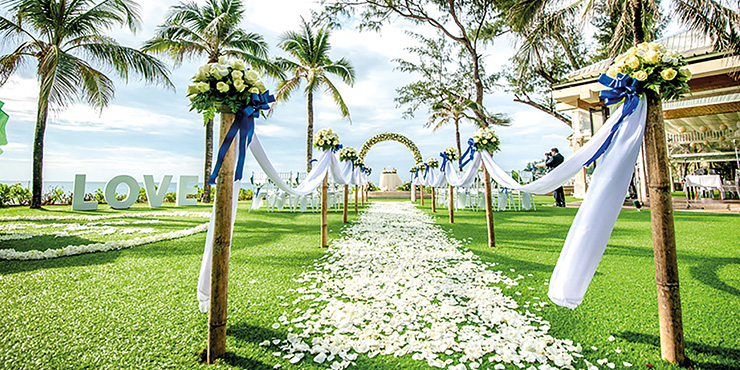 Inspired?
---
Find out more about Kuoni weddings abroad by booking an appointment in your local Kuoni store or talking to one of our wedding experts. We can arrange incredible weddings all over the world, so talk to us for inspiration.
This feature was published on 24 January 2019. The information within this feature is correct to the best of our knowledge at the time of print. Feature by Anna Hunt.