For those who love a little fun and don't mind getting soaked in the process, here's everything you need to know about Thailand's water festival, Songkran.
What is Songkran?
Meaning 'the Passing of the Sun' in the ancient Sanskrit language, the Thai water festival of Songkran is a colourful tradition that celebrates the coming of the New Year. From day-long water fights that wash away last year's bad luck, to the building of sand chedis (Buddhist stupas) symbolising respect for the Buddhist faith – these enchanting traditions, or merits, are made in the hope of receiving blessings of prosperity for the year ahead.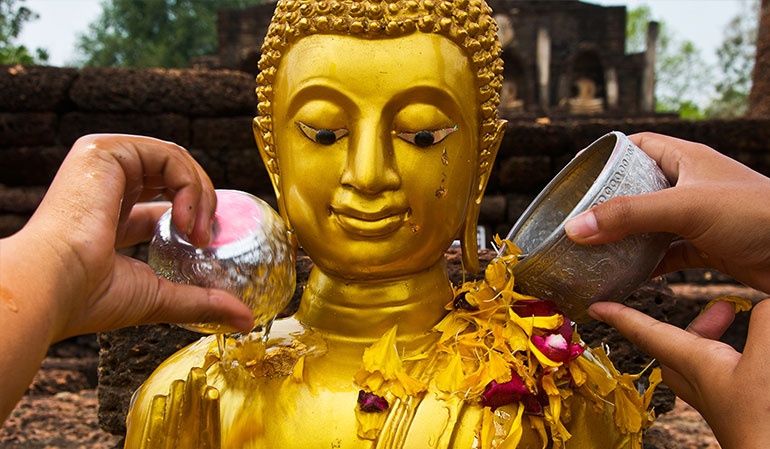 Traditions of Songkran
Throw water at one another, wishing blessings for the New Year
Join others in giving alms to Buddhist monks in the early morning
Make merit at local temples
Bathe Buddha statues at the temple or at home
Pour water onto the hands of the elderly as a gesture of humility
Build miniature chedis out of sand
Release birds and fish into their natural environments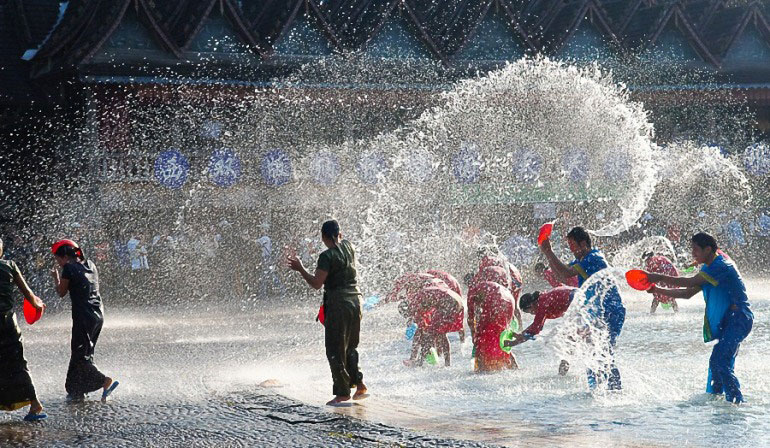 Where to celebrate Songkran
Bangkok
Head to Khao San Road in Bangkok's backpacking district for what is known as Thailand's largest Songkran festival. This televised event marks the beginning of the New Year's celebrations, where a grand opening ceremony leads the way. As well taking part in the traditional forms of celebrations, locals and tourists alike are encouraged to don traditional Thai attire and make merit at a number of temples which include Bangkok's most famous: Wat Arun - the Temple of Dawn.
Ayutthaya
Experience more of a traditional celebration in the ancient city of Ayutthaya, as Songkran is celebrated with locals giving alms to monks in the early morning, followed by the respectful gesture of releasing birds and fish into their natural environment.
Chiang Mai
If you're in Chiang Mai during Songkran, watching or taking part in the bathing or cleansing of the Buddha image is a must. This captivating tradition shows locals gently pouring small bowls of jasmine scented water three times over a Buddha statue whilst asking for the following blessings:
- May I eliminate all evil thoughts
- May I cultivate good deeds
- May I help save all living beings
After the procession, locals then cleanse the hands of local elders as a tribute of respect, before celebrating with well wishes whilst throwing water over one another.
Phuket
Celebrate Songkran on the Beach on Phuket's Patong Beach and be prepared to be soaked, as celebrants throw water to each other, which symbolises the washing away of any bad luck from the previous year. Family-friendly street parties are livened up with water cannons, water guns and buckets in streets – making a refreshing break from the Phuket sunshine!
Pattaya
Pattaya's tribute to Songkran reflects the nature of this city – big, bold and colourful. It's at night when the celebrations really come to life here with endless parties, friendly water fights and charming competitions such as rice piling and Miss Songkran international take place.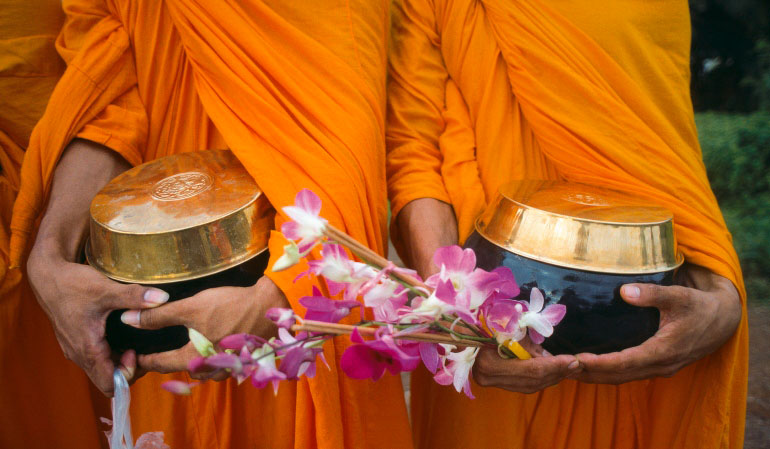 Dos and Don'ts when celebrating Songkran:
Do dress for the occasion – you will get wet!
Don't throw water at monks, babies, the elderly or two-wheeled vehicles
Do feel free to take part in the traditional ceremonies
Don't drop water from great heights
Do dress appropriately – Thais are very conservative people
Don't bring cameras or mobile phones if they're not waterproof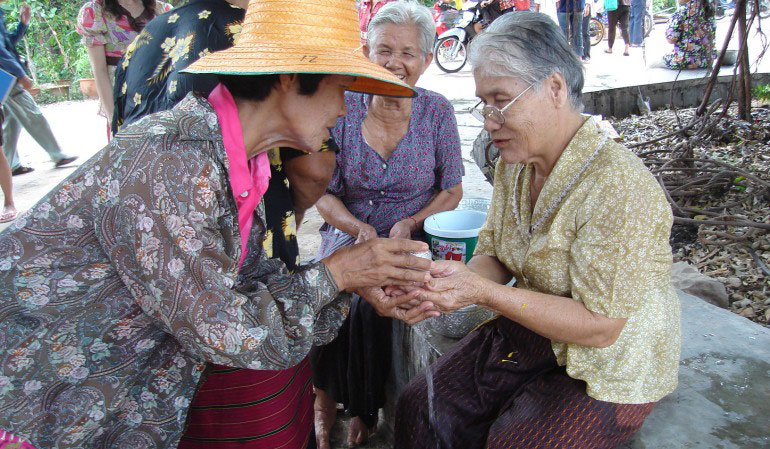 When is Songkran?
Songkran is on the 13th April each year and the holiday is celebrated until the 15th April in most parts of Thailand, but be sure to check to see how long the festivities last where you are as some holidays extend longer than three days.
Inspired?
---
With charming locals, exciting cities, beautiful beaches, flavoursome cuisine and fantastic value, what's stopping you from beginning your Thai adventure?