Home to unforgettable beaches and glistening temples, Thailand also has some of the world's best floating markets.
Escape the hustle and bustle of Bangkok and head to the river banks to experience the city's vibrant floating markets. Situated on a series of chaotic canals or khlongs as they're known locally, expect everything from local handicrafts to herbal remedies sold to you from small boats. And, if you're peckish – there are even floating kitchens ready to whip you up a tasty Thai treat!
Whether you head to Khlong Lat Mayom and Taling Chan, Amphawa or the most popular floating market – Damnoen Saduak; you'll find yourself completely enthralled by the incredible sights, smells and sounds that await you.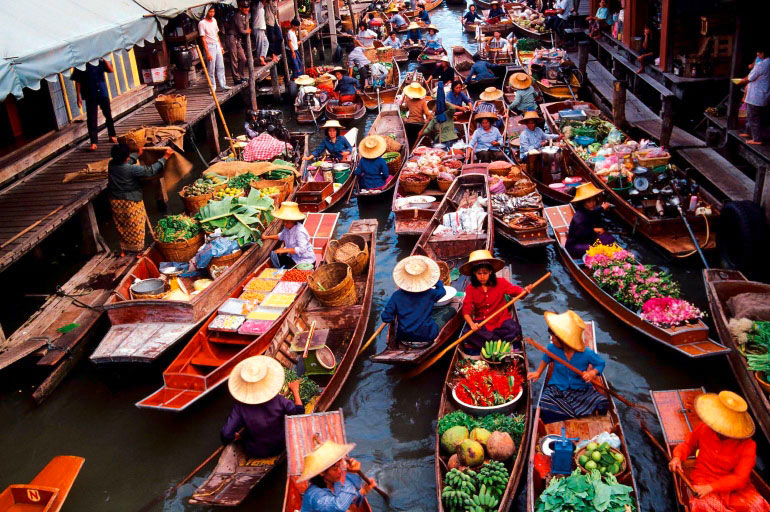 The most famous of Bangkok's floating markets; barter for boat hire and paddle your way through the buzzing khlongs or simply wait along the banks for vendors to come to you at Damnoen Saduak. Amongst souvenirs, goods on offer here include art and local handicrafts, ornaments, clothes, fabrics and spices.
Whilst paddling through the market, look out for the Buddhist temples such as the iconic Phra Pathom Chedi, featuring the world's tallest stupa. If you want a closer look, you can moor up and observe the temple, standing at 127 metres tall. Be sure to take off your shoes and if you want to do it like the locals, you're welcome to light an incense stick as a sign of respect.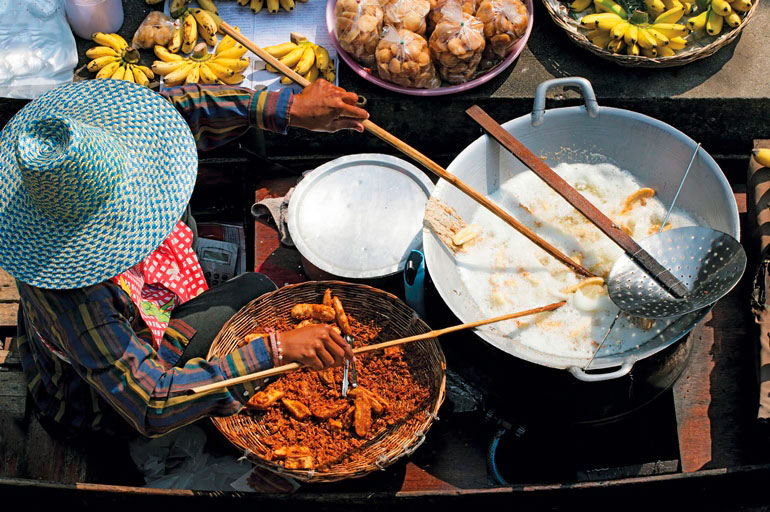 Certainly not as vast as Damnoen Saduak but seen as more of a traditional market place, Amphawa's floating market is a favourite amongst locals and is the perfect choice for seafood lovers. Walk along the riverbank and follow the smoky aromas of grilled prawns, shellfish and squid to find yourself in foodie heaven – simply pick a spot by the famous central bridge and watch your food being prepared for you. If you're seeking a more convenient waterside dining spot, there are a handful of local restaurants to choose from too!
Khlong Lat Mayom and Taling Chan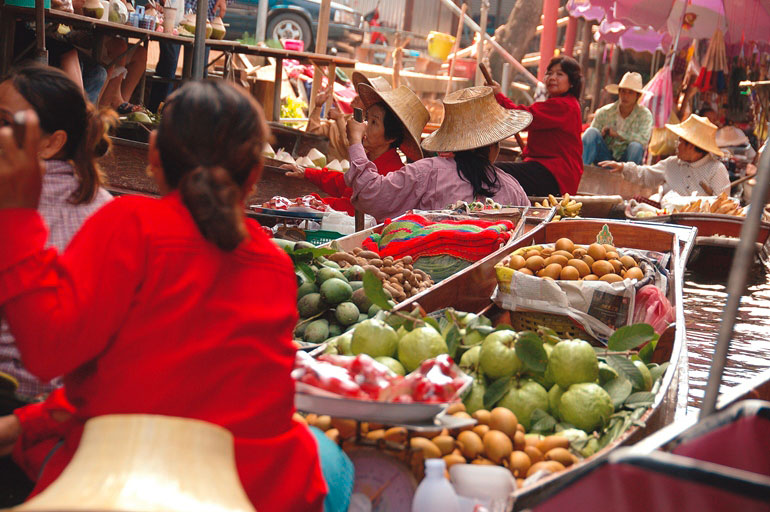 Escape the crowds and immerse yourself into the authentic flavours of Bangkok at Khlong Lat Mayom. Not strictly a floating market, but situated on the banks of the river, this is a great spot to grab fresh fruits, vegetables and local handicrafts without having to push your way through crowds of tourists. Combine your visit to Khlong Lat Mayom with a visit to the colourful and energetic Taling Chan floating market to get the best of both worlds. Here, you can jump aboard a longtail boat (at a supplement) and explore the khlongs in the ultimate in comfort and convenience.
Inspired?
---
An intoxicating blend of high culture, superb shopping and hedonistic entertainment, Bangkok is one of the most exciting and enthralling cities in the world.