From Marrakech to Tangier, this comprehensive journey through fascinating Morocco is a truly immersive experience. Wander through imperial cities, explore the natural wonders of the desert in traditional Moroccan Berber villages, savour delicious cuisine, and sleep in pretty Moroccan riads and tents in the desert on this fast-paced, in-depth tour.
13

nights
Escorted Small Group Tour
13

nights
Escorted Small Group Tour
ITINERARY
Day 1: UK to Marrakech
Depart the UK on your flight to Marrakech. On arrival, transfer to your riad for two nights. Have a traditional welcome with mint tea at your riad within the city walls. Stay: Riad Amina or Angzana Riads (or similar). D.
Day 2: Marrakech
Today begins with a full day's exploration of Marrakech. The first stop is the Jardin Majorelle, a botanical garden designed by a French artist in the 1920s and 30s. Stop outside the 12th-Century Koutoubia Mosque, the largest mosque in Marrakech and known for its 77-metre-high minaret, then continue to the historic Kasbah Quarter. You will also visit the 16th-Century Saadian Tombs and the Bahia Palace and museum, before a welcome dinner at a local restaurant this evening. Stay: Riad Amina or Angsana Riads (or similar). B, D.
Day 3: Marrakech to Rabat
Today you will travel north to the coastal city of Rabat. En route there's the option to visit the modern Hassan II Mosque in Casablanca, where you can learn about Muslim traditions on a guided tour in one of the largest mosques in the world. Approx. journey time: 4 hours, 210 miles. Stay: Sofitel Rabat Jardin des Roses (or similar). B, D.
Day 4: Rabat to Tangier
Tour Rabat's old medina and Oudaya Kasbah this morning and view the well-preserved minaret and the Mausoleum of Sultan Mohammed V, which contains the tombs of the Moroccan king and his two sons. Visit Chellah en route, the crumbling remains of an ancient Roman city and Islamic complex that were destroyed in the 18th Century by an earthquake, and see the impressive ruins of the Chellah Fort. Continue to Tangier via the Caves of Hercules – or Grottes d'Hercule – a part natural and part man-made cave 300 metres below the Cape Spartel promontory. On arrival in Tangier, transfer to your hotel. Approx. journey time: 3 hours, 155 miles. Stay: Mövenpick Hotel & Casino Malabata Tangier (or similar). B, D.
Day 5: Tangier to Fes
Your day starts with a visit to the Dar-el-Makhzen (Sultanate Palace) – a 17th-Century building overlooking the old medina. You will also visit the old medina of Tangier and a couple of the city's many souks. Your next stop on the way to Fes is the lucid blue city of Chefchaouen. Wander through the labyrinth of streets and lanes of the old medina before continuing south to Fes. This incredible city seems to be suspended in time and at its heart there are a tangle of alleys and souks to explore. Approx. journey time: 6 hours, 192 miles. Stay: Palais Ommeyad (or similar). B, D.
Day 6: Fes
Explore the city, visiting the Medina of Fes where you can see religious schools and souks. During the day there will be photo stops at the 20th-Century Bab Bou Jeloud, the most famous of the city's gates; the beautiful Fondouk el-Nejjarine, home to the Museum of Wooden Arts and Crafts; and the Royal Palace of Fes. You'll have the chance to visit one of the many tanneries where most of the city's famous leather is produced, and visit local factories where they make jewellery and the typical Moroccan robe, the djellaba. Stay: Palais Ommeyad (or similar). B, D.
Day 7: Fes
Today you will travel west to the imperial city of Meknes. Begin with a visit to the Moulay Ismail Royal Stables and the vast chambers of the 17th-Century Heri el Souani granary. Soak up the atmosphere in the main square of this modest and laid-back city. Visit the nearby Volubilis to see the incredible Roman ruins before your final stop at the nearby sacred town of Moulay Idriss. Stay: Palais Ommeyad (or similar). B, D.
Day 8: Fes to Erfoud
Journey to the oasis town of Erfoud, stopping at the limestone caves of Ifrane en route, once home to Ifrane's founders. You will then transfer by 4x4 from Erfoud to Merzouga where you'll spend a night at a tented desert camp. Share mint tea with Berbers and learn more about their culture. Approx. journey time: 7½ hours, 290 miles. Stay: Xaluca Auberge La Belle Étoile (or similar). B, L, D.
Day 9: Erfoud to Ouarzazate
Begin your day with a visit to the striking Todgha Gorge before continuing to Tinerhir where you will learn how Moroccan rugs are made. A highlight of today's journey is following the Road of 1000 Kasbahs, which links the high peaks of the Atlas Mountains and the Sahara Desert. Transfer to your hotel in Ouarzazate on arrival. Approx. journey time: 4½ hours, 192 miles. Stay: Le Berbère Palace (or similar). B, D.
Day 10: Ouarzazate to Taroudant
Continue west towards the ancient town of Taroudant in the Sous Valley, which is known for its red ramparts and gardens full of eucalyptus, olive trees and pomegranate trees. You'll have the chance to visit a popular market before transferring to your hotel. Approx. journey time: 4½ hours, 181 miles. Stay: Hôtel Dar Zitoune (or similar). B, D.
Day 11: Taroudant to Essaouira
Return to the Atlantic Coast and the beautiful harbour city of Essaouira. Famed for its blue fishing boats and bohemian vibe, Essaouira is the perfect balance between relaxation and cultural discovery. You'll also stop in the famous modern beach resort of Agadir, to visit the Berber Women's Co-operative where they produce Argan oil, a staple in Morocco for centuries. Approx. journey time: 4½ hours, 159 miles. Stay: Le Medina Essaouira & Spa by MGallery (or similar). B, D.
Day 12: Essaouira
Go on a short introductory tour of this fascinating city in the morning, and find out about the traditions and cultural history, fortified walls, vibrant souks and sweeping – often windswept – beaches. Visit The Mellah, the crumbling Jewish quarter, before returning to your hotel. The rest of the day is free for you to explore at your own pace. Stay: Le Medina Essaouira & Spa by MGallery (or similar). B, D.
Day 13: Essaouira to Marrakech
Enjoy some free time this morning before returning to Marrakech. Stay: Riad Amina or Angzana Riads (or similar). Approx. journey time: 3 hours, 111 miles. B.
Day 14: Marrakech
Transfer to the airport for your flight back to the UK.
ABOUT THIS TOUR
Is this for you?
For a mix of ancient tradition, beautiful landscapes and great food, this immersive adventure is the perfect choice.
Good to know
• 2019 departures are guaranteed
• For guests over 16 (unless travelling on a private journey)
• Average group size of 8 guests
• A maximum of 14 guests.
What to expect
• Air-conditioned transport
• Long journeys but frequent rest stops will be made
• Your riad in Marrakech is within the city walls at the Medina, meaning that it is not possible for your coach to pull up outside
• There are limited vegetarian options available in Morocco
• During mosque visits clothing should cover shoulders and knees.
Accommodation on tour
The accommodation on offer in Morocco is unlike anywhere else. From homely riads to relaxing resorts, the variety here reflects the diversity of the landscapes. The Xaluca Auberge La Belle Étoile tented camp is a definite highlight. A mobile camp in the middle of the dunes, you'll stay in a tented haima beneath a star-studded desert sky for a truly authentic Arabian nights experience.
Single travellers
Single room supplement from £879
DATES AND INCLUSIONS
Tour dates
Included in price
• Quality accommodation
• Insightful local tour leaders
• Hand-picked itineraries
• Flexible arrival times
• Small groups and a relaxed approach
• Porterage and guide tips
• Meals where most convenient (B=Breakfast, L=Lunch, D=Dinner), or the freedom to explore local restaurants independently
• All specified flights.
Upgrade your tour
Private tour Upgrade to a private tour with a local tour leader on the same itinerary, departing on the date of your choice, please call for prices.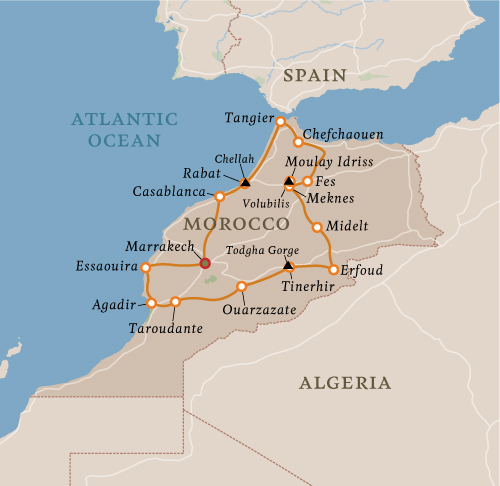 Kuoni highlights
Offering the intimacy that only comes when travelling with a small group, you can enjoy personalised attention as you explore the length and breadth of this fascinating country from Agadir to Tangier. Journey past the towering Alps, be immersed in the complex cultural history and relax on beautiful beaches on this all-encompassing adventure. And while you'll see a lot in a short space of time, the pace will never feel rushed.