South Africa is vast and varied. If you're travelling here for the first time, its diverse nature is a great thing – it gives you the chance to choose your favourite travel experiences and create a unique holiday.
With its epic scenery, fascinating cultural heritage and warm welcome, South Africa has long been one of our favourite destinations to explore. Here you'll find some of the best wildlife viewing and possibly the best collection of luxury safari lodges on earth. The difference is that it's not all about safari; it's about an unforgettable safari experience that you can combine with a cosmopolitan city stay, wine tasting in picturesque vineyards, or chilling out on a long, sandy beach where whales frolic offshore. All in one holiday, all in one country.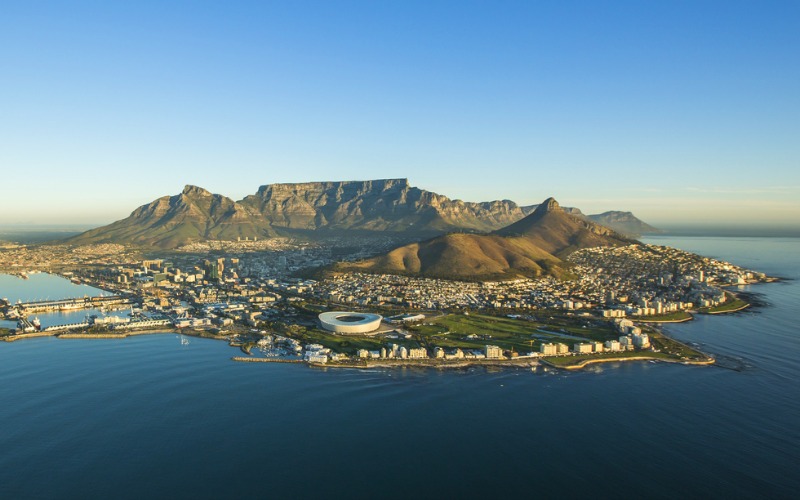 The biggest advice we can give first-timers in South Africa is that you shouldn't be afraid to explore independently. The rewards of independent travel here are huge, giving you the flexibility to discover the country by rail, road, boat or plane, sightsee at your own pace, hand-pick accommodation to suit your taste and budget, and choose your own duration.
Here are just a few ideas of what you could see and do on your first holiday to South Africa, whether you have a week, ten days or two weeks.
South Africa in one week
Cape Town: 2 nights
Garden Route: 3 nights
Safari: 2 nights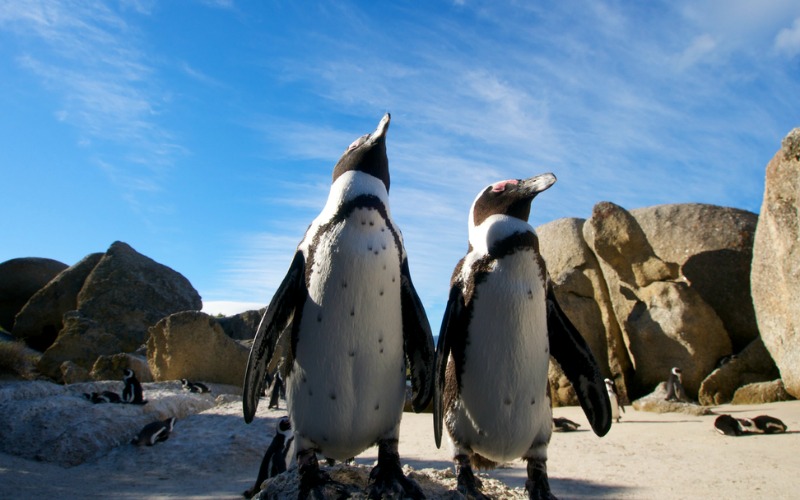 A safari and self-drive holiday is our most popular itinerary for first-timers. Begin in Cape Town – a world-class city that's closer in style to Sydney than Nairobi. In two days you'll have time to take the aerial cableway to the top of Table Mountain, sip drinks on the V&A Waterfront, see the adorable penguin colony on Boulders Beach and discover the history of Robben Island, where you may even have a former political prisoner as your guide (you'll need to pre-book your tour – just ask one of our Personal Travel Experts to help).
The Garden Route stretches between Mossel Bay and Plettenberg Bay and is dream self-drive territory. The main highway (the N2) runs along the coast and there's little traffic compared to the UK, especially in low season; so if you're super short on time it is possible to drive it in just nine hours. But to travel at a more leisurely pace, taking in the unspoilt forests, mountain passes, golden beaches and pretty lagoons, we'd recommend three nights, staying at boutique hideaways such as Hog Hollow Country Lodge and Views Boutique Hotel & Spa along the way.
For a short taste of safari, opt for one of the Eastern Cape game reserves. These reserves are close to the Garden Route and offer abundant wildlife spotting. In 10,000 acres and with the chance to spot the Big Five, Kariega Game Reserve is a superb finale to a first-time South Africa adventure. Think game drives in 4x4 vehicles, nights spent in beautiful safari lodges and gin and tonics out in the bush at sunset. The Eastern Cape game reserves are also malaria-free, so they're a great, safe choice for a family adventure.
South Africa in ten days
Cape Town: 2 nights
Winelands: 2 nights
Garden Route: 3 nights
Safari: 3 nights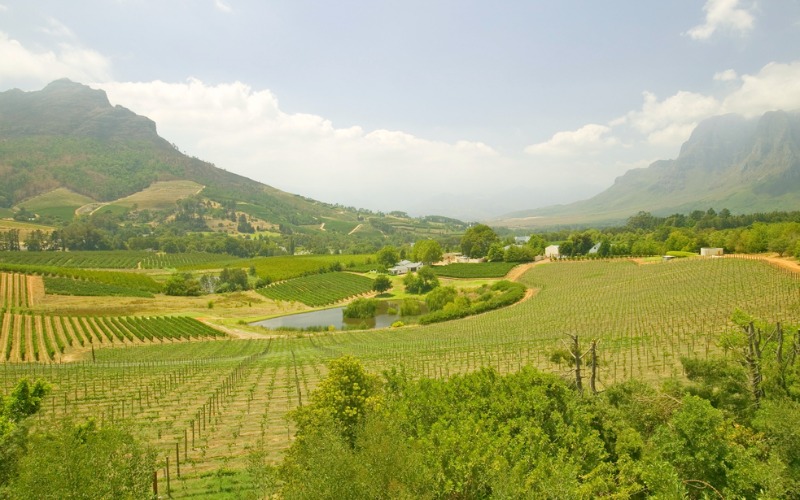 Less than an hour's drive from Cape Town, you'll find the Winelands – a beautiful, tranquil region with gently rolling vineyards and French colonial-style towns, where the Michelin-star-worthy food is astoundingly good value for money. It is possible to visit on a day trip, but there's nothing like waking up to the wrap-around mountain views and taking your time to stroll along the quaint streets. Not to mention sleeping off all that necessary wine tasting.
Most whale watching around the world involves donning waterproofs to spend hours on a boat in freezing climes. Not in Hermanus. Here, thanks to the steep cliff-drop into the ocean, whales can be spotted within 30 metres of the shore. From July to November, migrating southern right whales use these calm, sheltered areas to calve before heading south. At the eco-paradise of Grootbos Nature Reserve, you can try and catch a glimpse of these ocean giants from Walker Bay.
With three nights on safari, you could hope to spot the Big Five in the Amakhala Game Reserve. This unique reserve is Fair Trade in Tourism South Africa (FTSSA) certified and focuses on re-establishing the area's original flora and fauna.
South Africa in two weeks
Johannesburg: 1 night
Safari: 3 nights
Garden Route: 3 nights
Winelands: 2 nights
Cape Town: 3 nights
Beach: 2 nights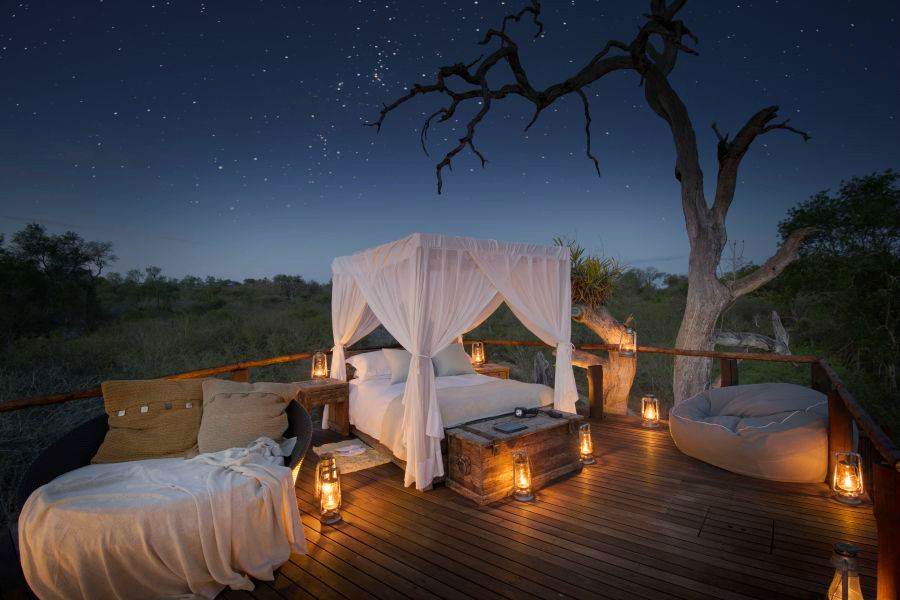 If you're considering South Africa for your honeymoon (it's the perfect choice if the two of you are seeking different things and are struggling to compromise!) or think you'll only visit once in your lifetime, two weeks is the way to do it in style.
Begin in Johannesburg, then fly into South Africa's most famous wilderness: Kruger National Park. The Kruger is huge. It's the largest national park in South Africa and roughly the size of Wales. Private reserves surround the park, many of which are unfenced, leaving the wildlife free to roam freely between the reserves and the national park. We recommend staying in one of these private reserves. The most famous one in the greater Kruger area – thanks to its reputation for extraordinary game viewing – is the Sabi Sands Private Game Reserve. It's here that you'll find the ultimate in safari-luxe: Lion Sands, which offers excellent chances of spotting leopards as well as the opportunity to spend a night in one of the most incredible treehouses we've ever seen.
Another short flight will whisk you to Port Elizabeth, where you can pick up a hire car to drive along the Garden Route and continue on to the Winelands. Stay at Leeu House – an exclusive boutique retreat in charming Franschhoek, where the complimentary bike hire makes it easy to explore the heart of South Africa's food and wine capital.
Spending longer in Cape Town will give you the time to head to the rugged Cape Point, take a helicopter ride over Hout Bay and Chapman's Peak, or enjoy an extra special afternoon tea at the iconic Belmond Mount Nelson Hotel. After lots of travelling and sightseeing, unwind with a couple of days in glitzy Camps Bay, enjoying its hard-to-beat location between the Twelve Apostle Mountains and soft white sands. If you have the luxury of spending longer than two weeks, it's just a short flight from South Africa to Victoria Falls or Mauritius.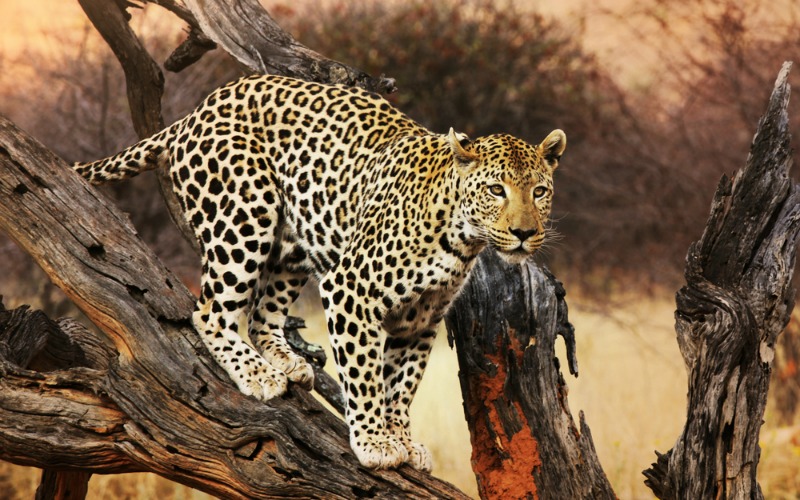 The essentials
Flying time: 11 hours to Johannesburg or 13 hours to Cape Town. If you catch an overnight flight from London you can be in Cape Town in time for a delicious seafood lunch on the buzzing waterfront. With two international airports, you could easily fly in to one and out of the other.
Time difference: GMT+1 or 2, depending on the time of year. No jet lag is a real bonus.
Visas: Not required for UK passport holders.
Language: South Africa has 11 official languages including Afrikaans and Zulu. English is widely spoken.
Currency: South African Rand.
Getting around: There's a good infrastructure and it's relatively convenient to get around. South Africans drive on the left and roads are well sign-posted, so it's easy enough to navigate with a GPS (or a good old-fashioned map). Ask one of our PTEs about our Co-pilot guides: a tailor-made travel guide with bespoke driving instructions from hotel to hotel, maps, places of interest and even restaurant recommendations.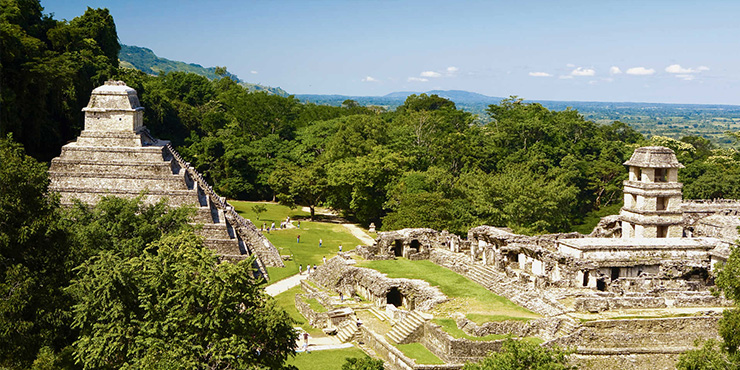 When to go
Best weather: For the Cape, Garden Route and Eastern Cape, the warmest time to visit is during the South African summer, from December to April.
Best chances of spotting the Big Five: In the Kruger National Park area, May to September is the best time to visit as days are cooler, the grass is shorter and animals are easier to spot as they head to water. For first timers, it's a good idea to avoid Kruger during the rainiest months of January and February.
Knysna Oyster festival: June
Stellenbosch Wine Festival: July
Whale watching: July to November, offshore from Hermanus.
Insider tip
"I found South Africa a difficult destination to understand before I travelled there for the first time. Why would I choose it over Kenya or Tanzania? Was it safe? Whereabouts should I go? Eight visits later and I'd return in a heartbeat; its diverse nature is exactly why I keep coming back. There's just something about the friendly people, the fascinating culture and the jaw-dropping scenery that makes it one of my favourite places on earth. My insider tip? When you're driving in South Africa, if a driver flashes their lights at you, you should pull over to what looks like the hard shoulder to let them pass. Once they've passed you, they'll flash their lights again to say thanks and you can pull back on to the main part of the road."
Nikky Kirkup - Kuoni South Africa Expert
For a more sociable experience, our Classic South Africa escorted small group tour offers an excellent introduction to South Africa, with local tour leaders, characterful accommodation and carefully chosen excursions. It also has dedicated departure dates for single travellers seeking pre-organised, affordable, sociable and secure travel with a like-minded group - ideal for a first visit.
No matter how long you choose to stay on your first visit, you'll gain an incredible introduction to a country that's as exceptional as it is diverse. There's always the Blue Train, KwaZulu-Natal battlefields, Dolphin Coast and Drakensberg Mountains to discover on your second visit...
Inspired?
---
We can help choose the South Africa holiday that's right for you. Talk to one of our Personal Travel Experts and together we can craft your tailor-made holiday.