No matter how many wildlife documentaries you've seen, nothing can prepare you for the real thing. There's something about Kenya that gets under your skin. It's the blazing burnt-orange sun that sits low on the horizon; the dusty, hot smell of the savannah; and the stars that glow ultra-brightly in the vast night sky. Each day brings something new and no two Kenya holidays are the same.
On a Kenya safari, you can take jeep rides deep into the wilderness and fly in to tiny national park airstrips where lions laze on the runway; come face-to-face with nature's giants as they roam freely across the rolling plains and feel like an honoured guest in their environment. Our Kenya safaris – even our escorted small group safaris – all use vehicles seating a maximum of six people and are led by driver/guides who have impeccable bush credentials.
The Maasai Mara
An eight-hour flight can whisk you from London to Nairobi, Kenya's lively capital. From here, it's just a 45-minute light aircraft flight down to the Maasai Mara – Africa's tourist honeypot that's loved by wildlife documentary makers around the world. The Maasai Mara is the ultimate classic safari experience, offering close encounters with lions, cheetahs and leopards, and traditions that date back to the glory days of 1920s safaris – like G&Ts out in the wild at sunset. A hot-air balloon ride over the Mara plains is a must; taking flight as the sun rises and drifting over the graceful giraffes and lines of wildebeest below. There'll even be a Champagne breakfast set up for you when you land – an amazing feat, considering the landing is an unanticipated spot in the middle of the bush.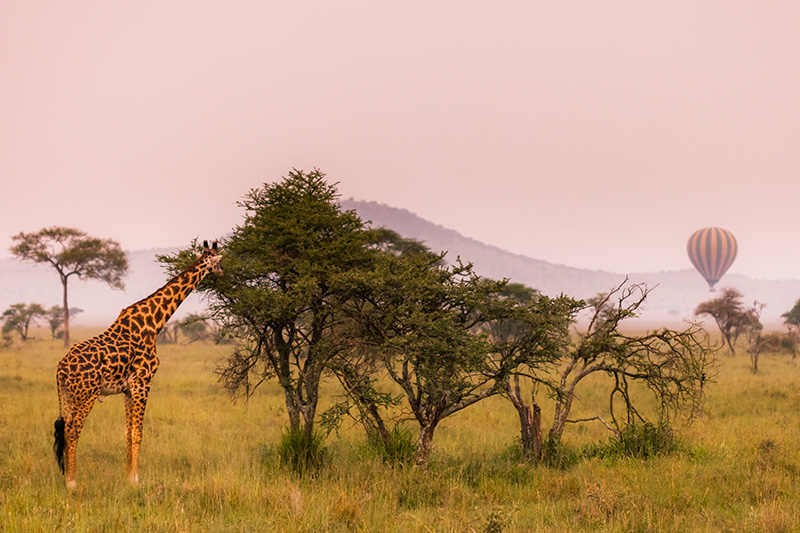 Wildlife viewing in the Maasai Mara is exceptional year-round, but it's the annual Great Migration that grabs the headlines. The Migration is the greatest wildlife show on Earth, when over one million wildebeest thunder across the plains in search of good water supply and fertile grass. The herds are usually in the Mara between July and October and this is when the reserve sees peak visitors, all eager to witness an iconic river crossing as the herds attempt to reach new grazing ground. Visit in October and you might just catch the end of the Migration without the crowds.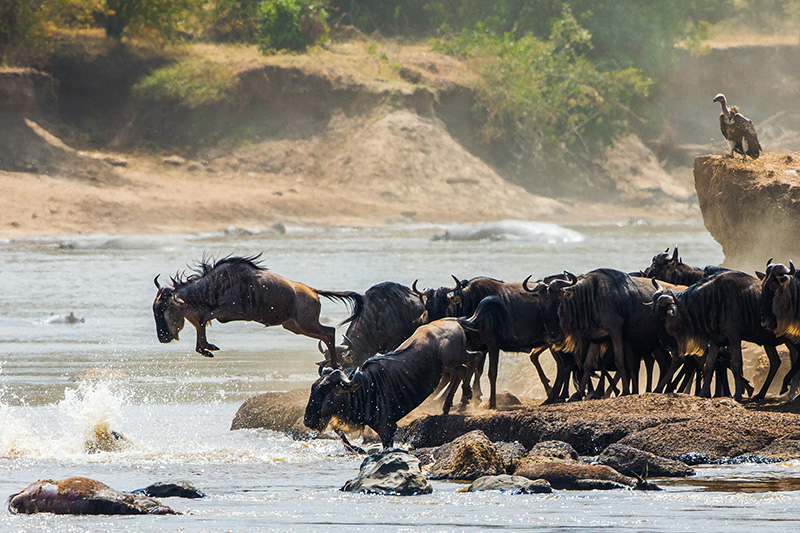 The Maasai Mara has some of Kenya's sleekest safari accommodation. But rather than identikit mega-lodges, these are boutique family-run bush camps – like Governors' Camp where the prime setting was once reserved exclusively for Kenya's colonial governors, and Mara Bushtops, where the 12 plush tents can only be described as five-star hotel suites under canvas. At these unfenced camps, wild things roam… sometimes even through the camp. Making way for a passing elephant is one of life's only acceptable lunchtime interruptions.
The Maasai Mara is an iconic reserve that's not to be missed, but one of the common misconceptions is that visitors need to spend their whole holiday here. Even if you're visiting Kenya for the first time, three nights in the Mara is plenty of time – and it means you'll be able to discover some of Kenya's other highlights.
Lesser-known national parks and reserves
There are lesser-visited parts of Kenya, if you know where to look. Lakes Naivasha and Nakuru are part of Africa's Great Rift Valley. Lake Nakuru might no longer boast the thousands of here-today-gone-tomorrow flamingos it was once known for but it's still excellent for birdlife, with pelicans, fish eagles and herons spotted in large numbers. It's also one of the best places in Kenya to see great 'crashes' of rhino. At Loldia House – a private ranch that fronts freshwater Lake Naivasha – boat trips can take you out on the lake to get up-close with hippo, and night drives offer the chance to spot elusive leopards out hunting. It's easy to combine a stay in the Maasai Mara with the lakes on our Governors' Safari.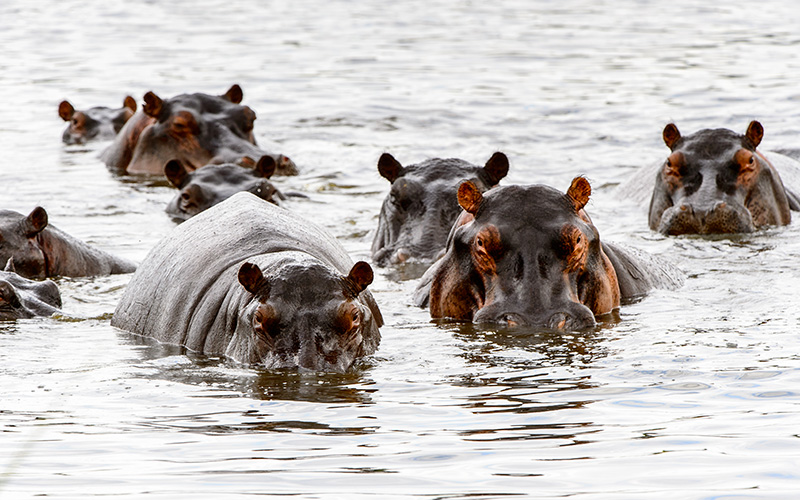 In the dry north of the country, Samburu doesn't think all of the attention should go to the Big Five. This arid reserve has its own 'special five': the long-necked gerenuk, Somali ostrich, Grevy's zebra, beisa oryx and reticulated giraffe. The semi-nomadic Samburu people are a warrior tribe of farmers who love sharing their knowledge with guests on thrilling nature walks – opening your eyes to the tiny insects and plants that you would miss from a vehicle. You can hope to spot the Big Five and the special five on our Samburu & Maasai Mara Fly-in Safari.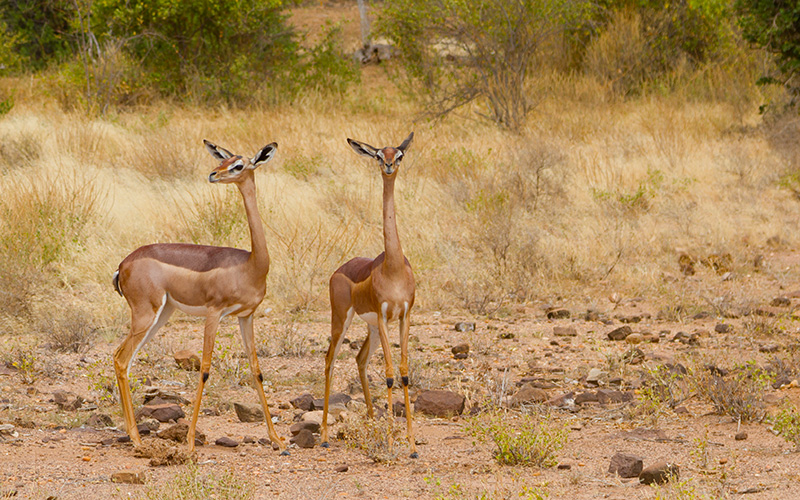 Now imagine a vast and rugged land once almost lost to poachers, brought back to life with the help of a boutique eco-lodge. This is Meru – the place where Joy and George Adamson released Elsa the lioness back into the wild, as told in the book, and later the film, Born Free. Today, guests can stay at Elsa's Kopje, sculpted into the hill above George Adamson's campsite, and head out on game drives in the wilderness.
Culture and conservation
To many visitors, Nairobi is just an airport and a hotel room – but there are some cultural and conservation gems here. In the suburb of Karen, visitors are welcome at Kazuri Beads: an empowerment workshop where 300 local women have secure employment in crafting ceramic jewellery. Through its creation of jobs for these women in difficult circumstances – and providing them and their families with medical cover – the company is Fair Trade certified.
One of Kenya's most heart-breaking – and heart-warming – conservation projects is also just a short drive from the city. The Sheldrick Wildlife Trust Nairobi Nursery provides habitat for little elephants whose mothers have been killed by poachers. Here you can spend a short time with the playful orphans as they are fed. You can even foster an elephant through the UK-based charity, the Sheldrick Wildlife Trust. So far, the Trust has hand-raised over 150 infant elephants and released many into nearby Tsavo National Park.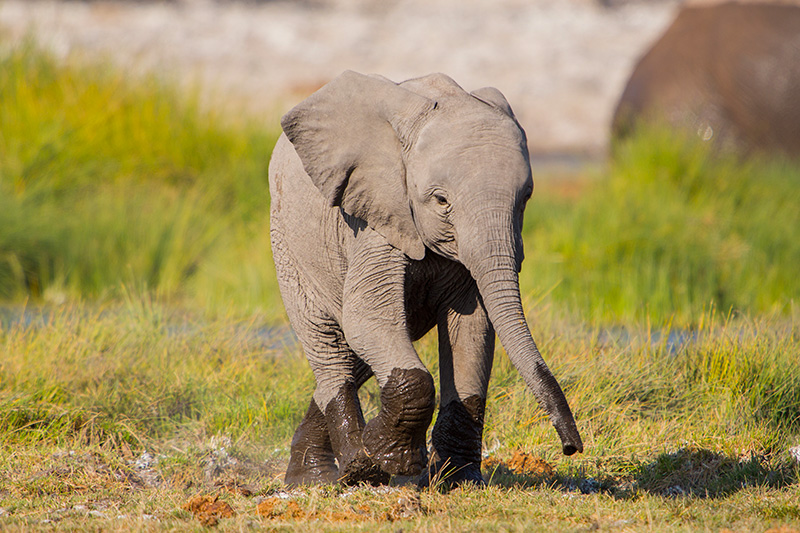 Conservation efforts are happening in other regions of Kenya, too. In Amboseli, the Born Free Foundation and Kenya Wildlife Service have worked together to create life-changing – and life-preserving – lion-proof bomas. Amboseli is a region of high human-wildlife conflict; lions find a way through livestock enclosures to destroy cattle and, in turn, are destroyed by villagers. But a lion-proof boma is an enclosure that's made of chain fences instead of thorns – and if the lion can't destroy the livestock, there's less reason for it to lose its life. Our Leopard Safari includes all of these insightful excursions.
Many camps throughout Kenya work closely with the local community. Camps in conservancies – like those on our Porini Wilderness Safari – lease the land from local tribes, providing them with a long-term income and making wildlife-based tourism – and therefore the wildlife – invaluable. Others, like Governors' Camp, fund local medical clinics and schools; not only building primary school classrooms but providing uniforms, paying teachers' salaries and investing in children throughout their further education.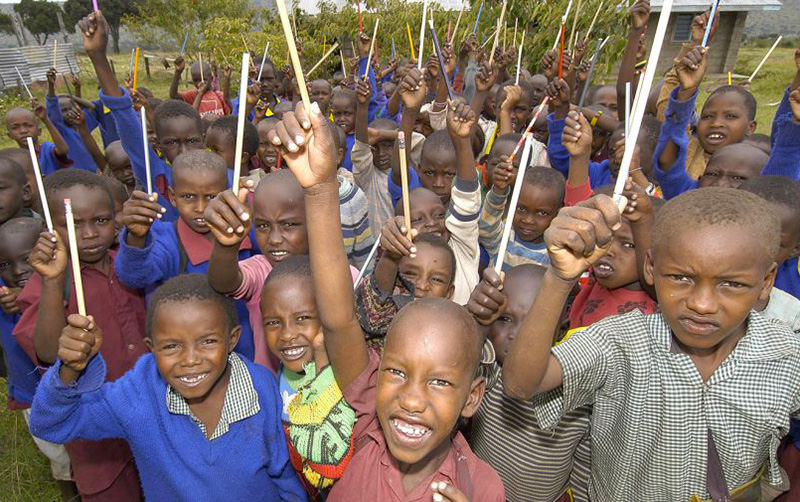 All of Kenya's national parks charge an entrance fee. While these conservation fees can significantly bump up the cost of a safari holiday, they help ensure that the wildlife can exist for future generations.
The beach
The vibrant city of Mombasa is the gateway to over 300 miles of palm-fringed coastline. While most visitors don't come to Kenya just for the beach, it's an excellent addition to a safari holiday. The tropical coastline here has great weather year-round and the hotels offer excellent value. From the Maasai Mara, you can fly straight to Mombasa; there's no need to return to Nairobi for the night before continuing on your journey the next day. Tsavo East is an even more convenient safari and beach twin-centre holiday; it's just three hours' drive from Mombasa.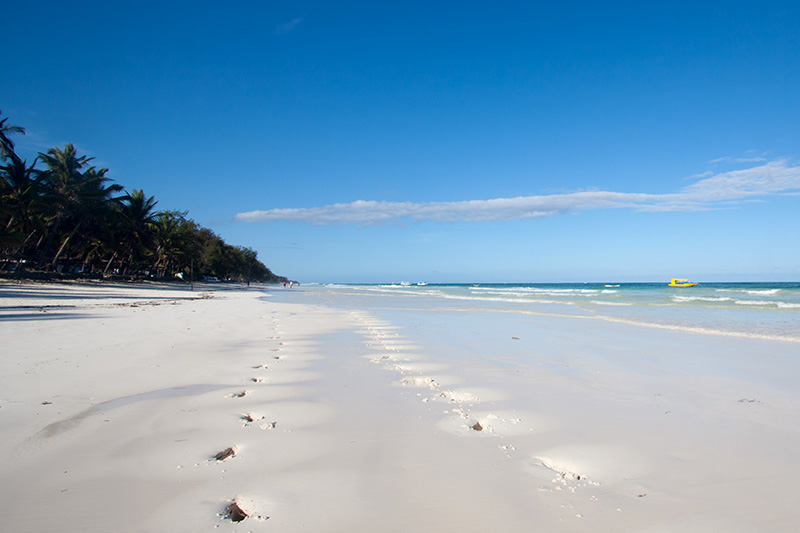 A Kenya beach stay is all about enjoying the top-notch service and warm hospitality, sampling fresh seafood, trying out new watersports and relaxing by the pool. On Mombasa's south coast, dazzling Diani Beach is Kenya's beach superstar. There are plenty of large resorts on Diani Beach, but some little gems too; AfroChic is more like a private villa than a hotel. Tucked away on a quieter part of the beach, it has just ten individually designed rooms and a lovely home-from-home atmosphere – the perfect way to round off your trip to Kenya.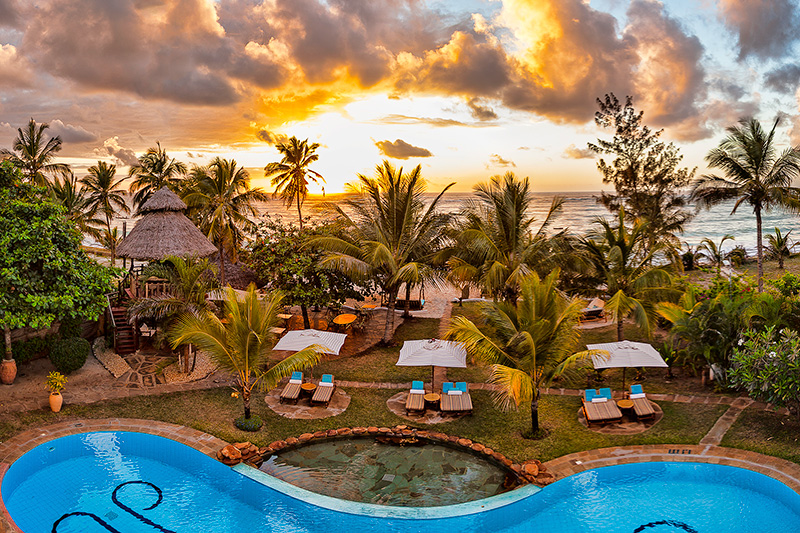 Every Kenya holiday is unique. As you listen to your safari guides share their stories around the camp fire, you'll hear of moments that will make you laugh out loud and others that will give you goose bumps. Often, people who come for the Big Five and big cats leave with memories of something else; it might be the sighting of a chameleon crossing your path, or an evening stargazing with a local tribe. This is exactly why it's so special.
Inspired?
---
We've been travelling to Kenya for more than 40 years and work closely with our hand-picked hotels and local driver/guides who know these national parks inside-out.
If you're inspired by Kenya, discover more with our Kenya travel guide, browse our Africa brochure, or chat to one of our Kenya experts who can share their first-hand experience and honest recommendations with you.