Why Sri Lanka is the perfect place for a family adventure
Tony Turnbull, Food & Drink Editor at The Times, discovers the perfect destination for both beach and adventure on his family summer holiday…
My wife likes beaches, I like food and culture. My teenage children like adventure, my eight-year-old daughter likes animals. Sometimes it takes the wisdom of Solomon to negotiate a family holiday that will suit everyone. Such places do exist: Mexico worked well, as did California (although admittedly I did have to recalibrate my definition of "culture"), but they often involve a huge amount of travelling. Which is why there are only two things you need to know about Sri Lanka: one, it is tiny, and two, it is still packed full of all the sights and sounds you could want from an exotic holiday. Where else can you spot leopards on safari in the morning and wash off the dust in the Indian ocean before lunch? Where can you ride rapids deep in the steamy jungle and three hours later be sipping a gin and tonic amidst the chilly mist of a colonial tea plantation? This is what Sri Lanka offers; it's the tourist cliché of a "land of contrasts" packed into an island the size of Ireland.
"Where can you ride rapids deep in the steamy jungle and three hours later be sipping a gin and tonic amidst the chilly mist of a colonial tea plantation?"
Tony Turnbull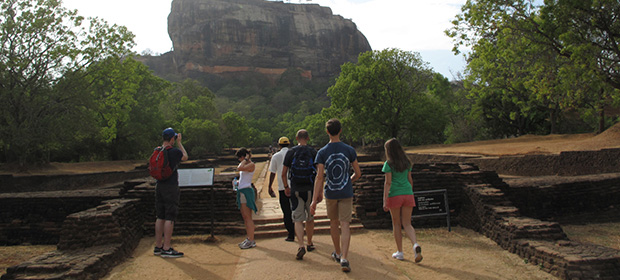 Habanara - The gateway to Sri Lanka's Cultural Triangle
We started our two week tour with a night at Jetwing Beach in Negombo, where the outdoor barbecue, set among the palm trees on the beach, was a spectacular curtain-raiser to the travels ahead. The next morning Walter, our driver, picked us up for the four hour drive to Habarana, gateway to Sri Lanka's "cultural triangle". Cinnamon Lodge, set in lush gardens at the edge of a lotus-flower-covered lake, is the kind of hotel where time can slip away all too easily but we did stir ourselves to make the early morning climb of Sigiriya, the volcanic plug of rock that rises vertically out of the valley floor. After a steady hour-long climb along steps carved into the rock, past caves and niches adorned with century old murals, we were rewarded with unmissable views across the valley and the chance to marvel at the ingenuity of the ancient civilizations that had colonised the top of the rock.
"Past caves and niches adorned with century old murals, we were rewarded with unmissable views across the valley."
Tony Turnbull
Temples, dancers and drummers in Dambulla and Kandy
Next stop was the Golden Temple at Dambulla, a complex of 80 caves dating back to the 1st century BC. Five of the caves beneath the overhanging rock are decorated with 153 statues of Buddha which have been added over the centuries. From there it was a short drive on to Kandy, Sri Lanka's second city, built around a huge man-made lake. We visited the Temple of the Tooth, an ornate temple complex where one of Buddha's teeth is said to be held inside a golden casket and enjoyed watching the acrobatic Kandy dancers and drummers at an old colonial social club, but probably one night would have been enough here.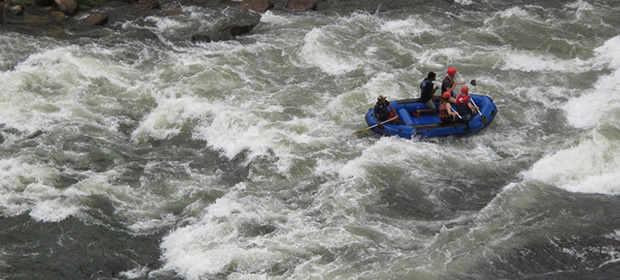 The white water rapids of Kitulgala
The following morning we headed to Kitulgala, where the teenagers and I went white water rafting past the spot where they filmed Bridge Over the River Kwai before being joined by my wife and youngest daughter in calmer waters. We all jumped overboard and floated down the river, thick jungle to either side and with warm tropical rain tipping down on us. It was one of the most spectacular things any of us have ever done.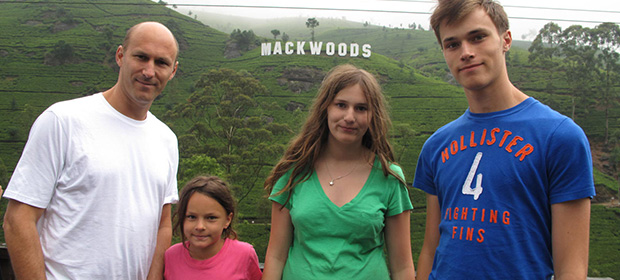 The colonial nostalgia of Nuwara Eliya
The weather to this point had been unremittingly hot and humid, which will explain why we were so excited by the prospect of winding up to the tea plantations of the Hill Country, where we were promised we'd even need blankets on the bed at night. Bliss. It's a long, twisty journey and one that confirmed you'd be mad to try and drive yourself in Sri Lanka. Having your own driver may seem a luxury, but believe me, it's essential. Driving is largely on the left, but that frequently appears optional and Walter spent a lot of time expertly negotiating tuk-tuk drivers and even dogs as they strayed across the road. At times in Nuwara Eliya you can be lulled into thinking you are in back in Blighty as men in thick coats and woolly hats harvest cold weather vegetables such as cabbages and carrots in the drizzle, but look up and you will see sari-clad women working their way along the neatly tended tea terraces doing their back-breaking work. We stayed at Heritance Tea Factory, which was converted a decade or two ago and was full of atmosphere. What the small, slightly dated rooms lacked in luxury, they more than made up for in colonial nostalgia.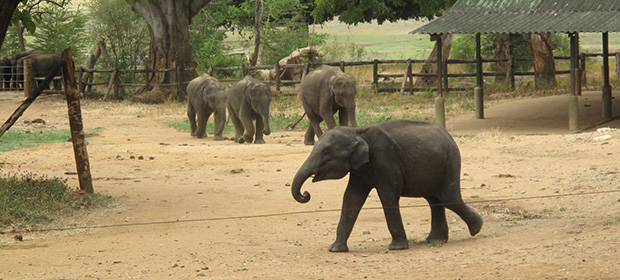 Yala National Park - home to beautiful leopards and breathtaking elephants
The next day we went trekking across Horton Plains, to a view point known as World's End, which affords spectacular view for those who get there early enough – a blanket of mist tends to descend by 9am.
After that, we headed south to Yala National Park, taking in the Elephant Transit Home at Udawalawe en route for cute pachyderm action. Cinnamon Wild on the edge of Yala was our favourite hotel of the trip, a series of chalets set in the bush. From the comfort of the pool we could watch crocodiles and buffalo sharing a waterhole and even saw wild boar coming to the pool to drink. That's the way to see wild life. The hotel's location by the park gates also meant we could be first in for game drives. It can get quite crowded in the park, but even so we caught sight of both elephants and leopards on our trip, plus peacocks galore. All that and the crashing surf of the ocean just five minutes' walk away.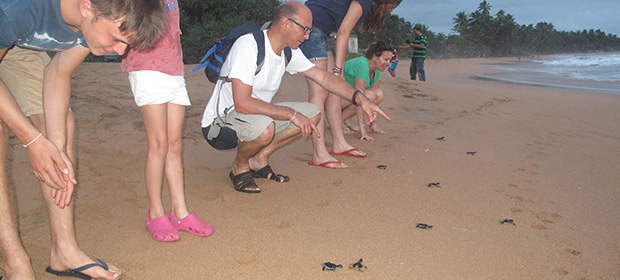 Beach bliss at Bentota
All that travelling meant we needed a bit of time to relax and we still had five days to spend lazily on the beach. Given the whole island is thronged with picture perfect sandy beaches fringed with palm trees we were spoilt for choice. Perhaps too much choice. As we were travelling in August, at this stage we should have headed to the East coast for better weather and calmer seas. As it was we went to Bentota and had to dodge the rain clouds. It was still a spectacular finale to an amazing trip. We visited a spice island set in a mangrove swamp, watched baby turtles hatch and helped them into the sea in the moonlight, and sat beneath palm trees sipping cocktails from coconut shells. Like I said at the beginning, something for everyone.
Inspired?
---
Sri Lanka's endless golden beaches lapped by crystal-clear waters offer blissful relaxation for the whole family. However, with its rich heritage, cultural treasures, stunning scenery and incredible wildlife, this exotic island also offers families the chance to embark on an unforgettable adventure.