Sunset cruise in the Maldives
One of the many highlights of a holiday to the Maldives is the chance to witness a spectacular sunset over the Indian Ocean. Watching from the beach as the crisp blue sky turns golden is something to behold; however, the experience is all the more enjoyable for those fortunate enough to witness it from the ocean.
Sunset cruises offer visitors the chance to marvel at the uninterrupted views of the sunset with the calm ocean waters and white sandy beaches of the Maldives forming a magnificent backdrop.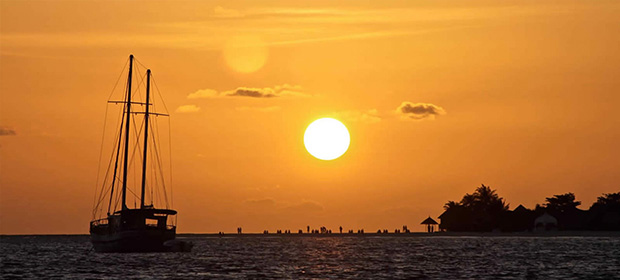 Enjoy a sunset cruise
Experience a sunset cruise in the Maldives for yourself by joining one of the daily excursions available from most resort islands. Most cruises set off between 6-6.30pm and slowly make their way out into the open waters, leaving you with unspoiled panoramic views of the surrounding lagoons, beaches and islands.
A typical journey takes around two hours and often includes a complimentary glass of sparkling wine and some canapés, enabling you to truly relax and savour the experience. Many cruises accommodate dozens of passengers at a time, ideal for those travelling in larger groups or if you simply enjoy mingling with fellow holidaymakers.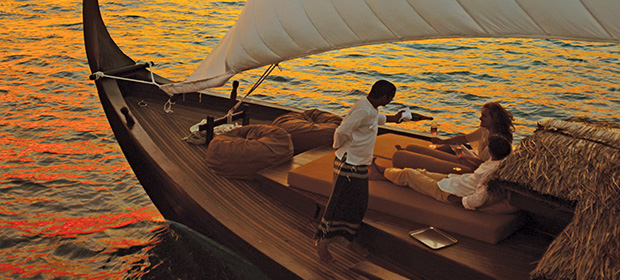 Romantic evening cruise
Should you wish to add a bit of privacy and romance to the occasion, however, then private cruises are also readily available – perfect for an unforgettable evening with that special someone.
Some cruises take place on a traditional Maldivian Dhoni, a wooden, handcrafted vessel which has served both as fishing boats and ferries over the centuries. A traditional Dhoni utilises lateen sails, and the absence of a motor makes for a wonderfully tranquil cruise into the Indian Ocean sunset.
Regardless of your preference, you will be blessed with amazing photo opportunities, so bring your camera and watch in awe as the sky fills with an array of golden colours before the sun gradually slips out of sight.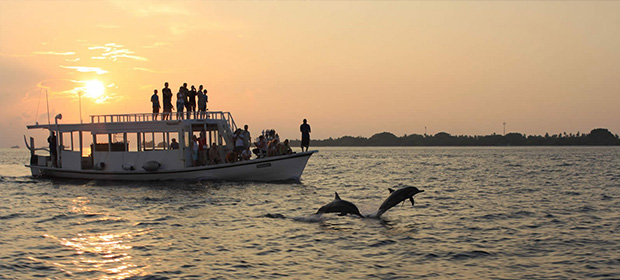 Dolphin watching
Although nightfall is approaching, this time of evening also lends itself well to catching a glimpse of some sea life. Dolphins are a common sight on Sunset Cruises around the Maldives, which ranks as one of the best spots in the world in which to observe these absorbing creatures. Keep your eyes peeled for the various dolphin species which frequent the waters, including bottle-nosed Dolphins, spinners and stripper dolphins, to name but a few.
Whales, eagle rays and turtles are also known to breach the surface at this time in the evening, particularly in the areas surrounding the coral reefs.
Inspired?
---
Evoking images of white sands, swaying palm trees and crystal blue waters, this is the quintessential picture-perfect holiday – with an added sprinkling of something special. Far-flung and exotic, it's the ultimate luxury beach escape. We've been offering holidays here for over 20 years, and there's a reason that it's our most popular destination.