Discover how to capture the mysterious beauty of Sea Sparkle
Professional photographers share their long exposure photography tips
Bioluminescence is one of the world's most intriguing natural phenomenon. It describes the release of light from a living organism, and there's nothing quite as spectacular as seeing it in the ocean. Bioluminescent plankton, also known as Sea Sparkle, creates ethereal scenes along the shores of beaches at night. It's a rare and beautiful sight which, if you're lucky enough to see it, is well worth capturing.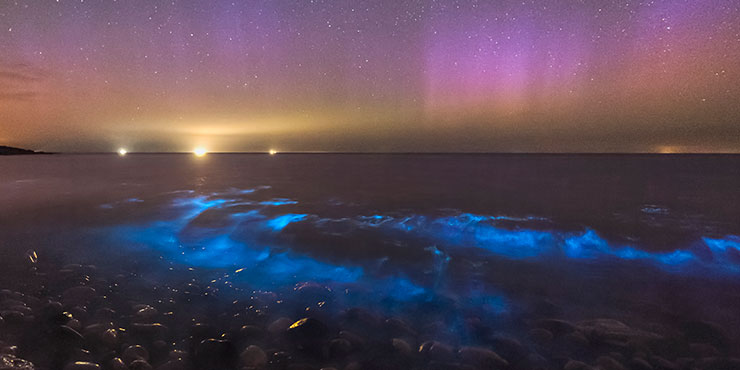 © Kris Williams
Finding bioluminescent plankton to photograph
Half the work of photographing bioluminescent plankton is actually in locating it. It occurs on coastlines all over the world, but is seen more frequently in the Maldives, Thailand, Vietnam and Australia. In order to increase your chances of seeing bioluminescent plankton, professional photographers Kris Williams and Doug Perrine have shared their advice on where to go in the world to find it, and what to look for once you're there. (Read their tips on finding bioluminescent plankton here.)
Five Important Things To Remember When Photographing Bioluminescent Plankton
Doug Perrine and Kris Williams share their detailed advice for taking long exposure image of bioluminescence below. But, before then, the five most important tips to remember when photographing bioluminescent plankton are:
Use a tripod – and allow it time to settle if you're on soft sand
Use manual focus, because auto-focus will struggle to function in the darkness of the night
Play around with long exposure times and use a wide aperture of F/2.8 (or as low as you can go to allow as much light to come through and hit the sensor) and a relatively high ISO setting
Fire your exposure as the wave comes towards you, and as the camera is taking the long exposure you'll then capture the bioluminescence at its best when the wave breaks
Don't have a DSLR camera? Video is much less demanding of individual frame quality than still pictures are, so you can shoot at higher sensitivity, and even hand hold your camera whilst filming. A smartphone or tablet can capture a fairly good quality video – it might not make the next David Attenborough series but it will still work well on social media
Meet the photographers: Kris Williams
Kris Williams is a photographer specialising in landscape, astro and time-lapse photography. His work has been featured by BBC Earth as part of the Blue Planet TV series, and his recent capture of bioluminescent plankton under an aurora on the north coast of Wales is featured in BBC Wales: Land of the Wild. A true expert in the field of long exposure photography, Kris' work is referenced in bioluminescence documentaries on the Discovery Channel, and here he shares how he approaches the task of photographing such a rare an awesome phenomenon.
"Any DSLR camera with a manual mode is best, as this will allow you to adjust all the camera's settings. I personally use the Sony A7S for my nightscapes as it has a great low-light capability which helps to reduce noise when shooting photos or video at high-ISOs.
In manual camera mode, you'll need long exposure times, a wide aperture of F/2.8 (or as low as you can go to allow as much light to come through and hit the sensor) and a relatively high ISO setting depending on how much ambient light is around.
You'll certainly need a tripod. When setting the tripod up, if you are on soft sand, be aware that the tripod legs will start to slowly sink into the sand before they settle which will blur your photo. Either push it down to get it firmly rooted, or allow it time to sink so that you can get a nice clear shot.
Use a shutter release cable or remote so that you don't shake the camera when pressing the button to take your photo (if you don't have one to hand then you can also use the camera's self-timer feature).
You'll ideally want to use manual focus because your auto-focus will struggle to function due to the darkness. If you are having trouble to get the focus exactly right, shine a torch on the area of shoreline you want to focus on, let your autofocus lock on to that, and then switch to manual focus (if you do shine a light, be aware and courteous of any photographers who might be shooting too, as it will spoil their images!).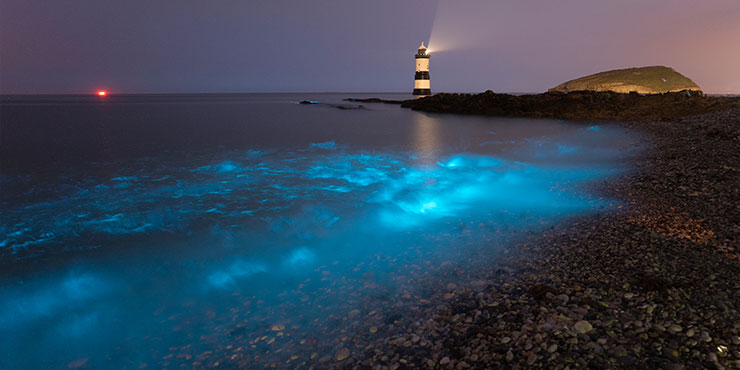 © Kris Williams
Once you have your aperture and ISO set, try a few test exposures and adjust your exposure/ISO setting from there until you find a balance and result you're happy with. Typically I set up my tripod as close to the shoreline as possible (when using a wide-angle lens), and nice and low to the ground.
Once you are comfortable with your settings, then you can be as creative as you like. It is worth taking multiple exposures as often some waves can be much bigger and brighter than others. If you want to capture photos of yourself or friends in the water then all you need to remember is to stay as still as possible during the exposure."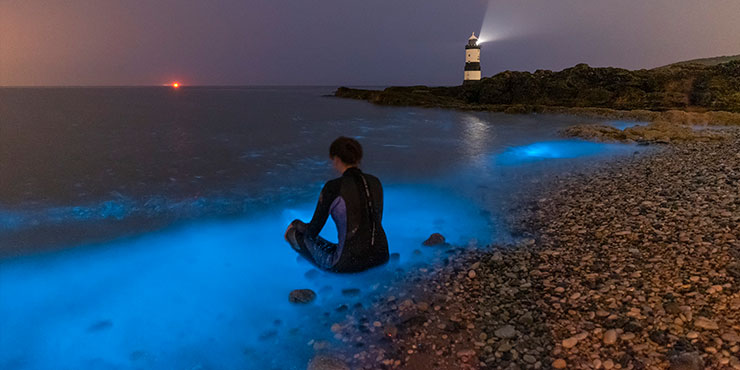 © Kris Williams
Find Kris Williams on Twitter @jixxerkris and Flickr.
Meet the photographers: Doug Perrine
Doug Perrine is a photojournalist specialising in marine wildlife. His photographs have won a number of awards, including the grand prize in the Wildlife Photographer of the Year competition. He is the author of seven books and a selection of his work can be found online at www.naturepl.com and at dougperrine.photoshelter.com.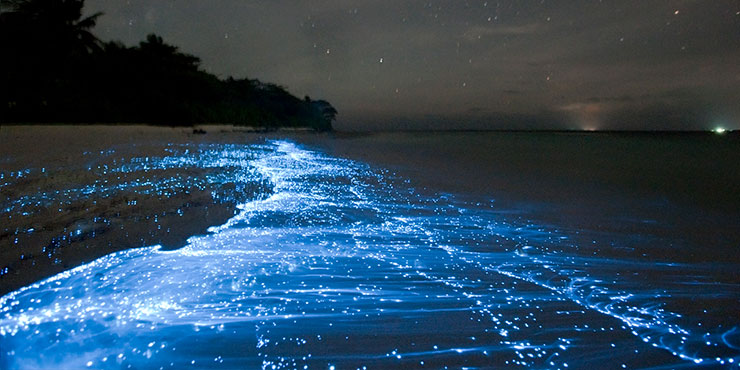 © Doug Perrine
Doug shares his experience of photographing bioluminescent plankton in 2010 whilst visiting the Maldives:
"I was on a safari boat cruising the islands of Raa Atoll, in the far north of the Maldives archipelago. We stopped for an evening picnic on the uninhabited side of an island. This time our captain chose Vaadhoo Island, which has a forested interior and a sandy beach. As it grew dark the wave wash lit up with ghostly blue light. I had no tripod, so I improvised by snuggling the camera into a beach towel placed on a plastic deck chair. To avoid camera shake when tripping the shutter, I used the "lock mirror up" and "delayed shutter" features on my camera. Using a wide-angle 17-35mm lens on a Nikon D700 35mm DSLR camera, I was able to obtain sufficient light with a 30 second exposure.
I varied my ISO and aperture settings between f5.6 at ISO 6400 and f3.5 at ISO 2500. Because of the high ISO and the long exposure, the photos were a little noisy in the fine details, but they were still of interest to National Geographic and other publishers.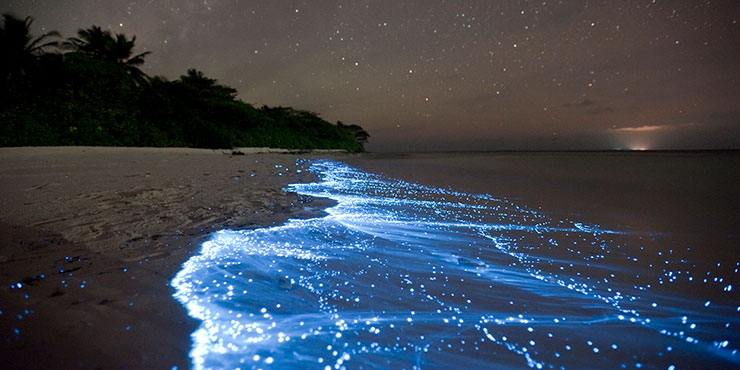 © Doug Perrine
It's very helpful if you can control your camera settings manually, especially the exposure time, so you can set the shutter for a long exposure (10 seconds to a minute or more). During a long exposure the movement of the water will blur the wave wash, which is fine, but it's critical to prevent the other parts of the image from blurring due to camera motion. That can be accomplished by use of a tripod, a camera clamp, a selfie stick stuck in the sand, or by wedging the camera into position on any stable surface (as I did). It's also very useful to have a shutter release cable to prevent jarring the camera at the beginning of the exposure. This can also be accomplished by using a delayed shutter release, and, if you are using an SLR camera, by locking up the mirror before the exposure."
Inspired?
---
Evoking images of white sands, swaying palm trees and crystal blue waters, this is the quintessential picture-perfect holiday – with an added sprinkling of something special. Far-flung and exotic, it's the ultimate luxury beach escape. We've been offering holidays here for over 20 years, and there's a reason that it's our most popular destination.