Italy weddings
Mesmerising scenery, fascinating history and enchanting cities – Italy delivers an impossibly romantic wedding destination, perfect for couples who don't want to travel too far for a stunning wedding abroad.
What would the wedding reception look like in Italy? A wedding reception in Italy can be as low key or grand as you would like. It is possible to arrange receptions in your chosen hotel or in a local Italian trattoria. We have a list of venues that we work closely with – your Kuoni Wedding Expert will be able to discuss the options with you at your planning appointment. We can also organise live music, drinks packages and wedding favours for your guests.
What makes Italy a great wedding destination? Italy makes a great wedding destination as it's a lot closer to home, making it more accessible for family and friends to celebrate with you on your wedding day. It is possible to organise a wedding here which is much more similar to those you are familiar with in the UK, and it is even possible to organise a trip prior to the wedding to familiarise yourself with the ceremony location and reception venues, making it an ideal choice for those who want to understand every detail first hand.
Wedding packages in Italy
All wedding packages in Italy include: Local fees and documentation achievement, pre wedding meeting and wedding assistance on the wedding day, interpreter during the ceremony, bridal bouquet, grooms buttonhole and a multilingual marriage certificate.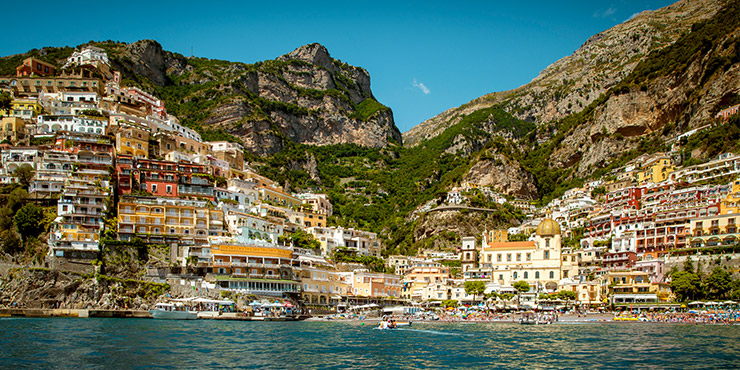 Positano Town Hall
With stunning coastal landscapes, breathtaking sea views and a year round warm climate the allure of Positano is plain to see when it comes to choosing a dreamy destination wedding.
Situated in a picturesque valley on the Amalfi Coast, Positano is one of the most romantic and glamorous locations in all of Italy. Set high on the hillside, Positano's wedding hall is found inside the main Town Hall and if weather permits, your short civil ceremony will be conducted on the stunning outside terrace. Here you'll experience an authentic Mediterranean atmosphere high above the town in a beautiful Positanese style white building. If it rains (lucky for the bride!) your ceremony will be held inside, where you can have a maximum of 50 guests.
Your ceremony can include personal vows, poems and readings and also guitar or mandolin musical accompaniment. Only a short boat ride away from Capri, you could set sail to this bewitching island for a Champagne soiree before heading back for a grand reception party. We highly recommend the ravishing Villa Franca – one of the most romantic hotels in Positano – for your reception, where you can hire the Incanto Lounge. Here a large balcony has beautiful views of the Tyrrhenian Sea below.
From £2284 per couple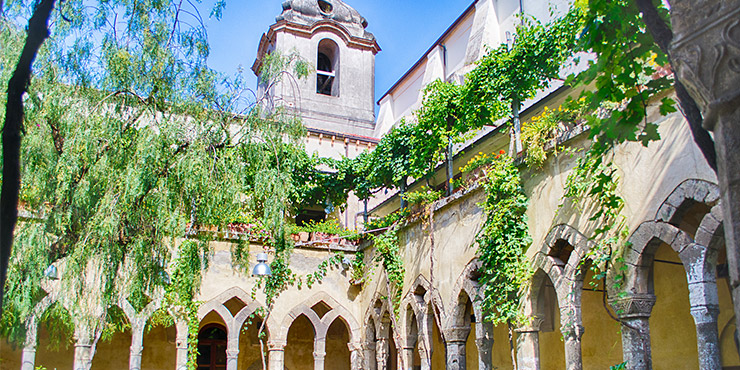 San Francesco Cloister
Sorrento offers unrivalled beauty perched above the Gulfo di Napoli, surrounded by spectacular hills and abundant in wisteria, jasmine and tangy lemon trees.
One of the most beautiful wedding venues here is the 14th Century San Francesco Cloisters that flanks the San Francesco church, overflowing with bouganveillia and vines. Choose this venue for a spectacular floral wedding that is tranquil and serene. It's great for large groups and if you fancy exchanging vows in a unique medieval monastery. There are plenty of optional extras here including a violinist for your ceremony, cocktails and canapés and hairdressing and makeup for the bride.
We recommend hiring a professional photographer so you can make the most of the breathtaking gardens and amazing sea views. And after your ceremony you could hop over to the beautiful island of Capri for a Champagne lunch. We recommend staying at the elegant Grand Hotel Excelsior for an extravagant evening reception in the luxurious Vittoria dining room where exquisite gastronomical delights await.
From £1953 per couple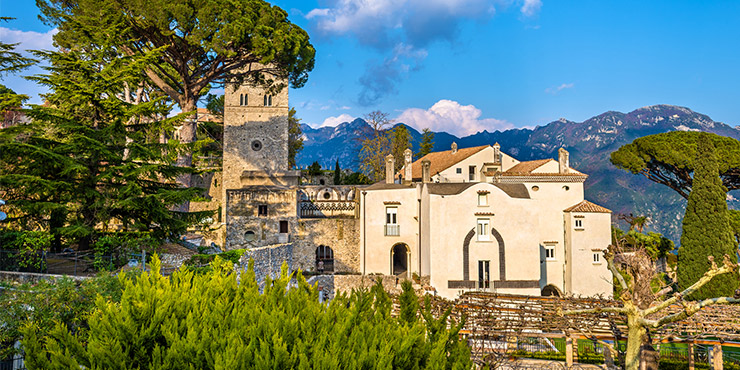 Ravello Town Hall
If you have a small to mid-size wedding party and are keen to get married in a building steeped in history, then Ravello Town Hall could be the spot for you.
Palazzo Tolla is the 12th Century town hall where ceremonies can be held for up to 40 guests. There are no sea views from here but you are just moments from the botanical gardens which have incredible views out to sea. Your short civil ceremony is held in the 12th Century Mayor's Parlour reached by a cobbled pathway lined with flowers and trees. The venue is only accessible by foot and is one of the most iconic wedding venues in Ravello. The whole party can walk back together through the cobbled streets to the main square for a Champagne toast and later, on to a sumptuous reception in this idyllic town. Ravello is the perfect destination to bring family and friends together for an intimate Meditteranean celebration.
From £1775 per couple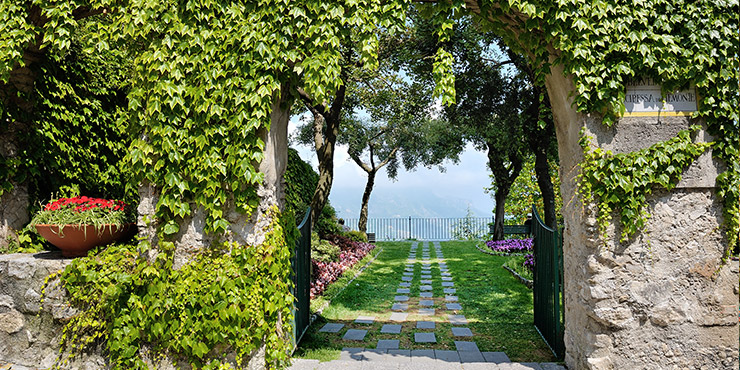 Giardini Della Principessa Di Piemonte, Ravello
Those looking for a private and intimate Italian wedding will fall in love with the gorgeous medieval hillside town of Ravello on the Amalfi Coast.
This is one of the most beautiful hideaway destinations in Italy. Giardini Della Principessa Di Piemonte is Ravello's Princess Gardens, and here you can have a fairytale wedding with over 100 guests in the enchanting gardens. The sea views are mesmerising and you can expect a serene ceremony where you can tailor everything from the layout and colour theme, to the music and flowers. Just steps away are the gardens of Villa Rufolo, a beautiful spot for memorable wedding photographs with stunning panoramic vistas. Giardini Della Principessa Di Piemonte is within walking distance of the luxury hotels and lavish venue choices for your reception, whether you want a private villa or an 18th Century dining room.
From £1834 per couple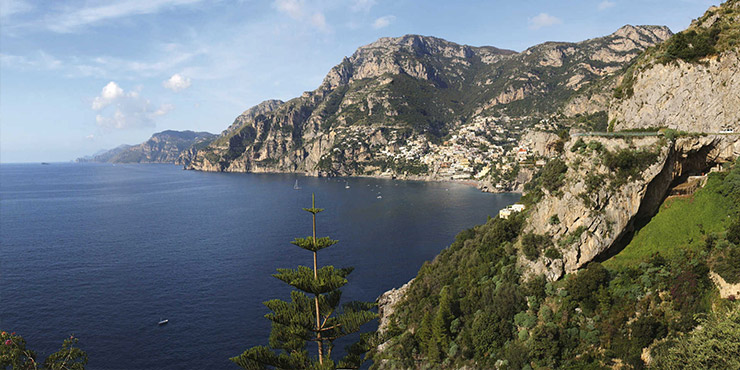 Antichi Arsenali
If you want an enchanting wedding steeped in history and majestic architecture, then the Antichi Arsenali might just be the venue for you.
The Arsenal was once used to store, build and repair warships, and today stands as a magnificent and historical stone-built construction with breathtaking vaulted ceilings supported by repeated pointed arches. If you are looking for a fairytale venue with lots of character in a lesserknown but incredible setting, then this is the perfect hideaway option on the Amalfi Coast for a civil ceremony. Come here for the historical atmosphere, a candlelit setting and a seriously romantic exchange of vows. And better still, it's just off of the main square and moments by foot to many of Amalfi's luxury hotels and enchanting restaurants, where you can host a magnificent reception party.
From £1929 per couple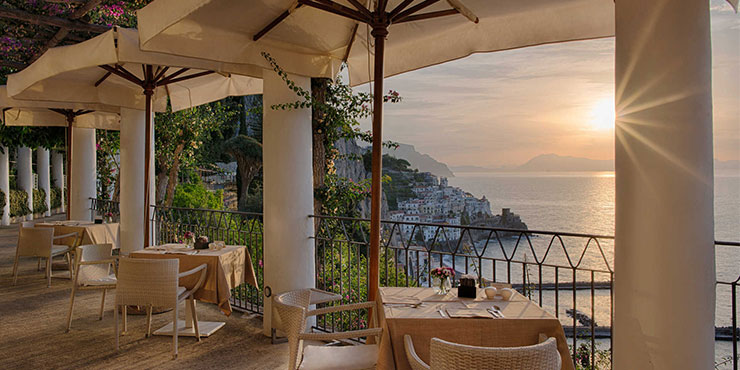 Grand Hotel Convento di Amalfi
Overlooking the famous Amalfi coastline, this converted 13th-Century convent offers an incredibly private setting for your cliffside wedding.
Dramatically carved into the cliffside, the Grand Hotel Convento di Amalfi is a stunning choice for a destination wedding on the Neapolitan Riviera. Once a monastery for Capuchin monks, this iconic medieval building is now a converted hotel with a real sense of history and old-world charm. As our only hotel-based wedding venue that offers a full service wedding, it's a great setting for larger groups and a completely private celebration. Choose between two gorgeous venues for the ceremony: the historic 13th-Century Cloister and the spacious terrace where you can have a beautiful al fresco wedding overlooking the Amalfi Coast.
Follow your romantic exchange of vows with photos and drinks on one of the picturesque outdoor terraces. Head to the Belvedere Terrace and celebrate with a cocktail as you watch the sun set over the Tyrrhenian Sea. Or visit the romantic Passeggiata dei Monaci, an enchanting old walkway that overlooks a stunning panorama of the coastline. Call or see kuoni.co.uk for details about wedding packages at Grand Hotel Convento di Amalfi.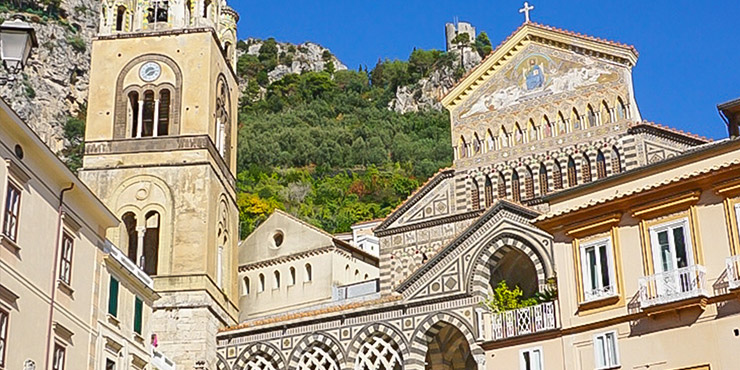 Amalfi Town Hall
Situated next to the beautiful Duomo of St. Andrew, the 14th Century Amalfi Town Hall, where your civil ceremony will be conducted, is a former Benedictine Monastery dating back to the 12th Century.
It is believed to be one of the oldest marriage halls in Italy. The hall is called the Salone Morelli and is also a maritime civic museum containing many important documents and historic furnishings. The hall holds up to 70 guests and weddings are conducted in Italian, with a translator provided. This beautiful building overlooks the sea, perfect for spectacular photo opportunities after your ceremony. We highly recommend heading to the magnificent Arabian Cloister of Paradise after your wedding for more photographs. Then, against the rugged cliffs of Amalfi you could head to the iconic 13th Century cliff-edged Grand Hotel Convento di Amalfi for a splendid reception with spellbinding sea views.
From £1716 per couple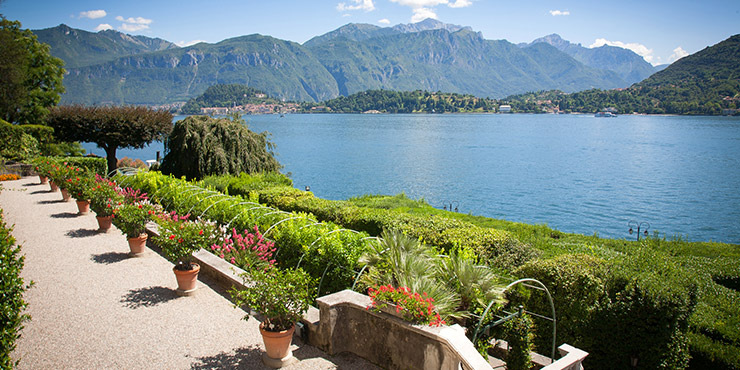 Villa Carlotta
Enchanting Lake Como is famous among the elite and its romanticism can be seen in the surrounding grandiose snow-capped mountains, the sublime cuisine, Italian lifestyle and glorious sense of tranquillity.
A wedding at the palatial Villa Carlotta is the ultimate in indulgence and style. Come here for a traditional wedding abundant in spectacular scenery and luxury. It's wildly romantic and the only outdoor wedding venue on Lake Como. A wedding gift itself – from Princess Marianna of Nassau to her daughter Carlotta – this lakeside Villa is shrouded in romance, botanical wonder and breathtaking panoramic views. Ceremonies are held on the outside terrace, holding up to 100 guests, and overlooking Lake Como and the mountains beyond. In the event of rain, the regal Sala Gessi will be used, which houses a sublime interior complete with magnificent high ceilings, large windows and marble statues.
This venue was made for romance, even more so because it houses the masterpiece sculptures of Eros and Psyche and Last kiss of Romeo and Juliet. Villa Carlotta is a ceremony and cocktail party venue only but due to its lakeside setting it's easy to set sail with your guests in true Italian style onwards to another lakeside venue for your reception. For a truly glamorous affair we recommend the sumptuous Grand Hotel Tremezzo, which even has movie star stamp approval, being the location of Anakin Skywalker and Padmé Amidala's wedding in the second Star Wars movie!
From £5922 per couple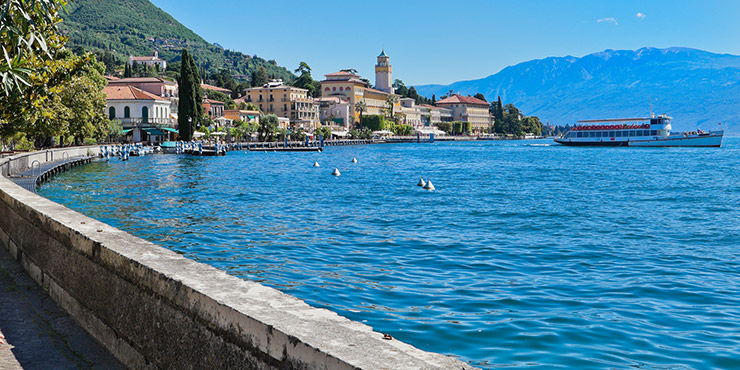 Gardone Town Hall
A jewel in the crown of Lake Garda, Gardone is rich in colourful plants and flowers thanks to its year round microclimate, and it's the ideal spot for a tranquil and elegant wedding.
Gardone Town Hall houses a unique 18th Century wedding hall with its minstrels gallery and nod to medieval décor. There is space for around 50 guests (more standing) and the wooden floors, panelleled ceilings and precious antiques only add to the allure of this charming venue. Surrounded by beautiful gardens, it's a picturesque place to have your ceremony, and the bride and groom can make their exit as newlyweds down a beautiful marble staircase ready to enjoy a Champagne toast in the pretty gardens. From here it is possible to walk to the lake and set sail with all your guests for a trip across the serene waters.
We love the luxurious award-winning Lefay Resort as a wedding reception venue for its spectacular views of the lake, and we recommend the elegant Grand Hotel Gardone for accommodation that is central to everything.
From £1988 per couple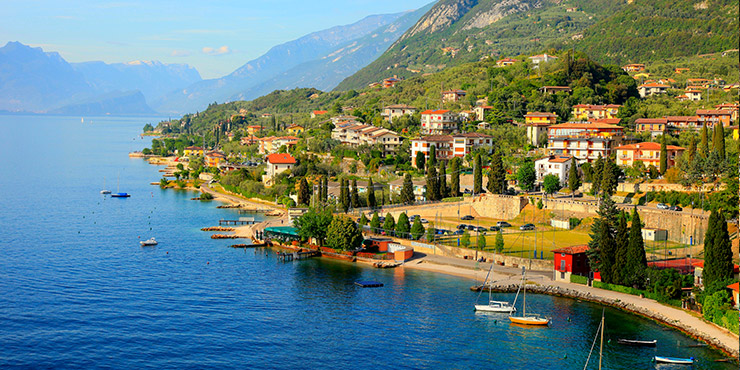 Malcesine
Malcesine is a small picture-postcard town in the north of Lake Garda, and one of the few locations in the area that allows legal civil ceremonies outdoors facing the lake. If you dream of getting married in a fairytale castle then this could be it.
Malcesine is renowned for its charming medieval Scaligero Castle that rests on a cliff extending out over the famous lake. Here you can get married in one of two wedding halls; the first for up to 40 people with amazing views over Lake Garda and the second is a stone white building in the tower that holds up to 70 guests. The most popular location in the castle is the extraordinary outside terrace, where you can have an alfresco wedding overlooking the lake. To reach the castle there is a short and pretty walk uphill through narrow arches (not suitable for those with walking difficulties) where you are rewarded with panoramic lake views. You can have a violin or string quartet playing before and after your ceremony and a wonderful Champagne toast by the lakeside or on an elegant sailing boat. You can also get married at the 15th Century Venetian style Captain's Palace, in a large frescoed wedding hall with windows facing the lake. The Palace is situated right on the water's edge and the small balcony and floral gardens are where to get your romantic wedding photographs.
From £2225 per couple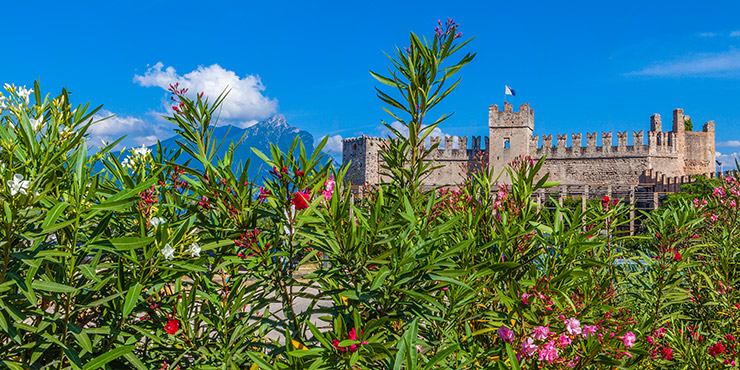 Torri Del Benaco
On the eastern shore of Lake Garda, the little town of Torri Del Banco will seduce you with its year round mild climate and the alluring fragrance of lemon trees that grow abundantly here.
The enticing Scaligero Castle is the main focal point and, of course, the most romantic place to have your wedding. Come here if you have small guest list, as the fairytale turret where your outside ceremony will be conducted can only hold 15 guests. If you have a slightly larger party, opt for the mesmerising Lemon Grove atrium inside the castle where all the original lemon, cedar and tangerine trees will shade you as you say 'I do.' If you love the idea of charming cobbled streets, a dreamy setting amongst pine trees and lemon groves and a unique backdrop for truly romantic photographs, then this could well be your place. Do note that Monday is market day, and the town can get very busy until 1pm, but any other day of the week is perfect for your ceremony.
From £2532 per couple
Legal requirements for your Italy wedding
| | |
| --- | --- |
| Full 10 year British passport | • |
| Original birth certificate | N/A |
| Bi-lingual statutory declaration* | • |
| Original no impediment to marry certificate*** | • |
| Original decree absolute if divorced | • |
| Original death certificate or former spouse & marriage certificate if widowed | N/A |
| Original adoption certificate (if adopted) | N/A |
| Original deed poll notice - if name changed | N/A |
| | |
| --- | --- |
| Minimum age to marry | 18 |
| Certified documents | ** |
| Letters of personal detail | N/A |
| Legalised documents/Foreign & Commonwealth office | ** |
| Documents required by Kuoni (within) weeks before travel | 6 |
| Minimum stay in resort prior to wedding (No. of working days) | 2 |
| Recommended stay in resort | 7 |
●

Kuoni needs to see originals of these documents before you travel

●

Kuoni needs to see copies of these documents before you travel, you must travel with all original documentation

●

Kuoni do not require any documents before you travel but you must travel with all original documentation
Extra legal information: Under Italian law a bride who has been married previously must wait 10 months before remarrying. Please contact us for further details. Bi-lingual statutory declartion and Certificate of no impediment to marry must be applied for no earlier than 6 months prior to travel. *Kuoni will supply this form. **Bi-lingual statutory declartion must be certified and legalised. ***Certificate of no impediment to marry must be legalised.
This information applies only to couples born in the UK with a valid UK passport.
Prices and inclusions are valid for weddings Jan 2020 - Dec 2020 and are subject to change. 2021 packages and prices are also available, please contact us for details