Did you know that there are 260 borghi in Italy? If you're unsure what borghi are, then we'll let you into one of Italy's little secrets. Off the beaten track, a singular 'borgho' is a small and charming village with a fascinating history and focal point – from a palace to a citadel, a castle to a walled city. This is where to get a taste of the real Italy, a place of historical importance and, often, incredible views from a high vantage point. Look beyond Italy's well-known cities and explore a few of our favourites.
Monte Isola
Around a 90-minute drive from Grand Hotel Gardone, Lake Garda
Monte Isola is a large island set in the middle of Lake Iseo, a smaller lake west of its well-known neighbour, Lake Garda. An hour's drive to Sulzano and a 25-minute ferry crossing will take you to this charming isle, home to stone houses, gardens and ancient streets leading to the island's summit or down to the water's edge.
Flashes of pink oleanders, sharp-tipped agaves and vivid yellow mimosa pepper the island's landscape, alongside olive groves, vineyards and chestnut woods. The island is made up of three main areas, Siviano, Carzano and Peschiera Maraglio; and it's a beautiful walk along the waterfront to Peschiera Maraglio where you'll find restaurants and cafes. You can catch the bus up the mountainside to then make the final steep ascent on foot to The Sanctuary of Madonna della Ceriola, a monastery at the island's highest point. It's well worth it for the incredible views of the lake at the top. Bring your walking shoes and you could hike all the way to the top; or walk or cycle around the perimeter of the island, which takes a few hours.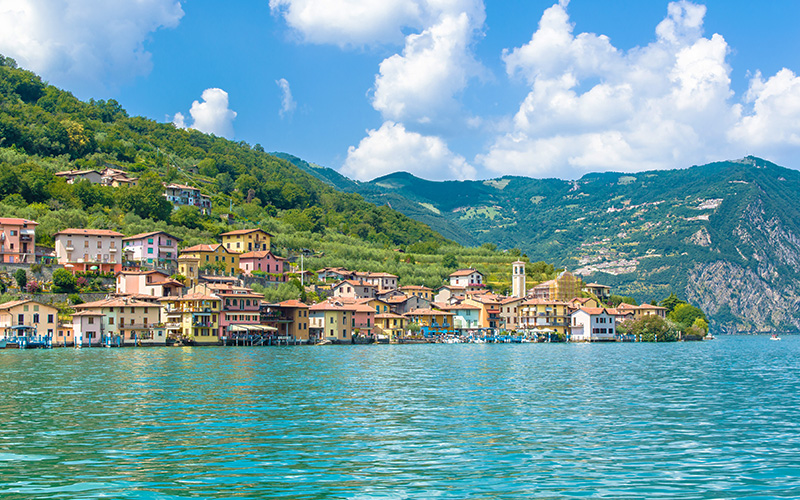 Suvereto, Tuscany
Around a two-hour drive from Florence
This medieval borgo's ancient walls enclose paved streets lined with stone houses, impressive churches, beautiful cloisters and a sense of history at every turn. The historic centre has been lovingly restored; and a walk here will lead you to the medieval town hall, ancient churches, a monastery and a castle. The origins of this village date back to before the year 1000, its past full of tales of war, and it has a fantastic hillside setting overlooking the Costa degli Etruschi coastline. The area is also known for its prestigious wineries, from ultra-modern buildings to ancient wine cathedrals carved out of stone, surrounded by grapevines clinging in lines to the hillsides. Wild boar meat is so prized here it forms a major part of Suvereto Festival, where you'll find sizzling food stands offering the famous wild boar sausages.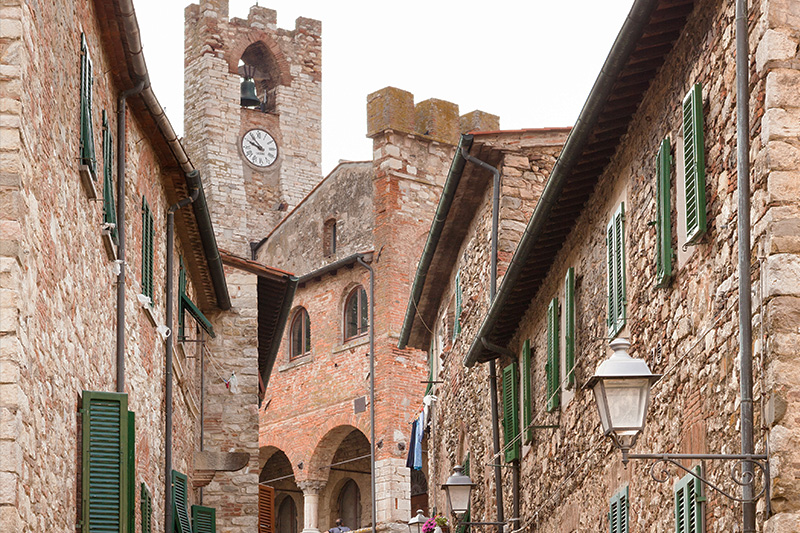 Furore, Campania
Around a 20-minute drive from Amalfi
Follow the hairpin curves between Amalfi and Agerola and you'll arrive in the fishing borgho of Furore. This loose group of houses sprinkled across the rocky cliffs might not be clustered together like a typical town, but with good reason. These houses served to protect the fields and village of Fiordo at the foot of the cliff. Some of the houses here look as if they have grown out of the rock, rather than being built in their precarious position, poised on a cliff edge above the sparkling sea below. The fjord of Furore is a narrow valley carved by the river Schiato and you can walk along ancient staircases from the mountains down to the sea, even go diving under the famous bridge. You can also visit the winery here, set among the vines and rocks rising towards the clouds and explore the cellar dug into the rock.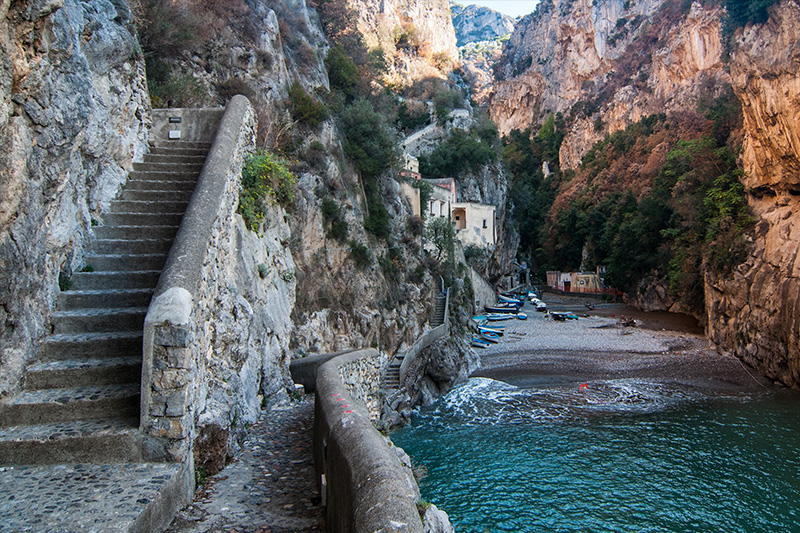 Conca Dei Marini, Campania
Around a 12-minute drive from Amalfi
With the sun lighting up this pretty fishing village, wander up and down staircases that seem to take you from the sky to the sea, connecting every part of Conca Dei Marini. It's a real leg workout! At the top, whitewashed houses are peppered among orchards and groves of olives and lemons; houses cling to cliff sides; and the small number of residents give the place an exclusive, laid-back feel. The town hugs the legendary cliffs of Grotta dello Smeraldo, also known as Emerald Grotto, which can be reached by boat, steps or lift from the main road. Inside, light penetrating through an underwater opening turns the cave a hue of shimmering emerald green, reflecting off the columns and stalactites.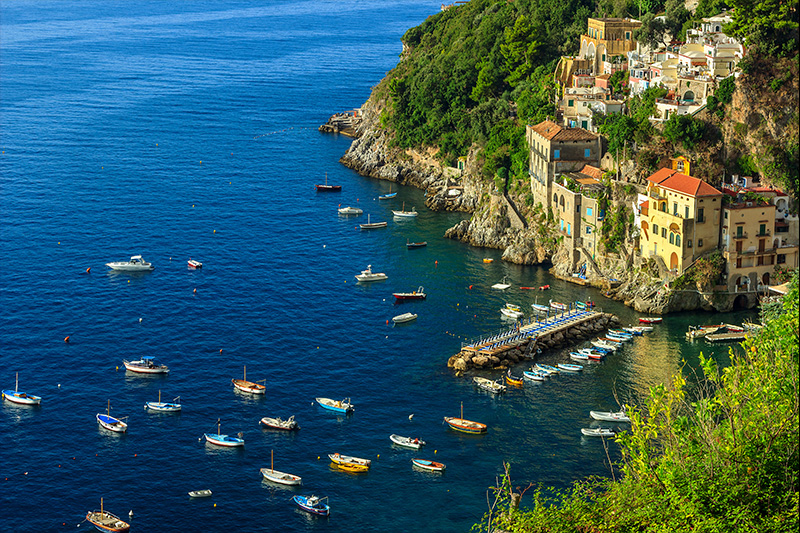 Castelmola, Sicily
Around an 18-minute drive from Taormina
The medieval village of Castelmola sits on a natural balcony above Taormina and the views are panoramic, guzzling up the Ionian coast, Mount Etna and the bay of Giardini-Naxos for starters. Discover the Norman walls where a castle once stood, pass houses painted in delicate yellow and rose gold, and make your way to the tree-lined square that has dizzying views.
Head down the main street, passing shops selling lace and embroidery, stopping for a glass of local Almond wine – be warned, Bar Turrisi is particularly known for its phallic-shaped statues and interior design, said to be a sign of abundance and a good omen in Greek tradition! The real draw to this borgho though is the knock-out views, whether gazing towards Etna in the distance or peering down over the Greek theatre in Taormina below.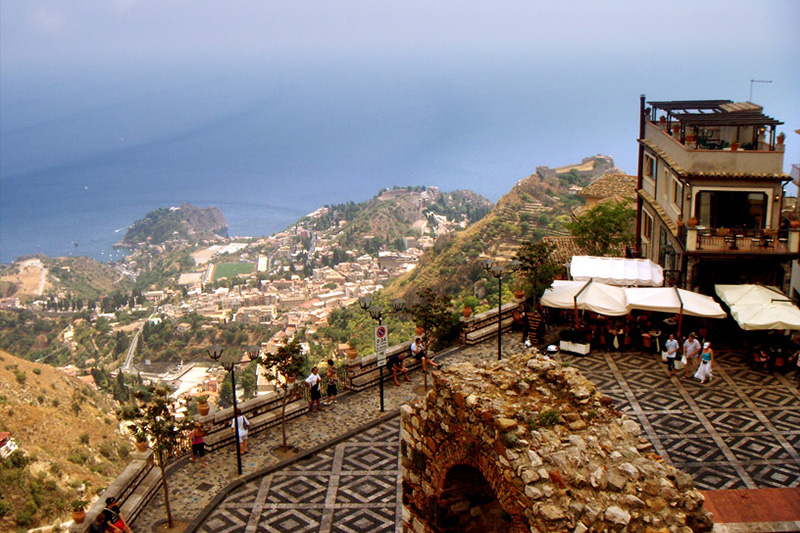 Inspired?
---
You can stay in one of Italy's more popular cities or towns and venture out to explore these incredible borghi independently. We'll help arrange car hire for your stay and we're here to tailor-make an Italy holiday just for you. To talk to someone who has been to Italy, search for one of our Italy experts or order our Italy brochure.