7

nights
Escorted Small Group Tour
This popular seven-night small group tour is a mouth-watering culinary exploration of this beautiful Italian island. Reflecting Sicily's multicultural history, local dishes have Italian, North African, Greek and Arabic influences; try the best Sicilian food and marvel at Greek and Roman ruins as you travel through gorgeous landscapes and visit the lesser-visited western coast.
• Syracuse: 1 night
• Modica: 1 night
• Agrigento: 1 night
• Palermo: 2 nights
• Taormina: 2 nights
7

nights
Escorted Small Group Tour
ITINERARY
Day 1: UK to Syracuse Upon arrival, transfer to your hotel in Syracuse where you will spend one night. Late this evening, you'll get to know your group and local tour leader over a light dinner at the hotel restaurant. It's a great time to ask your tour leader questions about the tour. Stay: Villa Politi Hotel (or similar). D.
Day 2: Syracuse to Modica After breakfast, set off on a tour of Syracuse, which was once the most important Greek colony in the western Mediterranean. Visit the Archaeological Park of Neapolis and see an incredible collection of ruins. There's the ancient quarry of Latomia del Paradiso, with its deep and narrow cavern, which is also known as the 'Ear of Dionysius'; the Greek Theatre, one of the largest of its kind; and the 1st-Century Roman Amphitheatre, once the scene of gory gladiator fights. Continue on to the old centre of the city, which is on the island of Ortigia, where you can see the remains of the 6th-Century BC Temple of Apollo, the Fountain of Arethusa, and the Syracuse Cathedral which was built incorporating the 5th-Century BC Temple of Athena. Before departing, wander through the vibrant vegetable and fish markets. The final part of today's journey takes you to the town of Modica. As well as taking in the Baroque architecture, visit a local pastry shop, or pasticceria, and try some of the town's famed chocolate – the perfect end to your first full day in Sicily. Approx. journey time: 2¼ hours. Stay: Modica Palace Hotel (or similar). B, D.
Day 3: Modica to Agrigento Start the day with a visit to the town Ragusa which consists of the old town – the hillside Ragusa Ilba – and the new town Ragusa Superiore, set on the plateaued peak of a limestone hill. Spend some time exploring the old town, seeing the Cathedral of San Giorgio and some fine examples of the town's various architectural styles. Journey on from Ragusa towards the ancient city of Agrigento. Established in the 6th Century BC as the vast Greek city of Akragas, this archaeological site is packed with history that you'll explore with a local guide. The major attraction here is the UNESCO World Heritage Site, Valley of the Temples, which is on a ridge on the southern side. There are seven Doric-style Greek temples, including the Temple of Concordia, one of the finest and best preserved examples of Ancient Greek architecture in the world. You'll also get to return at night to see the ruins as they're beautifully lit, followed by some delicious gelato. Approx. journey time: 3 hours. Stay: Baia di Ulisse Wellness & SPA (or similar). B, D.
Day 4: Agrigento to Palermo Today is dedicated to the west coast's towns, islands and sights, beginning with the westernmost town of Marsala. Its surrounding countryside is where the famous dessert wine of the same name is produced; the introduction of this variety of wine to the wider world has been credited to the English trader John Woodhouse in 1773 and it's still a popular drink throughout Italy today. Later, take a short boat trip across to Mozia, an island in the Stagnone Lagoon. Visit the remains of an ancient Phoenician settlement and a small museum to see the 5th-Century BC Greek statue of the Young Man of Mozia before returning to the mainland. Continue along the coast to Erice, a medieval town on the peak of Mount Erice at 750 metres above sea level. The Venus Castle dominates the town and from here you can enjoy panoramic views over the western coastline and the Egadi Islands. Travel onwards to the island's main city, Palermo, where you'll stay two nights. Your evening is free to have dinner wherever you like in the city – there's no shortage of restaurants to try. Approx. journey time: 2½ hours. Stay: Principe di Villafranca (or similar). B.
Day 5: Palermo Explore the city and the hill town of Monreale, just outside of Palermo, where you can trace architecture from the ancient to the medieval. In both Palermo and Monreale you can see buildings from the Norman-Byzantine period, including the grand Norman Palace, the breathtaking mosaics of the Palatine Chapel and the beautiful 12th-Century Monreale Cathedral. Then go on a leisurely walk around a food market in the city; this is the perfect place to buy lunch and taste some local specialities like arancine (deep-fried rice balls) or cannoli (sweet crispy pastry filled with soft cheese). The evening is free so you can try another local restaurant of your choice. Stay: Principe de Villafranca (or similar). B.
Day 6: Palermo to Taormina Travel east along the coast from Palermo to the pretty seaside resort of Cefalù. Spend some time in its charming harbour, winding alleyways and its typical Norman cathedral. Afterwards, drive east to the most famous of Sicily's resort towns – Taormina. This historical town is buzzing with intimate piazzas, chic boutiques, jewellery and antique shops, street cafés and restaurants, plus a fine Greco-Roman amphitheatre. There'll be some time to explore before visiting the Italian national monument, Casa Cuseni. Built in the early 20th Century, this charming casa is now a museum as well as a bed and breakfast. Approx. journey time: 3¼ hours. Stay: Villa Sonia (or similar). B.
Day 7: Taormina Today you'll visit Mount Etna, Europe's highest and most active volcano. As you approach the slopes of the volcano, you'll be able to see the enormous lava stream created by the 2002 eruption, before stopping at an elevation of 1900 metres above sea level. If you'd like to get closer to the crater, you can join an optional excursion continuing by Jeep up to the observatory station which is found below the summit (payable locally). On the journey back to the hotel, have a wine tasting at a wine cellar before a seafood dinner at a local restaurant. Stay: Villa Sonia (or similar). B, D.
Day 8: Taormina Transfer to the airport for your flight to the UK, or extend your holiday with extra time in Taormina. B.
ABOUT THIS TOUR
Is this for you?
The perfect itinerary for food and culture lovers. An ideal choice for both first timers and those who may have visited before yet want to experience more than the beaches.
Good to know
• For guests over 16 (including on a private journey)
• Average group size of 16 guests
• A maximum of 18 guests
• Journey times do not take into account stops or traffic conditions
• We recommend travelling with no more than one suitcase and one day bag.
What to expect
• A pair of comfortable walking shoes is recommended
• Busy days with lots of walking and exploring on foot; a good level of fitness is required
• The trip to Mount Etna on Day 7 is subject to weather and volcanic conditions. The optional Jeep excursion is an exciting trip to the summit, which may not be suitable for any sensitive to high altitudes.
Accommodation on tour
We've chosen excellent quality boutique hotels that are well placed for local exploration. In Syracuse, you'll follow in the footsteps of notable guests including Sir Winston Churchill at old-world gem, Grand Hotel Villa Politi. The most spectacular views are saved for the end; the rural Hotel Villa Sonia in Castelmola has stunning views of the Sicilian coast towards Mount Etna.
Single travellers
DATES AND INCLUSIONS
Tour dates
2020 Apr 30; May 14; Jun 11; Sep 10; Oct 01
2021 Apr 29; May 13; Jun 10, 24; Sep 09, 23, 30; Oct 14.
Included in price
• Quality accommodation
• Insightful local tour leaders
• Handpicked itineraries
• Flexible arrival times
• Small groups
• Guide tips
• Meals where most convenient (B=Breakfast, L=Lunch, D=Dinner)
• All specified flights.
Special offer
SAVE UP TO £100 PER COUPLE
London Gatwick

Quality accommodation

7 Nights

April

Selected meals
Insightful local tour leader, porterage & guide tips included. Also available as a private tour.
Fly with easyJet from London Gatwick
from £1799 £
Price Per Person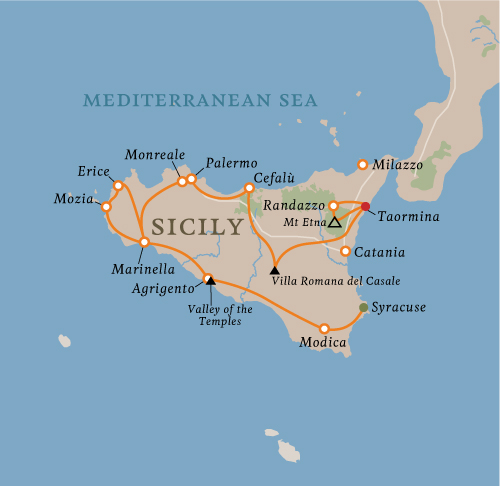 Kuoni highlights
See ancient Greek ruins enchantingly lit up by night, taste some of the island's best gelato and see Europe's most active volcano, Mount Etna – with the chance to get closer on a Jeep ride (at extra cost). Explore the lesser-visited west coast and take a boat trip over to the island of Mozia, where you can see the excavated remains of an ancient settlement.