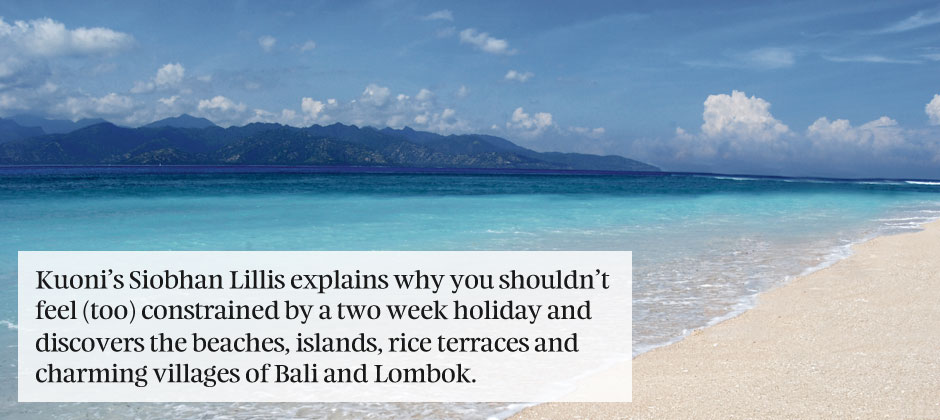 Bali, Lombok & the Gilis: in two weeks
I love exotic, faraway places. Don't get me wrong, I have enjoyed many a European city break, weeks spent in the Italian lakes, and the most amazing weekend in Iceland. But for me there's something really special about discovering new places, half the world away.
I had first taken note of Lombok on a TV programme showcasing its white sand beaches under the shadows of dramatic Mount Rinjani. This was all I needed to begin planning and soon I had a rough itinerary mapped out for me and my other half. The only problem was that, with only two weeks holiday to take, we knew we would fall victim to the old adage of 'too much to do, too little time' – but thought we'd give it a good go all the same.
On arrival at Bali's Denpasar airport, we transferred to one of Sanur's beachfront hotels. For a relaxing beach resort break or a base for exploring the rest of Bali on day trips, Sanur is a lovely choice. Many of the hotels here have fragrant, tropical gardens, with lily ponds and ornamental features, as well as glorious swimming pools. We loved wandering along the beachfront lined with traditional 'jukung' fishing boats and discovering what Sanur had to offer.
But we've always done things quite independently, so after a short stay here enjoying our hotel's Club benefits, we headed to the airport for the 20-minute flight over to Lombok. Regularly described as 'the new Bali'– pre-tourist infrastructure – this volcanic island is where boutique hotels sit alongside roadside shacks selling corn on the cob, and air-conditioned taxis transporting holidaymakers are overtaken by scuffed mopeds laden with everything from furniture to chickens. Lombok is not untouched, but it's definitely far from spoilt.
Our base here was Senggigi on the west coast – Lombok's most popular spot with tourists but still quiet compared to Bali, with low-rise buildings, swaying palms, sweeping bays and particularly stunning sunsets. We toyed with the idea of climbing Mount Rinjani – an active volcano whose highlight is a wonderfully blue crater lake – but with the climb taking three days, that's one for next time.
A couple of days later and we were on the move again, this time taking a boat to one of Lombok's offshore islands: Gili Meno. Together with Gili Trawangan and Gili Air, Gili Meno makes up the fabled 'Gilis'. Popular for years on the backpacker circuit, these rustic, bohemian islands are car-free (the method of transport is either bicycle or horse-drawn carts called cidomos) and perhaps offer a taste of what some of Thailand's islands may have been like in years gone by. And they're not only for backpackers – some of the accommodation here is excellent, and we met a real range of holidaymakers during our stay.
So we were dropped off on a stunning stretch of beach on tiny Gili Meno – the least developed of the three islands – and spent our days castaway, lounging on the (quite corally) sands, snorkelling offshore, dining on mouthwatering nasi goreng and enjoying ice cold beers as the sun went down. A particular highlight was taking a jukung out to 'turtle point', frequented by Hawksbill and green sea turtles. On Gili Meno, they call it the 'turtle capital of the world'. It didn't disappoint – I saw more turtles in those clear waters than I'd ever seen in my life. We also visited the island's turtle sanctuary, where little hatchlings are given the best start in life, housed in tanks away from predators.
Gili Trawangan is just a short hop over from Gili Meno. Affectionately known as 'Gili T', this is the liveliest of the Gilis but, in real terms, is still pretty chilled out. Diving is a big thing here, and the main street is populated with dive schools in between restaurants serving up freshly grilled seafood, market stalls and bars – even the customary Irish pub.
From Gili T, it's roughly an hour and a half by boat to Bali's Padang Bai port, where we had arranged a shared minibus transfer up to one of Bali's most well-known destinations: Ubud. Readers of the bestselling novel, Eat, Pray, Love will probably expect a lot from Ubud; I know I did. In spite of its obvious growth over the years and everything that comes with that, I loved it. As the 'cultural heart' of Bali, it has a charming café culture, with boutiques and excellent eateries as well as temples and markets. We wandered along Monkey Forest Road, taking in all the sights, and entered the sacred Monkey Forest. The obvious highlights here are the numerous cheeky, banana-thieving macaques, who provide all the entertainment desired of them. But the Monkey Forest is also a visual delight, with intricately-carved statues, sacred temples, and 115 species of tree.
Ubud's surrounding area is enchanting. High in the rainforest canopy are a number of luxury hotels, cleverly built into the hillside, with floating pools and elaborate walkways. A little further out and you reach Tegallalang. This is handicraft central, with the roads in and out of the village lined with an Aladdin's Cave of souvenir shops and workshops. But the real reason to travel here is to see the rice terraces – giant steps of lush green cascading to the valley floor. These rice terraces are so easily accessible from Ubud centre, and for us they had a definite 'wow' factor. And then that was it; time was up on an unforgettable two week adventure.
Of course we couldn't possibly have crammed everything that Bali and Lombok has to offer into two weeks, but it gave us a great taste of the region, and it felt like we'd had an 'experience' rather than a holiday. Especially with an overnight stay in Kuala Lumpur packed in on the way home.