If you're feeling a bit tired, run-down and can't kick the fatty food habit, you could sign up to a radical health regime. Alternatively, just book a holiday to Bali. With sunrise yoga sessions, healthy – and tasty – dishes and a dash of sunshine, you'll return renewed.
One of our experts explored the island to find out more.
High on my presumptuous shortlist of honeymoon destinations, Bali has always been an elusive paradise to me where I imagined I would stick out like a sore thumb among the beautiful locals and shredded surfers. Like most, I'm not too keen on the whole diet thing. So often it seems to mean a restrictive programme that curbs both your calorie intake and general happiness. If you're a self-proclaimed foodie like myself, there's nothing worse than feeling like you can't enjoy yourself and just eat that cake/bread/ [insert food that's 'bad-for-you' here]. So I arrive in Bali, with an eager appetite and the vague intention of doing some exercise once or twice in the pair of leggings I've packed, artfully buried below everything else so as to make it easy to forget they ever existed.
To my delight, I discover that Bali is an idyll where being healthy seems to be effortlessly infused into everyday life. The food is amazingly fresh and feels wholesome. And for a South-East Asian island this size, there seems to be plenty of gluten and dairy-free options to make dietary requirements a breeze too. In Seminyak, an upmarket resort area of Bali's south-west coast, I count enough healthy and organic-themed cafés to rival a London suburb filled with young, hipster families. A little more polished and relaxed than lively Kuta, it's a great base for first-timers to enjoy a combination of beaches, shopping and nightlife.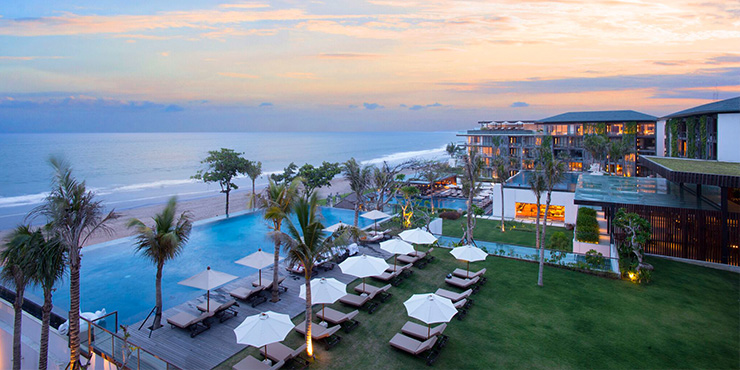 I stay at Alila Seminyak & Studios, an eco-chic hotel where breakfast is a foodie's dream. At the restaurant, Seasalt, there's a show buffet as well as an à la carte menu with exquisite healthy options that are just as tempting as any 'cheat food' out there. You can either dine light on jars of yoghurt with granola and jams made from papaya, pineapple and guava or opt for something heartier with traditional staples like bacon and eggs. What I love the most here is the modest portion sizes, deliberately done so you can try two or three dishes without feeling like you need a minute to breathe afterwards.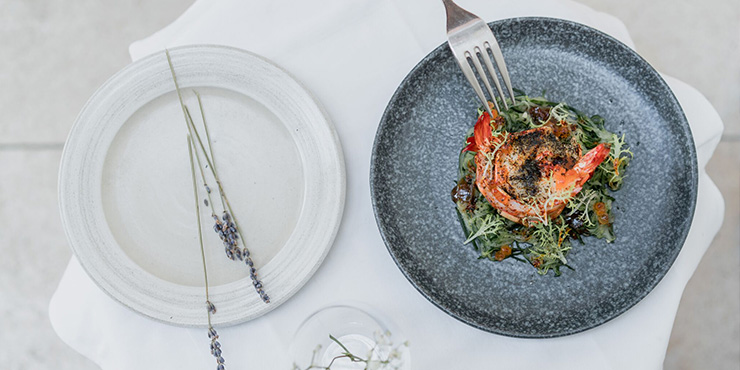 We have dinner here, and it is hands down the best meal I've eaten since I turned vegetarian a couple of years ago, which is no wonder with a Michelin-starred chef at the helm. There's a mouthwatering watermelon compress to start followed by plates of gorgeous orange roasted roots and a vibrant green hummus dish. For my fellow diners, the main event is the impressive signature white snapper encrusted with and baked in sea salt. It's a banquet where every mouthful is sublime, but nothing feels heavy in the slightest. After a passionfruit and coconut dessert that tastes and looks like something crafted over hours in the Masterchef kitchen, we head to the famous Potato Head Beach Club next door for a cocktail – you know, in the spirit of balance.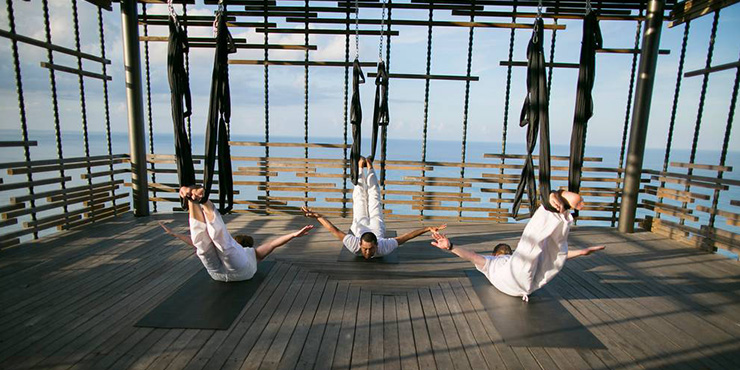 If you're looking for the same level of decadent dining but somewhere more remote, Alila Villas Uluwatu deserves a special mention. It has the same healthy food concept, topped off with Instagram-worthy views that are just as impressive in real life as they appear in pictures. At the traditional restaurant, The Warung, you can wash down specialities like Indonesian-style satay skewers with jamu, a healing herbal concoction usually made from a base of turmeric, ginger and tamarind that's believed to help you lose weight, improve your complexion or invigorate depending on the blend. A stand-out experience here is aerial yoga in the spectacular overhanging cliff-side cabana, where you can enjoy a gravity-defying workout that is said to relieve tension, tone, strengthen and promote proper posture and alignment through relaxation, rather than effort.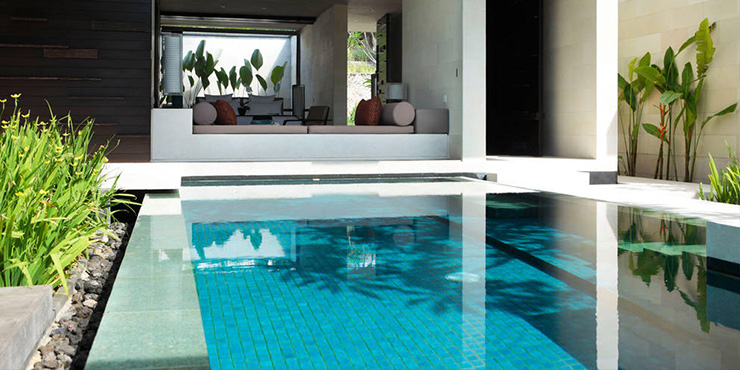 I don't know if it's because there's always a pool or a cooling frangipani-scented towel nearby, but, during a stay at Puri Santrian, I soon acclimatise to the sultry Balinese weather and start thinking that perhaps I should wake up early and make the most of my time here with a yoga class. Somehow, I manage to respond to my 6.45am alarm without hitting snooze and I'm richly rewarded for my efforts.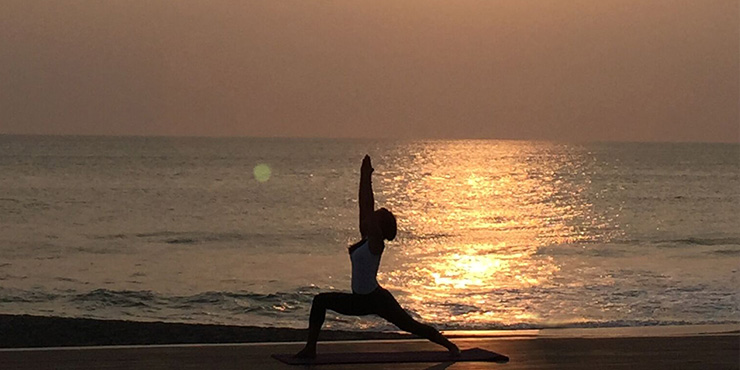 The complimentary yoga class at this relaxed hideaway in Sanur takes place under a rustic-style roof. Whether you're a handstanding, crow-posing yogi or your downward dog looks more like you've got stuck trying to stand up, I can tell you that there's nothing more soothing than a yoga session in Bali. After all, it's been a big destination for yoga retreats for years. There's a strong sense of spirituality that you don't have to look for – it's just there. Just as the tropical humidity dials up a notch, a deep, melodic tune wafts up from below and I spy three seated men under the shade below playing traditional Indonesian gamelan music. It was like nothing like I'd ever heard; I was instantly at peace.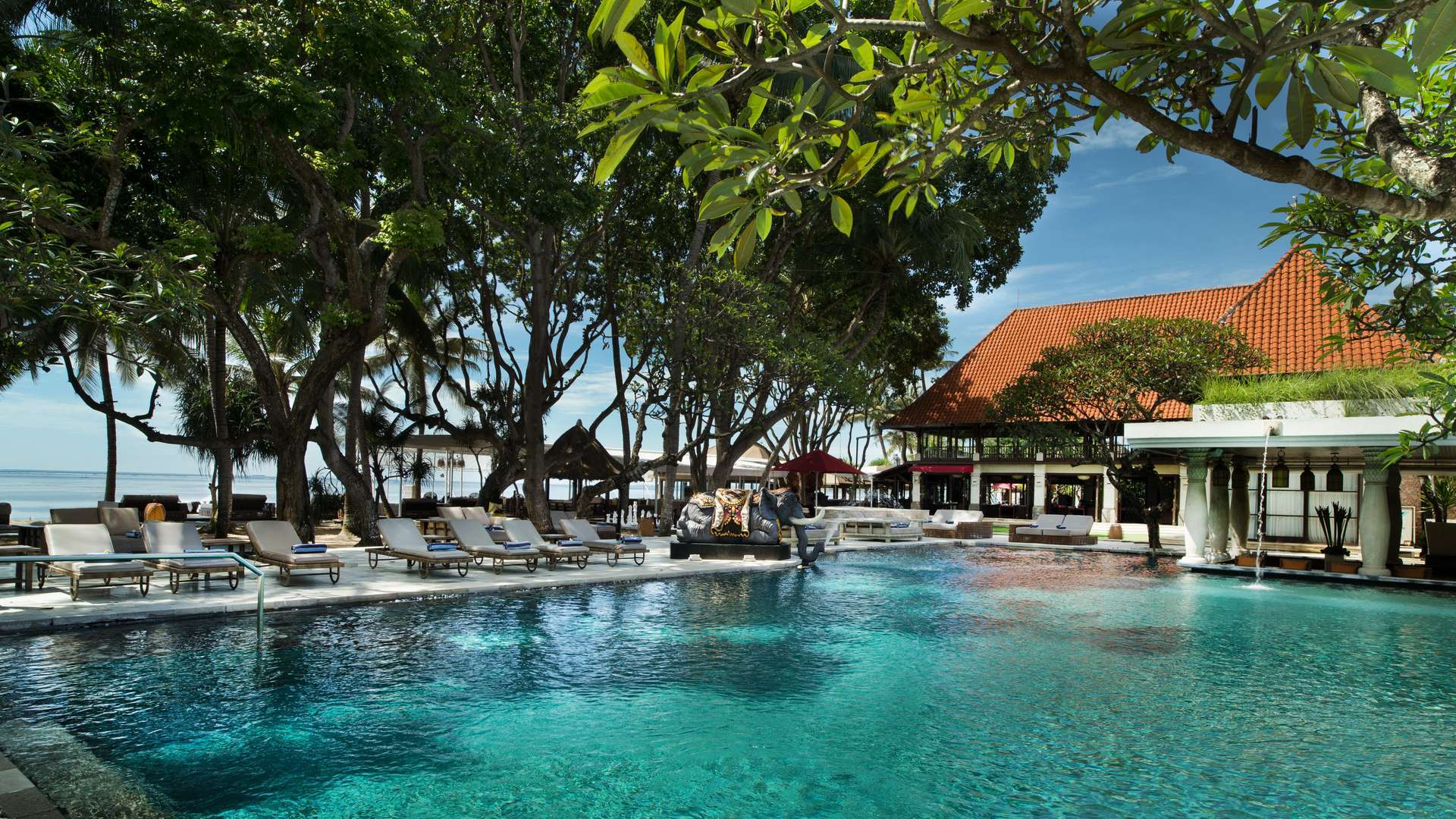 I can't promise that a week's holiday in Bali will leave you a few pounds lighter than you were on the plane out, but there's something about this island that re-energises you. Perhaps it is mostly the sunshine, but on my reluctant return back to the UK, people commented that I looked well and I certainly felt it. I guess there are always treadmills and dumbbells for those who feel motivated enough to go to the gym every day. But, for me, I'll just go back to Bali.
Inspired?
---
We recommend combining hotels on different parts of the island of Bali to experience diverse landscapes, from the stylish beach resort of Seminyak to the art scene, paddy fields and café culture of Ubud. Talk to a Personal Travel Expert or order our Far East brochure for more inspiration.
This feature was published on 21 August 2018. The information within this feature is correct to the best of our knowledge at the time of print. Feature by Chanel Diep.