The best beaches near Bangkok
This is our guide to the best beaches near Bangkok.
Bang Saen beach
Bang Saen beach located just an hour away from Bangkok is a real local's favourite, with Thai families escaping the city on the weekend and setting up their sunbed on this beautiful beach. Stretching approximately 2.5 km, Bang Saen beach is ideal for strolling along during the day and sinking your toes into its soft sands, then enjoying lunch from a seafood vendor. The beach has a natural slope as well meaning that after your lunch, you can take a dip in the warm waters. In comparison to Pattaya beach, the nightlife here is a lot quieter which means it's perfect for those wanting a tranquil evening watching the sun go down with a cocktail in hand.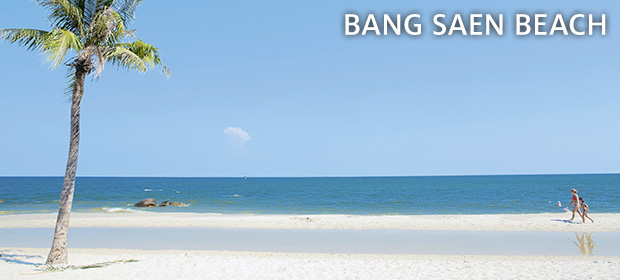 Once a modest fishing town, Hua Hin has risen to become one of Thailand's most cosmopolitan seaside towns. Today, tourists not only flock to Hua Hin for its beaches, but to see the Klai Klangwon – the summer residence of Thailand's Royal Family. This charming holiday resort is a great family destination filled with a plenty to see and do. It is sequestered by three miles of sands and tall swaying palms, and the city's beachfront is where holiday makers spend their days.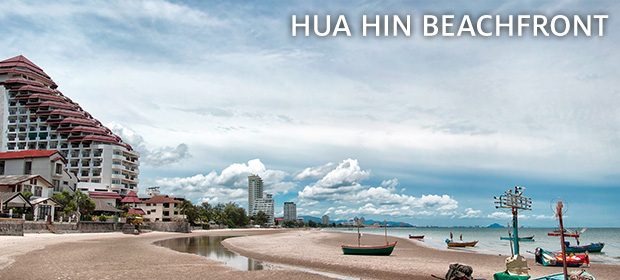 Creating a dramatic backdrop, there are a string of luxury beachfront hotels to choose from, varying in size and style. If you're looking for a trendy and chic stay, why not book a stay at Let's Sea – a distinctive ultra-modern hotel with a lagoon-style swimming pool that runs through the middle of the hotel featuring rooms with either direct pool access or a private terrace – a stunning and private spot for catching Hua Hin's sunset or simply watching the stars with perhaps a cocktail or two.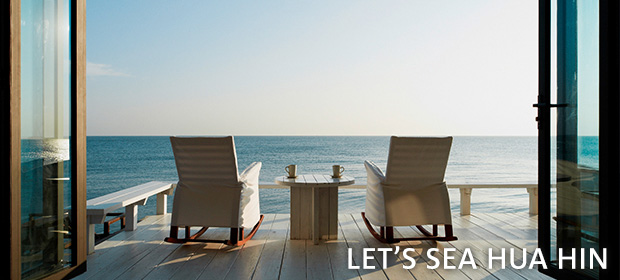 Hua Hin's main beach stretches over three miles from the rocky headland at the centre of town and finishes in Khao Takiap, famous for its Buddhist temple, which is intriguingly nestled a cliffside – an absolute must see! The beach also offers a range of activities including watersports, kiteboarding and horse riding for those seeking more than relaxation. A number of contemporary restaurants can be found here, offering a world of international cuisines as well a string of local vendors, serving local favourites such as freshly caught seafood.
Just before you reach Hua Hin lies the sleepy resort of Cha Am, well-known for its fishing heritage. During the week, this peaceful beach resort offers tranquil powdered shores, calm waters and a laid-back atmosphere. The evenings are calm with local seafood restaurants and quaint bars dotted along the coastline aplenty. We recommend a stay at The Regent Cha Am Beach Resort.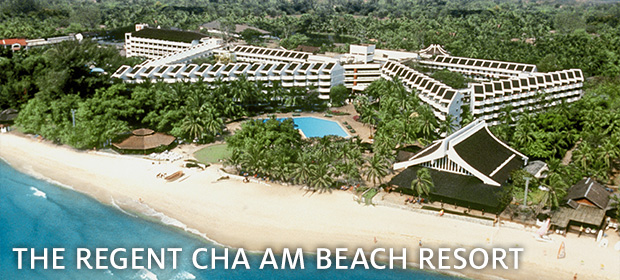 However, come the weekends, this small beach resort becomes another local favourite with families and groups of friends from Bangkok escaping the heat of the city, creating an exhilarating party atmosphere. Experience authentic Thai culture as decorations are adorned along the streets and the smell of local street food vendors fills the air, including grilled fish, shrimp, squid and mussels. If you're looking for that quieter, more peaceful beach experience, definitely head to Hua Hin.
Inspired?
---
Take a look at Bangkok in-depth with its intoxicating blend of high culture, superb shopping, hedonistic entertainment and luxurious hotels, it is truly one of the most exciting and enthralling cities in the world.