Gift List
Gift lists for weddings, honeymoons and special occasions
More couples than ever are looking for an alternative to the classic gift list. Choosing your gifts is an exciting part of your wedding planning and now it's even more enjoyable. You can add your Kuoni honeymoon to your John Lewis Gift List, allowing your friends and family to contribute to your once-in-a-lifetime holiday or set up a Kuoni Gift List online direct with Kuoni.
Contributing to a Kuoni Gift List
Pay online: Enter the account number on your Kuoni Gift List announcement card to the right and make a secure payment. You can also leave a personal message with your contribution.
Pay by phone: Call 01306 744444 between 9am-6pm Monday to Friday, or 9am-5pm Saturday and tell our gift list team how much you would like to contribute to a Kuoni Gift List. Have the account number handy, as well as your debit or credit card.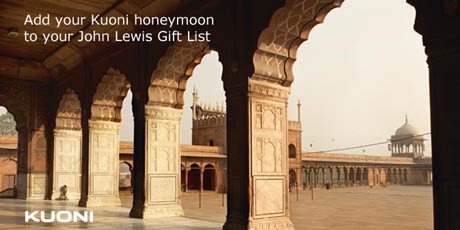 We're proud to be the exclusive travel partner for the John Lewis gift list. This service allows your guests to contribute to your Kuoni holiday, honeymoon or overseas wedding through a John Lewis gift list, so you can help pay the balance, upgrade your flights or room, even add Kuoni Authentic Experiences to make your travels unforgettable.It couldn't be easier:
Simply book your Kuoni honeymoon and add it to your John Lewis gift list by letting a John Lewis gift list advisor know your seven-digit Kuoni reference number.
Along with presents and gift vouchers, your family and friends can contribute towards your Kuoni honeymoon online, in-store or over the phone.
John Lewis will manage your list for you, recording the value of gifts, any special messages and sending you updates.
Your honeymoon contributions are added up so you know how much you have to spend.
While your gift list is active, you can keep up to date by viewing it online at johnlewisgiftlist.com. A full set of contributors and their messages will be forwarded to you when your list closes.
Find out more about the John Lewis Gift List here, in store, or at johnlewisgiftlist.com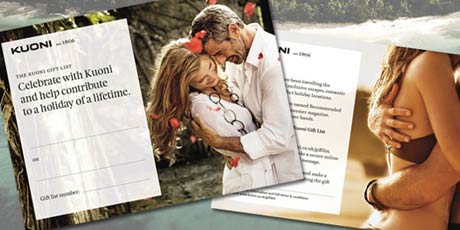 The Kuoni Gift List is a personal way for guests to contribute to an unforgettable honeymoon or overseas wedding online with Kuoni
It's free, simple to set-up and easy for guests to make payments, plus we'll send you Kuoni Gift List announcement cards to send out with your invites. The hard work is taken care of.
Book your honeymoon or holiday with Kuoni and set up your online Kuoni Gift List
We will send you a welcome pack with 100 Kuoni Gift List announcement cards in the post.
Your guests can log on, make a contribution and leave you a personal message.
Only you will be able to see your guests' contributions.
When your final holiday balance is due, you can transfer the money from your Kuoni Gift List and use it to help pay for your holiday.
If guests contribute after your holiday has been paid for, you can request your contributions to be returned to you online and we will send this money to you by cheque.
Enjoy an unforgettable Kuoni holiday!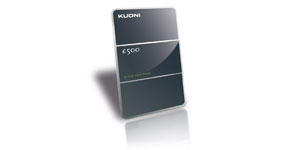 For Weddings, Birthdays & Special occasions
Give someone the gift of travel with our stylish Kuoni gift card
Pop into one of our chic travel stores to pick up one of these personalised presents. You can put any amount of money onto the card, which can then help pay for a fantastic holiday, flight or room upgrades, even adding experiences onto a holiday or honeymoon that has already been booked. Treat family and friends with unique travel experiences from Kuoni.