Why visit bountiful Barbados?
When you think of Barbados, you may have visions of Simon Cowell riding a jet-ski, and Rihanna dancing at the Crop Over Festival, but there's more to this small island than beautiful beaches, rum-swilling parties and celebrity sightings.
For an island of its size, Barbados is bursting with activity and a dizzying array of opportunities for relaxation, exploration and authentic Caribbean experiences. Not only does it attract visitors in search of some of the Caribbean's best beaches, restaurants, nightlife and world-class resorts, it also has more than enough to keep history buffs, culture vultures and nature lovers happy.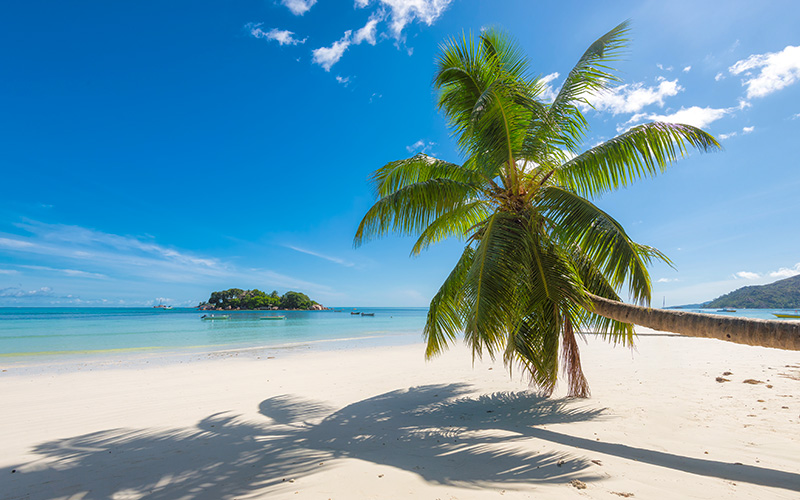 Best time to go
With over 3000 hours of sunshine a year and direct flights from London – in just 8½ hours you'll be feeling that welcome blast of warmth on your skin as you step off the plane – Barbados is a popular year-round destination. The dry season runs from December to June and if you travel in April and May you can sneak in between peak season and low season so you'll get more for your money, avoid the crowds and still get to enjoy glorious weather.
How long
A week is ideal if you want to combine relaxation with a little exploration but you'll need two weeks if you want to pack a lot in but still have time to enjoy the easy going Bajan pace of life (and plenty of rum punch). If you want to explore other Caribbean destinations then you could twin Barbados with a contrasting island or combine it with New York for the ultimate city and beach holiday.
Getting around
Tempting as it may be to lounge on the beach all day, there is so much to see and do that you'll be itching to venture out and explore. And it's really easy to get around; you can stroll to local shops and restaurants, hire a car – they also drive on the left here, or be chauffeured in an air-conditioned taxi. For a real taste of Bajan culture, travel like a local by hopping on one of the renowned reggae buses, which is an experience in itself. Be prepared for a bumpy ride as they travel at breakneck speeds while pumping out dancehall music, and all for just BDS$2, around 80p!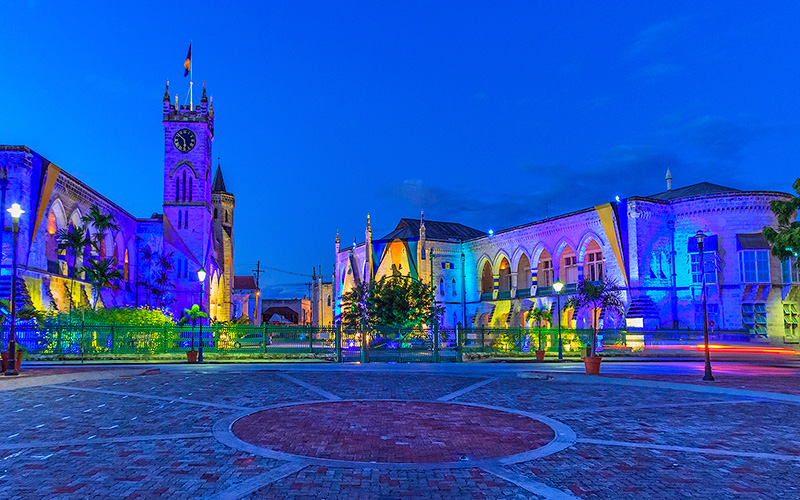 Duty-free shopping
Whether you're looking for jewellery, designer clothes, souvenirs, cigarettes or rum, you can snap up some great bargains – just don't forget your passport! One thing you won't find here is camouflage clothing as in Barbados it's an offence for anyone except military personnel to wear any kind of camouflage clothing, even children!
Caves and gardens
Surprisingly, many of Barbados' top attractions are found further inland and even underground! In Harrison's Cave an electric tram takes you on a subterranean tour of limestone caverns, lakes and waterfalls – wear a hat if you want to avoid the water dripping from the roof. Barbados' spectacular gardens offer a shady alternative to days on the beach and the chance to spot monkeys, hummingbirds or mongooses – and in Barbados it's considered good luck if one of these fast-moving weasel-like creatures runs across the road in front of you! Hunte's Garden is a tropical paradise set in a sinkhole-like gully in the centre of the island and at nearby Welchman Hall Gully you can watch green monkeys in their natural habitat. But nature lovers needn't stray far from their resort as a number of places, such as Cobblers Cove, The Fairmont Royal Pavilion and Colony Club by Elegant Hotels offer tours of their gardens.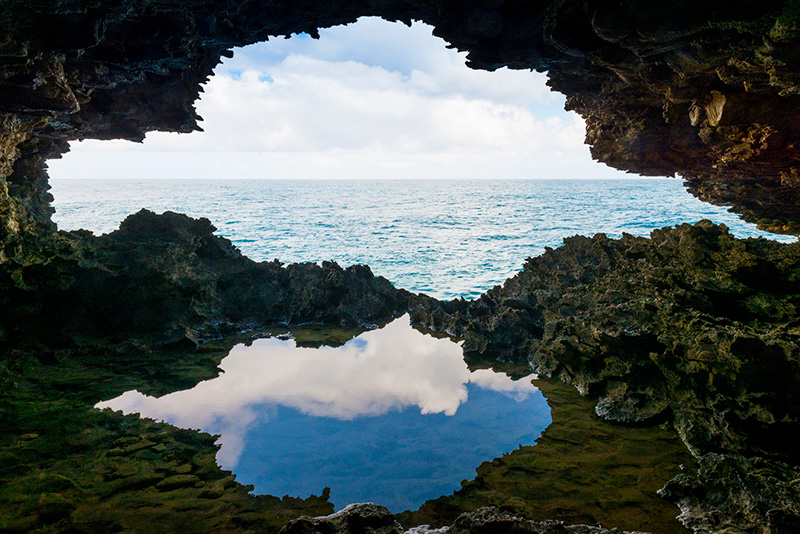 Food and drink
Barbados is known as the Culinary Capital of the Caribbean and there is a real focus on fresh seafood but don't be alarmed if you spot dolphin on the menu; you won't be tucking into an adorable flippered friend but rather what the Bajans call (the slightly less endearing and unsmiling) mahi-mahi. Cou-cou and fried flying fish is the national dish and this tasty mix of polenta-like cornmeal, okra and fish is served with a spicy sauce. Barbados hosts its annual Food & Rum Festival – a four-day celebration of food and drink – in November. The island is famously the home of rum and at the Mount Gay distillery you can learn how to make rum cocktails and impress your friends with your mixology prowess when you return home.
Turtle power
Swimming with turtles tops the list for must-do experiences in Barbados. Depending on where you're staying you can swim out from the beach or head out on a catamaran cruise to find these majestic creatures. Guests at The Fairmont Royal Pavilion, a five-star luxury hotel that oozes old-school elegance, can join a free daily trip to swim with the turtles. On the south coast, turtles can be seen close to shore on Worthing Beach, just down the road from The Gap, while on the west coast, Paynes Bay and Sandy Lane Bay are prime turtle-spotting territories. Coming face to face with these magnificent creatures is a very special experience. From mid-July to mid-October you can see the release of sea turtle hatchlings on the beach at Accra Beach Hotel & Spa.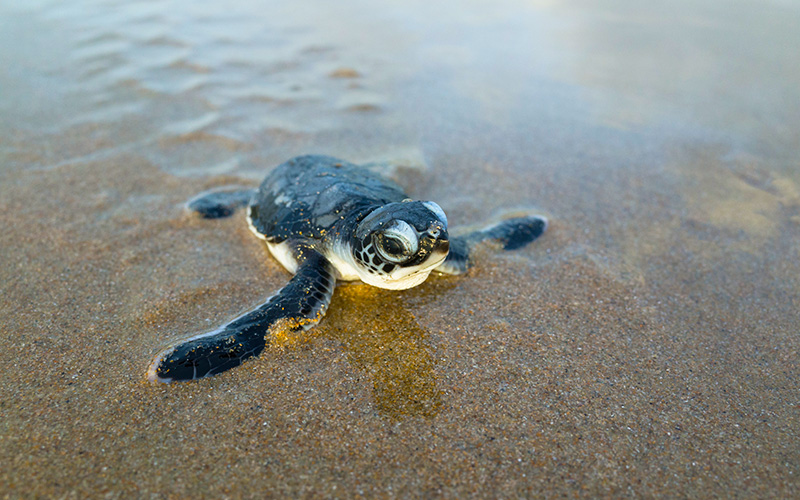 On (and off) the road
Jeep safaris are a great way to enjoy a different perspective of the island. Your driver will whisk you away from the busy west and south coasts to explore the tranquil and rugged east coast. Bumping along dirt tracks as you head off road feels like a real adventure and you'll drive through tropical rainforest and past pastel-coloured chattel houses which run the spectrum of the rainbow – peppermint, lemon, peach and hot pink – like the swirling colours of a stick of rock. Watch surfers ride the island's biggest waves at the renowned Soup Bowl in Bathsheba and admire some of the best views across the island.
West or south coast?
The popular platinum coast on the west of the island is home to Holetown and Speightstown, where you'll find calm beaches and some of the most luxurious resorts. The super-swanky Sandy Lane is prime celeb-spotting territory and attracts pop royalty, Hollywood hotties and sports stars. And as all beaches in Barbados are public, you can gawp all you like and may be lucky enough to catch a glimpse of the likes of Rihanna or Mark Wahlberg. Choose charming Cobblers Cove if you seek the finer things in life but prefer to keep a low profile.
The south coast is home to the popular St. Lawrence Gap strip of restaurants, bars and clubs. You'll also find bigger waves which are great for watersports, as well as some reef-protected areas for swimming. Excellent all-inclusive resorts here include Sea Breeze Beach House by Ocean Hotels which has dedicated areas for families and adults.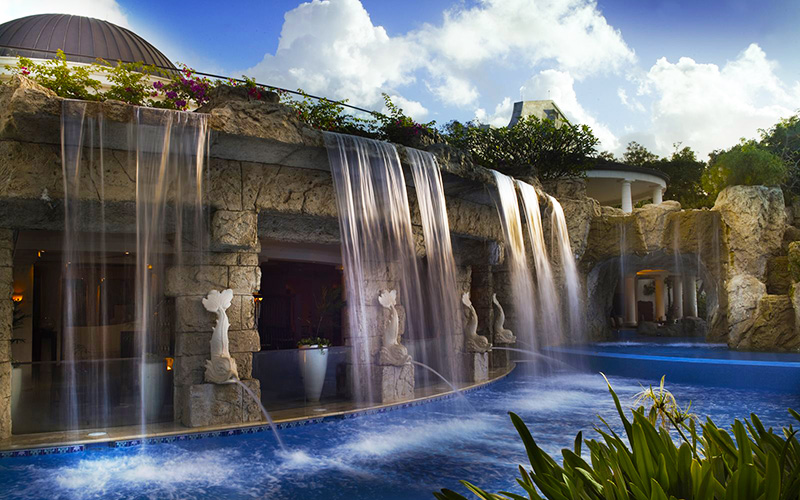 Bored of full board?
When it comes to dining options, we think Barbados has the edge over some other Caribbean islands. Not only is it unrivalled when it comes to quality dining – from street food to Michelin star quality restaurants, but as the majority of hotels are close to shops and restaurants, it's easy to explore local restaurants. And if you enjoy eating out then we recommend room and breakfast instead of full board or all inclusive.
Road-side shacks are a must for fresh crab or fishcakes. Fine dining restaurants on the island are plentiful too - on the west coast head to The Tides for delicious Asian-inspired seafood, or, if you're really pushing the boat out, The Cliff, which has a dramatic clifftop setting and is regarded as one of the world's top restaurants. Head to the south coast for some of the island's finest seafood at Champers or for a casual setting and tasty local favourites such as coconut shrimp and Bajan fishcakes, we like Sharkey's Tropical Café. And on a Friday night don't miss Oistins' famous fish fry – locals and tourists mingle at this lively street party and feast on grilled fish washed down with cool Banks beer.
Island of contrasts
Barbados has so much more to offer than beaches and all inclusive hotels. One day you could be browsing craft stalls for mahogany carvings, while the next you could be treating yourself to a new Burberry handbag. You could find yourself 'liming' – a Bajan term for relaxing and hanging out – with locals at a rum shop one minute and then rubbernecking at celebs on Sandy Lane's beachfront the next. Barbados is the kind of place you can return to again and again and always discover something new and surprising.