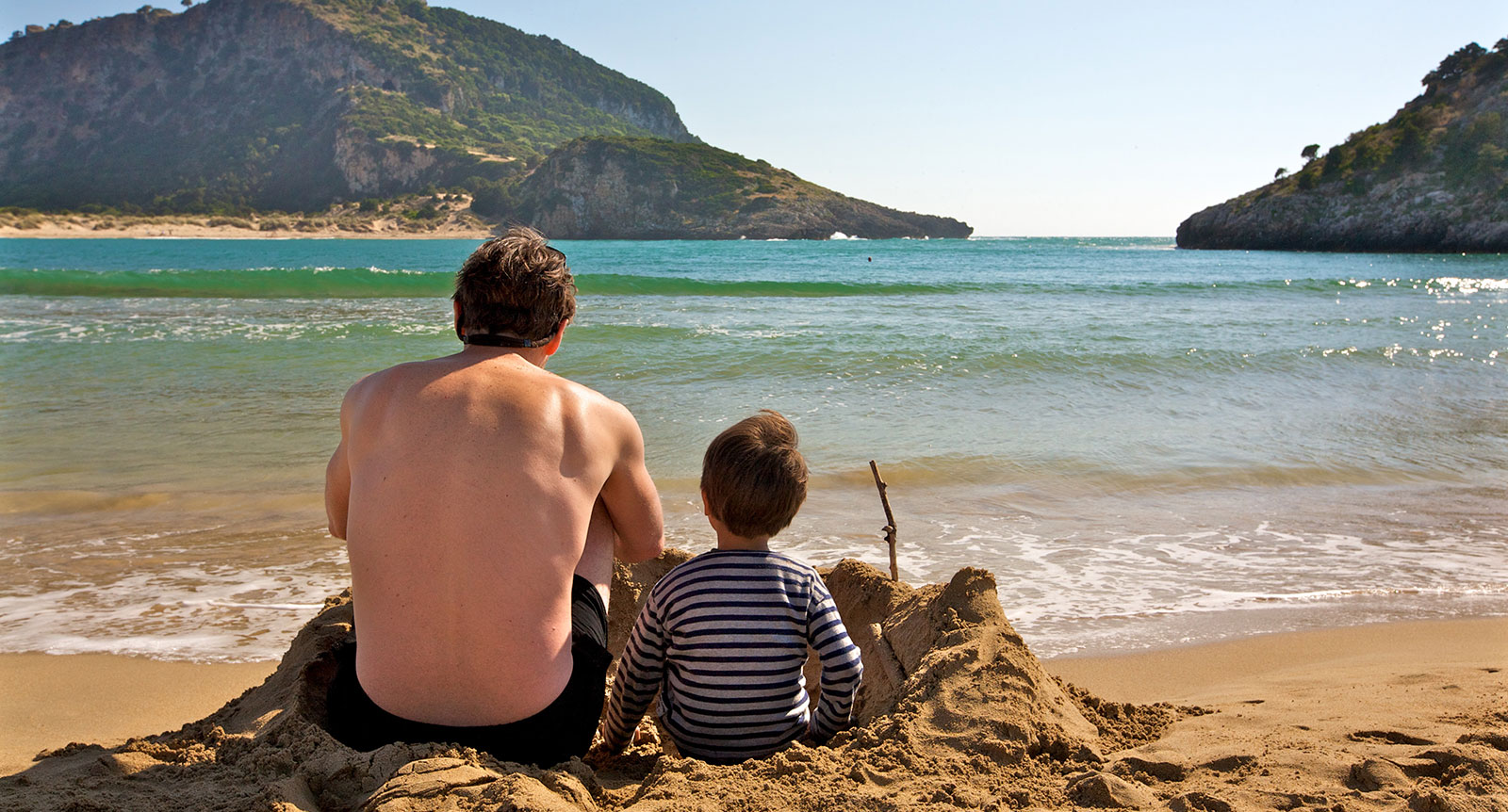 Simon Reeve's Greek family holiday
You'd usually expect to see explorer and TV presenter Simon Reeve in remote jungles or on far flung desert islands, but for this trip over the summer, he decided to have some family time on the stunning Peloponnese peninsular of Greece. Simon decided to kindly share some of his memories and photos with us.
The excitement and sense of achievement on Jake's face was priceless. My four-year-old son was swimming, unaided, passing a milestone in life in the glorious indoor swimming pool at The Westin Costa Navarino resort. "Look daddy!" said Jake, swallowing a pint or two as he burbled with glee. "I'm really swimming!"
In truth, I was equally thrilled. As a travelling dad, I've missed several special moments in his life. But we'd spent hours of our holiday in the water together, playing endless games while I slowly and secretly removed floats from his swimming vest. Now I could see his hands cupping the water as he propelled himself, doing doggy paddle, and pride swelled my chest.
Swimming was just one of Jake's achievements during our break at this exceptional eco-resort. He cycled with stabilisers for the first time, climbed a small area of the huge indoor climbing wall and dunked his first basketball, in the full-size sports hall – admittedly, from my shoulders.
If we'd had more time, goodness knows what else he could have tried. As well as a long sandy beach and the glorious Mediterranean, Costa Navarino also has a thrilling array of activities for adults and children. There's a huge spa, a baby and toddler club, a kids' club, tenpin bowling, eight restaurants, diving and watersports, outdoor and indoor cinemas, golf courses, gyms, tennis and squash courts, and even a children's hotel…I kid you not!
As a destination for a family holiday, it has just about everything any clan could want. The resort sprawls across hundreds of hectares, but never feels like an identikit destination or something from The Truman Show. Understated luxury seems to have been the design brief, and rooms are beautifully finished and furnished, with most enjoying great sea views and private pools.
There are, in effect, two hotels in Costa Navarino. We stayed in the family-friendly Westin for a few days, close to the Aqua Park, before moving to the more luxurious Romanos hotel. Wherever you stay, you have access to a year's worth of activities.
I'm not usually a great fan of resorts, because they often try to shield you from the real world. But at Costa Navarino, they don't lock the guests away. Instead they encourage people out on walking tours, cooking lessons in local villages and to revel in the glories of the Peloponnese. Locals say it's the 'real Greece': still relatively untouched by tourism, particularly compared with the islands, but with dramatic and wild landscapes of mountains and forests, along with pristine beaches.
I loved Costa Navarino, but it's worth tearing yourself away from the pools to explore the area. Hire bicycles, and then take the back roads for just a couple of miles through sleepy Greek villages to the circular bay at Voidokilia. It's one of the finest beaches in Europe – and the perfect place for a sundowner to finish your holiday.
Inspired?
---
If you are inspired by Simon's family adventure and you're looking for a luxurious secluded resort, full to the brim with incredible facilities, speak to one our Greece experts.