Chase away those winter blues in Gran Canaria
Nostalgic images of family holidays will often spring to mind when considering a winter break in Gran Canaria, with memories of Agadoo on repeat, followed by a lengthy night of cabaret 'entertainment', consisting of poor impersonations of Elvis, Tom Jones and of course the unforgettable MJ. However, it's all changing and one particular resort has stood up above the rest, adorning itself with a stunning man-made beach, a string of charming restaurants and a fine selection of world-class hotels…
Why visit?
Gran Canaria is an island filled with history originating with the North African Berbers, with the colossal takeover by the Spanish in 1483. Great contrasts of living can be seen from the laid-back holiday resorts along the coasts, to the sky scrapers and shopping malls in the city; and into the heart of the island where native Canarians make their homes inside dark volcanic caves. A grand fusion of sunshine, golden beaches, history and fascinating cultures, Gran Canaria is the ideal destination for a delightful winter break.
Where is it?
On the southwest coast of Gran Canaria, approximately 45 minutes from Las Palmas airport.
When to go?
The humid summer season tends to finish in early-mid October. For long days of glorious sunshine and warm breezy evenings, head out between late October and February for the perfect winter sun.
What to do?
Watch the sun set behind the cove on Amadores beach, before enjoying the national delicacies that are Canarian potatoes (boiled potatoes with a unique sauce) in one of the charming beachfront restaurants.
Spend an hour basking in the sun or sliding into the refreshing Atlantic from a hired pedalo.
Discover the fascinating world beneath the ocean during a scuba-diving lesson.
Take a short taxi journey to the neighbouring resorts of Puerto Rico or Playa del Ingles for a change of scenery.
Book yourself onto a Mountain Buggy Safari across the winding valley of Fataga for an insight into Canarian lifestyle and cultural history.
Head into the valley of 1,000 palms on a camel.
Test your skills in a sand-boarding session in the Maspalomas sand dunes.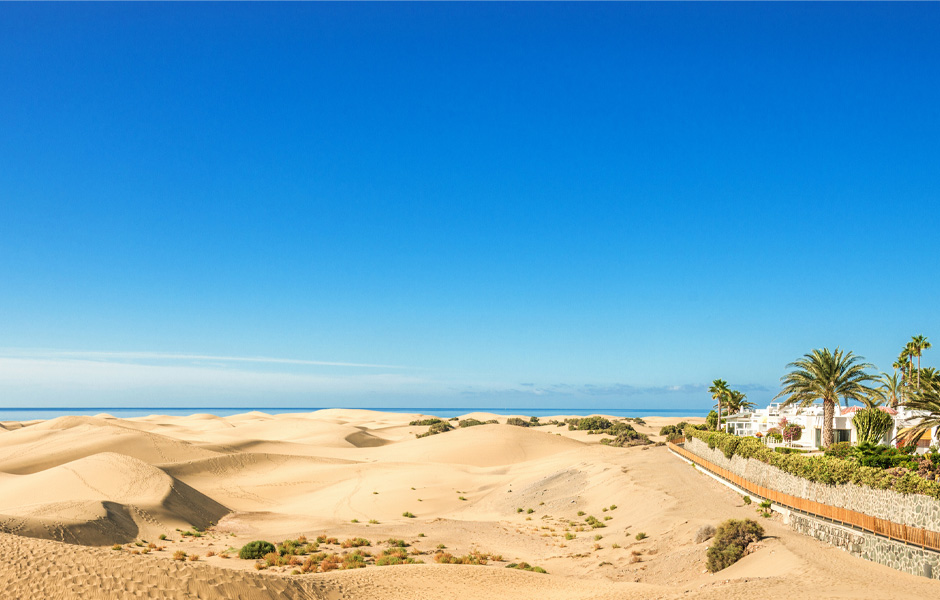 Where to stay?
Gloria Palace Royal Hotel & Spa. Overlooking the beach below and the Atlantic as far as the eye can see, this 4.5* star property enjoys a striking infinity pool, a freshwater pool, impressive spa, wellness and Turkish bath and plenty of sports facilities for all the family to enjoy.
Tips from the locals
Amadores is a popular beach for the local Canarians. To avoid disappointment due to overcrowding, avoid going to the beach at weekends.
Inspired?
---
Golden Sands, traditional villages and breathtaking landscapes as far as the eye can see.