Portugal Weddings
Particularly good for large weddings, Portugal is great if you're looking to bring friends and family to help you celebrate. A year-round wedding destination, Portugal offers a stunning selection of venues for your ceremony, as well as a great choice of settings for your celebrations afterwards.

Is the wedding a legal ceremony that's recognised in the UK? Yes. You will need to be in resort ranging from 2-3 working days prior to the wedding day to arrange the marriage licence and register the wedding. All documentation will need to be translated into Portuguese, which will be taken care of for you once documents have been submitted in advance by our contacts in Portugal.
What would the wedding ceremony and reception look like in Portugal? Portugal has a mix of venue and hotel based weddings. For venue weddings, the ceremony and reception will take place outside of your chosen hotel where it will be possible to arrange everything in one place. For hotel based weddings, the ceremony and reception will happen in the grounds of the chosen hotel with a reception happening there too.
Planning your wedding in Portugal? Once you've booked your holiday and wedding date with us, we'll arrange a follow up planning appointment for you with one of our Wedding Experts to discuss your ceremony and reception in more detail. This will ensure that we can organise everything before you arrive in resort.
Can LGBT couples get married in Portugal? It is possible to legally marry in Portugal for LGBT couples.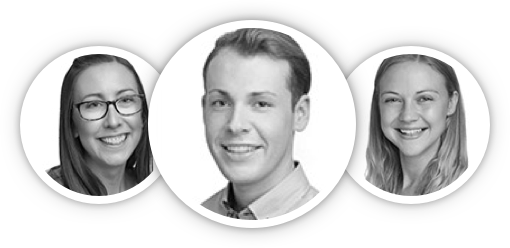 CALL US TODAY FROM 09:00 TILL 20:00
Find a weddings expert
Find a store
Make an enquiry
Legal requirements for your Portugal wedding
| | |
| --- | --- |
| Full 10 year British passport | • |
| Original birth certificate | • |
| Bi-lingual statutory declaration* | N/A |
| Original no impediment to marry certificate*** | N/A |
| Original decree absolute if divorced | • |
| Original death certificate or former spouse & marriage certificate if widowed | • |
| Original adoption certificate (if adopted) | • |
| Original deed poll notice - if name changed | • |
| | |
| --- | --- |
| Minimum age to marry | 18 |
| Certified documents | • |
| Letters of personal detail | N/A |
| Legalised documents/Foreign & Commonwealth office | • |
| Documents required by Kuoni (within) weeks before travel | 6 |
| Minimum stay in resort prior to wedding (No. of working days) | 3 |
| Recommended stay in resort | 7 |
●

Kuoni needs to see originals of these documents before you travel

●

Kuoni needs to see copies of these documents before you travel, you must travel with all original documentation

●

Kuoni do not require any documents before you travel but you must travel with all original documentation
Extra legal information: Once the wedding date has been confirmed, our local lawyer in Portugal will draft a power of attorney letter which will need to be signed by a solicitor. Once this has been done, you will need to send it to the Foreign and Commonwealth Office to be legalised. All documents will be translated into Portuguese by the local lawyer at extra costs.
This information applies only to couples born in the UK with a valid UK passport.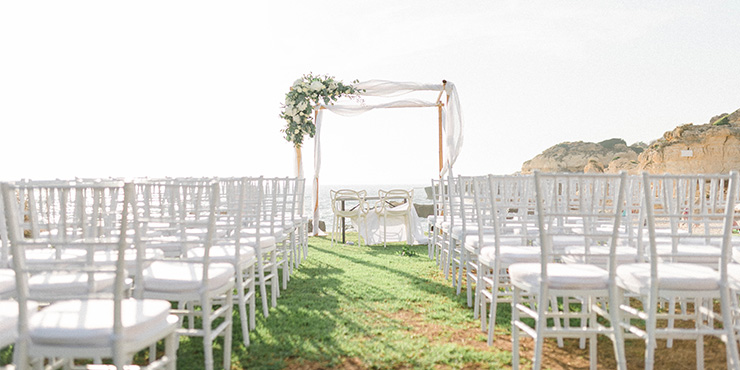 Restaurante Evaristo
Those looking for a private wedding will love Restaurante Evaristo, a sophisticated venue set right beside the beautiful Praia de Evaristo
Overlooking a beautiful beach and ocean view, the Restaurante Evaristo is a full-service wedding venue where you can enjoy a ceremony, reception and that all-important after-party. Particularly suited to larger groups, marry on the oceanfront private lawn before celebrating within the restaurant's chic interior, feasting on exquisite seafood and dancing until the early hours of the morning. For an added touch of luxury to this special occasion, we recommend staying at the VILA VITA Parc Resort & Spa, a secluded hotel set within beautiful private gardens and bordered by two idyllic white-sand coves.
From £10,865 per couple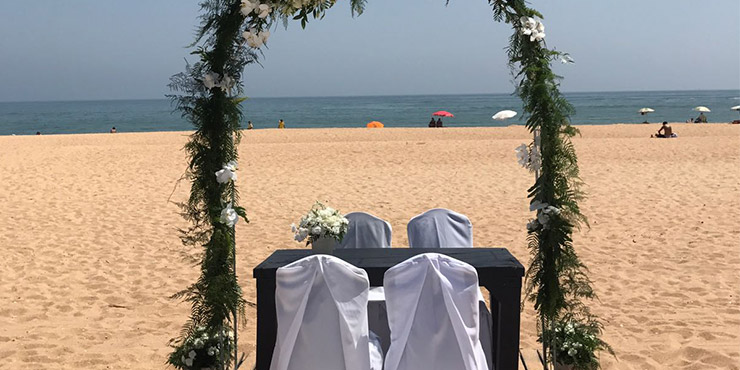 Beach Elopement
If you're not looking for a traditional wedding, then keep it simple and enjoy a relaxed and intimate ceremony on a Portuguese beach.
A great choice for those with a smaller budget, keep your wedding simple and focus on just the two of you by having an intimate wedding celebration on a beach in Portugal. In a tranquil setting decorated with just an arch and ceremony table, tailor-make your wedding to suit your own requirements and enjoy a no-fuss ceremony in front of a serene oceanfront setting. Celebrate your marriage with a special dinner back at your hotel, or indulge with a Champagne breakfast the following morning.
From £2520 per couple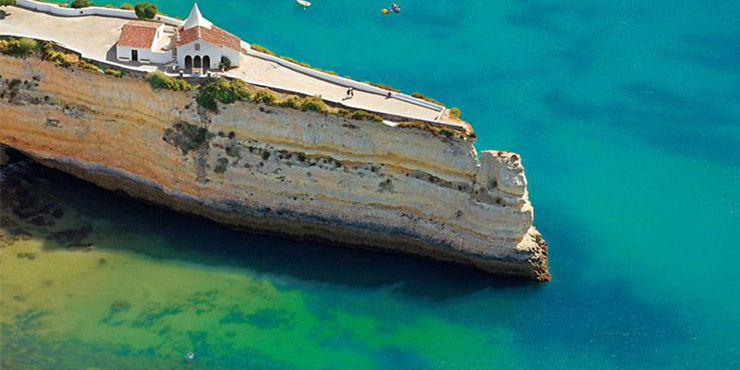 Lady of the Rock
East of Lagoa in the beautiful Algarve, the Lady of the Rock is the perfect wedding location, which seduces with its incredibly unique setting and wonderful views.
A venue with a view, Lady of the Rock is set in a magical location, on a rock peninsula overlooking nothing but the open sea and sky. Your ceremony will take place on a stunning terrace, set right at the peninsula's edge – though perfect for an intimate celebration, the terrace can seat up to 120 guests so it's also perfectly possible to share this day with a larger wedding party. In this dreamy location, a serene set-up will include a traditional aisleway, as well as a ceremony table and wedding arch. As one of the Algarve's most picturesque wedding venues, make the most of the location and stay on after your ceremony to celebrate with Champagne canapés. Following the ceremony, continue your special day at a nearby restaurant or head back to your chosen hotel for the reception party.
From £3445 per couple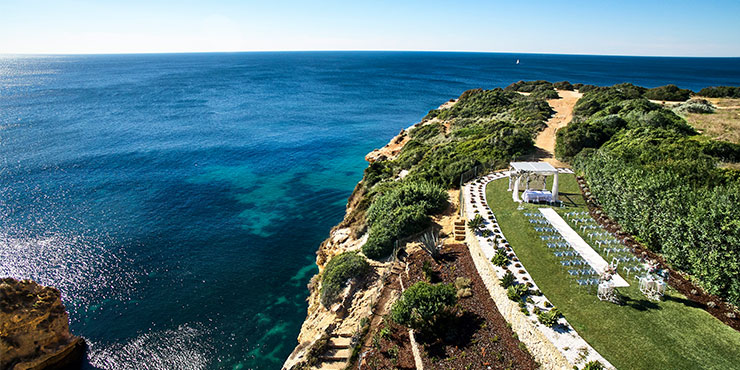 Tivoli Carvoeiro
Set high on a clifftop overlooking gorgeous ocean views, this deluxe hotel sets a new standard of luxury in the Algarve. Following an extensive refurbishment, exquisite facilities range from the high-standard restaurants to the serene Tivoli Spa.
This is a great choice for a family-friendly wedding, with plenty of options to tailor the day and weddings that can range from small and intimate to large and full-service. Indulge in classic coastal romance and have your ceremony in the lush Ocean Garden, complete with chairs for your wedding party, a ceremony table and a charming wedding pergola. Or upgrade your experience and head to one of the most enchanting outdoor settings, saying 'I do' against an exquisite panorama of ocean views at the Belvedere Clifftop. Call or see kuoni.co.uk for details about wedding pacakges at Tivoli Carvoeiro.
Indulge in maximum comfort and upgrade to a Deluxe Seaview Room to enjoy uninterrupted views of the ocean. Spacious, contemporary and with the added luxury of a furnished balcony, it's the perfect accompaniment to your special day.