Air Mauritius
Air Mauritius operates four non-stop flights weekly from London- Heathrow by modern Airbus A340 aircraft. Air Mauritius not only welcomes you to Mauritius but also opens up the world beyond twinning an Indian Ocean stay with other destinations like South Africa, Australia, Hong Kong, and India. Regional connections are available from numerous regional airports which ensures that you're only a short flight away from your non-stop Air Mauritius flight to Paradise.
The airline's flagship product is available on two next-generation A340-300E* aircraft, which offers you the choice of either Business Class or a greatly enhanced Economy class cabin.

Air Mauritius understands that little things make life that bit easier, that's why we offer little touches to make your journey that more enjoyable:
You can pre-book your seats online and this service is complimentary
Golf Clubs fly free (1 golf bag up to 20kgs)
Wedding Dresses fly free (1 additional piece of luggage up to 20kgs)*
*Available on non-stop flights to/from London Heathrow only
Air Mauritius is proud to have been voted the leading airline in the Indian Ocean at the World Travel Awards for the last ten years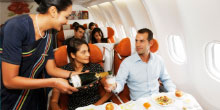 With a 152 cm (60-inch) pitch, these seats offer you the privacy and convenience of a personal cocoon. They can be adjusted by remote control and offer a massage option as well as inflatable lumbar pouches for additional comfort. You'll enjoy a personalized cabin service, and your meals will give you a fine taste of Mauritian cuisine, rich in flavor and variety. For your relaxation: a selection of high digital quality, multilingual feature movies and the latest international album.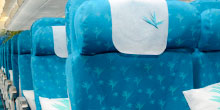 Space - that's the first thing you'll feel when you take your seat in economy class. With a 79 cm (31 inch) pitch on our Airbus A340/A330, our new generation seats offer you relaxation throughout your flight experience. And among the numerous other delights that will mark your trip : a gourmet menu designed by our chef, featuring a selection of main courses and a wide range of drinks, plus a collection of recent albums and movies that offer cultural enrichment and entertainment as you fly. Air Mauritius Economy Class is reputed to be one of the best in the world, and our attentive crew will do its best so that you personally experience that it is so.
We rigorously check the flight information provided by the airlines on our web site, to ensure it is correct at the time of being added. However, please bear in mind that suppliers may wish to amend or improve their facilities. When we are told of any significant or long term changes we will always endeavor to update the web site immediately.