The top landmarks the World wants to visit
Whether it's a natural wonder or a stunning architectural feat, landmarks often inspire wanderlust and awe. They add character to a destination and can reflect culture, capture a historic event, or portray the passing of time.
Whilst travel may be mostly off the cards at present, foreign landmarks make for great travel inspiration, so we wanted to find out which landmark each country is planning to visit first when borders reopen. Would Brits prefer to marvel at Machu Picchu's mind-bending architectural prowess or would they rather soar to new heights at the Burj Khalifa? Is a romantic trip to the Eiffel Tower at the top of America's bucket list, or would they rather marvel at Rome's Colosseum?
Keen to find out more about which landmarks inspire the most wanderlust, we looked at global search data in 176 countries for 233 different landmarks. By analysing the average monthly searches for landmarks ranging from Big Ben to Niagara Falls in each country, we were able to see which landmarks came out on top.
The World's Most Searched For Landmarks
The landmark inspiring the most travel worldwide was Dubai's Burj Khalifa, which topped the wish lists of 66 of the 176 countries we looked at.
Click the colour-coded map below for a larger view.

The Burj Khalifa in Dubai appears to be the most popular landmark destination around the globe, with India, Switzerland and most of Africa keen to see the skyscraper; whilst Brits, Canadians and Australians have the Eiffel Tower highest on their must-see list.
Landmarks Europe Search For The Most
Looking a little closer to focus solely on European searchers, we can see that the most popular landmarks include the Taj Mahal, Machu Picchu and The Burj Khalifa. London's iconic clock tower Big Ben and Wiltshire's prehistoric monument Stonehenge are still drawing European interest, topping the list for a combined 9 countries across the continent.

Landmarks North and Central America Search For The Most
North and Central American countries are most drawn to The Eiffel Tower in Paris, with 9 countries searching for the romantic landmark. Peru's world-famous architectural feat Machu Picchu is most searched by Mexico, Costa Rica and the Dominican Republic, whilst Americans are researching Italy's ancient city Pompeii, frozen in time under volcanic ash.

The Most Searched Landmark In Every US State
Whilst searches for Pompeii were highest across America, more individual states search for the Eiffel Tower; with New York, California and Alabama Googling the historic landmark. Connecticut, Pennsylvania and Delaware have cast their eye further East towards the Great Wall of China, whilst Colorado, Kentucky and Mississippi are most interested in Japan's Mount Fuji.
Stonehenge in the UK gets a nod from Vermont and India's UNESCO World Heritage Site the Taj Mahal was most searched by Missouri.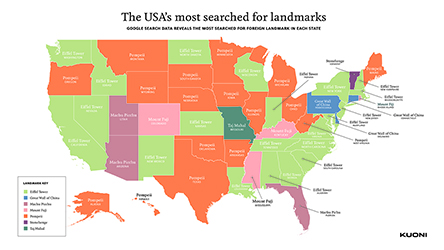 Which Landmarks Is South America Searching For The Most?
Most South American countries were Googling their neighbouring Machu Picchu landmark the most. The 15th century Inca Citadel is a Peruvian Historic Sanctuary, boasts being a UNESCO World Heritage Site and is considered one of the New Seven Wonders of the World. Peruvians themselves are searching for Alcatraz Island in the US, which has a rich history and a now-closed prison, famed for its past as one of the hardest to escape high security prisons in the world.

Top Foreign Landmarks For Oceanic Countries
The Great Wall of China, which dates back to as early as 7th century BC and traces the historic borders of Northern China, is most searched for by Papua New Guinea, Samoa and Tonga. Meanwhile, Australia and New Zealand are searching for the Eiffel Tower most.

Most Searched Landmarks By Asian Countries
Burj Khalifa triumphs once again as it's the most searched for landmark by 18 countries in the Asian continent, whilst people in the UAE were most likely to search for India's Taj Mahal. European landmarks Pompeii, Big Ben and The Eiffel Tower also all feature. The Philippines, Thailand, Jordan and Israel show most interest in Italy's ancient city; the Chinese, Vietnamese and Cambodians are looking at Paris' tallest building; and Russians are searching for London's iconic clock tower.

Landmarks African Countries Want To See The Most
Another win for the Burj Khalifa as a staggering 34 African countries have the world's tallest skyscraper as their most searched for landmark, including Kenya, Morocco and Nigeria. France's Eiffel tower is most searched in South Africa and three other countries, whilst Botswana is looking at the Statue of Liberty in the US most.

Inspired?
---
Have any of these landmarks inspired you to begin planning your next trip for when country borders reopen? You can keep abreast of the travel status of different countries with our helpful Covid-19 Travel Advice Guide or book an appointment with us today to begin planning your next adventure.
*Not all countries provided enough search data to be featured – we've included the countries with enough data to analyse.