Mauritius' spectacular underwater waterfall
At the southwest corner of the stunning island of Mauritius, there lies a breath-taking sight that seems to defy the laws of physics. Here, we attempt to explain the phenomenon of the underwater waterfall...
So first off, we should be up front and honest here and let you know it's not actually a flowing waterfall under the ocean, but a spectacular optical illusion that can be explained by the Indian Ocean's fascinating geological history.
Mauritius is a relatively youthful island compared to much of the world, and was formed around 8 million years ago (to put that into context, Earth itself is 500 times as old - at around 4.6 billion years). Volcanic activity under the ocean was the cause of the island's formation along with other islands like La Reunion Island.
This group of islands now sit upon what's known as a Submarine Plateau or Ocean Shelf. This shelf is no deeper than 150 metres below sea level and is the largest of its kind in the world. However, the 'drop-off' of this shelf's edge plunges to depths of over 4000 metres into the abyss. The process you are witnessing in these incredible images is not the water itself falling, but the sand from the beautiful Mauritius beaches being forced off the plateau by oceanic currents.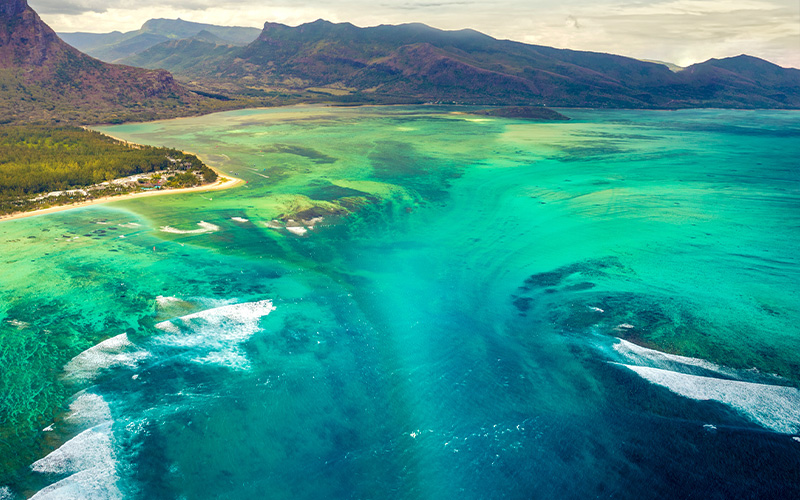 Whilst you can only see this incredible illusion from the sky via seaplane, this is not the only wonder of this part of Mauritius that the volcanoes of the past provided for us. From high above the shores atop Le Morne Mountain down to the flourishing coral reefs near the waterfall itself, there's a plethora of stunning natural sights you can explore.
Perfectly positioned in the shade of Le Morne is the effortlessly stylish and refreshingly tranquil resort of St Regis Mauritius. This elegant 5 star property has the facilities you'd expect from an extensive resort but with the feel of a boutique hotel.
Want to keep active? Why not take a hike up Le Morne from the hotel and see the unparalleled view of the reef (and even part of the waterfall) from the 500 metre peak. If you've not a head for heights, maybe a snorkelling adventure to see some incredible marine wildlife. The hotel offer complimentary snorkelling trips and will take you out on one of their boats to get you to the best spots.
As fun as all that adventure can be, sometimes you just need to switch off and relax…but where and how? Maybe aboard St Regis' luxury Catamaran on one of their regular Starlight Dinner Cruises, or perhaps you want to take advantage of the signature spa at the St Regis, Iridium, and completely unwind with a massage or one of their unique treatments.