6 of the most astounding animals in Kenya
Kenya is dream safari territory, where you can watch leopards slink through the tall grass, lions laze in the shade of acacia trees and huge elephant herds trundle across the wide-open dusty plains. The Big Five grab the headlines here, but take a closer look and you'll find that there's more to Kenya's wildlife than its majestic beasts. We've rounded up some of our favourite lesser-known species to spot on a Kenya holiday.
Gerenuk
The gerenuk is one of Samburu's special five. With its long neck, large ears and unique way of feeding on its hind legs, it's like a giraffe-gazelle hybrid – in fact its name translates to 'giraffe-necked'. The gerenuk joins the Somali ostrich, Grevy's zebra, beisa oryx and reticulated giraffe to make up the special five. These dry country animals can be found in the arid reserves of Samburu and Meru in the north of Kenya – try and spot them all on our Samburu & Maasai Mara fly-in safari.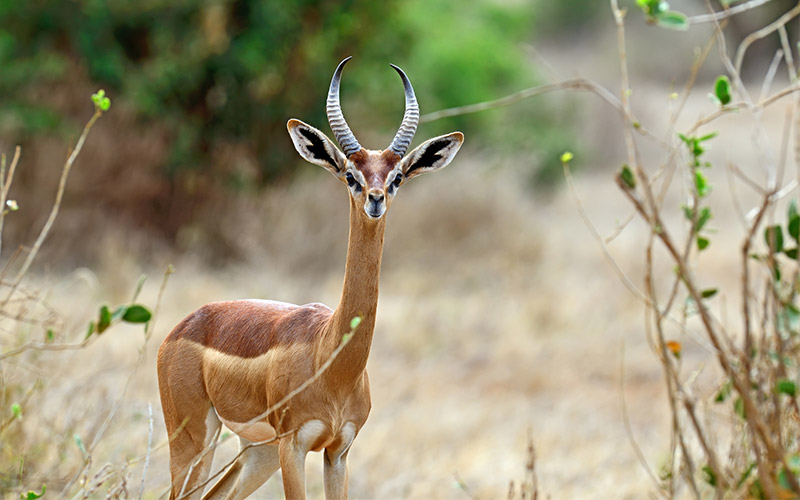 Lilac-breasted roller
We think that the lilac-breasted roller is Africa's most beautiful bird. The Kenyan government is on our wavelength; this rainbow-coloured roller is the country's national bird. You'll first come across this little bird as a flash of colour as it flits between trees to scan for prey; zoom in your binoculars to see its pastel plumage and long narrow tail. The lilac-breasted roller is just one of Kenya's spectacular birds; spot large species from marabou stork and the statuesque kori bustard (Africa's largest native flying bird) to the gloriously-named superb starling. There's great birding in many of Kenya's National Parks. Amboseli has more than 400 bird species and is one of our favourite places to spot the rare Taita falcon.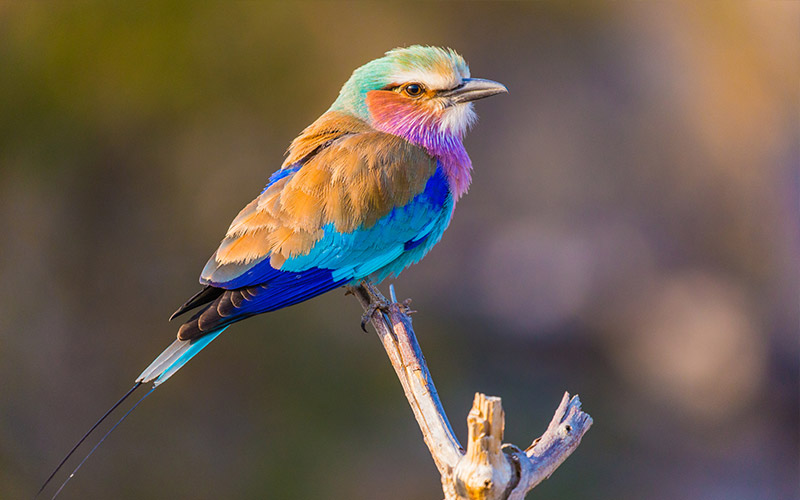 Pangolin
These shy anteaters are scaly from tip to tail and roll themselves up into a ball when threatened; inquisitive lions can often end up playing pangolin football. Pangolins are solitary nocturnal creatures. They're also the world's most illegally trafficked animal. Like rhino horns, pangolin scales are mistakenly thought to have healing properties. Also like rhino horns, the scales are made from keratin – the same substance as our hair and nails. Pangolins are heavily protected and it's rare to spot one, but they can be found in areas of western Kenya including the Maasai Mara.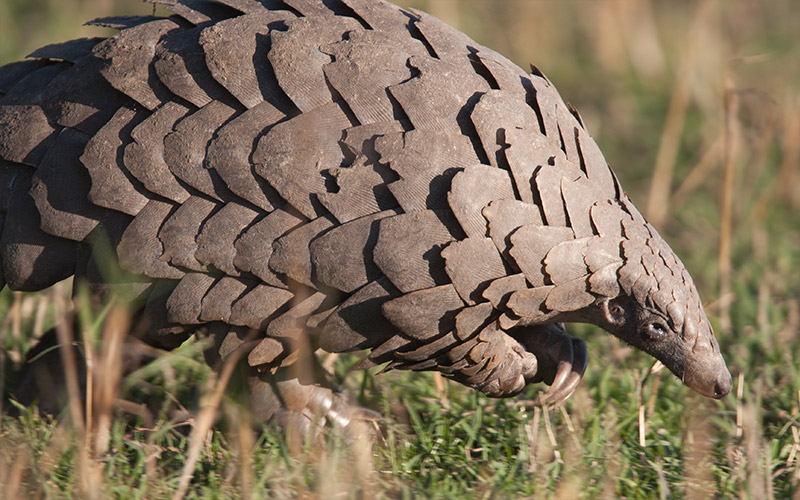 Flamingo
From the air, some of Kenya's lakes appear to have a bright pink border. It's not an illusion – look closely and you'll see that thousands of greater and lesser flamingos line the shores. Watching the birds take flight en masse is a magical sight. These hot-pink- feathered birds are flighty and they migrate between the lakes that have the most algae – hope to catch them at Lake Bogoria, which you can reach from Loldia House on our Governors' Safari, or Lake Elmenteita.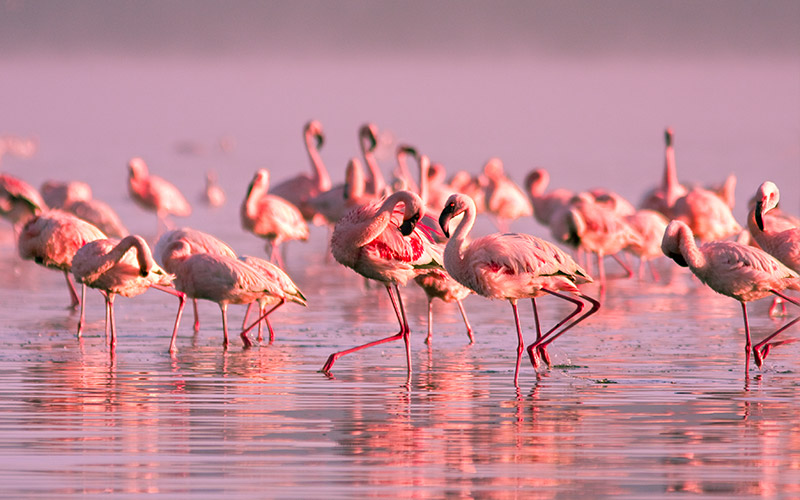 Rothschild's giraffe
You can recognise the Rothschild's giraffe by its long white socks – it's the only giraffe species that has no patterning below the knee. This is one of Africa's most endangered giraffes, but thanks to initiatives like the Giraffe Centre in Nairobi – which has successfully released giraffe into nearby National Parks – numbers are on the rise. At Giraffe Manor there's even a resident herd of Rothschild's giraffe that pop their heads into the breakfast room to start the day with you. The Giraffe Centre isn't Nairobi's only place for ethical wildlife experiences – we love the Sheldrick Wildlife Trust Nairobi Nursery, where rescued baby elephants are hand-raised and released into Tsavo National Park.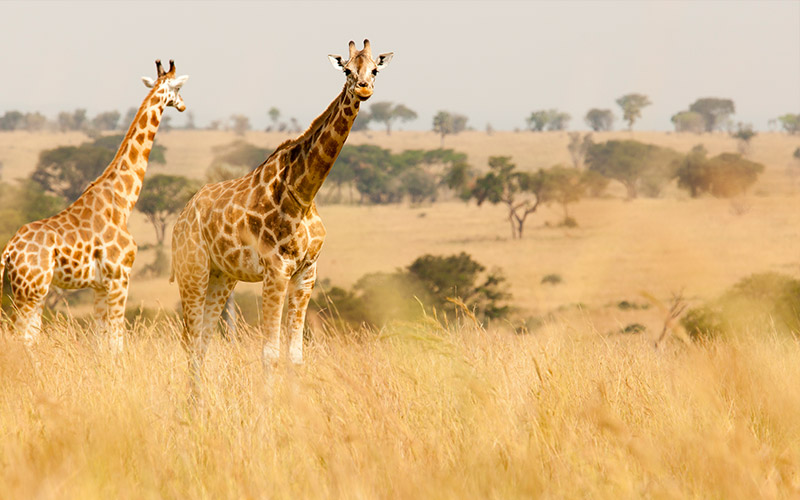 Sea turtle
Away from the rolling plains, Kenya's waters are surprisingly marine-rich. There's great snorkelling and diving close to Mombasa, where marine parks up and down the coast include the Mombasa Marine Park. Among the psychedelic fish, seahorses and rainbow reefs, you can spot hawksbill turtles chomping around the coral and popping above the surface for air. Some hotels, like AfroChic, even have protected areas where you can see turtles nesting on the beach and watch as tiny turtle hatchlings make their way to the ocean for the first time.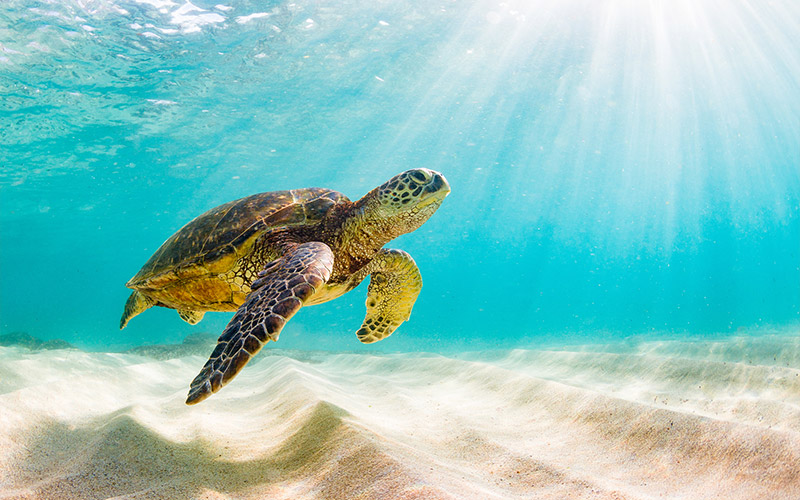 Inspired?
---
We've been travelling to Kenya for more than 40 years and can tailor-make an itinerary that will give you the best chance of spotting your bucket-list wildlife. Find out more with our Kenya travel guide or chat to one of our Kenya experts who can share their first-hand experience and honest recommendations.
This feature was published on 8 May 2018. The information within this feature is correct to the best of our knowledge at the time of print. Feature by Siobhan O'Halleran.