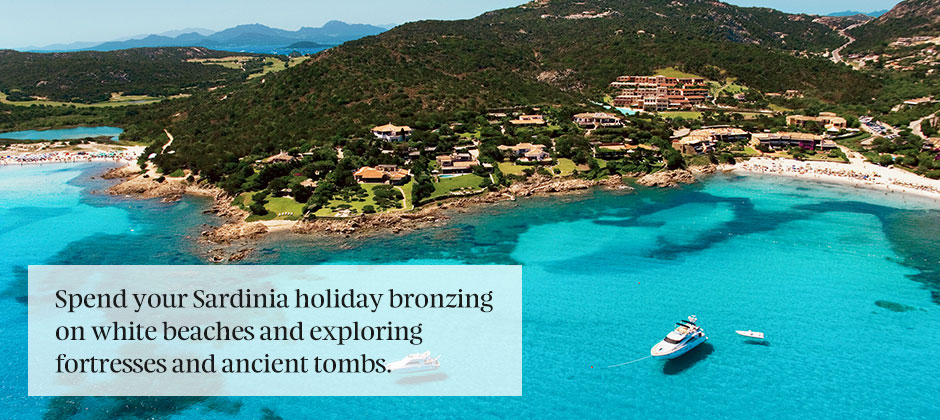 Snapshot of Sardinia
Spend your Sardinia holiday bronzing on white beaches, mingling with celebrities and exploring fortresses and ancient tombs. Here is our snapshot of Sardinia.
Watch a sea of pink plumes flutter as thousands of flamingos lower their curved, elegant necks to feed in the marshes around Cagliari, Sardinia's capital. Top up your tan on Baia Chia's white beaches and keep an eye out for dolphins leaping from the shimmering water, or grab a board and ride the waves alongsidebronzed surfers before shaking your hips in Baia Chia's nightclubs.
The Spirit of Exploration
In Villasimius, stroll around art exhibitions in the old fortress, dive among sunken ships off the coast, or explore nearby Spiaggia del Riso's giant tombs, carved into the rockface. Drive Capo d'Orso's twisting roads, passing wind-sculpted granite outcrops, dwarf oaks and crumbling stone fortresses. Bathe in the glistening waters at Santa Margherita di Pula where two watchtowers stand guard over sun worshippers, and enjoy a drink in the village of San Pantaleo during its summer festival, when dancing and traditional music fill the streets.
Luxury Resorts
From Porto Cervo, mingle with celebrities in Costa Smeralda and roam around the finest yachts bobbing in the harbour, or tee off from the 18-hole Pevero Golf Club, one of the greatest courses in the world
Kuoni now offers the island's most luxurious hotels, deluxe bungalows and sumptuous spas – a stay in Sardinia will be unforgettable.
Inspired?
---
Italy holidays are enchanting. Stay in a luxurious hotel, farmhouse or castle, take a grand train journey through unforgettable scenery or drive through gorgeous countryside.


We'd love to hear your feedback! Leave a comment on this article below: