Where to eat in Sorrento
Neapolitan cuisine thrives on quality local produce, the freshest seafood and of course world-class pizza. When you factor in the cliffside location and fabulous views of Mount Vesuvius then Sorrento restaurants could be seen to have it all!
Here, our Italy experts share their recommendations for the best restaurants in Sorrento:
Ristorante 'o Parrucchiano
71 Corso Italia, Sorrento
Lunch 1200-1500 Dinner 1900-2330
Mere moments away from the bustling Piazza Tasso lies this trattoria with a difference. For behind the doors of this traditional restaurant, a unique garden wonderland awaits you. Enzo Manniello is your host as you dine amongst lemon groves that surround this stunning eatery. Four generations of Enzo's family have owned Parrucchiano including his great-uncle Antonino, said to be the inventor of Cannelloni!
"The food at 'o Parrucchiano is both fantastic and reasonably priced; from the fresh fish caught daily to the handmade pastries such as the lemon profiteroles. They make a delicious lasagne with meatballs that are unique to the Neapolitan Riviera. The huge glass housed restaurant is lined with lemon trees, candles and twinkling fairy lights making it a truly unique experience; it's as if you're dining in a mid-summer nights dream."
Lindsay Camelia – Kuoni at John Lewis Oxford Street
Portamarina
25 Via Marina Grand
Open all day 1200-2200
Thanks to its wonderful coastal setting, Sorrento has some amazing seafood. Some of the best and freshest can be found at this family-run hidden gem. The menu is constantly changing as fishermen literally step off their boats and bring the catch of the day to the kitchen. People from all around the region travel here to feast on peppered mussels or fried sardines, all washed down with a carafe of the zesty house wine.
"Avoid the crowds by taking a stroll down to the port of Sorrento and enjoy a refreshing glass of Prosecco and amazing freshly caught seafood at Portamarina. This tiny, hidden restaurant is built into the stairway leading down to the waters of the old harbour."
Thomas Ricketts – Kuoni at John Lewis Welwyn Garden City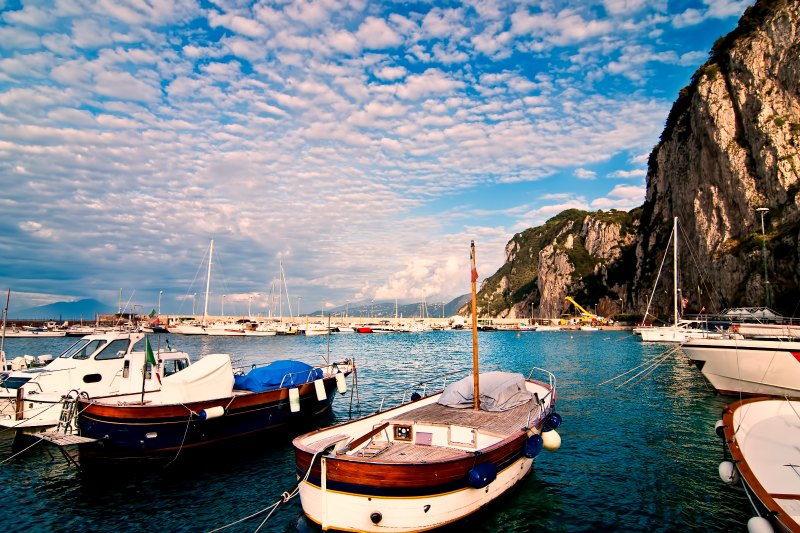 Ristorante l'Olivo
14 Via Capodimonte, Capri
Open for dinner only 1900-2300
If you're looking for something special, just a short ferry ride from Sorrento's port is the dazzling, rocky island of Capri. Known for its Limoncello and leather, it's also home to the area's only restaurant with 2 Michelin stars. A modern design with a backdrop of the dramatic coastline is perfect as you dine on the finest local produce crafted into delicious eclectic dishes. Make sure you try the sublime Scorpion Fish ragu.
"The food at l'Olivo is as spectacular as you would hope for, with the service and setting to match. With an emphasis on the freshest of seafood as well as pasta to die for, you really can't go wrong. A stand-out dish for me was the baby squid with green peppers and candied tomatoes – a simple yet delicious pasta course that lets the food to do the talking. Amazing!"
Craig Sharp – Kuoni Glasgow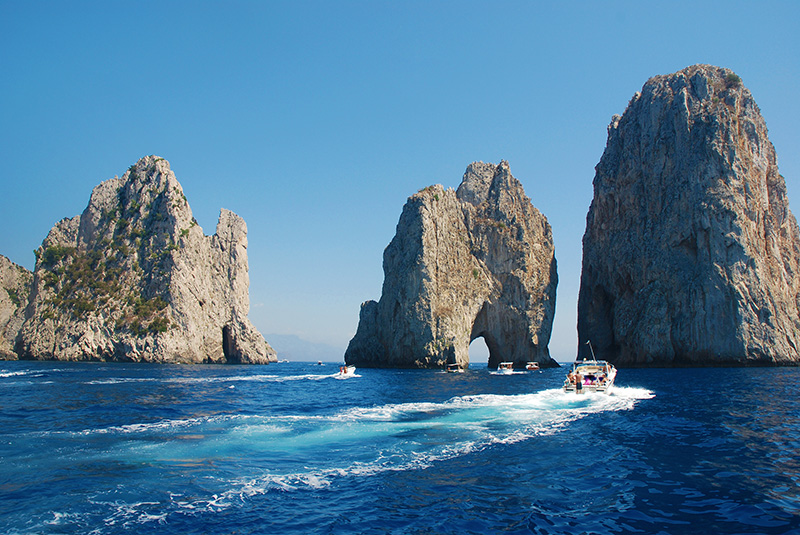 Bagni Delfino
216 Via Marina Grande
Lunch 1130-1530
Dinner 1830-2300
The view of iconic Mount Vesuvius in the distance is one of Sorrento's most attractive features and this relaxed restaurant relishes this fact, with help from its picturesque marina terrace. Unsurprisingly, seafood is the star of the menu and you can't go wrong with a mixed platter of grilled swordfish, sardines, prawns and calamari. Pair them with the delicious local white wine whilst you enjoy one of the most beautiful sunsets in the world.
"Delfino was such a great find. Eating on the over-water terrace with the beautiful backdrop of the bay of Naples was a truly romantic experience. The family has owned this restaurant for over 30 years and the service is as excellent as you'd expect. The food and wine are both incredible – the seafood risotto was especially good! A top tip is to reserve if you want to sit on the terrace in the evening!"
Inspired?
---
So is it splendid seafood or perfect pasta?
Speak to our Italian experts and follow your own foodie adventure.