Indian Ocean with Simon Reeve
Explorer Simon Reeve talks to us about his fascinating travels around an exotic and extreme part of the world, the Indian Ocean.
From dodging bullets in Mogadishu, Somalia, to swimming with dolphins off the coast of Australia, Simon's epic six-part travel series for the BBC was dubbed one of his 'most exotic and extreme adventures'. Indian Ocean is fascinating to watch, and it isn't just a soft and sunny holiday programme or hard-core Panorama; it's a unique blend of the two. "You don't get more exotic than the Seychelles and more extreme than being on the frontline in Mogadishu. It's extraordinary that such devastation exists so close to total paradise. It's baffling really and a bit of a head screw. Indian Ocean was a journey where we went to both of these extremes.
"...such a beautiful place.
The Maldives really are spectacular."
Simon Reeve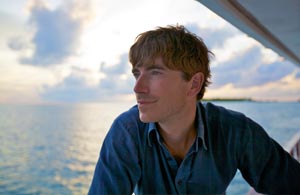 Simon's passport is a multi-colour patchwork of immigration stamps as he's travelled to over 120 destinations around the globe, notching up acclaim for BBC travel series including Tropic of Cancer, Tropic of Capricorn and Equator – not bad for the boy from West London who hadn't been on a plane until he started work. Simon has a down-to-earth appeal and a real passion for the world, its people and wildlife. He's clearly the type of person who can't sit still on a sun lounger and his hunger to get to the heart of his destination ensures he's not afraid to take risks.
"We were in South Africa, looking into a new drug called Tik that's causing chaos. Its connection to the sea is that it's smuggled into the country as part of a two-way deal. People who poach a rare mollusc from the sea, at huge personal risk, sell them to Chinese crime syndicates in exchange for this drug called Tik. The mollusc is then sent to China and sold as a rare delicacy. Someone said, why don't you go and talk to the crazy man down the road? Stupidly, we said OK. We walk into his house and it goes from sunny blue skies outside to a depraved, dark drug den. As soon as we enter we see a young woman passed out. There's a group of guys sitting around smoking crack with handguns next to them and we stroll in. 'Hello! We're from the BBC. Is it OK to come and film?'
"The drugs leader is telling me that he has to protect his drug stash. His lieutenants start coming in, with names like Blade and Killer – and they look hardcore. They're talking about taking Tik and their drug deals and I'm sitting there thinking, we're not safe and sometime soon they're going to want to be paid for this. They soon start asking how much the camera is worth, asking for our passports, so we're up, backing out and making our excuses to leave. It was a situation that could have gone horribly, horribly wrong. That was a darker side of life in the Indian Ocean."
A protective force field
Simon also found himself hitching a ride on a containership from Durban in South Africa to Mozambique, heading for pirate waters. Simon said: "It was a giant orange ship containing a load of armoured vehicles from the United Nations and was heading towards pirate waters without any military support. It was mad and crazy. Their principle method of defence against the pirates was cardboard! They would put it over the windows at night so it would go from being a floating Christmas tree to a stealth ship."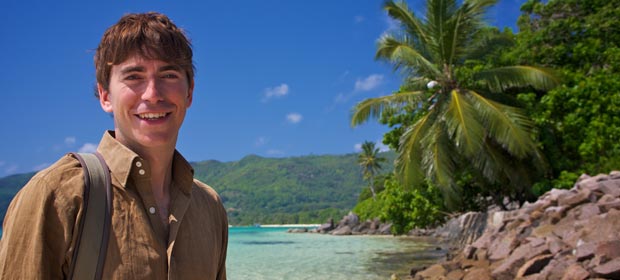 Alien encounter
Serious issues about biodiversity, refugees and troubles are interspersed with some incredible scenery, spectacular destinations and truly unforgettable experiences that you'll want to add to your holiday wish list.
"A perfect moment for me was seeing 12 giant manta rays swimming towards me in the Maldives. It was a rare moment where everything comes together just in the right way at the right time. It was such a jaw-dropping sight that my snorkel fell out my mouth! They were coming towards me in a stack, 12 manta rays each on a different level. It was like an alien encounter.
"They found us amusing the more animated we were. I dived down, turning round in the water and they dived down, turning round, barrel rolling around me. That was a very special moment in such a beautiful place. The Maldives really are spectacular."
Undersea restaurant
Simon and the crew visited luxury resorts in the Maldives including Conrad Maldives Rangali Island, where they dined at Ithaa, the world's first all-glass undersea restaurant. "The place is fantastic, I was just bowled over by the location and the food."
Simon also spent time with marine biologists at a coral regeneration project. "Visitors can buy a steel frame that's put into the water and bits of coral are attached to it so it gradually becomes a new bit of coral reef. You get to have your name on it, which is a pretty cool thing. Tourism can be a powerful force for good and on the journey I saw marine parks, eco-projects and resort projects that were benefitting and protecting the environment. As much as I expressed concern for our planet in the Indian Ocean series, tourism can be part of the solution."
In the Seychelles, Simon and the crew discovered an extraordinary island, home to over 100 giant tortoises. "Moyenne Island is owned by an elderly, energetic Yorkshireman called Brendan Grimshaw. He bought the island in 1962 for eight thousand quid and it's now worth millions. He's turned it into a nature reserve and breeds giant tortoises. What he's done is really impressive and you can visit on a day trip. Officially, it's the world's smallest national park. He's created paradise and a thriving eco-system."
Oman's fjords and stark beauty
With multiple travel series under his belt, Simon is still finding new and interesting places to explore on his journeys. "Oman is an ancient Sultanate with a civilisation that stretches back centuries. In the Musandam Peninsula, you'll find people who, until recently, were quite cut off from civilisation. They're proud and fiery and almost overwhelmingly hospitable. It's a glorious but jagged landscape, like the Norway of the Middle East, with giant fjords and stark beauty. We drove over the mountains in the interior and I took a gigabyte of photos! I've never seen a landscape quite like it. Oman was radically different and I would go there again in an instant."
"Being in the water with a dolphin, to engage with one and have fun with one –
I was having the
time of my life."
Simon Reeve

Simon's epic Indian Ocean journey finished on a high in Australia, exploring the Kimberley, one of the last great wildernesses on planet Earth. "It's up there with the Arctic and the Antarctic for having minimal human impact. It's gorgeous and glorious with a stunning coastline. You can have the most amazing, raw crocodile Dundee-style adventure."
But it was an incredible swimming experience with wild dolphins that really sticks in his mind, which he encountered off the coast of Rockingham, Perth. "They're not tamed, fed or encouraged, they are just quite happy for human beings to get in the water with them. We used aqua scooters to keep up with the dolphins. The more adventurous we were with the scooters, going down and turning around, the dolphins would come up close and swim next to us. Being in the water with a dolphin, to engage with one and have fun with one – I was having the time of my life."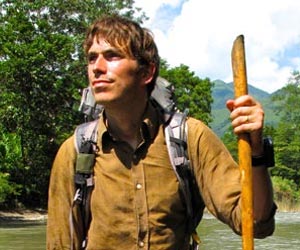 "On a historical level it's very interesting; on a wildlife and conservation level it's fascinating; and for sheer stunning tropical beauty,
it can't be beat."
Simon Reeve

Travel with respect
Our world is huge, extraordinary and constantly changing, so there is always something new to fuel Simon's desire for travel. He encourages you to explore and consider the issues surrounding you, travel with respect and have your own real, extraordinary adventure so you'll have solid memories that last.
Simon says: "Almost every day we encounter something extraordinary and all of the time I feel lucky to be doing this – it's a constant learning experience. This journey is not just about life under the waves. It's about the people, cities, tribes, culture, problems and history of life edging this fascinating, great sea. On a historical level it's very interesting; on a wildlife and conservation level it's fascinating; and for sheer stunning tropical beauty, it can't be beat."
Inspired?
---
If you've yet to watch the incredible Indian Ocean series, you can catch up now on BBC Iplayer. To start planning your own Indian Ocean escape, chat to a well-travelled Personal Travel Experts in one of our beautiful stores or order our Indian Ocean brochure for more inspiration.