Indulgent facials, soothing massages and contouring body wraps are all spa favourites the world over but you'd be hard pushed to find a more luxurious treatment than in the Indian Ocean.
Famous for its highly-trained therapists, travel to the Maldives, Seychelles, Mauritius or Sri Lanka and discover some of the most relaxing spa resorts in the world. Here are our Travel Experts' hand-picked recommendations for where to escape to pure bliss and revel in a spa experience you'll never forget…
Spas in the Maldives
Head to Velassaru Maldives' over-water treatment pavilions for uninterrupted views of crystal clear turquoise waters and even dolphins, if you're lucky! Choose from a range of classic, signature treatments – scrubs, massages, facials and rituals - designed to revitalise, rejuvenate and soothe you. Your body will be treated to indigenous ingredients, like coconut oil, coffee and tropical fruits, and the touch of expert therapists to help you escape into pure island bliss.
With ten over-water treatment rooms, a hydropool perched over the resort's translucent lagoon, a relaxation room and steam room, you'll never be at a loss for somewhere to relax. There's plenty of space at this resort to seek solitude and peace for you to recharge and ensure your wellbeing takes top priority.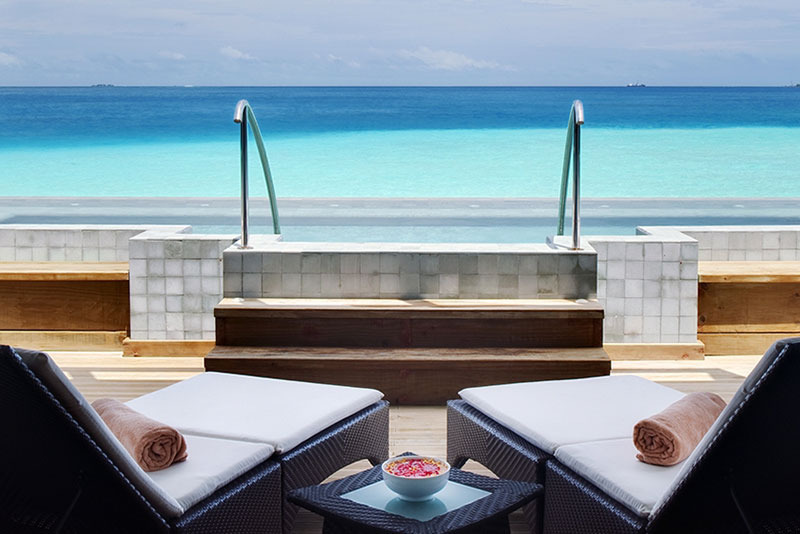 We recommend: Indulge in a Vinotherapie Body Wrap where you'll be immersed in pure wine, natural mud and grape seed oil to revitalise your skin, followed by a private yoga session where you'll learn the ancient tradition that focuses on purity of body and mind. This session will also cover meditation and mindfulness designed to help alleviate stress, so you'll have helpful skills to take back home with you after your holiday.
Spas in Mauritius
As winner of Mauritius' Leading Spa Resort 2016 at the World Travel Awards, you'd expect this resort to offer the best in tropical spa experiences – and it does. An oasis of peace and tranquillity, Maradiva Villas Resort & Spa is a place to escape from the strains of everyday life and relax both body and soul. The goal is to leave feeling relaxed and rejuvenated before returning home, achieved by a combination of western as well as eastern signature treatments, including Ayurvedia therapies, customisable body and face treatments, deep tissue massages, detoxifying cleansings and relaxed aromatherapy sessions.
With the Spa areas designed with Indian spiritual philosophy in mind, you're in the right setting to feel pampered. Choose from 5 treatment rooms, pre and post treatment relaxation lounge areas, beautiful chill out pools, a steam room, a relaxation pool with Jacuzzi and a manicure/pedicure studio to relax in. Yoga, Meditation and Aqua Gym classes are also available for you to test your physical limits in.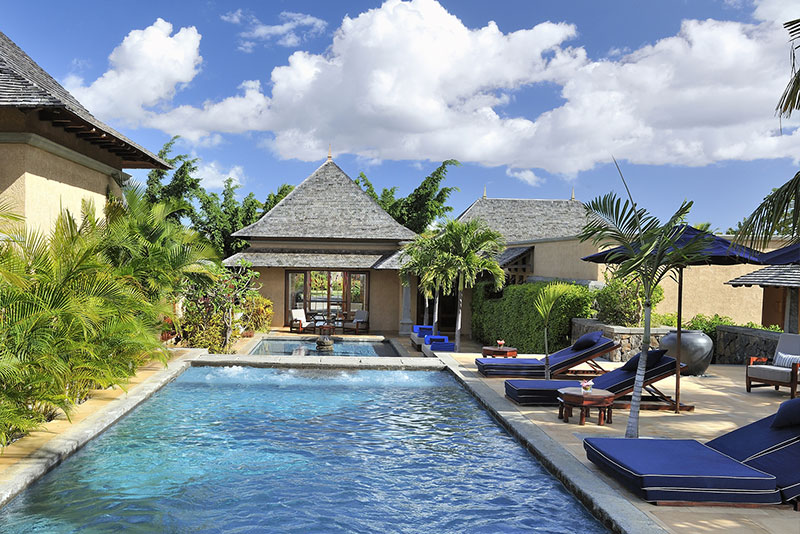 We recommend: If you're travelling as a couple, or more specifically on your honeymoon or anniversary, you must experience the 1-hour couples' massage providing you with 30-minutes each to enjoy the services of the resort's trained therapist. Finish your treatments with a romantic rose petal bath to soak in and absorb your idyllic surroundings with a glass of Champagne in hand.
The Seven Colours Spa at Heritage Le Telfair Golf & Wellness Resort provides a blissful wellness experience split into two spa resorts.
The first, the Seven Colours Millesime Collection make up the resort's premium facilities. Each treatment has been meticulously designed to help you unwind whilst you're on your getaway with facilities ranging from 9 treatment rooms, 1 manicure/pedicure parlour, 1 hammam, 1 sauna and a vitality pool with bubble beds, hydro-massage jets and experiential showers.
The second, the award-winning Seven Colours Spa Village includes luxurious treatments, as well as individual Tai Chi and Yoga classes on the beach. Here you'll find 13 treatment rooms, 7 outdoor treatment rooms (2 on the beach), 1 vitality pool, 1 iced pool, 2 steam rooms, 1 sauna, 2 relaxation areas and a beauty parlour.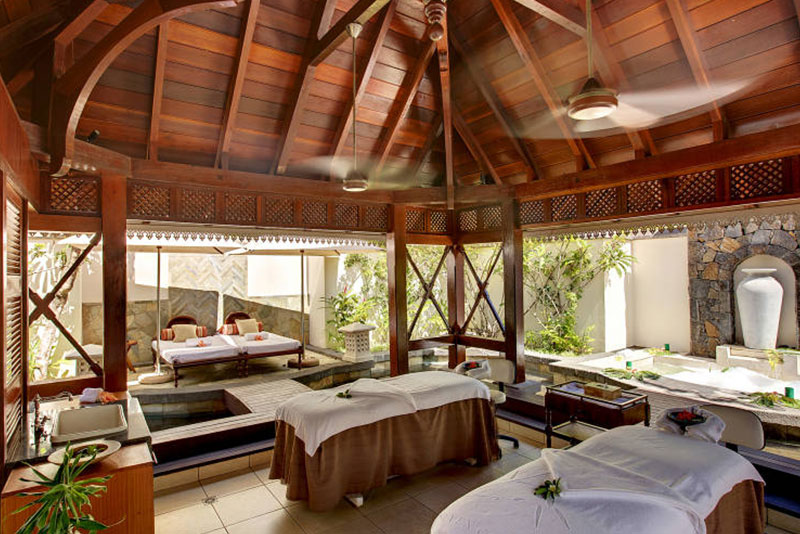 We recommend: Treating yourself to a wellness break. Take the weight off your shoulders and attend one of this resort's wellness weeks, designed to help you reconnect with yourself. International teachers and practitioners are called upon to run Yoga, Pilates, Tai Chi, and Qi Gong classes, as well as run wellness walks and signature massages. Healthy food plans are also prepared for your time in resort to accompany your exercise and treatments.
Spas in the Seychelles
The award-winning Banyan Tree Spa calls to you from the tropical island of the Seychelles where you'll find some of the best treatments and therapies in the Indian Ocean. Designed to recharge your body, mind and soul, the resort's experienced therapists will soothe your aches and take away your stresses. Local ingredients have been created to draw out tension from all parts of your body, couple this with a trained touch and you have a spa experience you'll never forget.
Each therapist at the resort's spa has undergone at least 350 hours of training at the Banyan Tree Spa Academies in either Thailand or Indonesia, so you know you're in safe, skilled hands. They have been schooled by Master Trainers who provide a rigorous in-spa curriculum based on spa philosophy and exceptional service. Each trainee learns the human anatomy, vital pressure points, massage techniques, skin application techniques, as well as the individual properties of each spa ingredient, designed to put you at ease.
We recommend: The 150-minute Royal Banyan treatment and 30-minute refresh and relaxation session. This signature therapy has been practised for decades in the Royal Thai Palaces, including a blend of Acupressure to improve circulation and alleviate stress and an application of Sesame Oil, as well as a Royal Banyan Herbal Pouch Massage, consisting of lemongrass, clovers and coriander to balance body, mind and soul. If you're really keen, indulge in a 330-minute treatment, 90-minute lunch and a 30-minute relaxation session that makes up a Banyan Day treatment.
This luxurious resort takes its spa extremely seriously, focusing not just on treatments and massages but 'wellness' as a whole. Believing there are different levels of 'wellness' – emotional, physical, social, spiritual and environmental – Constance Lémuria aims to work on all 5. There's an appreciation here that we all lead hectic lives but at some point, we need to leave that behind and focus on ourselves for a period of time.
At the U Spa by Constance, each treatment is designed to restore your personal wellbeing – you are the therapist's focus. Special care is taken to identify your own personal preferences and objectives to help you relax and rejuvenate during your holiday. Inspired by exotic, fragrant scents and the warmth of the island itself, there's a range of massages, facials and body treatments on offer for you to choose from.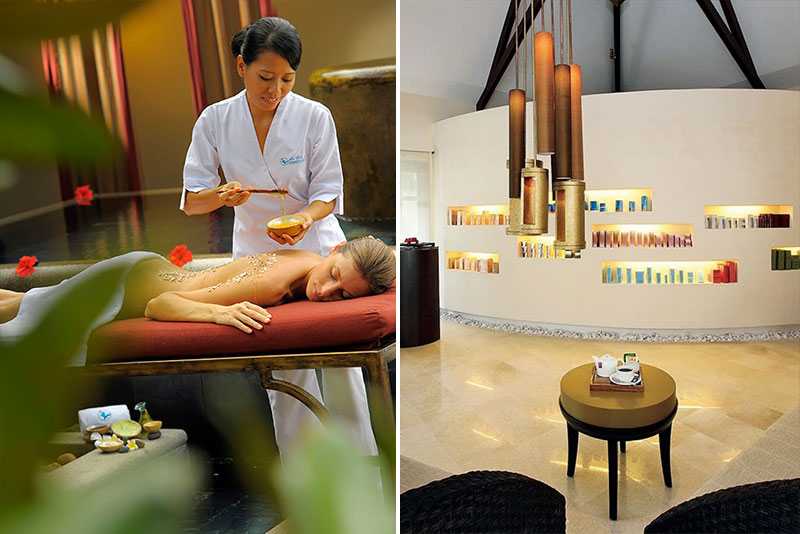 We recommend: The traditional Balinese massage, focusing on deep tissue with pressure, stretching each part of your body to relieve muscle tension or the Thai – Shiatsu Massage, a no oil clothed pressure and stretching massage used to rebalance your energy and ease your muscles.
Spas in Sri Lanka
Inspired by the Shangri-La Legend; a place of personal peace, enchantment and wellbeing, the CHI Spa at this brand new resort will astound you. As a guest, you're welcome to try the bespoke wellness experiences on offer by undergoing a private consultation with both ayurvedic physicians and nutritionists, so you come away with a highly-personalised programme. Purposely set in the most secluded area of the resort amidst lush tropical scenery, you're free to pamper both body and soul in one of 12 outdoor/indoor treatment rooms.
The treatment menu itself consists of mainly Chinese and Ayurvedic treatments – a spa speciality in Sri Lanka. Therapists are trained to only use the natural spa products on offer as part of the Qi philosophy. Body massages, muscle stretching, hydrotherapy and meditation are all combined to boost personal vitality and enable Qi to flow freely within your body.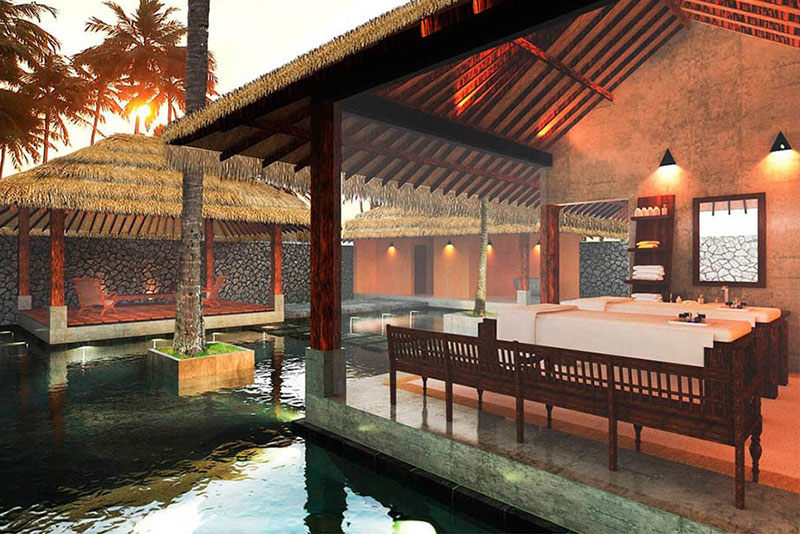 We recommend: The ancient yet timeless Ayurvedic treatment using an infusion of organic, aromatic herbs and natural oils. Following one of the resort's personal consultations, you'll be able to balance your body, mind and spirit to enjoy good health – you'll be able to take these learnings home with you after your time away.
Inspired?
---
If you're feeling inspired by our selection of hand-picked spa experiences, take a look at our broad range of spa holidays from across the world.