Cocktail recipes from Sri Lanka
With a strong drinking culture, you needn't just enjoy the delicious beer and lager on offer in Sri Lanka.
There are now a number of different cocktail recipes pioneered by the locals that since being discovered have very rarely been turned down. While most people enjoy these cocktails in their lavish hotel, we recommend the up-market bars of Colombo and Kandy for an evening tipple to really soak in the atmosphere that is so unlike anywhere else. You're bound to find these mouth-watering cocktails on the menu too…
Aliya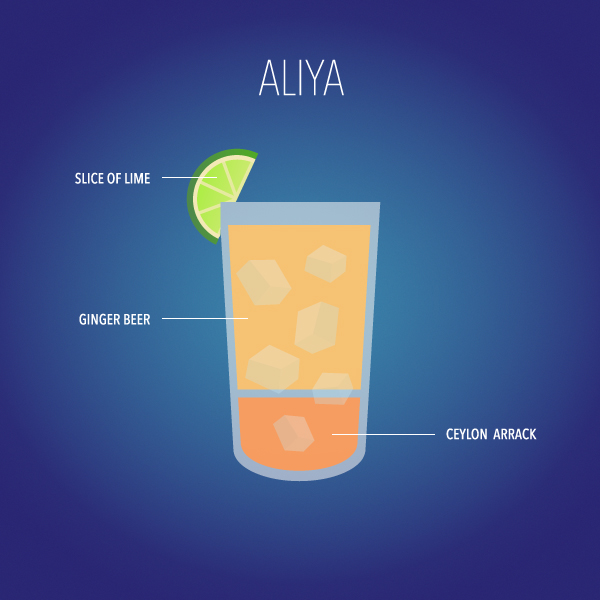 Ingredients

1.75 oz. Ceylon Arrack,

5 oz. ginger beer,

fresh lime


Aliya recipe

1. Pour Ceylon Arrack into a Highball Glass filled with ice.

2. Add ginger beer to taste.

3. Top off with a squeeze of lime.

4. Garnish with a lime slice.
Ceylon Sailor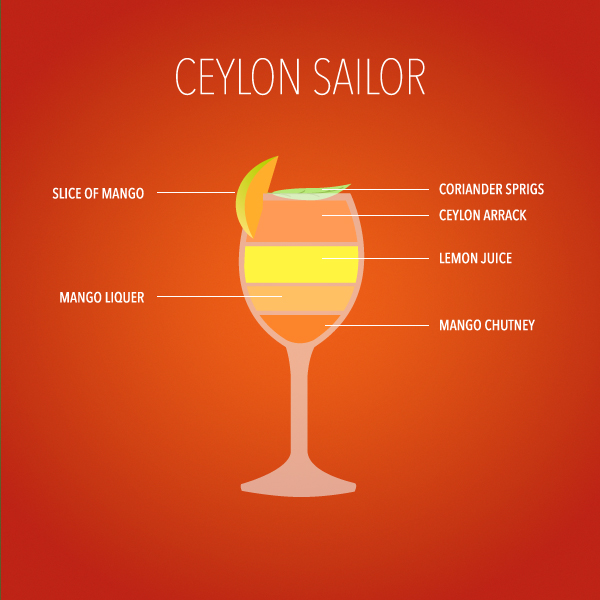 Ingredients

3 sprigs fresh coriander

4 chunks of fresh ripe mango

35ml/1¼fl oz Ceylon arrack

1 tbsp fresh lemon juice

2 tsp mango liqueur

1 tsp mango chutney


1 slice fresh mango, for garnish

Ceylon recipe

1. Place the coriander and mango into a cocktail shaker and crush with the end of a rolling pin.

2. Add the remaining ingredients and a handful of ice and shake hard.

3. Strain into a small wine glass and garnish with slice of fresh mango.
Serendib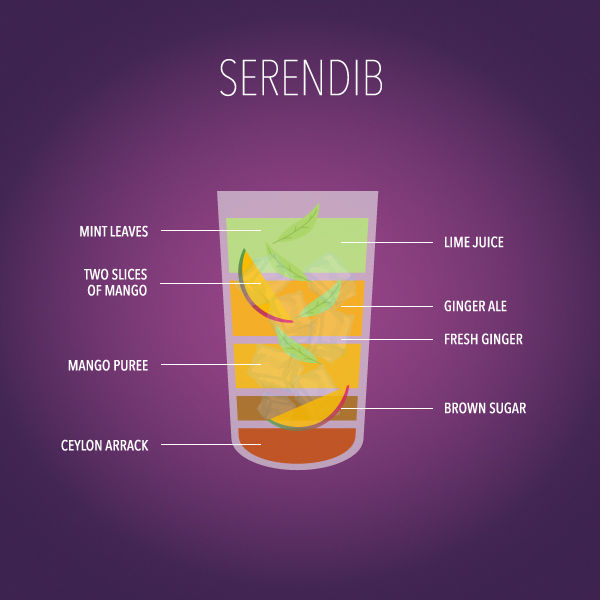 Ingredients

2 oz. Ceylon Arrack,

6 mint leaves,

1/5 inch fresh ginger,

1 tsp brown sugar,

2 slices of mango,

2 oz. mango puree,

ginger ale,

lime juice


Serendib recipe

1. Muddle mint, sugar, mango slices, ginger and lime juice at the bottom of a large glass.

2. Add crushed ice to the top, and pour the Ceylon Arrack and mango pulp into the glass.

3. Muddle well with bar spoon.

4. Add crushed ice and top up with ginger ale.

5. Garnish with ginger wheel and mint sprig.
The Baroness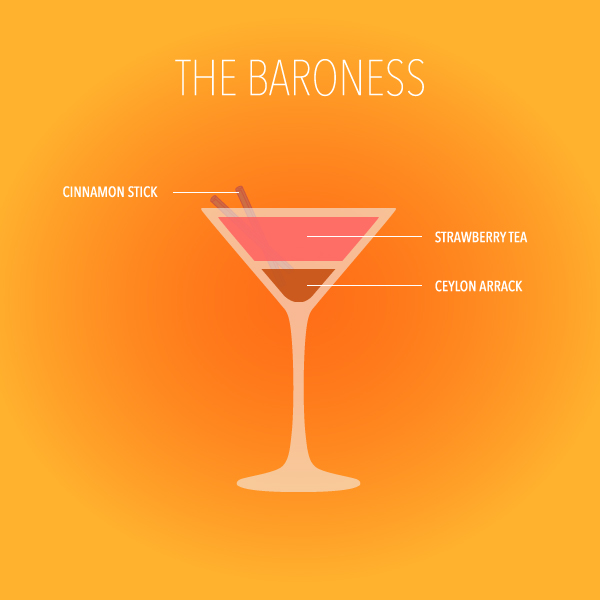 Ingredients

2 oz. Ceylon Arrack,

3.5 oz. strawberry tea,

cinnamon stick




The Baroness recipe

1. Shake all ingredients (minus cinnamon stick) over ice.

2. Double strain into an ice filled Rocks Glass.

3. Garnish with cinnamon stick as stirrer.
Paddington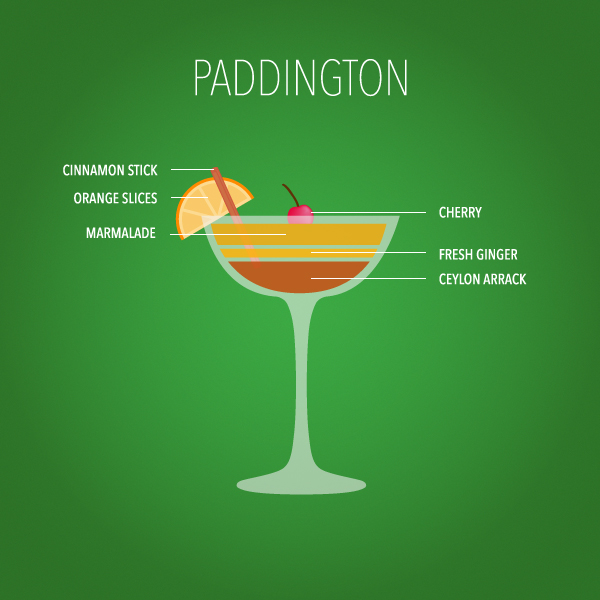 Ingredients

2 oz. Ceylon Arrack,

3 tsp British marmalade,

3 slices of orange,

1 cherry,

½ inch fresh ginger,

cinnamon stick




Paddington recipe

1. Prepare rim of rock's glass with a light coating of cinnamon powder and sugar mix.

2. Muddle marmalade, ginger, cherry and fresh orange in the bottom of the glass.

3. Fill up glass with ice and add Ceylon Arrack.

4. Stir well till ingredients blend together.

5. Garnish with a cinnamon stick.
Inspired?
---
You've got their names, you've got their recipes, now you know which cocktails to order when you visit Sri Lanka and how to re-create them on your return!