Speak to one of our experts now about this offer
Call us on - 0800 092 4444
Or drop into your local Kuoni store to find out more

Find your nearest store
Etihad Airways is flying reimagined. Voted the World's Leading Airline at the World Travel Awards for seven years in a row, Etihad's pioneering spirit, hospitality and contemporary living spaces in the air offer the best comfort and service. Etihad Airways' goal is to transform air travel and make every journey a remarkable one.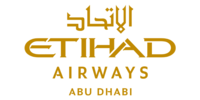 Fly to these top destinations with Etihad Airways
Economy Smart Seat
On-demand entertainment
A four-course meal with a choice of three main courses
'Fixed wing' headrest for side head support
Mobile and internet access
Business Studio
Relax on a 79-inch fully-flat bed
Access to the Etihad lounge
Watch the latest movies on the touchscreen 18-inch TV
Enjoy in-seat massage and longhaul flights feature special mattresses for a relaxing sleep
Socialise with other guests onboard the A380 in The Lobby bar area
First Apartment
Revolutionary First Class cabin with your own living space
Features a 24-inch screen, wide armchair and an ottoman that converts into an 81-inch long bed
The divider can be lowered between apartments to join rooms
Freshen up onboard with a shower in the First Class bathroom
Etihad lounge access
The Residence
The only-three-room suite in the sky, designed for up to two guests
An exclusive cabin with a living room, bedroom and en-suite bathroom
Complimentary UK chauffeur transfers (restrictions apply)
Etihad lounge access at Heathrow and Abu Dhabi. Perks include a free treatment in the Six Senses spa
Living room features a sofa, flat-screen TV and chilled drinks cabinet
Which airports do Etihad fly from?
Etihad offers daily flights from the UK to Abu Dhabi. There are three daily departures from London Heathrow and two daily departures from Manchester. You can then fly onwards to destinations including Asia and Australia.
LONDON HEATHROW, TERMINAL 4
MANCHESTER AIRPORT, TERMINAL 1
Inspiration
Sorry, your hotel is no longer available
Please check alternatives
Choose dates
{{store.searchDuration}} nights, {{formattedDate}}
Enter dates to check availability
{{ guestRollup || 'Enter guests' }}
{{ store.selectedAirport.text }}
{{ store.selectedClass.text }}
{{ store.selectedOccasion.text }}
Search

Choose a departure date
{{store.searchDuration}} nights
Enter rooms & guests
{{passenger.childAges.length}}
Checking prices & availability

{{term}}, {{formattedDate}} for {{searchDuration}} nights
All

({{destinations.length + products.length + offers.length + inspiration.length}})

Destinations

({{destinations.length}})

Holidays

({{products.length}})

Offers

({{offers.length}})

Inspiration

({{inspiration.length}})
{{availabilityProduct.length}} holidays in {{term}}
We're transferring you to our tailor-made specialists
From the multi-award-winning Kuoni