Our experts have scoured Europe in search of the finest hotels, selecting only the best to add to our collection. One thing we look for is unforgettable dining moments that add an epicurean sparkle to your Kuoni holiday. From halloumi-making in Greece to a taste explosion on a volcanic island, we share some of our top gourmet experiences in Europe.
Michelin-star Maltese menus
The Maltese love their food and eating out is a big part of the local lifestyle, so it's not surprising that this culture-infused island is brimming with restaurants. At Rosselli AX Privilege Malta, a 17th-century Baroque hotel in ancient Valletta, you'll come across one of the best. Under Grain is the hotel's Michelin-starred signature restaurant, inspired by the old-world tailor-shops that once filled the surrounding streets. It truly is a tailor-made dining experience, from the sewing-pattern designed menus, portraits of Maltese tailors adorning the walls and pincushion bill-holders; however it's the culinary art that really makes the cut. There's a tapestry of haute cuisine; the tasting menu has flavourful dishes like roasted sea scallops and honey-smoked chicken, followed by moreish desserts. When your experience ends Under Grain, go Over Grain at the exclusive rooftop bar for cocktails under Valletta's star-lit skies.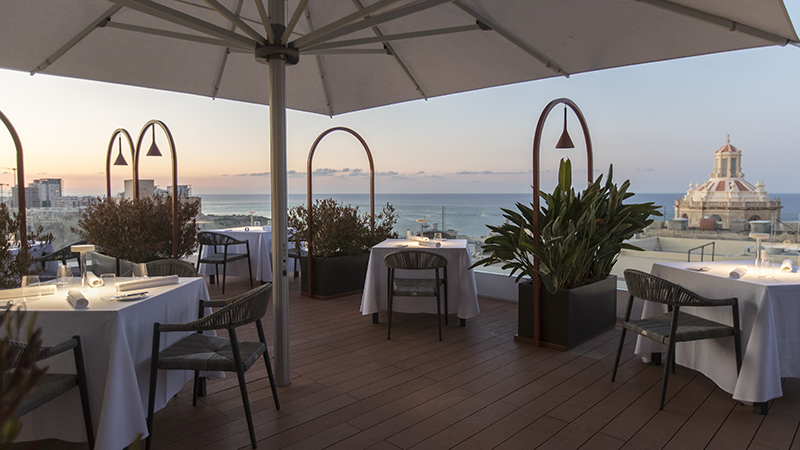 Gastronomy and wine in Porto
The Yeatman, a luxury wine retreat in the Porto wine district, attracts foodies from afar thanks to its two-Michelin star restaurant. Portuguese cooking is plated up with pizazz and topped off with captivating views of the Douro River and historic Porto. Chef Ricardo Costa and his team put on an impeccable show, with imaginative tasting menus, detailed descriptions and – given the hotels bonafide credentials as a wine hotel – perfect wine pairings. The wine theme continues throughout the hotel; sample vintage wines from the cellar during a wine masterclass, try a Merlot scrub in the spa or splash out on a Master Suite to doze off in a barrel-shaped bed.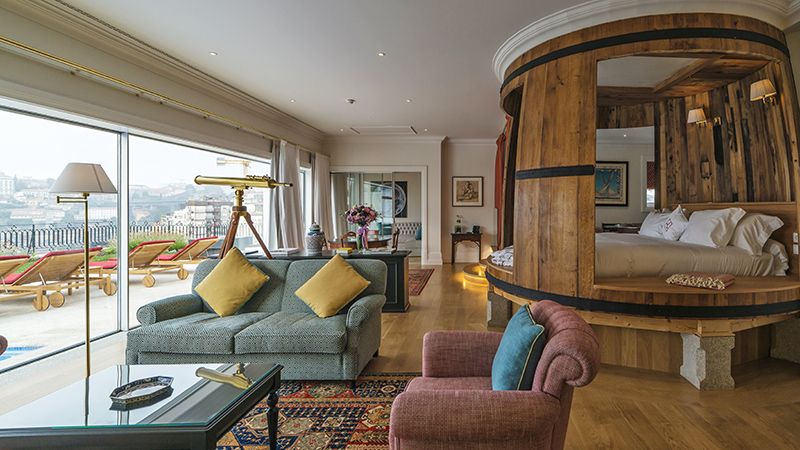 Live like a local in Cyprus
You'll get a strong sense of place at Casale Panayiotis in Cyprus. This bijou bolthole is hidden among citrus-splashed orchards and aromatic pines, carved into the slopes of the Troodos Mountains. Here you can eat and drink like a local; there's halloumi-making workshops, wine tasting, and you can learn how to make traditional delicacies like palouzes (a sweet grape jelly perfumed with orange blossom). In the Byzantino restaurant, ingredients are sourced locally and fruits and vegetables are grown on-site. Tuck into Cypriot fare such as courgette and feta soufflé, grilled octopus and for dessert; Baklava, little pistachio-packed pastries drenched in syrup. Don't miss the Sunday meze, a languid lunch affair where plates of goodies just keep coming.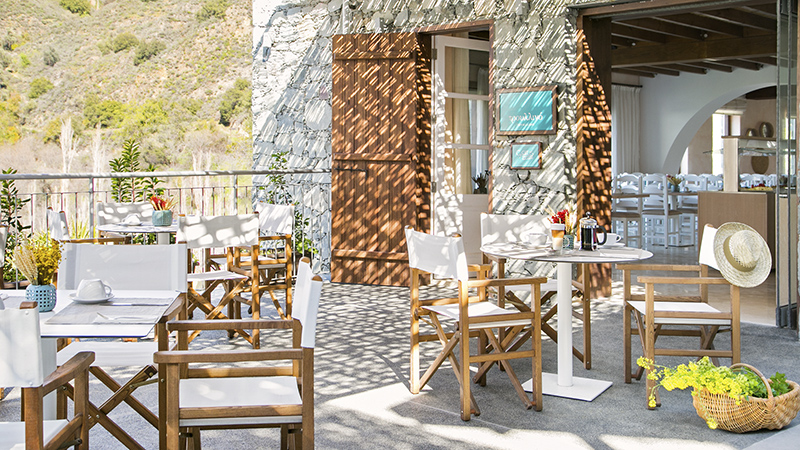 An Andalucian feast in a hideaway hotel
La Bobadilla, A Royal Hideaway Hotel is a white-washed village-style enclave tucked away in a tranquil patch of the Andalucian hills. Although there's plenty of reasons to stay here – you can relax around the peaceful pool, clip-clop on horseback through the Loja Mountains or go olive oil tasting; better still – indulge in an olive oil massage. But it's the dining that is this hotel's forte. Book a table at La Finca, recognised as one of Granada's top restaurants. Local produce is the star ingredient and you can work your way through the 'Between Two Lands' tasting menu. Make sure you come hungry; this creative banquet showcases the region's best dishes with six starters, three mains, a cheese course, and even a pre-dessert before dessert. Expect incredible flavours, service, and a satisfied stomach.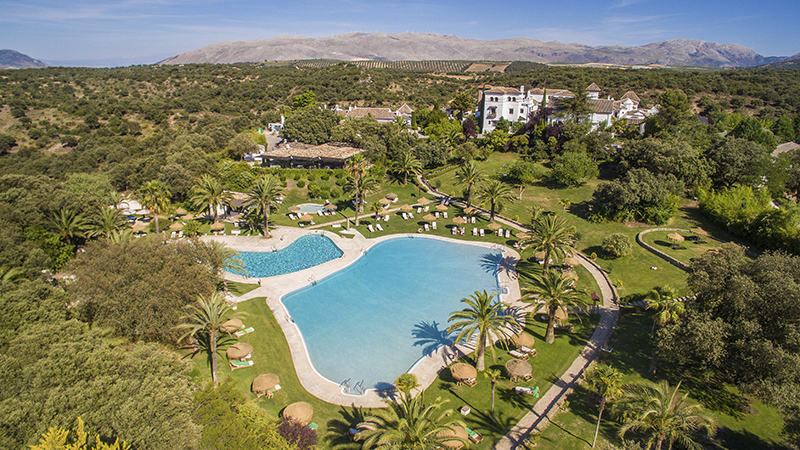 Dine on the edge of a caldera in Santorini
The cliff-hugging opulent hotels in Oia, Santorini, are a hotspot for celebrating couples who come to soak up the romance of breathtaking caldera views and be wined and dined in style. Mystique, A Luxury Collection Hotel, is one of our favourites. Whitewashed buildings tumble down the hillside, harbouring 41 cave-like suites, a rejuvenating spa and three divine restaurants. You can wake to a breakfast of salmon and Champagne, lunch on the cliff edge and in the evening, dine in a secret wine cave complete with flickering candles, eclectic Mediterranean menus and wine from the 150-year-old cellar.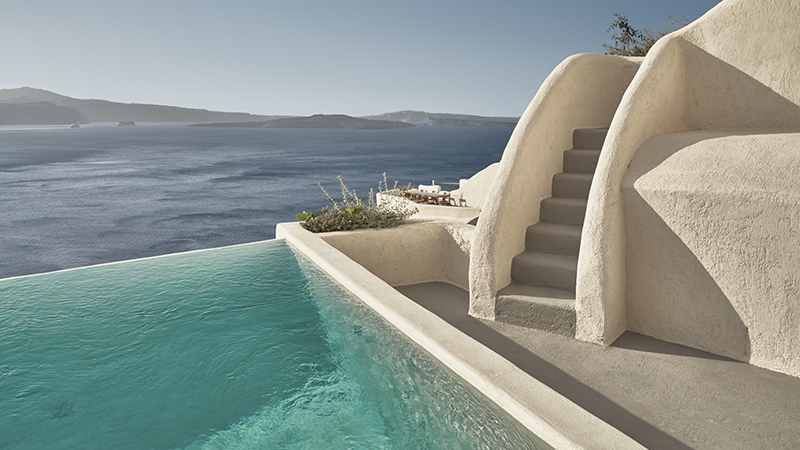 Book a table-for-two at a floating restaurant in Crete
At Grecotel Amirandes Boutique Resort, a Minoan-style Palace resort in Crete, you're spoiled for choice with dining. There are seven splendid restaurants to pick from, including Minotaur, featuring genuine Picasso ceramics and classic Italian cuisine, to beachfront Petrino for boat-fresh fish and Greek meze. However, the ultimate experience is at Lago Di Candia, the fine-dining eatery perched on a floating platform on the lagoon. Start with an appetiser of sea bass ceviche with black garlic followed by Lobster surf & turf, then sweeten your palette with hot chocolate 'soup' for dessert.
Picnic among olive groves in Mallorca
Away from the popular beach resorts, you can taste a more traditional side of Mallorca at La Residencia, a Belmond Hotel, Mallorca. This exquisite retreat is nestled in the foothills of the Tramuntana Mountains, surrounded by sweet-smelling citrus trees and ancient olive groves. Aside from the award-winning spa and artistic décor, the highlight is the gastronomic discoveries that go beyond the dinner table. You can take a tour through the olive groves, accompanied by Pancho and Luna, the hotel's resident donkeys, to enjoy a lavish picnic in a shepherd's hut high in the hills. You'll feast on a basket of local food and wine whilst taking in the spectacular views. Top it off with afternoon tea at arty Café Miró; order the Flor D'Oli blend, created using tea from cut olive branches, blended with rose, lavender and camomile.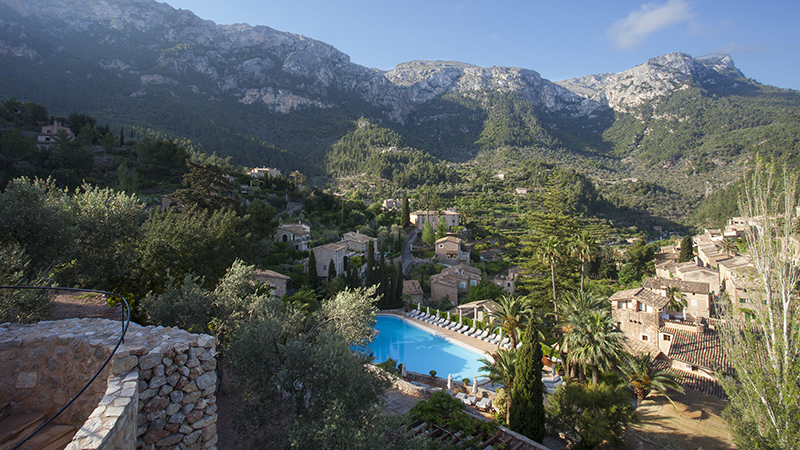 A musical afternoon tea in Madeira
Think of the word 'Madeira' and you'll either picture a slice of golden cake or the Garden of Eden scenery that this Portuguese island is known for. Both are delivered in spades at afternoon tea at The Cliff Bay, served on an alfresco terrace looking out on colourful blooms and the glinting sea. You'll be treated to a spread of delicious cakes, mini sandwiches and homemade scones, washed down with Earl Grey tea or a glass of bubbles. Come on a Thursday to be serenaded by a violinist.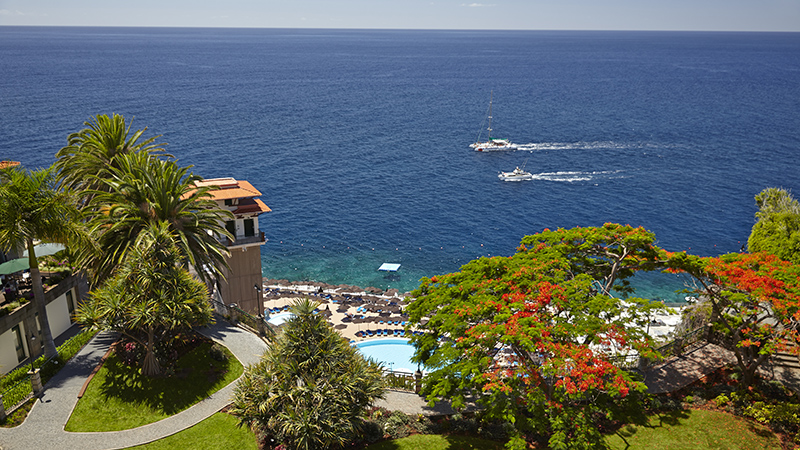 Dinner with a view on a volcanic island
Therasia Resort Sea & Spa is a member of the Leading Hotels of the World, cast adrift in wild beauty on a corner of Vulcano in Italy's lesser-known Aeolian Islands. This is a spa retreat with a twist; thanks to the volcanic island's sulphurous gases released directly from the seabed – this is one of the best locations in Italy for thalassotherapy. But it's not all about relaxation here; you can hike through volcanic craters and dine like a celebrity at Il Cappero, a Michelin-starred restaurant helmed by Giuseppe Biuso, a chef who's renowned for his imaginative style. He selects only the finest ingredients, including handpicked seasonal produce and adds a hint of his Ischia roots to his creations.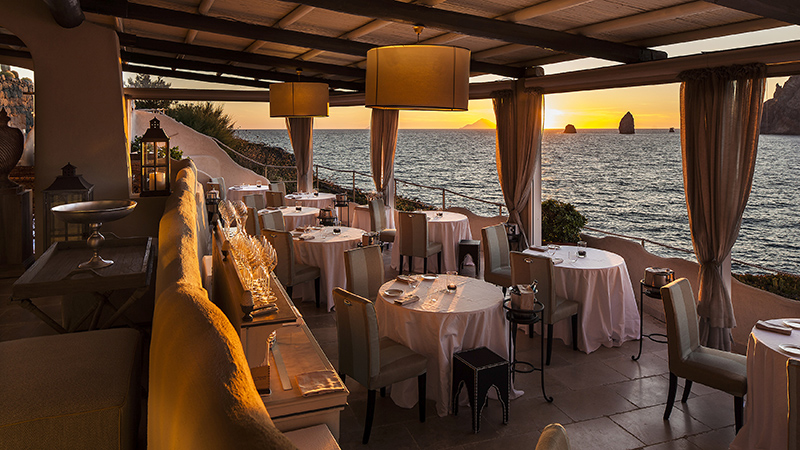 Inspired?
---
If you live for holiday food moments, our Personal Travel Experts can tell you where to find the best culinary delights in Europe. Talk to us today, or browse our online brochures for more inspiration.
This feature was updated on 28th March 2022. The information within this feature is correct to the best of our knowledge at the time of print. Feature by Heather Flanagan.