Greece weddings
Aside from some stunning wedding venues, it's the accessibility that makes Greece popular for weddings. Famed for its picture-perfect islands and romantic sunsets, choose Greece for breathtaking views for your wedding backdrop.
Is the wedding a legal ceremony that's recognised in the UK? Yes. You will need to be in resort ranging from 2-3 working days prior to the wedding day to arrange the marriage licence and register the wedding. All documentation will need to be translated into Greek and certified in the UK before you leave, your Kuoni Wedding Expert can recommend a company to assist you with this.
What would the wedding ceremony and reception look like in Greece? In Santorini the ceremony will take place in venues outside of your chosen hotel, a wedding reception with entertainment can also be arranged in the same venue. For Crete, your wedding reception will take place in the grounds of the hotel featured with all arrangements taken care of by the local wedding co-ordinator.
Planning your wedding in Greece? Once you've booked your holiday and wedding date with us, we'll arrange a follow up planning appointment for you with one of our Wedding Experts to discuss your ceremony and reception in more detail. This will ensure that we can organise everything before you arrive in resort.
Can LGBT couples get married in Greece? It is possible to legally marry in Greece for LGBT couples.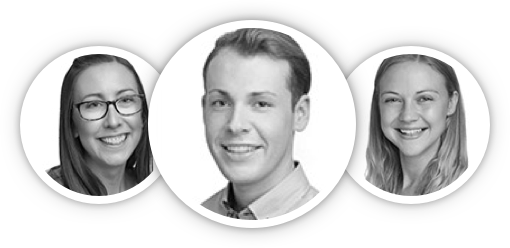 CALL US TODAY FROM 09:00 TILL 20:00
Find a weddings expert
Find a store
Make an enquiry
Legal requirements for your Greece wedding
| | |
| --- | --- |
| Full 10 year British passport | • |
| Original birth certificate | • |
| Bi-lingual statutory declaration* | N/A |
| Original no impediment to marry certificate*** | • |
| Original decree absolute if divorced | • |
| Original death certificate or former spouse & marriage certificate if widowed | • |
| Original adoption certificate (if adopted) | • |
| Original deed poll notice - if name changed | • |
| | |
| --- | --- |
| Minimum age to marry | 18 |
| Certified documents | • |
| Letters of personal detail | N/A |
| Legalised documents/Foreign & Commonwealth office | • |
| Documents required by Kuoni (within) weeks before travel | 6 |
| Minimum stay in resort prior to wedding (No. of working days) | 4 |
| Recommended stay in resort | 8 |
●

Kuoni needs to see originals of these documents before you travel

●

Kuoni needs to see copies of these documents before you travel, you must travel with all original documentation

●

Kuoni do not require any documents before you travel but you must travel with all original documentation
Extra legal information: Each original document in English must be legalised by the Forgeign and Commonwealth Office in the UK prior to travel. Once this has been done the documents will then need to be translated into Greek and certified by the local Embassy. We can recommend a company to assist you with this at additional costs.
This information applies only to couples born in the UK with a valid UK passport.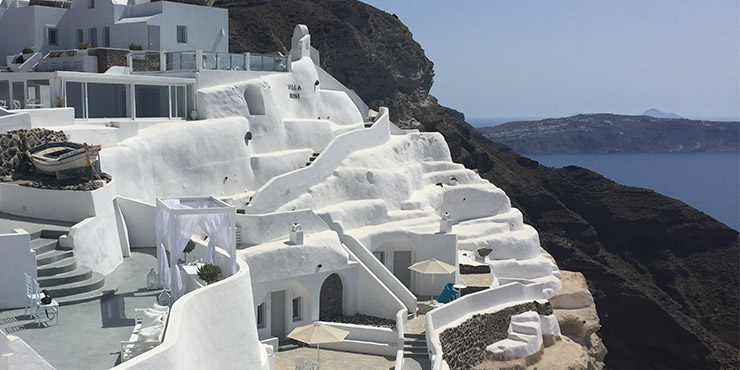 Agia Irini, Santorini
Santorini is a patch of paradise with some seriously dreamy venues for an utterly romantic and serene wedding, and Agia Irini (also known as the Santa Irini Chapel) is certainly one of the most beautiful.
This traditional whitewashed chapel has a terrace perched high on the edge of the Caldera cliff tops with magnificent views of the Aegean Sea and volcano, and is one of the most scenic spots to exchange vows. What makes it even more special? You can have a magical sunset ceremony at this pretty chapel. Do note that this is a small venue with a maximum capacity of 50 guests, and with just 30 seated. Located between Fira and Pyrgos village it's suited to those looking for a private and secluded ceremony with a sensational backdrop, ideal for those unforgettable sunset wedding portraits. It's also possible to have a drinks party at the venue, before returning to your chosen hotel for your reception.
From £1200 per couple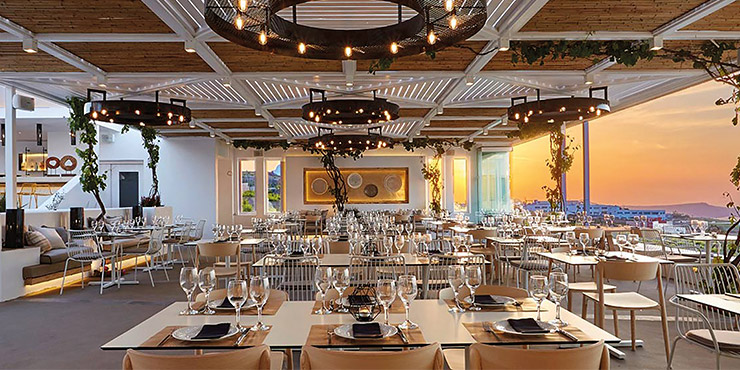 Pyrgos Restaurant, Santorini
In a spectacular location overlooking panoramic views of the island, Pyrgos Restaurant is a stunning wedding venue nestled in the medieval clifftop village of Pyrgos.
A great setting for both a small and larger wedding celebration, this is a picturesque venue that boasts a charming chapel and five different reception halls. Your ceremony will take place in the quaint church where you'll say 'I do' against a beautiful backdrop overlooking the surrounding island. Your reception can be held in any one of the five halls at the restaurant; for a larger party, the garden is a stylish outdoor reception area that seats up to 150 guests, while for a smaller celebration the Panorama Hall enjoys a private terrace and panoramic views, a perfect spot if you're looking for a separate drinks area. For the ultimate stress-free wedding experience, book the restaurant's exclusive bridal room to ensure you have your own private space in which to get ready.
Prices upon request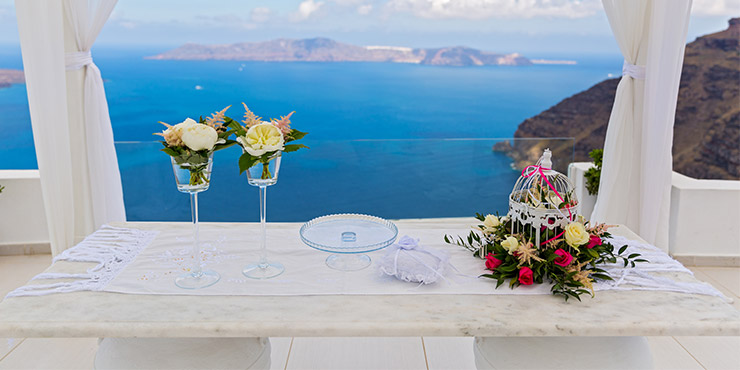 Santorini Gem, Santorini
An incredibly unique and romantic wedding location with exquisite views overlooking the caldera and Aegean Sea.
On one of the highest points of Santorini, this exclusive wedding venue is in a breathtakingly private cliff-top setting. Cherish a magical sunset ceremony exchanging vows on the wedding terrace, against an exquisitely serene backdrop overlooking the caldera. Indulge in a stylish post-wedding celebration, enjoying traditional Greek flavours and impeccable hospitality and service, and make the most of the additional features that include an outdoor bar. Weddings here offer a flawless and stress-free experience, so make sure to use the great facilities and book the private bridal preparation room to make your day even more special.
From £1744 per couple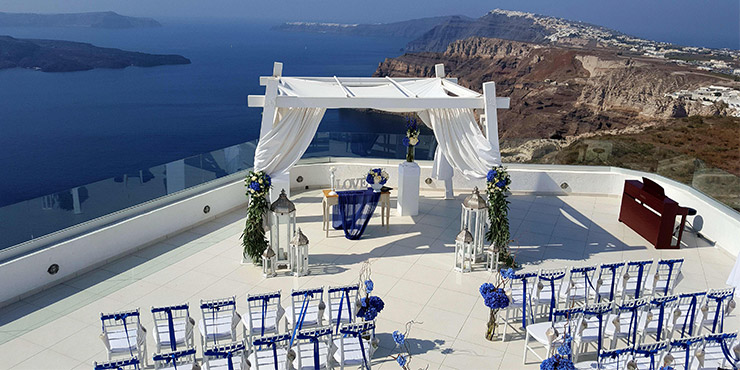 Santo Winery, Santorini
An outstanding wedding venue and one of the most popular on Santorini, Santo Winery is situated on the clifftops of Pyrgos boasting breathtaking views of the caldera and Aegean Sea.
Your ceremony will take place outdoors on one of three terraces under a pretty white veiled gazebo against brilliant blue skies and cobalt waters. This venue seats up to 120 guests so is ideal for a larger wedding but at the same time it's perfectly possible to host a small party too. Weddings here are carefree but luxurious, with impeccable service and remarkable attention to detail. At Santo Winery you can tailor-make your day to suit your exact requirements whether you want saxophone and guitar players, large standing flowers, or to release doves. It's also possible to have a small cocktail party here to toast your special day, before you and your guests make your way back to your chosen hotel for a chic moonlit reception party – which on Santorini can go on until the early hours of the morning!
From £1500 per couple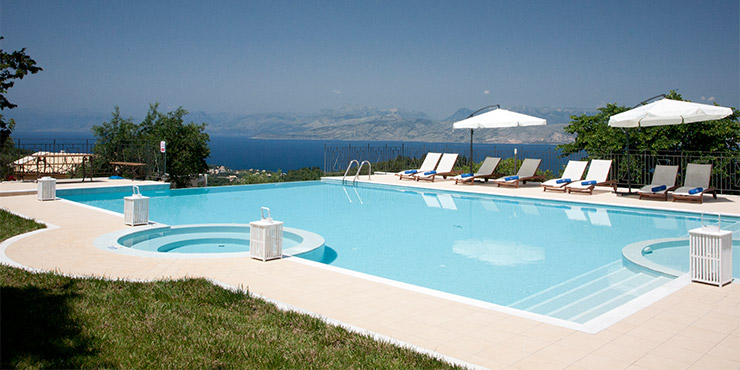 Anilia, Corfu
If you're looking to marry in front of hypnotic ocean views, you'll struggle to find anywhere more entrancing than this secluded CV Villa in Corfu.
An exceptionally idyllic and dreamy venue, this enchanting villa is the perfect setting in which to begin your life together as a married couple. Ideal for smaller wedding celebrations, up to 40 guests can watch as you exchange vows in front of a spectacular ocean backdrop – the infi nity pool is a particularly private and pretty setting, and we love the secluded split- level gardens. If you fancy having a ceremony and reception at different venues, there are several churches in Kassiopi, and a civil ceremony can also be conducted in Corfu Town Hall. From the dining and music to confetti and candles, we will help you to tailor this special day to perfection.
Prices and inclusions are valid for weddings Jan 2018 - Dec 2018 and are subject to change. 2019 packages and prices are also available, please contact us for details.