Holland America Line
Holland America Line offers worldwide premium travel experiences on board perfectly sized ships. Elegant lounges are adorned with fine art and fresh flowers, spacious staterooms feature a private balcony and restaurants serve gourmet cuisine and delicious snacks, while the experience is enhanced by attentive service, enrichment opportunities and destination expertise.
For almost 145 years, Holland America Line has introduced guests to new places and different cultures. Easily recognised by their navy-blue hulls, the cruise line's spacious mid-sized ships sail all seven continents and hold true to the timeless elegance of ocean travel.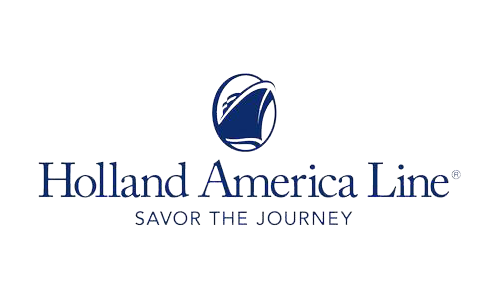 the Holland America Line difference
Explorations Central™
Explorations Central™ is at the heart of Holland America's carefully crafted immersive journeys. Its exclusive destination programming is designed to deepen your understanding of the places you visit. Its indispensable travel resources and opportunities to engage with experts and local insiders make exploring each port of call more vivid and meaningful.
Culinary experiences
Culinary experiences are dedicated to food lovers seeking unrivalled experiences in food, wine and spirits, both on ship and on shore. Choose from a range of restaurants, including Tamarind's Pan-Asian flavours and fine dining at Pinnacle Grill. On dedicated Culinary Cruises, world-leading celebrity chefs and wine experts share their secrets during cooking demonstrations, lavish dinners and tastings.
The best in live music
A great cruise deserves a great soundtrack with the best in live music. At the centre of the ship experience is Music Walk®: an exclusive collection of performances. From the soulful sounds of Memphis and rock's biggest anthems to intimate chamber music, you'll find something that sings to your heart, night after night.
Perfectly sized ships
Holland America Line's ships are tastefully appointed and refreshingly uncrowded. Lay your head in spacious cruise ship rooms, breathe in expansive views and relax in easy elegance. With stately fine dining and enriching activities, Holland America Line's mid-sized ships welcome you aboard.
Speak to one of our experts now about this offer
Call us on - 0800 092 4444
Or drop into your local Kuoni store to find out more

Find your nearest store
Sorry, your hotel is no longer available
Please check alternatives
Choose dates
{{store.searchDuration}} nights, {{formattedDate}}
Enter dates to check availability
{{ guestRollup || 'Enter guests' }}
{{ store.selectedAirport.text }}
{{ store.selectedClass.text }}
{{ store.selectedOccasion.text }}
Search

Choose a departure date
{{store.searchDuration}} nights
Enter rooms & guests
{{passenger.childAges.length}}
Checking prices & availability

{{term}}, {{formattedDate}} for {{searchDuration}} nights
All

({{destinations.length + products.length + offers.length + inspiration.length}})

Destinations

({{destinations.length}})

Holidays

({{products.length}})

Offers

({{offers.length}})

Inspiration

({{inspiration.length}})
{{availabilityProduct.length}} holidays in {{term}}
We're transferring you to our tailor-made specialists
From the multi-award-winning Kuoni