Amazing places to eat in Italy
Discover just a few of the many foodie highlights in some of our favourite regions of Italy.
To Italians, eating is something that should be enjoyed with both passion and patience. So much more than just pizza and pasta, and a million miles from Spaghetti Bolognese, real Italian food has an authenticity that is hard to match. Traditional local dishes are the truest representation of the diverse personalities of Italy's regions. We invite you to join us on a journey around our favourite food hotspots to show you where to eat in Italy to indulge in some delicious delicacies.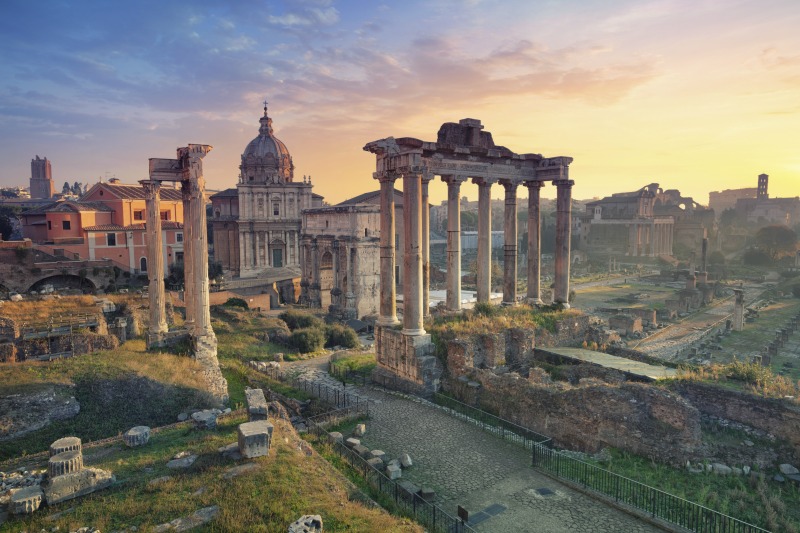 From the early influences of ancient Greece to the experimental mood of the Renaissance, Rome has always had a great reputation for unique cuisine that can be tasted all around the city to this day. Avoid the inauthentic cafes around tourist spots, take a stroll through the side streets and you'll be rewarded by tiny bakeries serving freshly made Pizza Bianca, a delicious salty flatbread. Wander through the historic Jewish quarter and you'll discover Carciofi alla giudia, sublime fried crispy artichokes. As a perfect accompaniment to either dish, you should absolutely try a chilled glass of Fruscati, a crisp, dry white wine with a history almost as long as the city itself.
Don't leave before trying…
Carbonara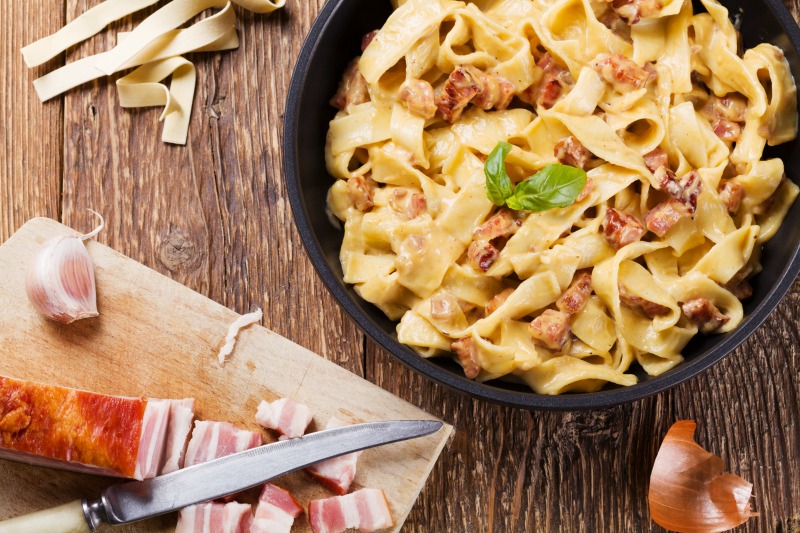 Al dente spaghetti or tagliatelle is tossed in egg yolks before Pecorino cheese and crispy pancetta are added with plenty of crushed black pepper. Do not confuse this with the bland cream-based ham and mushroom pasta served outside Italy! Enjoying traditional Carbonara is an altogether different and much more delectable experience.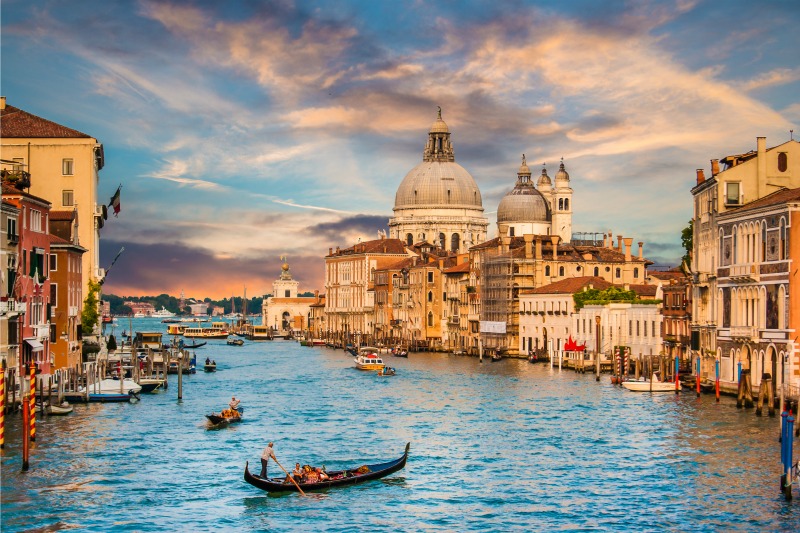 Decadent masked balls, gondolas drifting under the Rialto Bridge, the sun setting over the lagoon; no other city evokes romantic imagery quite the way Venice does. One of the main ways the city earns its passionate reputation is with its cuisine. Away from the crowds of St Mark's square, the alleyways host incredible independent restaurants and delicatessens, perfect for an indulgent al fresco lunch. Start with an aperitivo of local Prosecco, followed by freshly caught, grilled sardines served with rich polenta (preferred over pasta by many in Venice). Treat yourself by finishing with the world famous, but quintessentially Venetian desert, Tiramisu.
Don't leave before trying…
Risotto al nero di sepia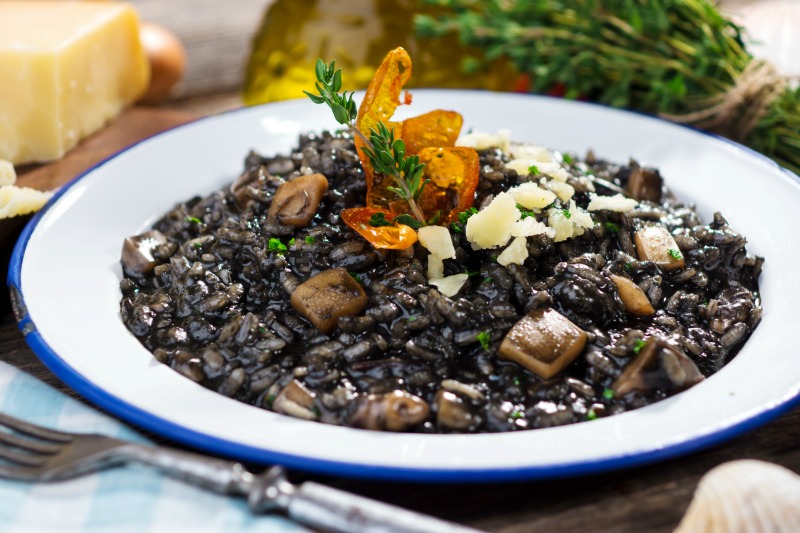 Regional versions of risotto can be found all over Italy, but this luxurious variant is a striking and unique alternative. The dish gets its distinctive colour and earthy flavour from the ink of the squid (or more authentically – cuttlefish) that is used in the cooking.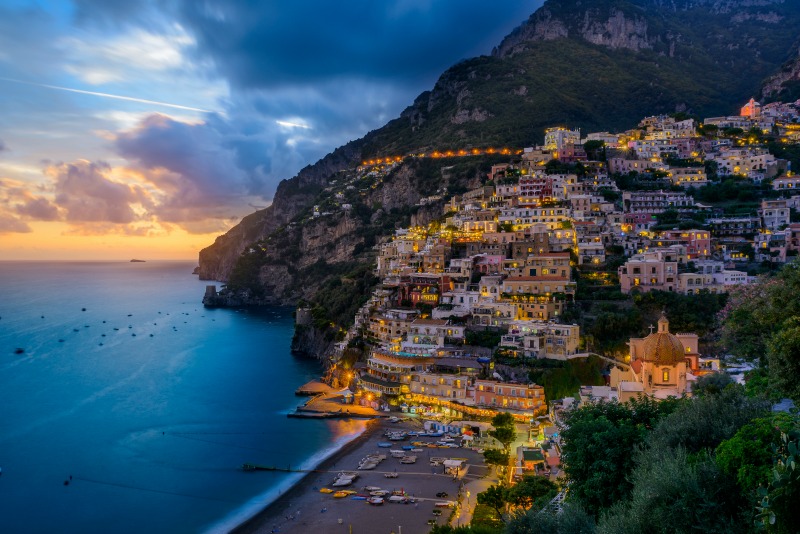 Between the bustling streets of Naples and the dramatic cliffs of Amalfi lies one of the most beautiful stretches of coastline in the world. Because of the varied terrain of the area; from shorelines to cities, volcanoes to vineyards; the area has one of Italy's most diverse food cultures featuring world famous produce. The creamy mozzarella made from the milk of Campanian buffalo and the sweet San Marzano tomatoes that ripen in the shade of Mount Vesuvius are both core ingredients of many of the region's favourite dishes. Why not finish off your meal here with a digestivo of Limoncello, a liqueur made from the fragrant Sfusato lemons that grow in the Amalfi hills.
Don't leave before trying…
Pizza Napoletana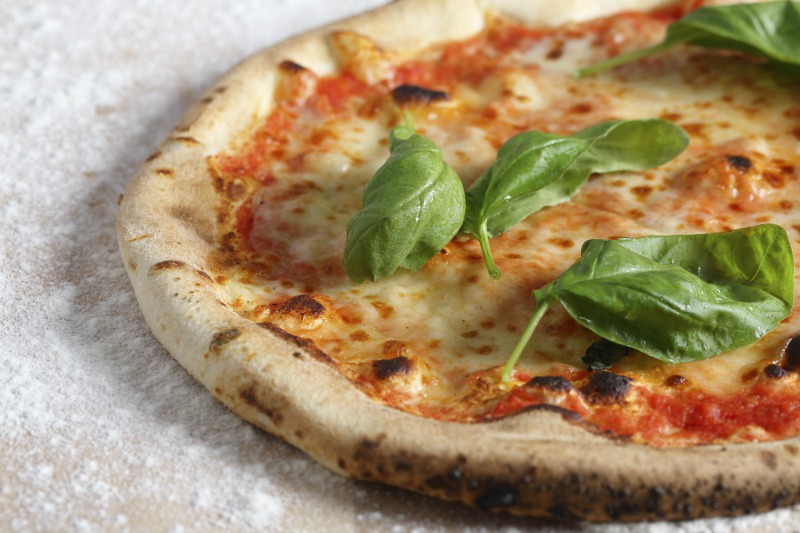 Although made around the world, only by using Marzano tomatoes and Buffalo Mozzarella can a pizza be truly called Neapolitan. Both ingredients are spread across the stretched thin base and baked quickly in an extremely hot oven. Fresh green basil and extra-virgin olive oil can be added to make the classic Margherita version.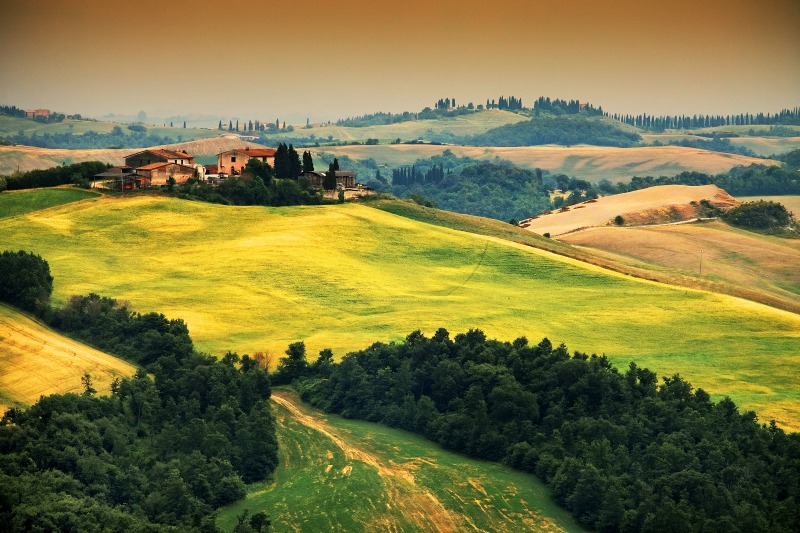 This northern Italian region is often referred to as the birthplace of The Renaissance; masters such as Michelangelo, Leonardo da Vinci and many others lived and worked on these hills. Tuscany's capital, Florence, remains the cultural heart of Italy and this can be seen in the city's architecture, ambience and of course, its food. Bistecca Fiorentina, a traditional chargrilled yet rare T-bone steak, may be a favourite cosmopolitan choice but it's the humble 'peasant' food of rural Tuscany that really sets the area apart; wild game, beans and rustic cheeses are the stars of this cuisine. Make sure you try Panzenolla, a simple yet delicious salad made from bread and tomatoes.
Don't leave before trying…
Pappardelle al Ragù di Cinghiale
Often made with pork outside of Italy, this rustic pasta is best using wild boar. The meat is slowly cooked with red wine (local Chianti is perfect), tomatoes and herbs until it is so tender that it falls off the bone before it is added to freshly made pappardelle pasta.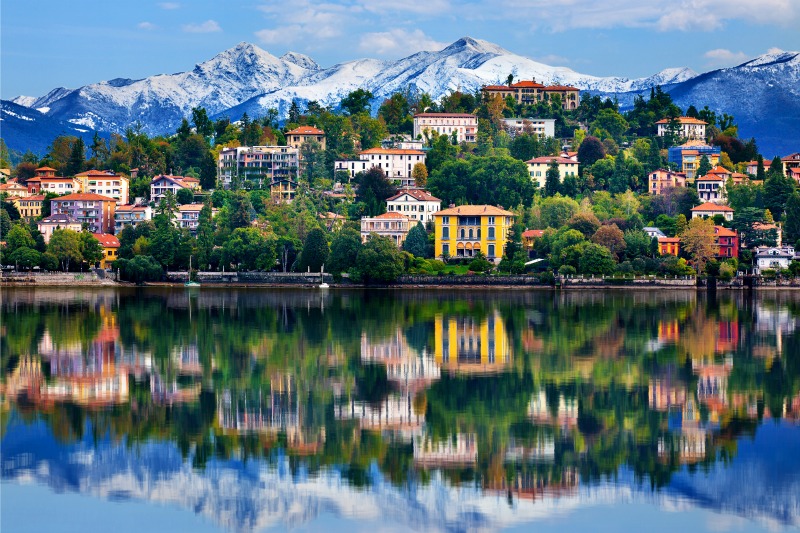 Medieval castles, snow-capped mountains, natural thermal spas and cosmopolitan cities; the Italian lake district offers some of the most intriguing and diverse sights of Italy. Spread over three different regions and bordering two other countries, hundreds of years of various influences have made this area a must-visit destination and made its food some of Italy's finest. Towards the north of Lake Garda you'll find Austrian influenced dishes such as the famous Christmas cake Panatonne. Move closer to Lake Como and you'll spot Lombardy specialties like the saffron spiced Risotto Milanese on the menus. Further East and Venetian cuisine is the big influence, gnocchi and polenta being popular staples.
Don't leave before trying…
Ossubuco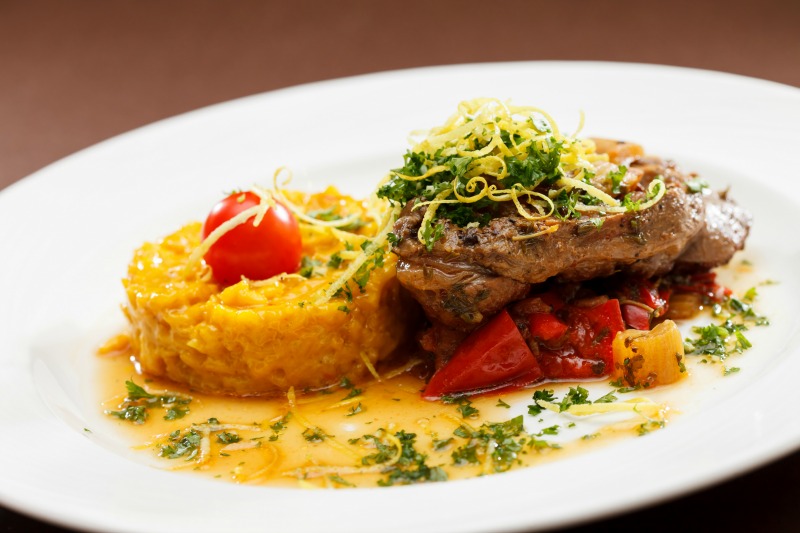 This rich stew, a favourite in Milan, is traditionally made with veal but pork is also used these days. The meat is braised on the bone in a white wine and herb broth. It's commonly served on top of a bed of creamy risotto and perfectly accompanied by a glass of local Bardolino red wine.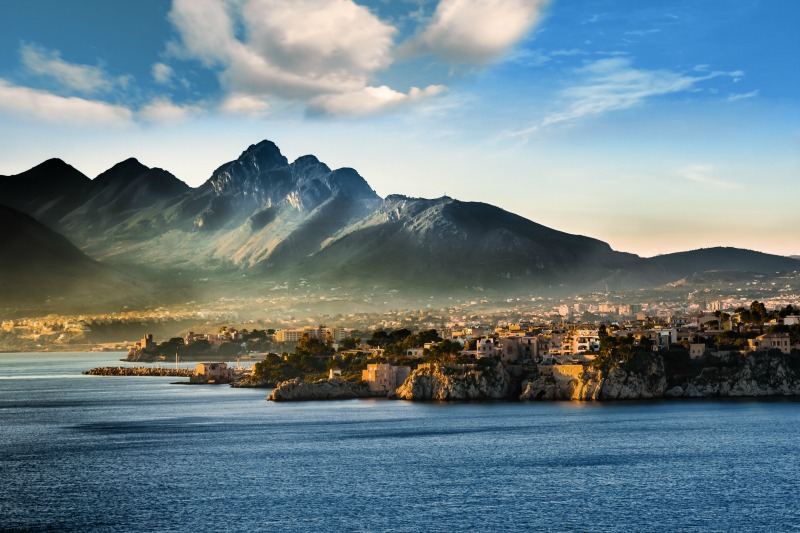 Sicily has had a long and storied history as over the last 3,000 years the island has been ruled by the Greeks, Romans, Normans and Arabs amongst many others. Due to this mix of cultures, the cuisine is both varied and unique. Amazing local produce is at the heart of great Sicilian cooking; the tomatoes, Aubergines and ricotta are some of the country's finest and the basis of many local specialities like the world famous Pasta alla Norma. Seafood is also a big part of many menus; sardines, either freshly grilled or added to pasta, are served everywhere. A perfect finish to your meal is lemon Granita, a rustic style sorbet that's certain to cool you down in the sun.
Don't leave before trying…
Arancine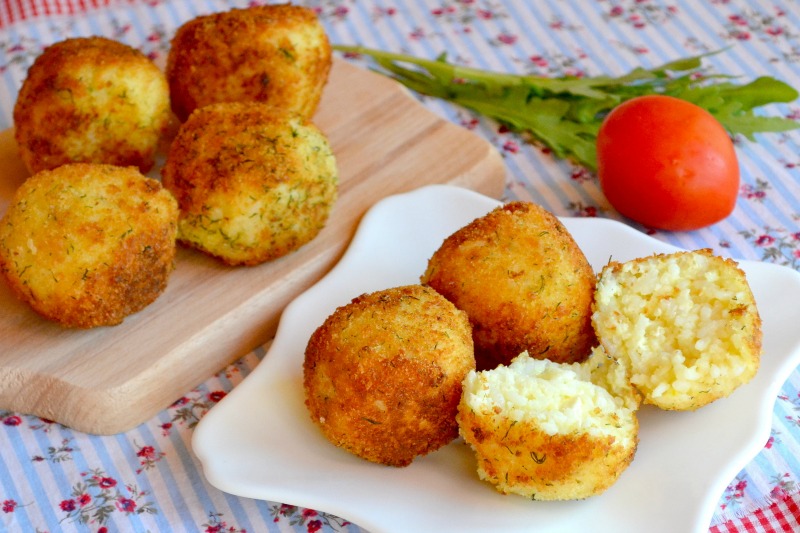 You must try these wonderful deep fried risotto balls, Sicily's favourite street food. Although served in various flavours, the island's favourite version is Arancine Al Ragu where the rice is stuffed with a rich meat sauce and oozing with melted mozzarella cheese.
Inspired?
---
So have these regional delicacies enticed you to explore this exquisite country?
Italy is the perfect destination for a tour of foodie delights!
Share this on Facebook
Share on Facebook

Share this on Twitter
Share on Twitter