Western Australia is unspoilt and uncrowded, offering extraordinary experiences you won't find anywhere else – from the largest fringing reef on Earth to belief-defying pink lakes, towering forests, dazzlingly beaches and world-class vineyards. The wildlife is also pretty special. Imagine spine-tingling encounters with whales, gentle whale sharks, kangaroos, smiley quokkas and dolphins. The West Coast's open roads, rugged beaches and surreal natural wonders set the scene for an epic road trip – here's a taster of what you could experience on our new Australia Coral Coast self-drive.
Perth: visit Australia's sunniest city
Perth has a very easy-going cosmopolitan feel, with more days of sunshine than any other city Down Under. Here, glamorous rooftop restaurants and speakeasy bars meet photoshoot-worthy beaches, the sparkling Swan River, Indigenous plant life in Kings Park, and Rottnest Island. This car-free isle is home to the quokka, dubbed the world's happiest animal. Getting to Perth is a breeze, too, as it's the only Australian city you can reach via a direct flight from the UK. A quirky place to stay here is the boutique Alex Hotel, set in Perth's artsy inner-city neighbourhood, Northbridge.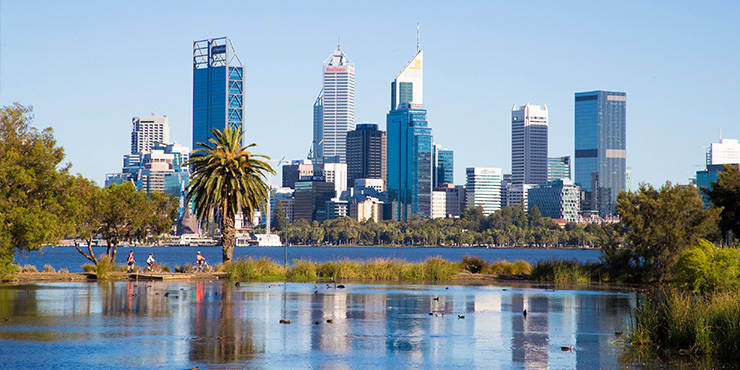 Fremantle, or Freo as the Aussies call it, is well worth a visit during your stay. And it only takes around half an hour to get there, so a day trip is ideal. This creative port city has an enchanting old-worldly vibe and a buzzing food and drink culture. Spend the morning browsing through second-hand book shops and sipping artisan coffee at Fremantle Markets, which first opened its doors back in 1897. For lunch, taste locally-caught fish and chips by the water's edge, then head to the Little Creatures brewery for a guided tour and craft beer tasting.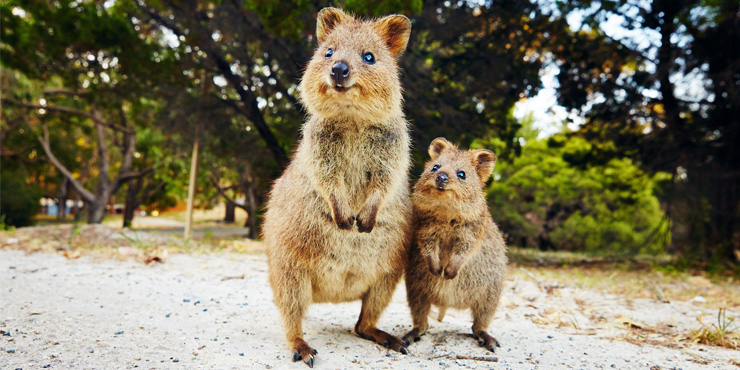 Geraldton: photograph a striking pink lake
Adrenalin pumping waves make Geraldton one of the best places in Australia for windsurfing and kite boarding, and there's also paddleboarding and diving on offer, too. Sun-drenched Foreshore sits along the waterfront and is the ultimate summer playground. Watch surfers ride crashing waves on stunning beaches, bite into gourmet burgers and homemade ice-cream in trendy cafes, or cook up a feast on one of the free barbecues. If you can, time your stay over a weekend in summer for Geraldton's Sundays by the Sea – a free live music event at Foreshore's Stow Gardens.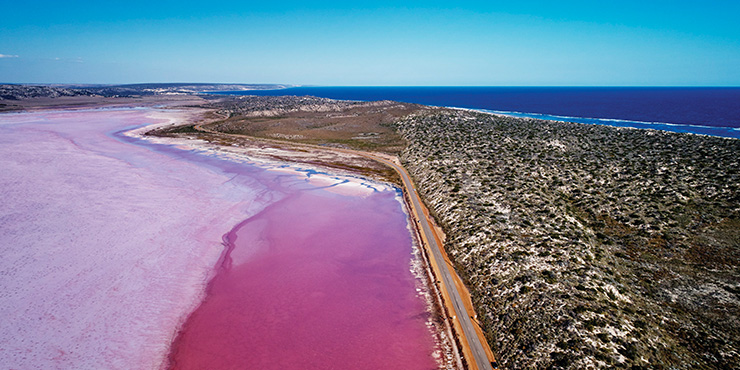 To break up the drive to your next stop along the coast, we highly recommend a visit to Hutt Lagoon – a mesmerising strawberry-pink lake. It only takes about an hour and 15 minutes to get there from Geraldton, so make sure you have your phone, SLR camera or GoPro fully charged as this Instagram-worthy natural wonder is very photogenic.
Carnarvon: see the spectacular blowholes
Some self-drive itineraries leave out this charismatic coastal town, heading north straight for Exmouth instead, but we don't want you to miss out on one of Australia's hidden gems. For you, this means less tourists, so you'll have free rein of Carnarvon's gorgeous rugged beaches and exceptional seafood. Later, you can watch the sunset over the One Mile Jetty, a charming old walkway built in 1897.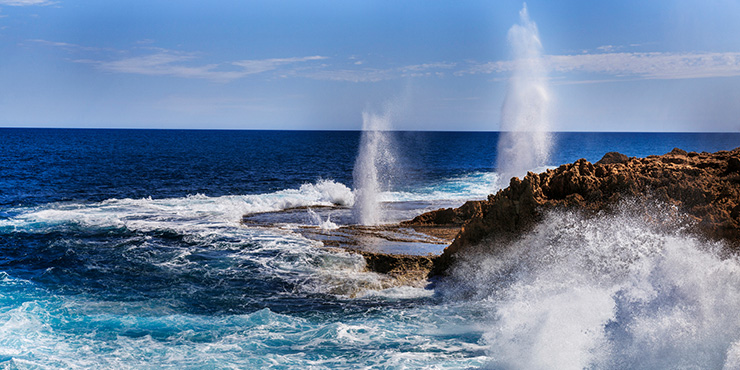 One of the coolest things to see while you're here is the blowholes, where bursts of water rocket into the air from small cracks in the rocks. These powerful natural jets can sometimes soar to a height of 20 metres. It's phenomenal to watch. The Carnarvon Blowholes are about a 50-minute drive away, so make a detour here on your way to Exmouth or Coral Bay. There is also a superb white sand beach nearby, so you can refuel with a picnic lunch by the ocean.
Exmouth: swim with gentle whale sharks
Leap off the boat into twinkling royal blue waters and look out for the white polka dots of a whale shark. Despite being the biggest fish in the sea, whale sharks have a very tame personality and glide through the ocean at a slow and graceful pace. Getting the chance to swim with one of these gentle giants is one of the most electrifying wildlife encounters the underwater realm has to offer. Exmouth is a gateway to the astounding Ningaloo Reef, the world's largest fringing reef, where you can snorkel among 500 species of tropical fish and around 300 varieties of coral. As well as whale sharks, the reef is also home to some other friendly locals, such as sea turtles and manta rays.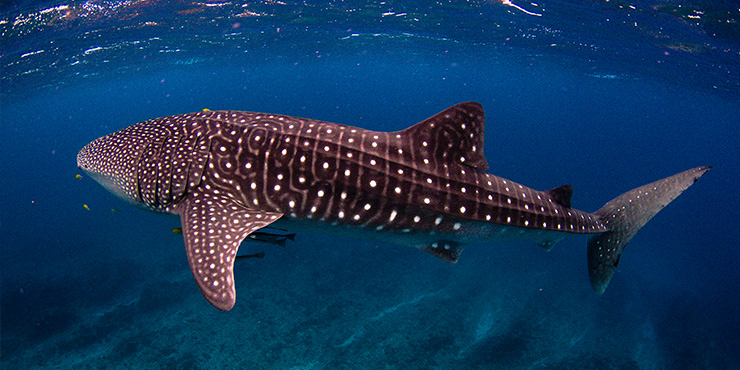 Whale shark tours depart regularly from Exmouth, which can make it a crowded place to stay over the peak season (March to July), so we advise staying a little further out. Ningaloo Reef Resort sits on a magnificent platinum sand beach in the small seaside town of Coral Bay. This is one of the only places on the planet where you can walk straight from the shore to the reef, and the clear and calm lagoon here makes snorkelling an effortless and relaxing activity. There's even more to see at Purdy Point, which is just a short walk away from the town. Swim beyond the shallows and you'll be greeted by schools of neon green, yellow and blue fish darting between the coral. Then when you're feeling peckish, order a bucket of prawns, fresh fish tacos or seafood tapas at one of the local cafés.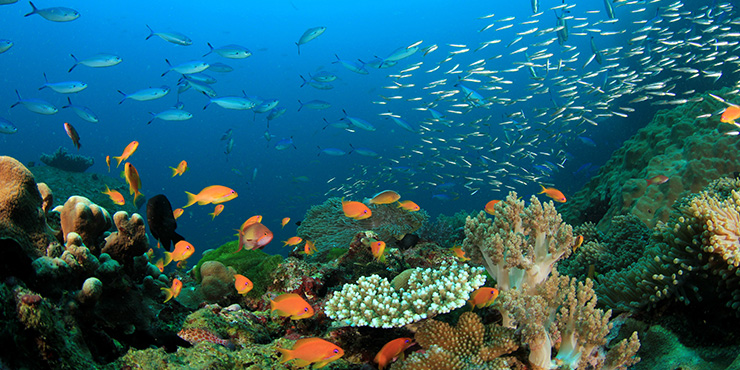 Monkey Mia: paddle with wild dolphins
A wildlife must-do along the Coral Coast is to see the wild bottlenose dolphins of Monkey Mia. This is the only place in Australia where dolphins typically visit every day – it's one of the most reliable places to see them in the world. To increase your chances, get to the beach for 7.45am and meet the rangers ahead of the dolphins' morning feed. These playful creatures usually come right up to the shore, so you can paddle beside them as they gulp down their breakfast. If you're lucky, you might even get to feed one yourself. Monkey Mia is also a favourite hangout for pelicans, so keep an eye out for their famous pale pink beaks.
RAC Monkey Mia Dolphin Resort is the only hotel in the area and it's right on the beach, so you'll be just steps away from potential dolphin encounters. These wild dolphins are undoubtedly Monkey Mia's superstar attraction, but there's so much more to discover. This little town sits in the World Heritage-listed Shark Bay – a place where you'll find Indigenous art and culture, a spellbinding beach made up of billions of tiny shells, and Western Australia's largest island, where you can snorkel in turquoise waters and charge across sand dunes in a 4x4.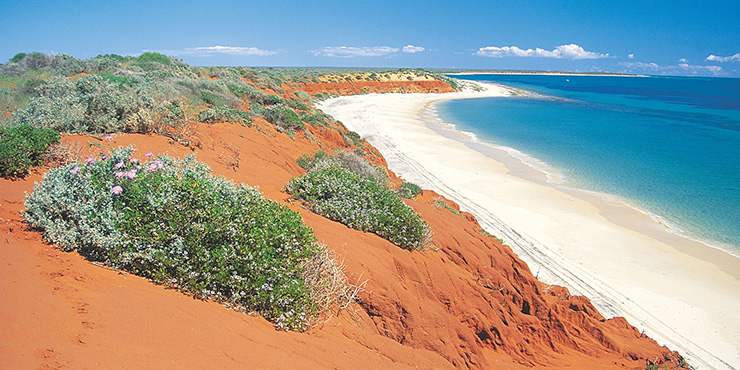 Kalbarri: see the wildflowers of Kalbarri National Park
As the end of June looms, thousands of wildflowers begin to pierce through the sandy floor of Kalbarri National Park. This eruption of colour totally transforms the landscape. Marvel at bursts of purple starflowers, the lemon-yellow puff ball-shaped golden wattles and see if you can spot the bright pink needles of Australia's exotic spider flower. These wildflowers decorate the plains of Kalbarri National Park up until October each year, and around 60 percent of them can't be found anywhere else in the world.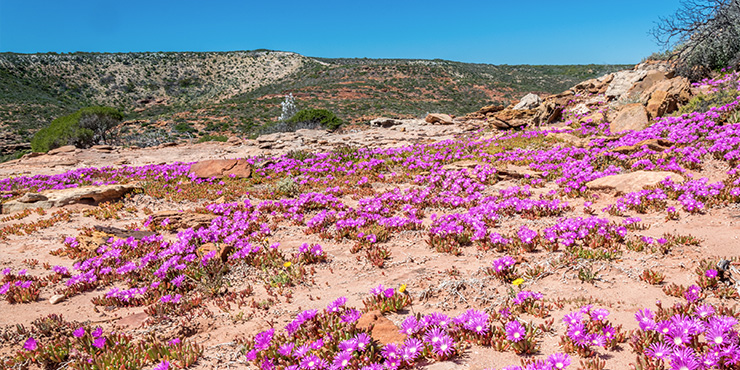 The park's dramatic river gorges are another must-see. There are lots of different lookouts you can choose from, but our favourite is the iconic Nature's Window. Peer through this enormous frame of rippled red rock and gaze down at the cavernous gorge below – an amazing photo opportunity. As well as gorge hiking and bush walking, there are also water-based activities like canoeing and rafting here. The Kalbarri Beach Resort sits in a fantastic location overlooking the Murchison River. It has a 25-metre lap pool, two and three-bedroom apartments and great family facilities, such as a giant chess set and volleyball court.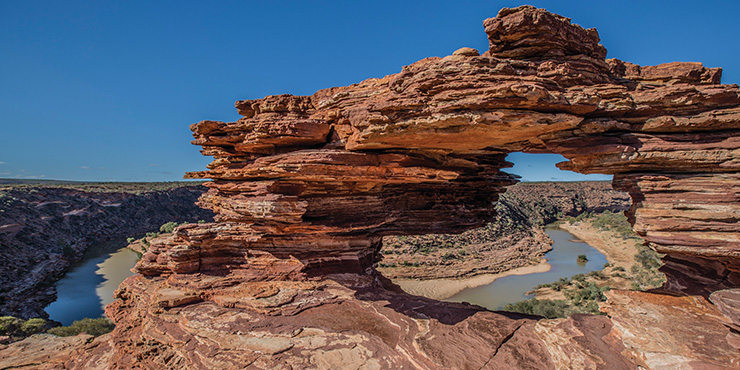 Cervantes: walk through the Pinnacles Desert
Nature has many weird and wonderful moments, and the Pinnacles Desert is right up there with the best of them. These lunar-like rocky pillars tower over the desert dunes of Nambung National Park like otherworldly creatures. Visit at sunrise or sunset and you can walk among these limestone structures as they glow in fiery shades of orange and gold, creating eerie shadows on the sand. If you're in Cervantes during a full moon, go back to the Pinnacles Desert in the evening to see the landscape lit by moonlight and an inky sky full of stars.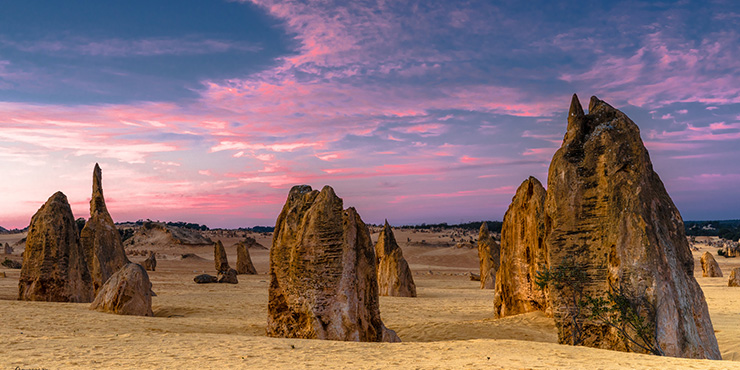 It's worth staying over in Cervantes to get the best day and night views of the Pinnacles. This seaside town has some staggeringly beautiful beaches where you'll have empty stretches of sugar-white sand all to yourself. And if you're a seafood fan, throw on a bib for a delicious lobster dinner – a signature dish in Cervantes.