Saint Lucia has been voted the Caribbean's Leading Honeymoon Destination 11 times at the World Travel Awards – but what does it have to offer if spa and wellness are at the top of your holiday agenda? One of our travel experts travelled to the island to find out more.
The helicopter lifts from the airstrip and we rise towards the blue sky, the body of the chopper twisting towards the north of the island and the location of one of the island's best-known hotels, BodyHoliday. It's not my usual means of airport transfer but, if your budget allows you to upgrade to a helicopter, this is definitely the way to arrive in style and get the most incredible views over this natural paradise.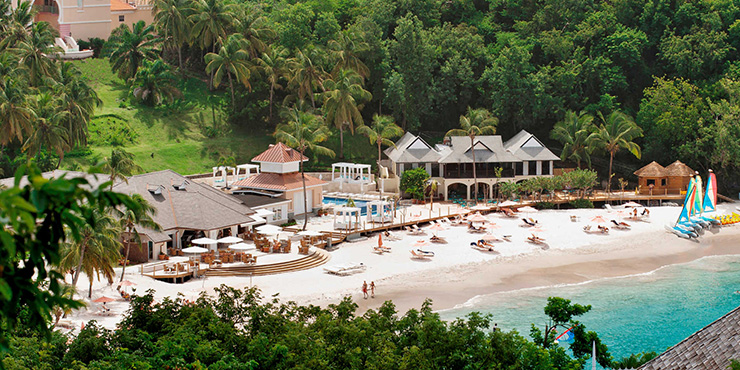 Even by car, while winding up the mountain roads, the drive is beautiful and you pass traditional towns and small fishing villages edging the coast and country roads. Many of the resorts we offer are tucked away in secluded locations, so I recommend an all-inclusive stay coupled with getting out and about to explore on day trips. The island is not just about the beaches. You can zip-line through the rainforest, take a boat trip to see the iconic Pitons from the water; and explore snorkelling hotspots. The north and south are so different, so get out and discover why during your stay.
A lot of the hotels on the island have a strong emphasis on wellbeing, ready to recharge your mind, as well as your body. One of the most famous on the island is BodyHoliday, an all-inclusive wellness resort that treats you to a complimentary 50-minute spa treatment on every full day of your stay.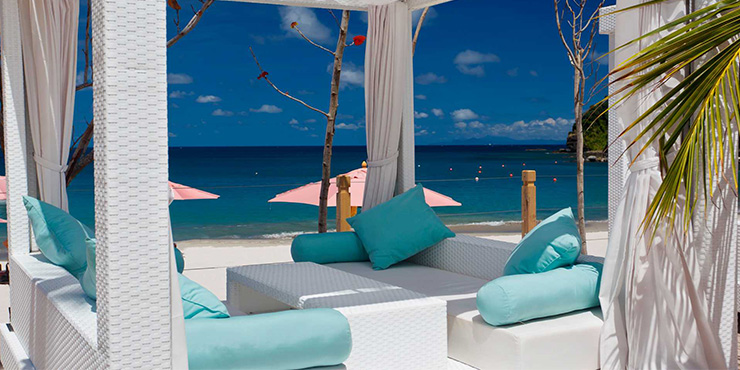 I am welcomed by the wonderful staff and, after settling in, head for the beach. I spend a lazy afternoon looking out over the ocean, being served icy drinks by the beach waiters. The ethos here is 'give us your body for a week and we'll give back your mind'. It's all about recuperation here, a chance to relax and feel like you again.
As well as spa treatments, the all-inclusive resort includes fitness classes with professionals, such as tennis, Pilates, yoga, spinning, meditation and the golf academy's group classes – but these are completely optional, so feel free to dip in and out and spend time around the pool or on the beach if you'd rather. The same applies for healthy eating. There are healthy cuisine options galore in the restaurants – but more tempting options available too if you prefer. It's a perfect balance, defined by you every day.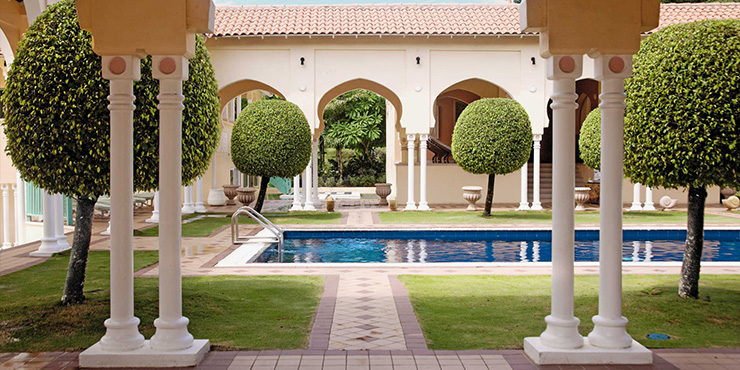 In the evening, I head for dinner at the East-West fusion restaurant, TAO, and the food and service are amazing. If you're travelling on your own, the resort welcomes solo travellers and a hosted group table is available if you fancy socialising. There's also a dedicated Solo September month, where you're designed personalised spa treatments and you can opt to join hosted activities that range from dinner parties to a sunset cruise. If you have teens, the resort has also started offering WellFit Families, a summer holiday experience to motivate teenagers and their parents into bonding over fitness and wellbeing. Pro sportsmen and women will help you abseil, cycle along coastal trails and take beach fit classes to create a family holiday with a difference.
Watersports are included at BodyHoliday and the new Sailing Club & School allows you to try a 60-minute sailing experience included. It's a sailing taster, where you can learn to hoist the main sail, fly the jib and winch the sails of a keelboat. You can also take it further with an optional sailing course at extra cost – the Saturday regatta looks great fun.
During my stay, I try t'ai chi and aqua aerobics, noting that the other guests around me are also beginners, so I feel confident to give it a go. I am made to feel so welcome in all the activities I take part in and, after four days, I start to feel the effects this type of holiday can have on your body and mind.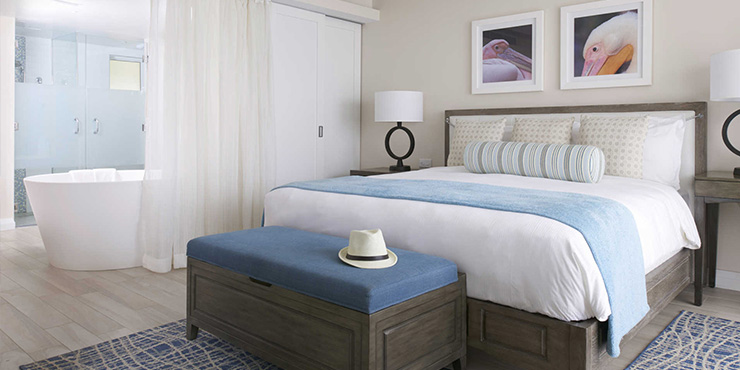 Exploring the island
Try not to let the endless activities keep you from exploring the island, though. Venture out and you'll find the world's only drive-in volcano and Sulphur Springs, home to a waterfall, hot springs and mud baths. I slide into the hot water and cover myself in the mud. It doesn't smell good – think boiled eggs – but makes for a great photo opportunity and does leave your skin feeling very soft.
I combine BodyHoliday with the sister resort, Stolen by Rendezvous, a wellness hotel exclusively for couples. I completely fall in love with this romantic boutique hotel. The owners' old house has expanded to create this intimate hideaway and, although it is just for couples, there's a social vibe, with the chance to chat to others while trying wellness activities such as yoga for couples, t'ai chi and farm-to-table cooking experiences. There are 250 staff members for 100 guests, making the service fantastic and very personal. The lead-in room types are really modern and I prefer these to the more traditional higher room types, though these are great if you want direct access to the beach with your own private sun loungers.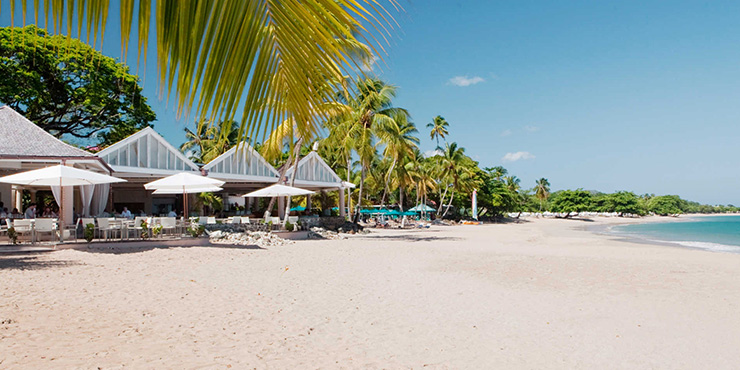 The large two-mile stretch of beach feels very private and fitness classes here are included in the price, so choose between yoga, aerobics, dance classes and tennis; or sign up to a bicycle tour and enjoy a lesson or two with the resort's tennis coach. Watersports are also included, so you can have a go at Hobie Cat sailing, waterskiing, wakeboarding and windsurfing. You can also make the most of scuba diving trips with personalised instruction included.
If you love a bit of spa time, the resort's Spa in the Water Garden offers all sorts of treatments from around the world at extra cost. From Swedish, Balinese, Thai massage and Hawaiian Lomi Lomi, to couple's treatments, wraps and scrubs, the spa comes highly recommended and the spa staff from BodyHoliday are actually trained here. My tip is to book treatments before you go to take advantage of any discounts on offer.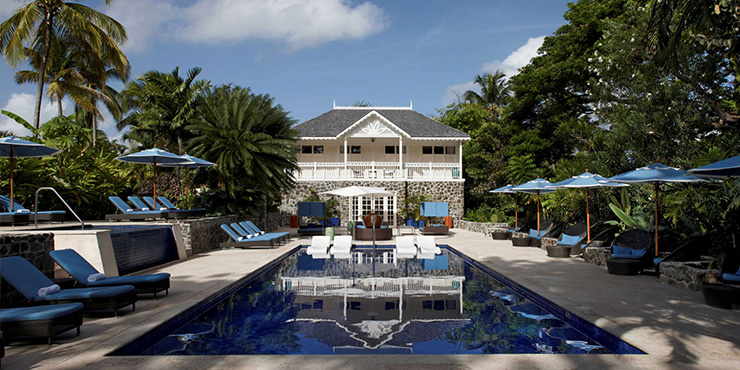 Time to reconnect
I love the concept of bringing couples together and the experiences to help you reconnect, doing something fun. If you want to burn some energy, you can book the Gros Piton Climb – climbing the bigger of the two Pitons. This is a UNESCO World Heritage Site and the strenuous hike to the summit is rewarded with breathtaking views. If you love chocolate, you can also do a chocolate making experience during your stay, creating your own bar with your choice of flavouring.
Many of the guests I meet tell me they return to Stolen by Rendezvous year after year and I think this is partly down to the attentive staff who have worked here for years, giving a family vibe within the team. They are a pleasure to be around. The philosophy here is all about time together, time to find your balance and escape daily life. So if you're looking for a wellness escape with your other half, I'd highly recommend Stolen by Rendezvous!
Inspired?
---
Take your pick of our latest brochures and get holiday inspiration delivered straight to your door, or talk to one of our Personal Travel Experts for more details.