When you think of the crystal clear waters and sugar sands of the 700 islands that make up the Bahamas, you may think of celebrities sunning themselves on an uninhabited beach, but they aren't the only ones enjoying the good life in the exotic Exuma cays. Take a yacht tour around these pristine shores and you'll soon find, hogging the shallow waters or hidden in the tropical climes, adorable swimming pigs – so cute you'll be off your trotters!
Found in the Exumas a couple of years ago by photographer and ocean guide, Jim Abernethy, on a small island called Big Major Cay, Pig beach is home to a few dozen friendly pigs who relish welcoming tourists to their own island. Yes, Pig Island has also been coined. With a fresh, natural water spring and sheltered by a string of neighbouring islands, Pig beach is perfectly blanketed from tropical storms. Living the high life in the beautiful Bahamas, eating, sleeping and swimming, this little family have become perfectly adapted to their beach bum lifestyle.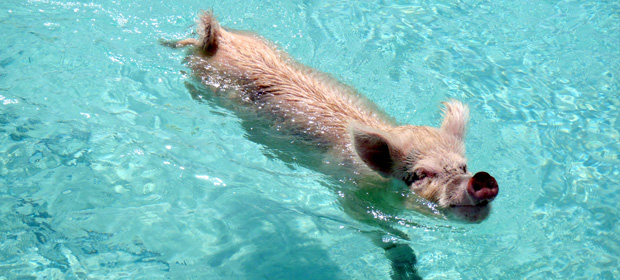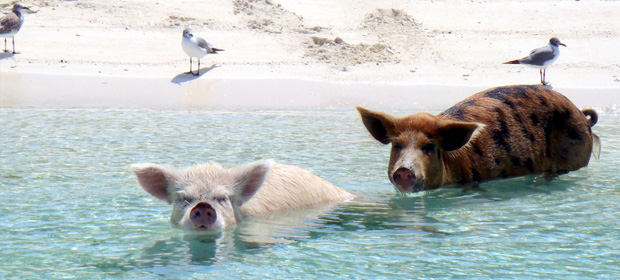 Although they are now hot to trot, no one seems to know how these hungry hogs made their way to Pig beach, Bahamas in the first place. Local lore suggests they may have been the sole survivors of a nearby pirate shipwreck, whereas legend has it that they were dropped off on the island by passing sailors, who planned to come back and cook them but when they didn't return, the pigs survived by eating scraps from passing boats. Yet another source claims they were escapees from another islet farm but of course, this could all be a load of porkies!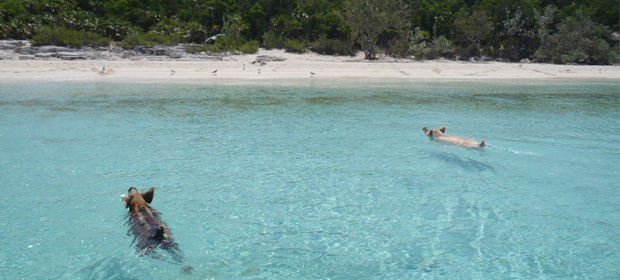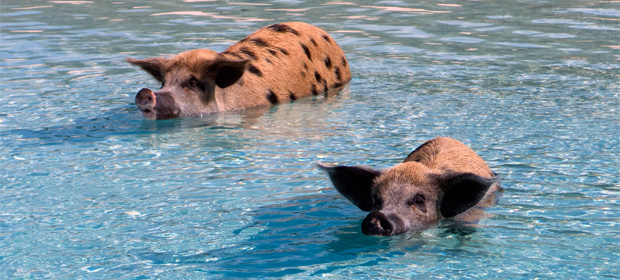 If visiting Pig beach and swimming with its locals takes your fancy, then such delights are possible. Guests staying at Sandals Emerald Bay at Great Exuma, Bahamas can take the local Exuma Cays Ocean Safari tour from just $175pp.
This unique safari offers a fun-filled excursion aboard a luxurious 35-foot custom-designed PowerCat, where you can snorkel or sunbathe your way around the Exuma cays in one tour. Your captain and first mate will entertain you with first-class knowledge and impeccable service as you explore over twenty magnificent, little-known cays, where a special stop is made to feed the porkers and have your picture taken with them on Pig beach.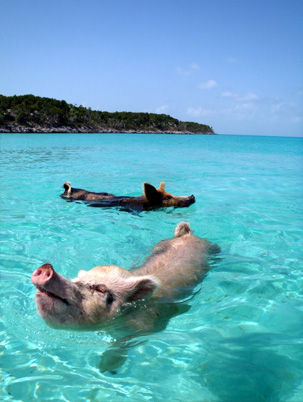 "Nothing quite prepares you for the sight of half a dozen pigs swimming in the clear blue ocean. We were very fortunate to take an excursion to see them whilst staying in Exuma, the pigs have adapted to their surroundings and can regularly be seen swimming out to passing boats for food which locals and tourists feed to them."
Sharon Frame,


Kuoni Kensington
Happier than if they were in muck, expect the clever pigs to run onto Pig beach and bizarrely piggy-paddle as a grunting armada up to your oncoming yacht in search of a pig out. Once foodie offerings have been handed out, the oinkers are courteous enough to let you swim alongside them, free to frolic on Pig beach together!
On your Exuma Cays Ocean Safari, you'll also get to visit the endangered Bahamian rock Iguana, circle past the million dollar privately-owned islands of celebrities and speed across the turquoise waters of the Bahamas as stingrays race alongside. To top it all off, you'll even get to swim through a colourful reef among countless breathtaking marine life before exploring the depths of a nearby sandbar.
Inspired?
---
A dreamlike archipelago of turquoise, white and green gracing the northeast Caribbean Sea.