Siobhan O'Halleran, a Maldives Travel Expert, shares her top five things about one of our most popular resorts in the Maldives – the idyllic Kandolhu Maldives.
I'm generally not very good at switching off. I often find that even if my body is relaxed, my mind still races around, jumping from one thought to another. But as our speedboat pulled up to the tiny island of Kandolhu, I knew it would be the perfect place to unwind.
Kandolhu Maldives is extraordinarily beautiful. Of course it wasn't a complete surprise that it was so glorious, as most resorts in the Maldives have the most wonderful of settings. And with each hotel in the region occupying its own island, they all feel special and have an air of exclusivity. But an island that's small with a lush interior, a huge focus on dining and an exceptional house reef is one that was bound to capture my heart. After much deliberation, here are my five favourite things about Kandolhu Maldives.
The staff
All of the staff members are a pleasure here, taking note of your preferences and making the effort to engage you in the most genuine way. The waiters greet you by name, and if you happen to think that dolphins are the most incredible creatures ever, the watersports team will do all they can to try and find them in the surrounding waters for you.
The 'boutique luxury' nature
With just 30 villas, Kandolhu is oh-so-peaceful, completely and utterly chilled out, and a real island hideaway. It's luxurious, but it's perhaps the carefully considered details – from the furnishings sourced from around the world to the sweet treats placed in your room after dinner – that add something extra special.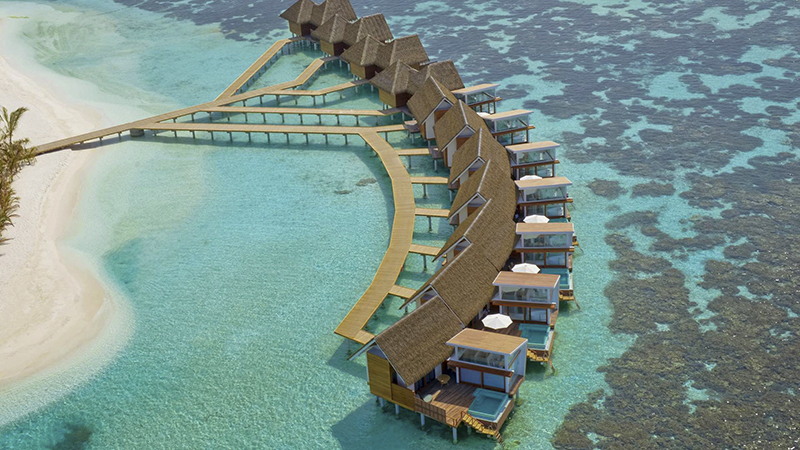 The villas
There's no 'best room' on the island – it really just depends on your preference. Each beautifully furnished villa has its own benefits, whether it's a large outdoor bathroom, plunge pool, sunset view or steps down into the ocean. We stayed in a Duplex Pool Villa and loved having our own private area with pool and sun loungers as well as the separate upstairs bedroom with an intricately carved curved wooden ceiling.

The food & drink
If you're a real foodie, you won't be disappointed with the quality and variety on offer. Kandolhu has one of the best restaurant-to-rooms ratios in the Maldives, and on top of that all restaurants are à la carte and dining times are hugely flexible. Olive was the restaurant that perhaps surprised me the most, with its mouthwatering Italian dishes and pretty-as-a-picture desserts. It was difficult not to opt for the same dish each time, the previous one had been so good.
The Japanese restaurant, Banzai, is the only one that you'll need to make a reservation for, and with good reason – it has just six seats. We simply pulled up a chair beside the chef's workspace, asked the waitress for her recommendations and then watched as our food was prepared to perfection right before our eyes. The chef really puts on a show, and we found previous diners standing behind us simply to witness his artistry. All of the restaurants are included in the Ultimate Inclusions All Inclusive package. Oh, and in your room as well as the generous minibar you'll find a temperature-controlled fridge that's solely for wine (verging on 30 bottles and refilled daily).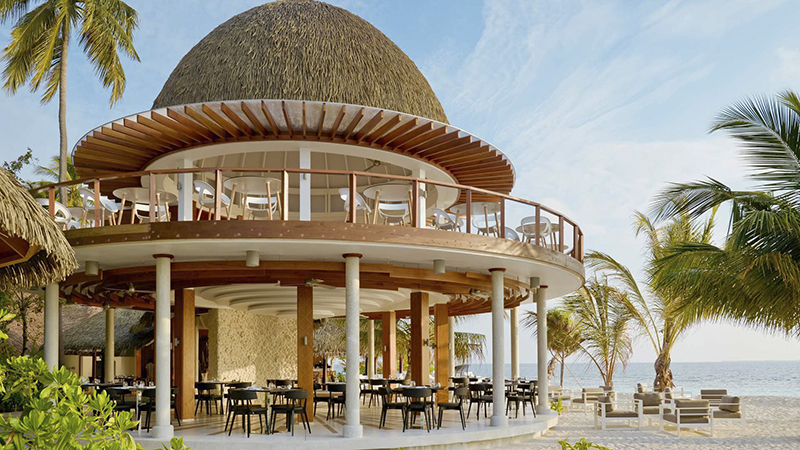 The house reef
With Kandolhu being such a small island, the only teeny tiny doubt I'd had before our visit was whether we would feel a little confined. But snorkelling soon put pay to any signs of that. The house reef was a dream. Various channels lead out to waters inhabited by sharks and turtles; we must have spent half of our stay underwater, venturing out at different times of day to see what lay beneath the ocean. Turtles were a real favourite to see, and sightings are all but guaranteed around the service jetty. And there are plenty of opportunities for oceanic quests; sip Champagne on a romantic sunset cruise, head out in pursuit of Whale Sharks or join the Manta Ray Mission for unforgettable encounters with the Indian Ocean's megafauna.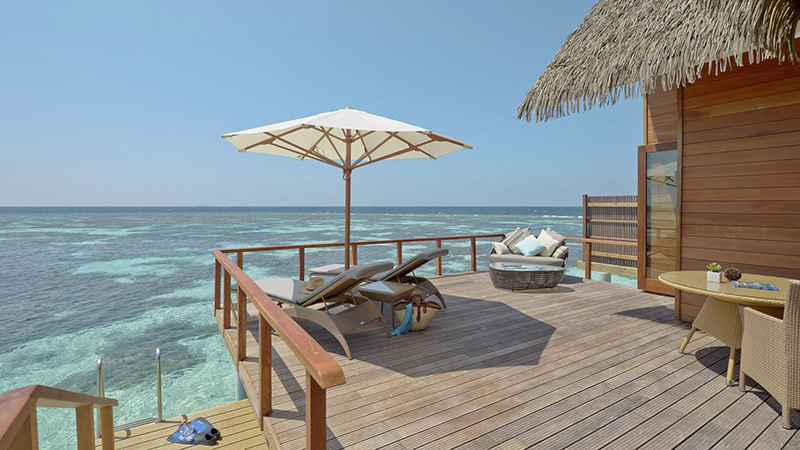 I could go on, but really the best thing to do is go and discover Kandolhu Maldives for yourself.
Inspired?
---
Kandolhu Maldives is exclusive to Kuoni in the UK. If you'd love to discover this this petite island paradise for yourself, call us today and our expert team will share their first-hand tips and advice.