Your baby's first holiday is a once-in-a-lifetime experience and we can help you make special memories with a tailor-made escape designed just for your family. We know a five-star Cyprus retreat that has its own baby food menu and an ultra-luxe Caribbean resort where your little one can enjoy story time with Sesame Street®'s Elmo. Here are our family experts' top 10 baby-friendly stays…
Book a free babysitter in Lanzarote
You'll find Princesa Yaiza Suite Hotel Resort – one of Lanzarote's best family-friendly resorts – right on Playa Dorada Beach, between the energetic town centre and glamorous marina. Choose its new Royal Kiko Suite and you'll have two free hours of babysitting included in your stay. You can also ask for a baby kit if you go for this suite, which includes essentials such as a changing table, bath seat, high chair, steriliser and push chair. If your baby's aged four months to three years old, take advantage of the resort's fantastic crèche, Baby Kikoland.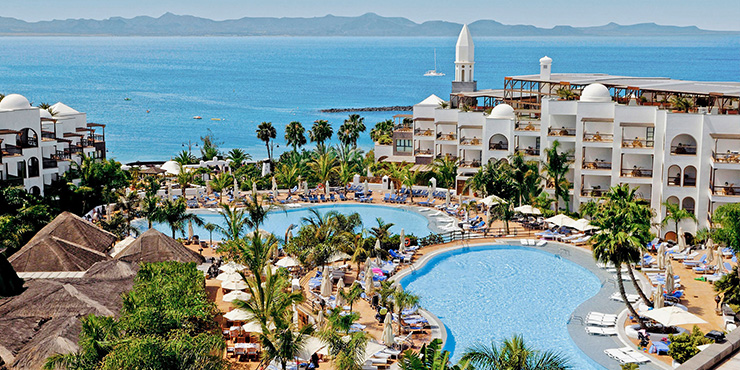 Enjoy some 'me time' at the award-winning spa
What we love about Bahia Del Duque in Tenerife is its friendly and intimate vibe, which is rare for such a large resort. This Leading Hotel of the World is more like a Spanish village than a hotel, with a golden beach on its doorstep and excellent activities from a pitch and putt course and an award-winning Thalasso spa, to five pools – including one for children. It's kitted out for infants, too. There are highchairs, car seats, cots, bottle sterilisers and babysitting. And it's been designed with a handy sloping path to make getting around with a pushchair stress-free.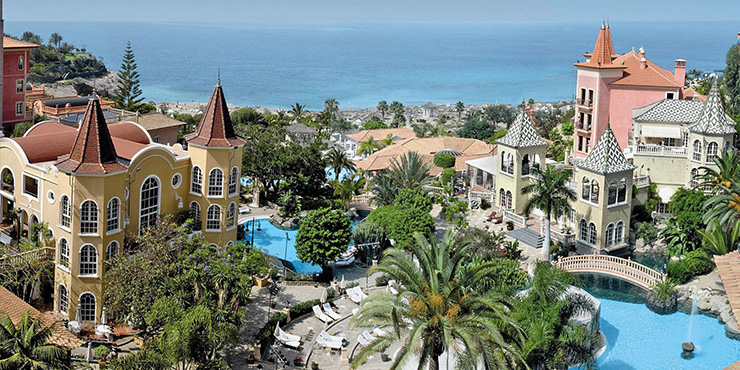 Discover the baby concierge service
Portugal's Martinhal Sagres Beach Family Resort Hotel in the Algarve is one of Europe's finest family retreats. It even has a baby concierge service to help you out with anything you need; a potty, bottle warmer, thermometer, baby bath, travel cot or safety gates. The Village Square shop also sells things like nappies and baby food, so instead of stuffing your case with a stash of bulky nappies, you can pack those books you've been longing to read for months. There's also a crèche for infants from six months old.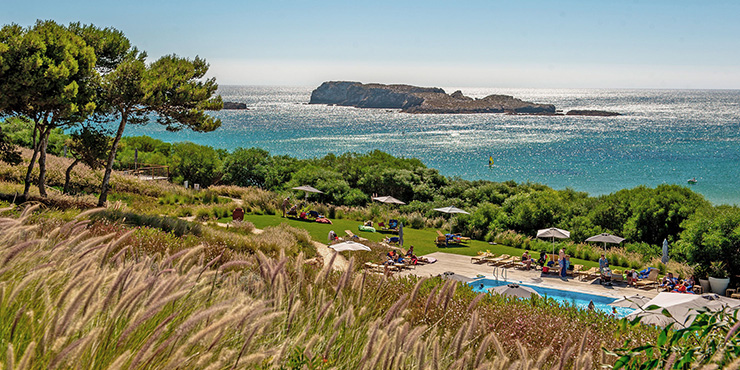 "When flying, wet a tissue and put it around your baby's ears, as this eases pain on take-off and landing – a dummy or feeding during these times can also help."
Urvashi Patel, Personal Travel Expert at Kuoni London City
A home-away-from-home in Sardinia
The hillside views from five-star Hotel Laguna in Sardinia are spectacular – picture sweeping sand dunes and the electric-blue Mediterranean Sea. This cool and contemporary, yet homely hotel is part of the award-winning Chia Laguna resort and is fully geared-up for a holiday with your baby. Just tell us what you need before you head off, whether it's a cot, pushchair, baby bathtub or bottle warmer, and we'll make sure the hotel has it ready and waiting for you when you arrive.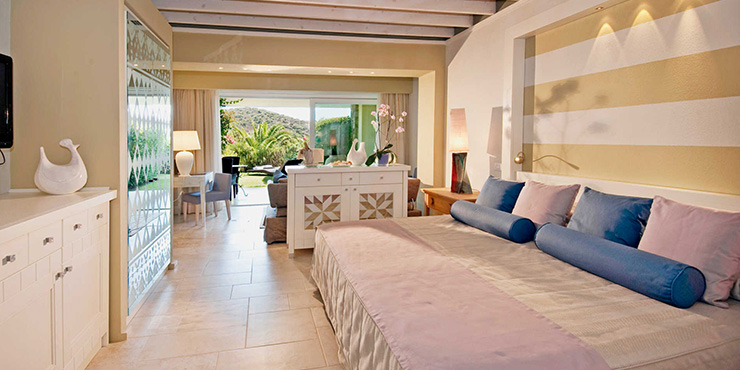 Go all-inclusive in Greece
When it comes to all-inclusive stays, it doesn't get much better than IKOS Oceania in Halkidiki, Greece. This world-class resort fronts a 350-metre white-sand beach and has been voted the 'Best All Inclusive in the World' at the TripAdvisor Travellers' Choice Awards 2018. As well as all meals, selected drinks and extras – from spa access to live shows included – there's also its Dine Out service. Book your little one a resort babysitter for the evening and let the hotel take you to the enchanting Nea Moudania for a romantic dinner in one of the town's finest restaurants. The crèche is open to babies from four months old and great for when you want a bit of downtime in the day; enjoy icy drinks delivered to your poolside sunbed or head out on the water for free stand up paddleboarding.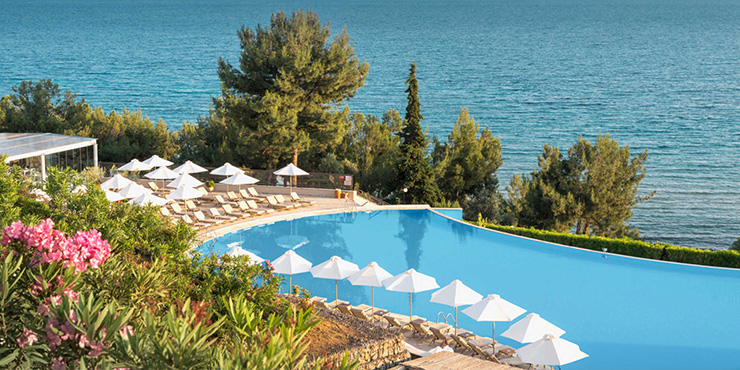 "Our family hotels are very friendly and helpful, so don't be afraid to ask for anything – from nappies to blending food for your baby."
Tara Harman, Personal Travel Expert, Kuoni at John Lewis White City
Stay in a family-friendly villa with your own private pool
The stylish Daios Cove Luxury Resort & Villas in Crete has an exclusive two bedroom family villa which sleeps two adults and three children, complete with your own heated pool and wow-factor sea views. The villa also comes with handy facilities for your little one, such as a highchair, pushchair and safety fences for the pool and staircase. At the resort's private sandy beach, the waters are shallow so you can take your baby for a splash at the shore without a worry. The Crèche Club is for babies from four months old and, for you, there's the Goco Spa with holistic treatments such as a volcanic thermal stones massage.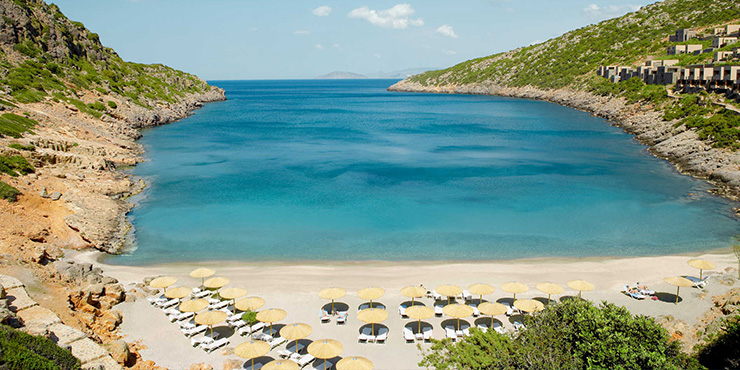 "Bringing your own plastic cutlery and bowl for your baby is really handy, as not all restaurants can provide these."
Briony Rennison, Personal Travel Expert at Kuoni Harrogate.
Family butler service in Saint Lucia
You'll find Saint Lucia's Sugar Beach, a Viceroy Resort tucked behind the giant Piton mountains in acres of thick emerald forest. This is the go-to resort if you want to switch off for a week or two – your family will be treated like VIPs here. You'll have your own personal butler and a phone to get in touch with them whenever you need, whether it's to unpack your bags or bring you cool drinks. This means you can make the most of your precious family time together, relaxing under a thatched cabana on the beach or by the palm-fringed pool. One afternoon, book your baby a sitter and indulge in a chocolate body scrub or mud massage in one of the Rainforest Spa's treehouse rooms.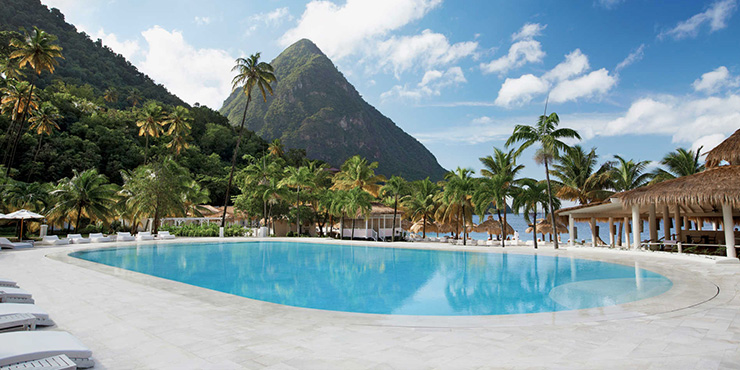 "Check what baby equipment your hotel offers before you fly and request this in advance, so you can travel a little lighter."
Tara Harman, Personal Travel Expert, Kuoni at John Lewis White City.
Order from the special baby food menu
What's great about Cyprus is the locals – they are incredibly welcoming, especially when it comes to families. For a baby-friendly stay, super-chic Almyra is one of our favourites. Here, you can take your baby for a paddle in the well-shaded splash pool, enjoy afternoon strolls along the coastal path leading into Paphos and choose from the hotel's own baby food menu in the fine dining restaurants. Make use of its amazing Baby Go Lightly offering – an online booking service where you can pre-order holiday essentials like a buggy, baby walker, swimming nappies, steriliser and even story books.