Former advisor to Lord Sugar on The Apprentice and presenter of Countdown, Nick Hewer jets off to Saint Lucia for his first beach holiday in over 40 years.
I first visited Saint Lucia 30 years ago. Back then, Anse Chastanet, a Sandals resort and a couple of little places were the only options available to travellers looking for a place to stay, but now Saint Lucia is home to a host of the world's most extraordinary hotels. In that time, and on my third visit to this beautiful volcanic island, I could see the advances since those early days. Roads have come on and the island looks more prosperous – not everywhere by any means – but it brought back fond memories of my first journey here, as well as a work trip last year where we filmed a programme about FairTrade bananas.
I'm not usually a beach person, liking a bit more adventure during my time off, but this was the first time I've booked a beach holiday since I was in my twenties. I travelled with my partner Catherine, who doesn't like travelling normally, but if there's a good hotel waiting at the other end, she can be persuaded.
We flew Business Class with British Airways and I was surprised to discover you get a fully flat bed, which was very comfortable. We were soon on the island and whisked off to Jade Mountain, which I thought was glorious.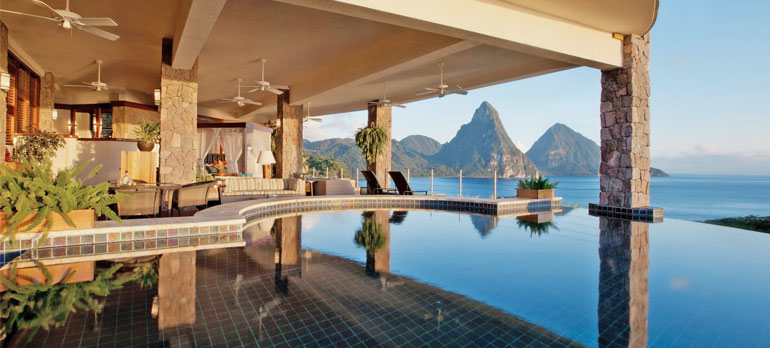 Galaxy Sanctuary at Jade Mountain in Saint Lucia
Pink Plantation House
"We went to a lovely French colonial house called the Pink Plantation House during our stay in Saint Lucia, which is wrapped in a wooden veranda. I'd recommend dining here at lunchtime to make the most of the great views over the harbour at Castries. You get a real feel for the history of the place and we tried huge helpings of lots of traditional dishes."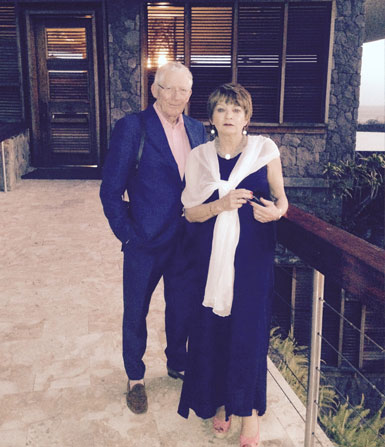 Nick and Catherine at Jade Mountain
We stayed in a Galaxy Sanctuary at Jade Mountain, which was open-air on two sides and had the most commanding panoramic views over the Pitons. There was an infinity pool in the room that stretched out to the horizon and a huge bed draped in mosquito nets – not looking like mosquito nets. I thought it was magical and they treated us terribly well. The Galaxy Sanctuary was around 2000 square feet and it was fabulous sleeping in the open-air, the wonderful warm breeze ensuring we slept like babies.
We booked a private car and driver to explore the island, so spent mornings out discovering the area and a few afternoons relaxing in our magnificent pool at Jade Mountain. During our stay, we also had a very good meal on the hotel's top deck surrounded by candles, cooked by James Beard award-winning chef Allen Susser.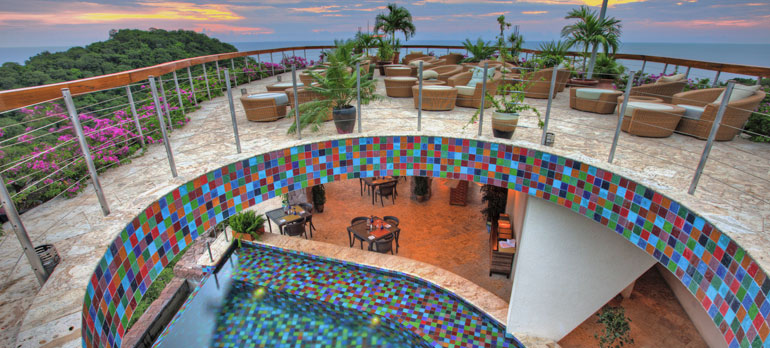 Dine on the top deck at Jade Mountain in Saint Lucia
Captain Mike's whale watching
"We booked a tremendous whale watching trip in Saint Lucia with Captain Mike's. It's very difficult to find whales and dolphins, but out at sea we were surrounded by dolphins – a lot of them – swimming beside the boat. The sea was foaming with dolphins and it was extraordinary. We also saw a big pod of pilot whales. There's something very primal about whales, I think. I'm rather humbled by them."
We were also lucky enough to spend the day at Sugar Beach, a Viceroy Resort. Sugar Beach was very special. If you want a luxury beach holiday that is absolutely immaculately presented, then Sugar Beach is where you should go. We spent the day on the beach, the uniformed staff ensuring the utmost service and fresh towels, and we had a great meal at the hotel's Bayside Restaurant, which is set on the beach and offered Caribbean delicacies. It was beautiful here and this must be one of Saint Lucia's most glorious stretches of sand.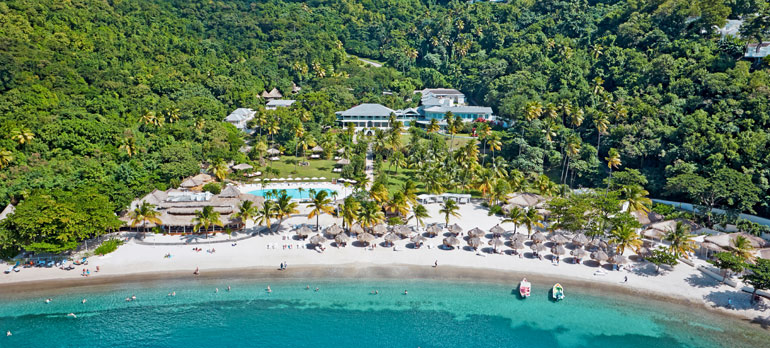 Sugar Beach, a Viceroy Resort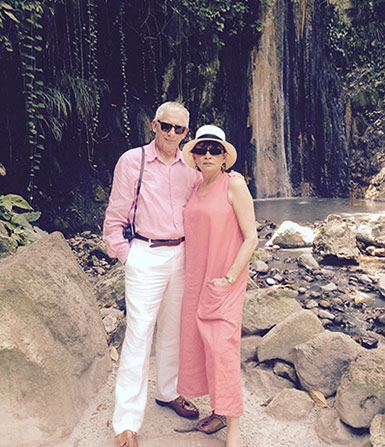 Nick and Catherine at Diamond Falls Botanical Gardens
Diamond Falls Botanical Gardens
"The Diamond Falls Botanical Gardens in Soufriere are very special. I've been there before, but wanted to return to see the tropical flowers and waterfall. It's a wonderful place and not far from Jade Mountain and Anse Chastanet."
The perfect combination for a beach holiday in Saint Lucia must be a stay in that fabulous suite at Jade Mountain with perfect days spent on the beach at Sugar Beach, a Viceroy Resort. Everyone we met in Saint Lucia was charming and the service levels were very high wherever we went. We really enjoyed ourselves.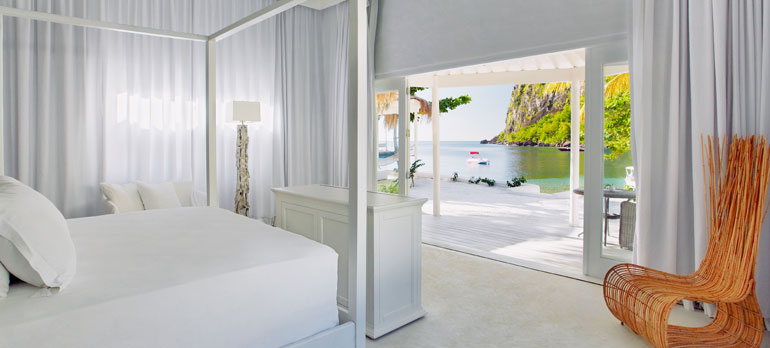 Luxury Beachfront Bungalow at Sugar Beach, a Viceroy Resort
Next on my wishlist is a trip to Japan. I caught a wonderful BBC Two documentary called Japan: Earth's Enchanted Islands and I've already bought a book about Japan and a map. It really was fantastic to watch and I've got a yearning to go, so I best start planning my next holiday.
Inspired?
---
Saint Lucia is home to some of the world's most spellbinding hotels. From Jade Mountain with its open-air suites to Sugar Beach, a Viceroy Resort, a popular choice with celebrities such as Matt Damon.