Beautiful white sand beaches are the initial lure to this easy-to-reach slice of the Caribbean but the small island of Barbados is big on personality.
Head to the west coast for luxurious hideaways favoured by celebrities; or the southcoast and St Lawrence Gap for a night of rum shacks and night clubs. The south is also the best spot to kitesurf; whereas you'll find the surfing mecca on the east coast, named the Soup Bowl. You can zip-line through tropical forests, discover spectacular rock formations and a 40ft waterfall in Harrison's Cave; even wander around a 350-year-old plantation house piled with antiques. We guide you through some of the best places to stay in Barbados, to make your holiday a truly unforgettable one.
"If you don't see it yourself, you'll never understand the true beauty of a spot up north in the parish of St Peter. The view from Cherry Tree Hill is stunning and takes my breath away each time. It offers a clear line of sight to the Scotland District and has a very calming effect."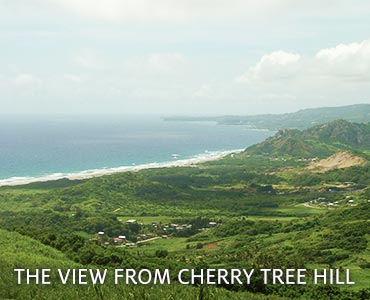 Image courtesy of Gary Bembridge, under Creative Commons licence
"Ocean Two Resort by Ocean Hotels is a lovely apartment-style hotel on the beach with a very funky and chic vibe. It's perfect for honeymooners and young couples - or young at heart - and is within easy reach of St Lawrence Gap's fantastic restaurants and nightlife. It's also got a trendy roof-top pool."