From the air, underwater or an exclusive private island – the Great Barrier Reef is extraordinary from all angles.
A breathtaking chain of coral reefs and lush rainforest-clad islands, the Great Barrier Reef is the world's largest living structure and thoroughly deserves its status as one of the seven natural wonders of the world.
Stretching for more than 1300 miles along Australia's east coast, the reef is made up of nearly 3000 individual reefs and 900 islands and is Earth's largest protected marine area, hosting a staggering amount of species including 2,000 types of fish, reef sharks, turtles, dugongs and whales. And its islands don't disappoint either. Hamilton Island generated huge publicity in 2009 when its caretaker role was advertised by Tourism Queensland as the 'Best Job in the World', and Whitsunday Island's Whitehaven Beach – with its dazzling white sands lapped by clear waters – is often voted amongst the planet's best beaches.
This is a region that offers relaxation and adventure, luxury retreats and back-to-nature escapes – and it really can be seen from all angles.
From the air
For an 'all-in-one' experience, a scenic seaplane flight cannot be beaten. Take to the skies for spectacular aerial views, spotting the swirls of Hill Inlet and the perfectly-formed Heart Reef, before making a smooth splash landing. Book a premium option and you may get to step ashore on Whitehaven Beach for a Champagne picnic or enjoy aqua adventures in places that larger boats can't reach – like a suspended coral lagoon inside the reef wall.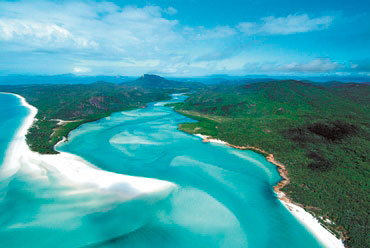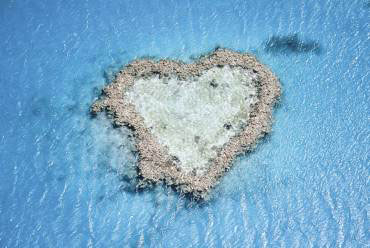 On land
The Whitsundays are a picture-perfect collection of 74 islands boasting unspoilt beaches, secluded coves and verdant rainforest. A handful of these islands have been developed into resorts where you can stay for as long as you like/your budget allows. Hamilton Island is the largest, with three excellent hotels and over 40 activities from kayaking to championship golf on neighbouring Dent Island. For superb wildlife viewing, Heron Island is a natural coral cay and a protected habitat. It's a world class research facility and from September to March each year, the breeding ground for loggerhead and green sea turtles. On Hayman Island you'll find an exclusive hotel with its glorious lagoon pool and award-winning spa, and for eco luxury head to the northernmost of the Great Barrier Reef resorts, Lizard Island. As a private island, there are no day trippers here – so the 24 powdery beaches, lagoon and 1000 acres of national park are all exclusively for guests to enjoy.
If you're in need of a more budget conscious option, fear not; there is a wallet-friendly way to see the reef for longer than a few hours on a day trip with the crowds. The Queensland Government offers independent, or 'wild', camping on 14 different campsites of varying sizes and facilities across the Whitsunday Islands; you just need to sort out your permits, which can be done online through the Queensland government website. Arm yourself with a tent, camp stove, snorkel and enough food and drinking water for a few days, and enjoy your very own Robinson Crusoe experience.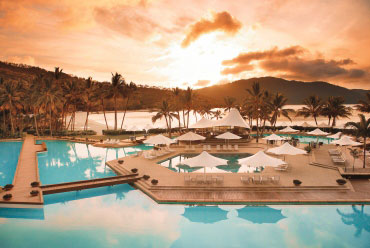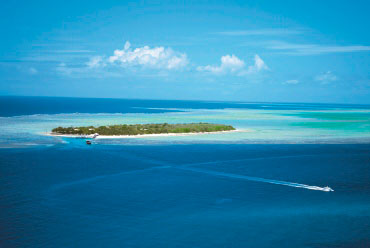 By boat
Boat trips are a popular way to see the reef – with the wind in your hair and the spray of the ocean in the air – and there's a huge range to choose from. From Cairns, Quicksilver Cruises offer one of the most cost-effective and time-efficient ways to get to the Outer Barrier Reef (where the very edge of the reef drops into the open ocean) on board its wave-piercing catamaran, which will take you out to a beautiful ribbon reef for snorkelling, diving or semi-submersible viewing.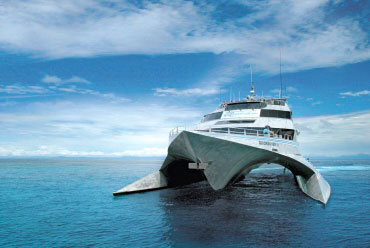 Upon a floating pontoon
By day, the Reefworld pontoon at Hardy Reef is a popular spot used by day trippers as a base to explore the marine-rich waters. By night, it's an exclusive spot for just 12 guests to spend the night on the reef. In fact most visitors usually depart by 3pm, so you'll be able to enjoy some quiet time snorkelling too. When night falls, venture down to the underwater viewing chamber to watch the reef come alive, or even take to the water on a night dive. Then sleep out under the stars in a swag (a kind of sleeping bag-tent in one) or opt for the comforts of the air-conditioned cabin.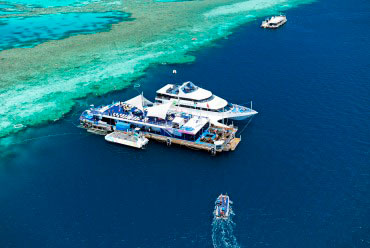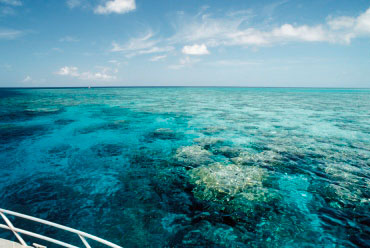 Underwater
Of course it's the world-famous underwater world here that attracts travellers from far and wide. Donning a mask and fins is the best way to get a close-up view of the colourful corals, shoals of tropical fish, turtles and reef sharks, whether it's snorkelling in the shallows or diving down deeper. The SS Yongala is one of the world's top dive sites, best reached on a day trip from Townsville.