Avoiding single-use plastic on holiday can be challenging, but with a little forward planning there are some easy steps that you can take to minimise the amount of single-use plastic you consume on your travels and during your stay.
A reusable coffee cup
To be absolutely sure that you can order a hot drink without the single-use plastic, buy a reusable cup that is going to fit underneath coffee and hot water spouts. Large flasks are often too big, meaning that baristas have to use a single-use cup in order to prepare your drink before decanting it into your reusable cup. We recommend those that are designed to imitate a single-use coffee cup, as they come with lids that seal to prevent spills, can be easily cleaned and are lightweight.
Water filter bottles
The initial investment may be around £15, but the financial savings quickly add up when you consider a 500ml bottle of water in the airport can easily set you back over £2. Companies such as Water-To-Go offer filter technology designed by NASA, allowing you to enjoy safe drinking water from any fresh water source.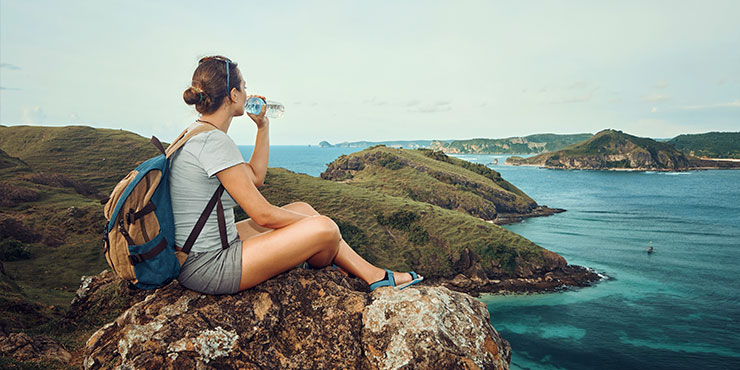 Solid soaps and shampoos
Thanks to concerns around plastic waste, soap sales have increased and there are a growing number of retailers now selling shampoo in solid bars, cubes or powders, meaning you can say no to miniature plastic toiletries. Not only are the alternatives much lighter on the planet, they're lighter to carry and you don't need to worry about the 100ml rule if you're travelling with hand-luggage. Many of them are SLS free, cruelty free and vegan friendly, too.
Plastic-free, reef-safe sunscreen
Whilst not completely mainstream just yet, there are a range of eco-friendly sunscreens available online in biodegradable tubes or metal tins. Hawaii is the first US state to announce that they intend to ban the sale of sunscreens that are harmful to coral reefs by 2021 and its likely more countries will follow suit. Protecting yourself and the natural environments of the destination you've chosen to visit will become easier as the demand for alternatives increases.
Straws
The straw has become the poster child for single-use plastic campaigns around the world and many hotels and restaurants are starting to use more eco-friendly alternatives or ban them completely. Whether your preference is for bamboo, stainless-steel or reusable plastic, the alternatives are lightweight and easy to fit into your luggage. Hold them up when you order a drink, as the visual reminder helps to break the bartender's habit of automatically reaching for the single-use option.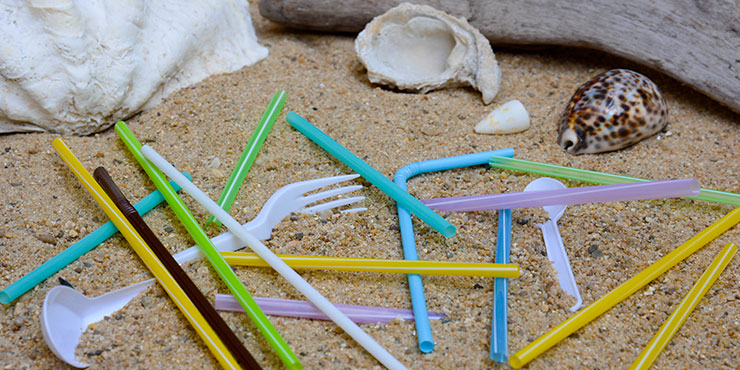 Cutlery
Bamboo cutlery sets have become increasingly popular and mean you can easily refuse the plastic alternatives. These are particularly good when you're out exploring or visiting theme parks offering mostly takeaway-style food and drink.
Reusable bags
Kenya has banned plastic bags and introduced jail time for people found to be using them, which has had a dramatic clean-up effect and is tempting other countries to follow suit. Cotton or jute shopping bags can double up as beach bags and vice versa. Pop one into your suitcase and keep it with you when you're out and about, you never know when you might be tempted to purchase some local souvenirs or do a spot of shopping.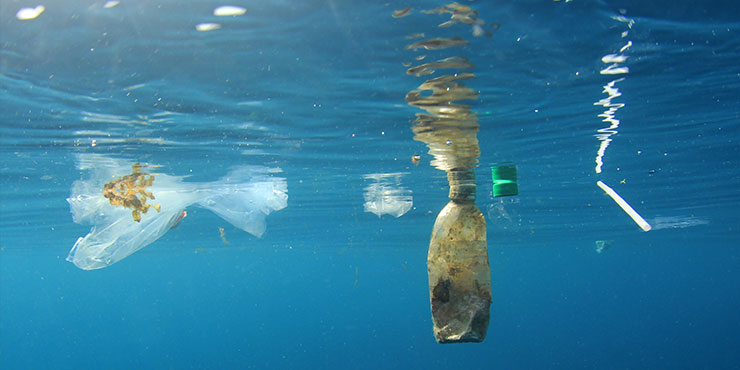 Look out for refill apps
Refill apps like Refill My Bottle make it easy for you to find local businesses that are happy for you to fill up with tap water or filtered drinking water for free or a small charge. Wateratairports.com is a simple site that helps you to quickly and easily find drinking fountains in airports all over the world – saving time when you're in a hurry to board your flight. Remember to take your empty reusable bottle with you through security and find a free water fountain in departures before your flight.
Use your opinion positively
Very often it is a change in customer demand that drives a change in business. It could make a real difference if travellers make their concerns about single-use plastics known to the hotels they are staying in. If there is a feedback form in your hotel or local restaurant, politely outline your concerns with the use of plastic and let them know that you'd love to see them make positive changes. Being part of the change is being part of the solution.